We are used to the pearl as a material which does not require faceting, but human imagination and endeavour have now altered this line of thinking, and at the end of last century the faceted pearl arrived on the scene. The Japanese factory, Komatsu Diamond Industry, specialising in diamond cutting since 1967, were the first to pioneer this technology.
Their original goal was to find a way of sprucing up ordinary looking Akoya pearls, and in one of their experiments they tried applying diamond cutting technology to pearls. It took 20 years to achieve the desired result, but the Aloya pearl ultimately turned out to be unsuitable for faceting because of its thin layer of nacre (it needs to be around 4mm thick), but successful cuts were made of Tahiti and South Sea pearls, whose coating is suitably thick.
Today, the Komatsu factory is not the only place that produces faceted pearls; in China and Australia they have also started cutting freshwater pearls. There are also exclusive exhibits showing off the work of pearl cutter, a field of which Viktor Tuzlukov is indisputably the master. Viktor has cut around 20 pearls in his pursuit of perfect symmetry, half of which can be seen decorating the jewellery of Russian designer Ilgiz Fazulzyanov (some of which he donated to the Russian State Depository and Kremlin Museum as prime example of top quality modern jewellery art), and two have found their way into private collections in America.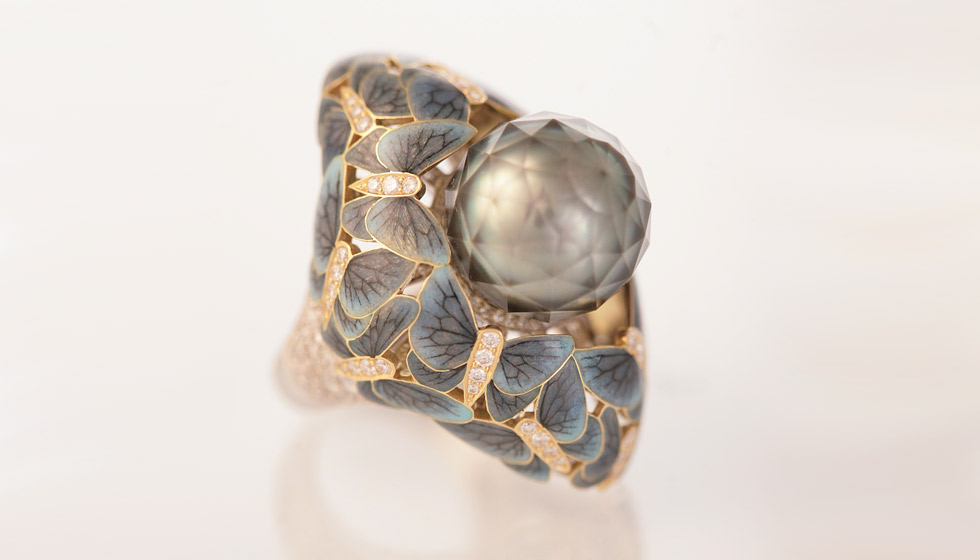 The idea of faceting pearls came to Viktor Tuzlukov when he saw a pearl cut by Moscow master Edward Akhmetshin back in 2006. "I took part in a US gemstone cutting competition and began taking an active interest in unusual cuts of stone. I immediately saw how technically challenging it is, that's when I first had the idea. I later discovered that the Japanese designer Katsuhito Komatsu had been cutting pearls for ten years, entering them into international competitions and winning all the prizes," Viktor tells me.
By 2010, Viktor had, through trial and error, developed the technology to polish soft materials with a hard disk shape in completely smooth facets and sharp edges. Victor's pearls differ massively from the factory-cut specimens, which have around 200 small and usually not quite symmetrical faces. His patented technology makes it possible to produce surfaces as flat as a mirror, and the pearls seem as if they are encased not in plastic, as with other cut pearls, but in glass. "At one exhibition I even heard two professional cutters discussing how it must be a double stone, pearl on the inside and quartz on the outside. When I corrected them it took them a long time to accept that it was in face just pure pearl," recalls Viktor.
There are of course other specialists besides Viktor Tuzlukov who are able to facet a pearl to produce faces with equally smooth sides, but with their work you feel there is a difference, and a specialist would be able to see, if they looked at it magnified ten times through a magnifying glass or a microscope, that the polished effect on these faceted pearls is really quite special. And, of course, any admirer with the ability to discern the work of a master can appreciate the difference, such as Wallace Chan, who met Viktor in 2013, or the art expert Valentine Skurlov, who specialises in the work of Karl Fabergé.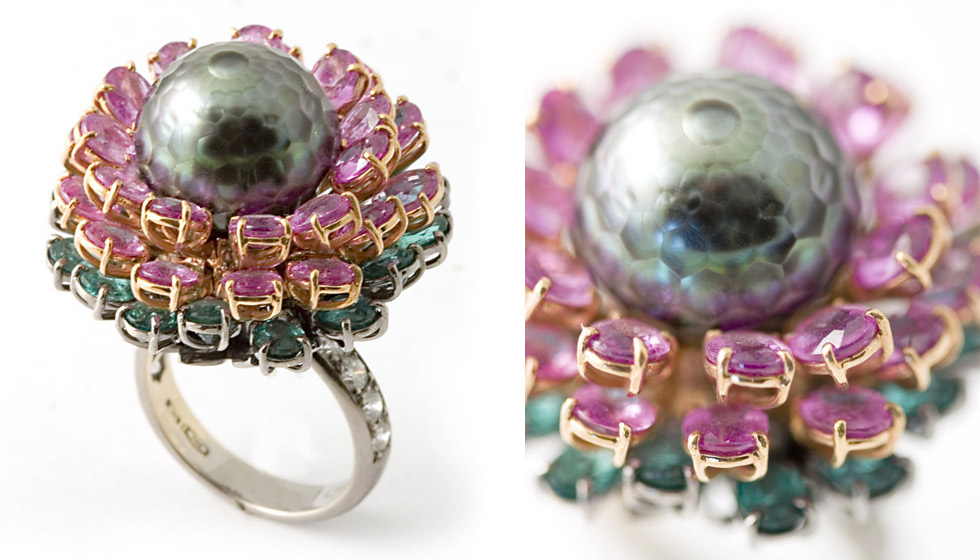 Ilgiz Fazulzyanov, himself winner of many jewellery competitions, first encountered the multiple award-winning pearls of Viktor Tuzlukov in 2011. He was already familiar with faceted pearls, but he appreciated the charming beauty of Viktor's work and went on to use his pearls in a number of successful cocktail rings and earrings.
When coming up with his design, Ilgiz had to take into consideration the relative fragility of cut pearls; a lovely example of his mastery and understanding of the subtleties of jewellery design is the unique Butterflies set, which earned him first place and the title of 'Champion of Champions' at an exhibition in Hong Kong (which you can read about here). He has since created another ring and more pairs of earrings using Viktor Tuzlukov's pearls.
"I have never met anyone who has been left indifferent by a faceted pearl," Ilgiz declares. "A lot of people like them, and some cannot understand why something as perfect as a pearl needs cutting. But indifferent – never." Clearly this new and unusual take on a long famous mineral has given it a whole new shine…in the literal sense of the word!
Photos are courtesy of Viktor Tuzlukov and the jewellery brands featured in the article.