Contemporary jewellery comprises what are often masterfully unique pieces that are consequently all the more attractive to collectors. Nevertheless, modern society doesn't merely consider jewellery from the perspective of a financial investment, but also as a creative enterprise. Last year, I wrote at some length about some 15 designers who are increasingly moving away from classical jewellery forms, instead seeking their own innovative approach to jewellery that demonstrates a very personal signature style.
It is precisely this kind of innovation that we find in Feng J's "Floating Set" fastenings, which create the illusion of stones that soar in the air. These have become the calling card of Feng J and are a technique found in the first jewel in the Phillips auction: the magnificent Jardin de Giverny necklace. When creating this piece, Feng J used garlands of blossoming flowers as seen in the famous gardens of Claude Monet in Giverny, France. Numerous colourful rose-cut sapphires, spinels, tanzanites and tsavorites in light blue, purple, rose and green shades are united with rose cut diamonds, all of which possess a stunning purity.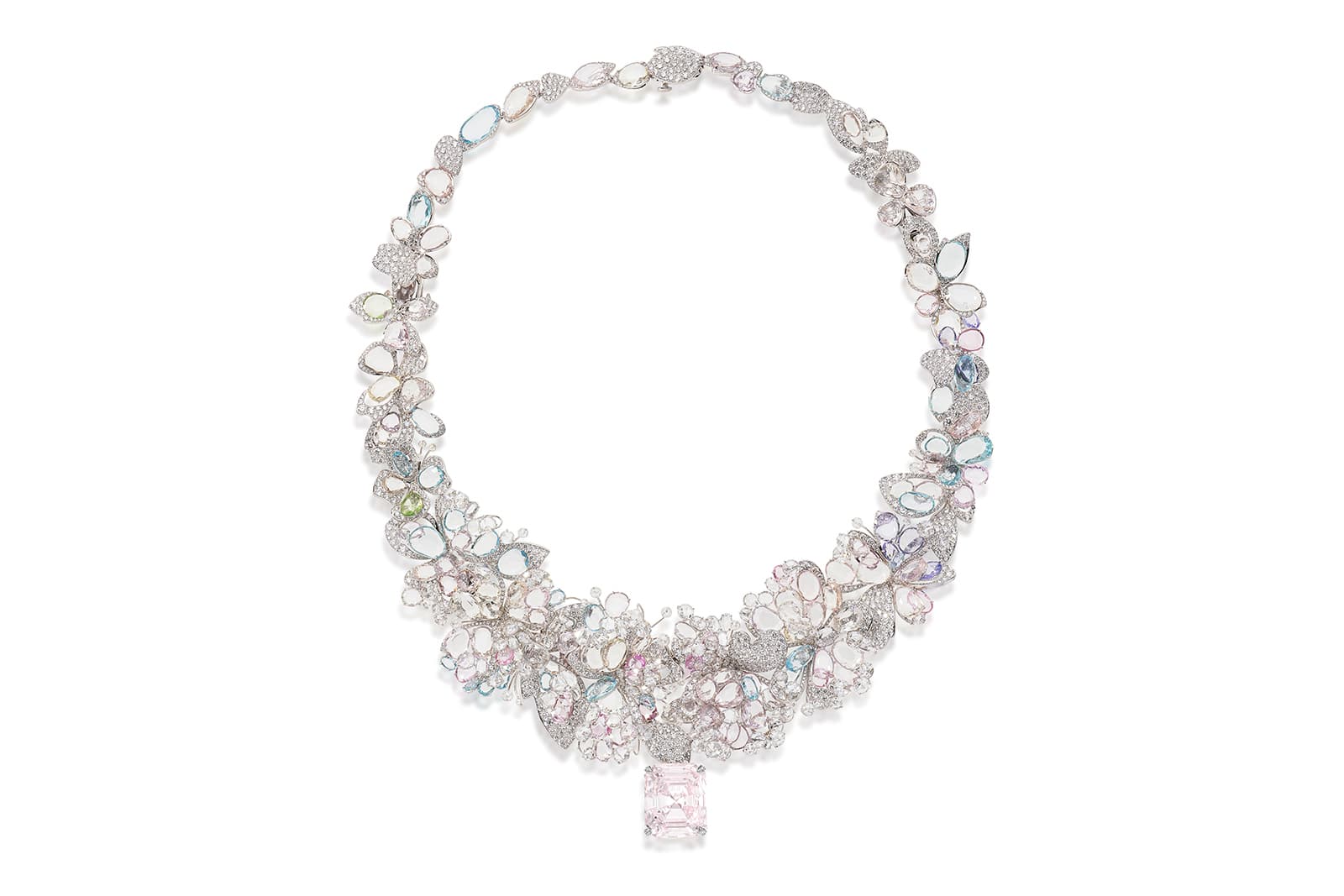 The jeweller characterises the style of her own work as "painting with precious stones", which often recalls modern sculpture. For the Jardin de Giverny necklace, the jeweller has chosen a pastel palette over brightly coloured paints and decided to decorate the heart of the necklace with a rare fancy cut light pink diamond weighing 19 carats. The necklace was made by hand and is the result of countless hours of master craftsmanship. The stunning result is that it is possible to transform the necklace into a bracelet and ring, thereby allowing a modern woman to enjoy the versatility of this exceptional piece.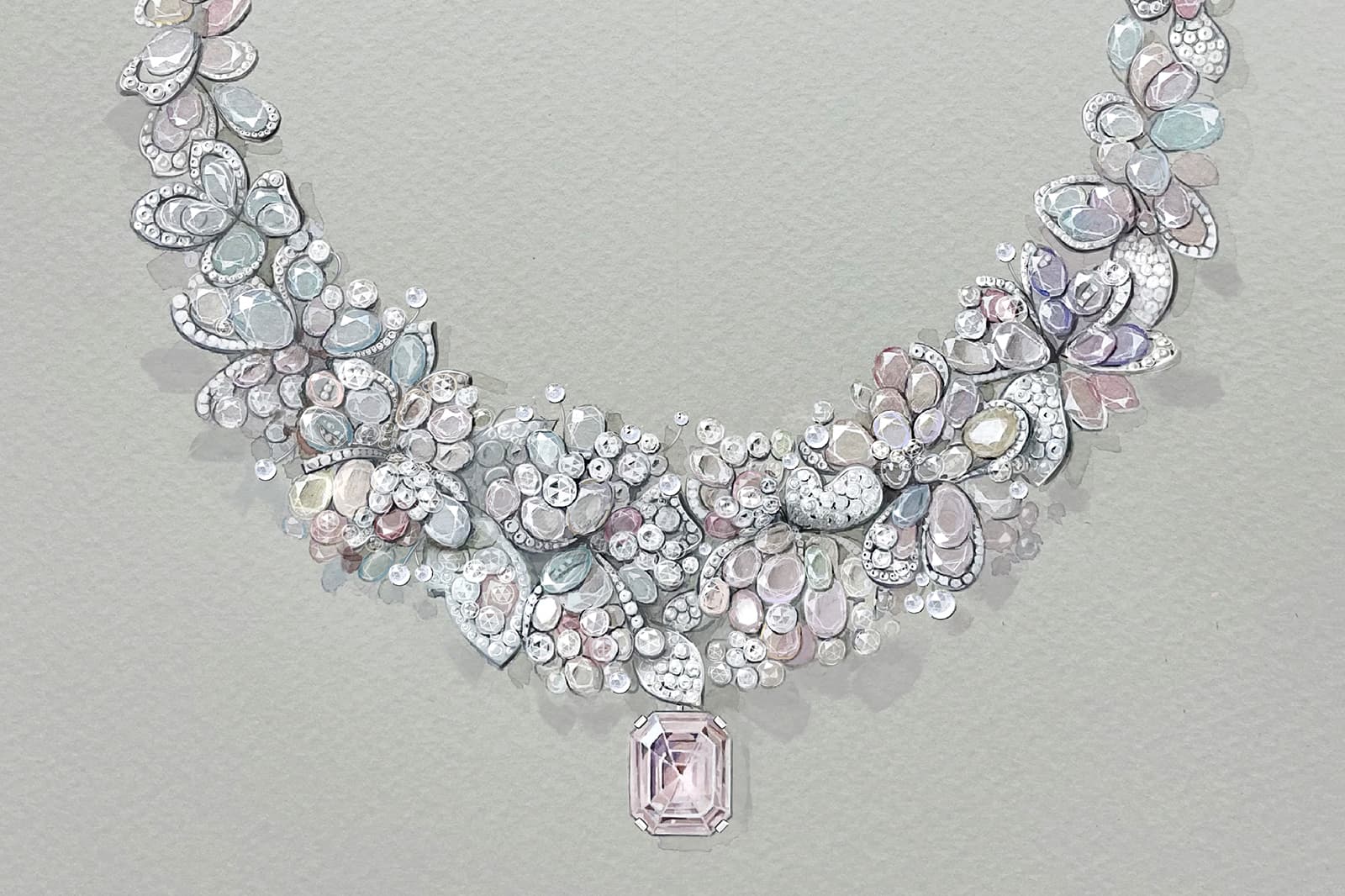 Graham Thompson, Global Head of Jewellery at Phillips, has said of her work: "Feng J has a far-sighted approach to the creation of unique jewellery. The design concepts for all of the pieces in the collection draw on childhood, the world of fine art, the jeweller's travels around the world and, of course, her own classical jewellery training in Paris. Her passion and commitment to creativity and unique and advanced designs correspond with the essence of Phillips Jewellery."
An extraordinary ring entitled "Fountain of Diamonds" is the second jewellery star of the upcoming Jewels and Jadeite auction. The piece interprets a Parisian fountain and is decorated with 95 circular diamond beads, which are set to form droplets of brilliance leading to a remarkable 22.08 carat D colour VS1 clarity diamond. In order to replicate, as closely as possible, the flow of water, each diamond was individually selected for its precise size, shape and purity. The "Fountain of Diamonds" ring is the very essence of a modern piece of sculptural jewellery that one is able to carry with them.
Feng J spoke a little about the process of creating these pieces: "This collaboration was inspired by my memories of life in Paris and my obsession with Impressionism. My memories of visiting Claude Monet's garden at Giverny came flooding back to me when I saw this extremely rare 19 carat fancy cut light pink diamond. This diamond seemed Impressionistic in a manner that echoes my design philosophy – Painting with Gems. Moreover, when I first saw a 22.08 carat D diamond, I knew immediately that this was an opportunity to attempt to capture the fountains of Paris in jewellery form. The exquisite craftsmanship and one-of-a-kind design of both of these two pieces is testament to my desire to bring even the rarest gems to life."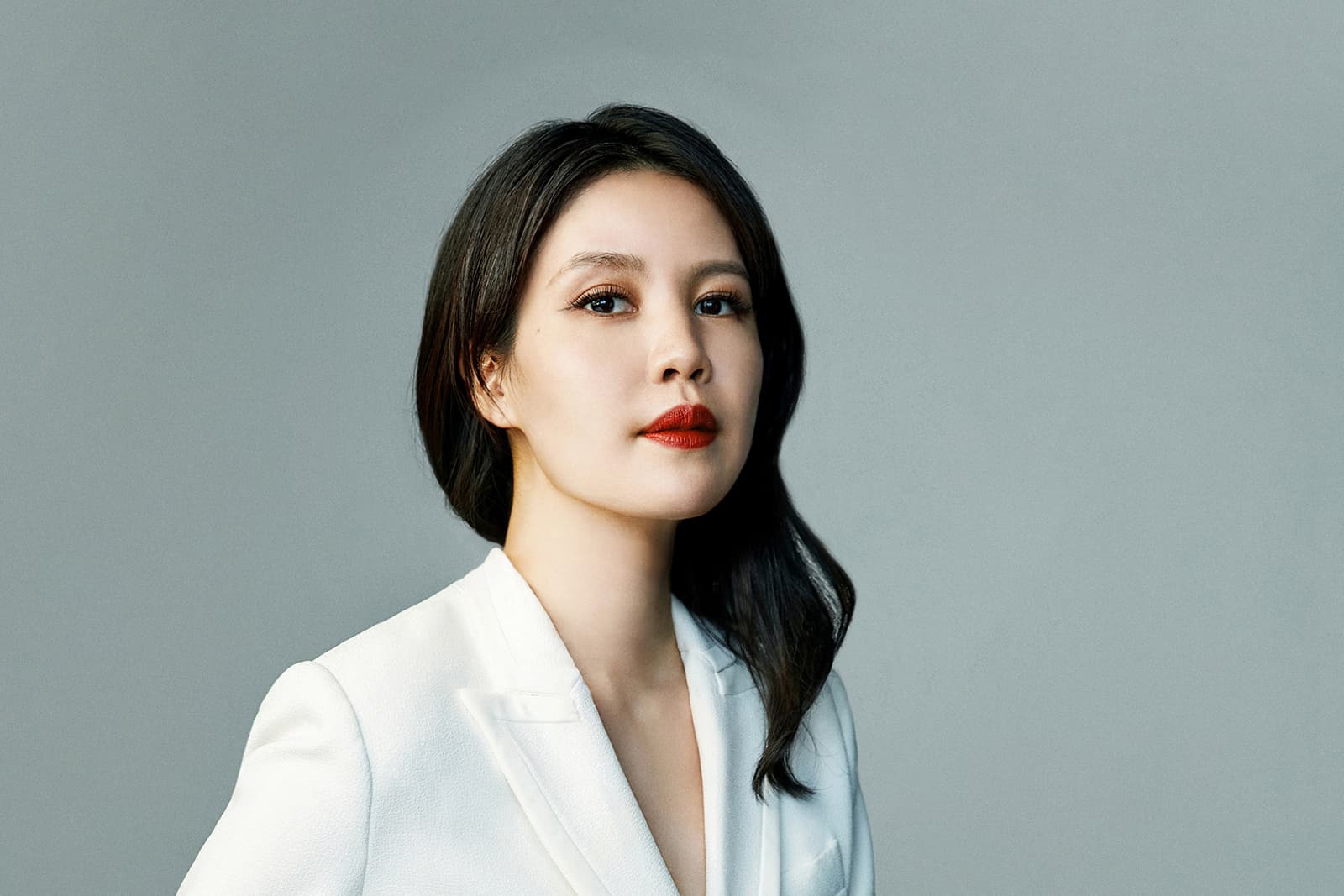 The Fountain of Diamonds ring is expected to achieve between $1,500,000 and $2,000,000 while the Jardin de Giverny necklace has an estimate of $2,500,000 - $3,800,000. It will be very interesting to see just how much collectors appreciate these stunning pieces.