Stellar Times brings together about 90 pieces decorated with a wide range of precious stones: diamonds, sapphires, rubies, emeralds, opals, spinels, aquamarines, tanzanites and tourmalines. The second high jewellery collection created under the direction of Francesca Amfitheatrof, it invites us to travel to the far reaches of our mighty galaxy where exquisite coloured stones, accented with gold, generate an entirely modern jewellery odyssey, reflecting the deepest desires of the Louis Vuitton woman.
"This theme is inspiring because of the artistic value of the stones that represent the planets, but I am also fascinated by the immensity of space and by wanderlust. I also greatly admire the beauty of the entire universe," says Amfitheatrof. "Some of the best modern astronauts are women and very soon we will be able to go to Mars. We as a brand want to illustrate these incredible achievements and have always been bold pioneers in travel and adventure."
This unbridled spirit and drive to explore uncharted territory has been a hallmark of Louis Vuitton since 2008, the year in which the Maison made its debut in the world of high jewellery, and indeed since the founding years of Louis Vuitton. Both in the past and today, Louis Vuitton jewellery has stood out with its bright designs, bold ideas and audacity. These qualities led to the creation of the magnetic Stellar Times, which is divided into seven "chapters", or expeditions.
Lune jewellery pieces, messengers of the Moon, are like lighthouses. The vibrant blue of sapphires from Sri Lanka and Madagascar is combined with the shining brilliance of diamonds on necklaces, rings and earrings, resonating with the magnetic power of a celestial body. Blooming in the centre of a choker is a 15.56 carat velvety blue sapphire from Madagascar surrounded by a checkerboard pattern that echoes every movement of the body.
Apogée will take you on a zig-zag path through space, repeatedly, and somewhat ironically, mimicking the V-shape of the iconic Louis Vuitton logo. The harmonious combination of dangling tanzanites and aquamarines in a white gold necklace accentuates a rare 34.88 carat tourmaline with a bright, hyper-realistic turquoise colour. Elsewhere, a rich 28.55 carat tanzanite is the guiding star of a sautoir that is adorned with a Monogram flower medallion.
The six Planète Bleue jewels are minimalist, elegant and symbolise the Earth's connection with the wider galaxy. The necklace showcases a collection of high-clarity baguette cut diamonds, while the choker features a 4.63 carat Zambian emerald, a Monogram-cut diamond and a perfect 13.77 carat pear cut sapphire.
The power of the Sun, that inextinguishable source of inspiration, the fiery heart of our solar system and the supreme catalyst for all life on Earth, radiates in five Soleils jewels that exude incredible strength and astounding beauty. A four-tiered transformable necklace is crafted using LV's signature checkerboard pattern and set with white diamonds and yellow sapphires, the most prominent of which are 8.48, 14.52 and 35.38 carats. This necklace can be worn in three ways: as a simple choker or as a bib necklace, with or without the last two sapphires. There is also a cuff bracelet that features a 13.53 carat yellow sapphire.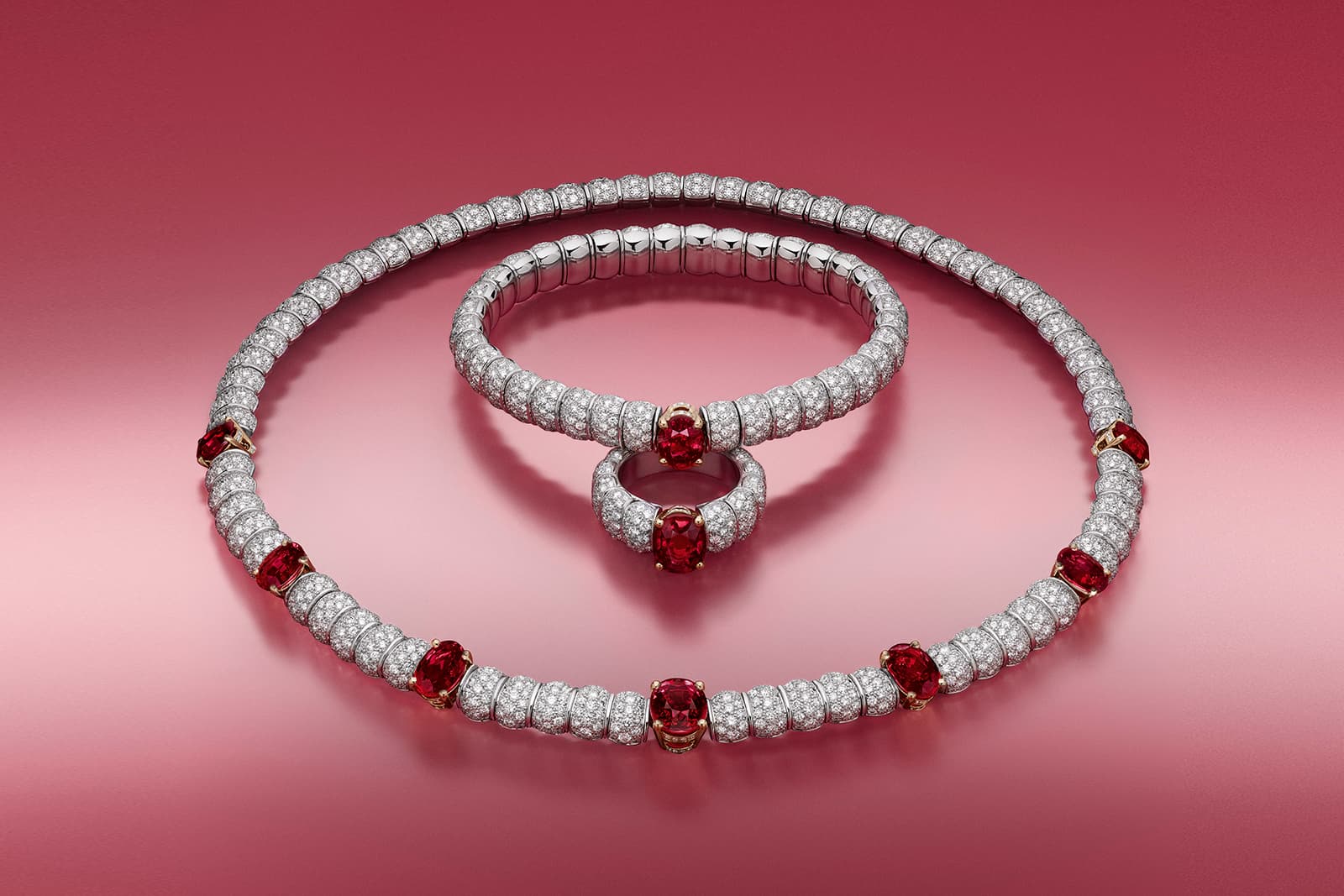 In Astre Rouge, which includes 30 pieces, Louis Vuitton pays homage to the powerful planet Mars, a symbol of space conquest, strength and energy. This chapter features a unique combination of rubies from Mozambique, which took more than two years to source, and diamonds of various cuts. The Astre Rouge necklace in white and yellow gold combines seven oval rubies weighing a total 12.59 carats and 15.33 carats of diamonds – a dazzling force!
When the world was born, unknown forces shaped both space and heaven. In the midst of this galaxy, the Céleste jewellery set gleams with an astonishing light through the power of an asymmetrical, fully articulated necklace with multiple V shapes. The sparkling aqua grooves lined with emeralds, diamonds and a double row of blue sapphires echoes the remarkable sheen of the 22.87 carat black Australian opal.
The Interstellaire bib necklace lights up the wearer's features with 153 multi-coloured spinels weighing 193.44 carats, like a kaleidoscope of colourful planets orbiting the Sun. The set also includes rings and pendant earrings and is a perfect demonstration of two key themes within this collection: colour and light.
Until the booking office for intergalactic shuttles opens with the offer of early bird tickets, the LV Stellar Times collection is a great alternative for space travellers!