Having worked with Mr. Bulgari she has learnt that it is not enough to fall in love with a gem; it is important to think how to use it – and she knows exactly what to do with her precious finds. In this interview, Lucia Silvestri talks about choosing gemstones, revealing their character and making them come to life through spectacular jewels.
LS: Contemporary, creative and feminine.
KP: What is the secret behind crafting such amazing jewellery?
LS: I believe the secret behind high craftsmanship is the passion. We have an excellent workshop in Rome with 35 select artisans, and our jewellers always try to experiment and create something new out of their passion. If we ask them to add more fluidity to a piece, they will find a way to do it.
KP: After more than 35 years in the company is there anything that you find challenging?
LS: I think it is to reach out to the new generation and create smaller, iconic pieces of jewellery because high jewellery is something that is so natural to me.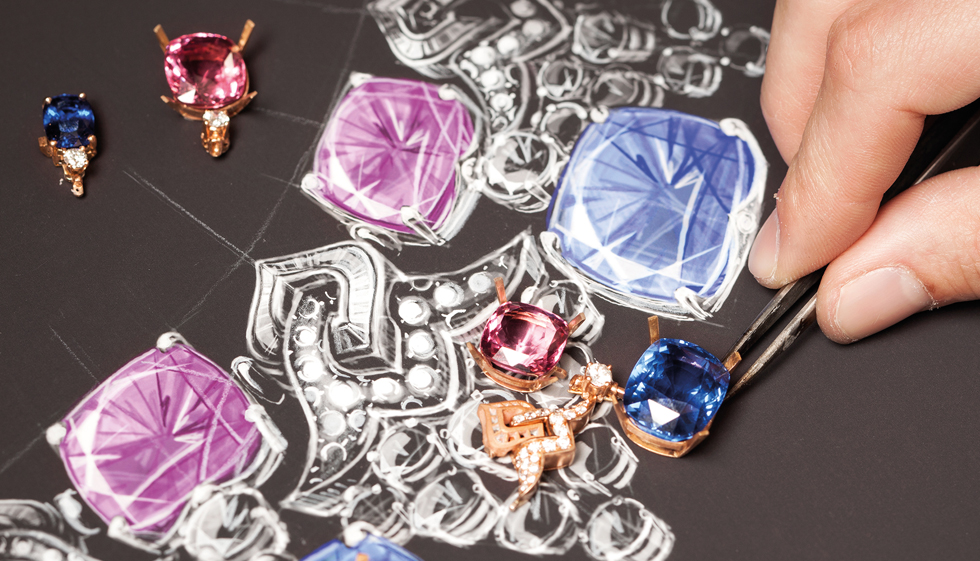 KP: Before joining Bulgari you were planning to be a biologist; when did you realise that you wanted to work with gems?
LS: My father knew Paolo Bulgari and I started working at Bulgari as a secretary. After four months, he invited me over to his office to see the gems. His table was full of diamonds, rubies, emeralds and sapphires. Even though I am a shy person, I could not help playing with them, even though they were rather important stones. I was only 19, but I guess it was love at first sight. This is when I realised that working with the wonderful creations of Mother Nature is my destiny.
KP: What dictates your choice of gemstones?
LS: First, I look at the colour of a gem then comes its cut; for me, clarity is the least important aspect of all. So, when I choose a gem, I look beyond its certificate. Since the cut is paramount, sometimes Mr. Bulgari and I play a game – without opening a parcel of gems, we just touch what is inside and try to assess if the stones are good or not.
KP: So a Bulgari stone is always a perfect stone?
LS: A Bulgari stone is not just about being perfect; it has to have its own personality. Gemstones have so many unique characteristics like inclusions and shape that make each of them different and unique. A Bulgari stone is a stone with a character.
KP: Do you feel that gems sometimes need help to reveal their character?
LS: Yes, of course. I remember there was a 125-carat sapphire in the Giardini Italiani collection last year. It was a truly exceptional stone that I saw as a rough 10 years ago. For the past seven years, the dealer refused to cut it, and each time I went to Sri Lanka, I saw the gem. When the dealer finally gave in and fashioned the sapphire. He ended up with a 133-carat gemstone, which was significant in size but I did not feel that it was quite 'alive.' It took me some time to convince the cutter to give it a better shape and finally we got a magnificent 125-carat cushion-cut stone that ended up in the Love's Paradise sautoir.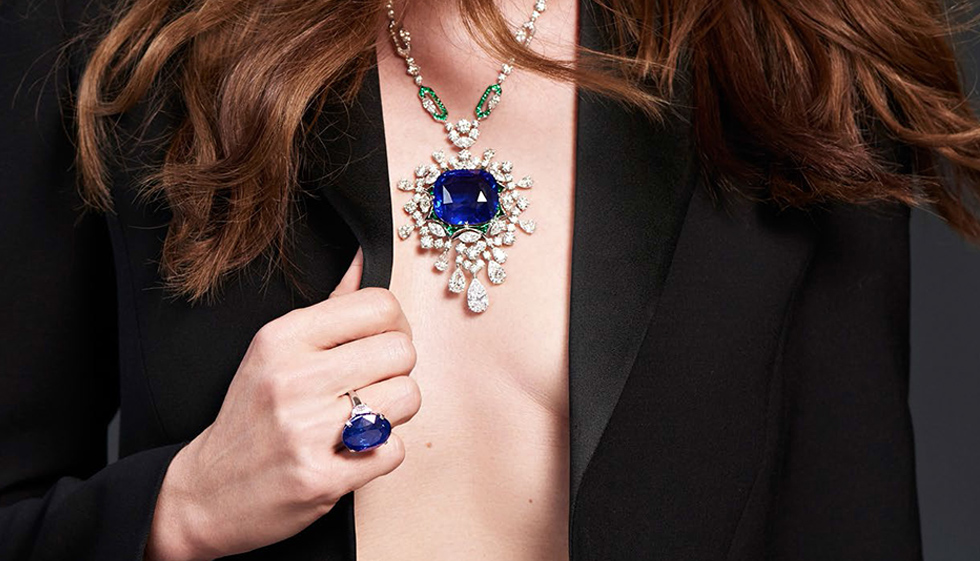 KP: Spurred by the desire to innovate, have you come up with any original gem shapes?
LS: I have been in the company for over 35 years and every day I am surrounded with gems. I guess I it's in my 'blood' now, so I always experiment with new types of shapes to fashion gemstones. We have introduced the Diva cut, shaped as a triangle with slightly curved lines, and then we introduced it in the Bulgari collection with hard stones like malachite, onyx and mother-of-pearl. There are two necklaces in our Magnificent Inspirations high jewellery line as well – one set with jade and the other with coral.
KP: Is there a gem of particular importance in the Magnificent Inspirations collection?
LS: I would say it is the 45-carat sapphire from Sri Lanka, which was initially a stone of 48 carats, oval in shape. When I came across it, I thought it was very interesting in terms of quality and colour. However, it lacked life and I decided to re-cut it into a cushion. I also took on the responsibility for losing three carats of weight in the process, which is a lot. And now, regardless of going down in carat weight, it gained a better brilliance and became more vivid. Now the sapphire 'speaks' to me and, finally, I can say 'Buon giorno' to it.
KP: You seem to have discovered a new property of gems – their 'voice'?
LS: In my mind, gemstones have not only visual properties but also sound, and I love to listen to it. If you run your hand through the amethyst drops in the Magnificent Inspirations necklace, they knock against each other and make such a pleasant sound; it sounds like the sounds of a piano to me.
KP: What gems are you wearing today?
LS: A diamond and an emerald; I always wear them as mismatched earrings. I bought the diamond in New York some years ago. Then I found the emerald in Jaipur and had to re-cut it in order to match the diamond.
KP: Tell us about a recent moment of utter happiness.
LS: I think it was when I saw 300 of my pieces together during the event in Cap Ferrat. For the first time, so many of my 'babies' were in the same place. I was alone and it was such an emotional moment that I started to cry.