There's something special in being able to say you're the first to do something. In the case of Chinese art jeweller, Feng J, she can claim to be the first Chinese-made, independent brand to exhibit at Fine Arts Paris & La Biennale Paris 2022, which has recently merged with Fine Art Paris to become a new event, now in its first edition.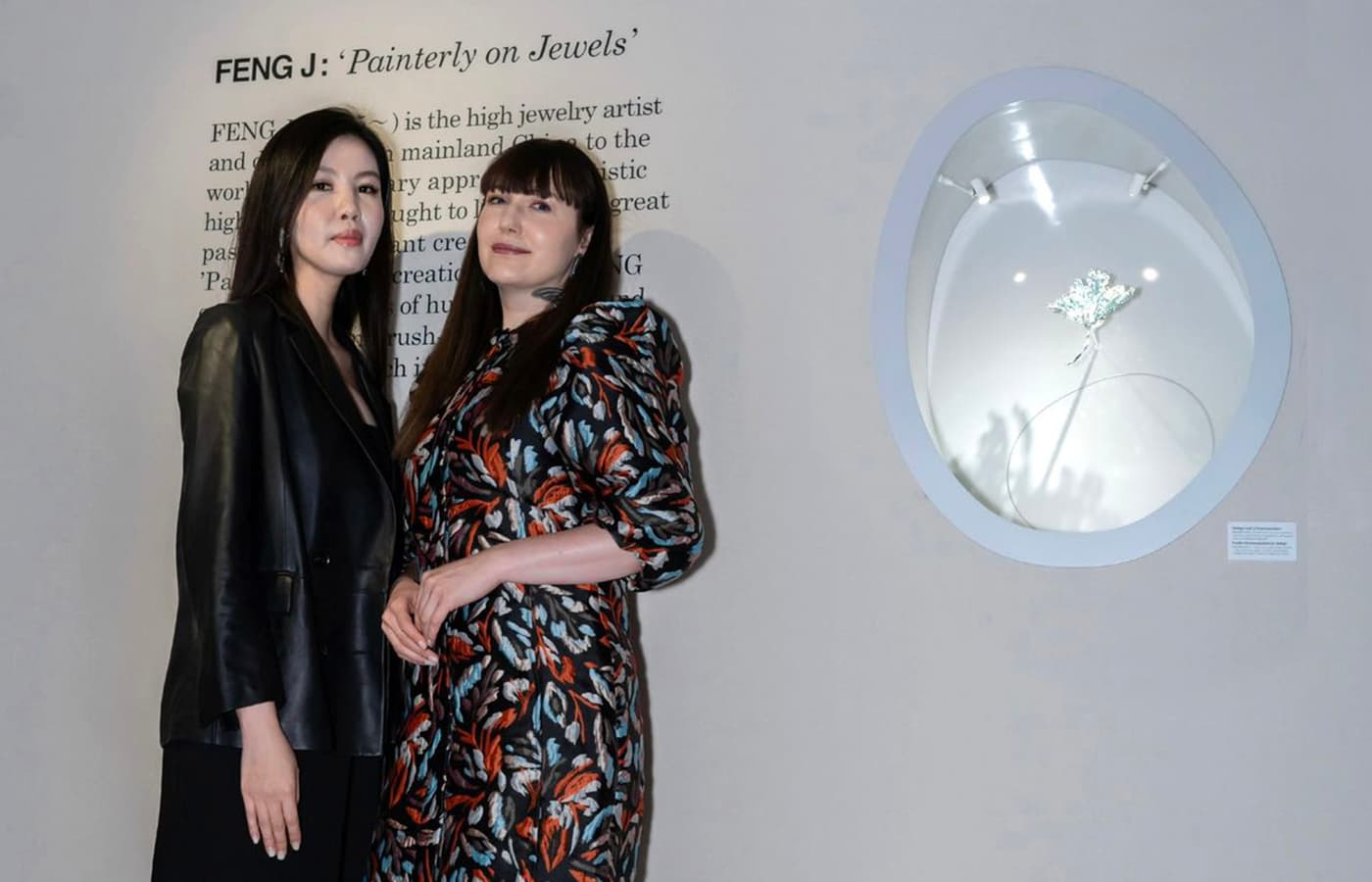 From now until November 13, Feng J Haute Joaillerie will present 8 new masterpieces at Carrousel du Louvre, Paris, including some pieces that show how her 'Floating Set' concept is evolving with time. These creations evoke traditional nature-inspired themes, like flowers, leaves, butterflies, and dragonflies, but are expressed like they've blossomed straight from an impressionist canvas, where each double rose-cut stone is the stroke of a brush dipped in paint.
But first, let's go back in time to reiterate how this designer's signature style evolved. When I first met Feng J six years ago, she was searching her natural aesthetic for the twist on tradition that would transform beautiful jewellery into something innovative and unique. Her answer arrived in 2017 when she began using double rose-cut gemstone slices, some just millimetres thick, and using them in pavé-like arrangements she called the 'Floating Set'. What this means, in reality, is tonal surfaces of gems, all different shapes and sizes, held in place with minimal slivers of precious metal as if they are hovering in mid-air.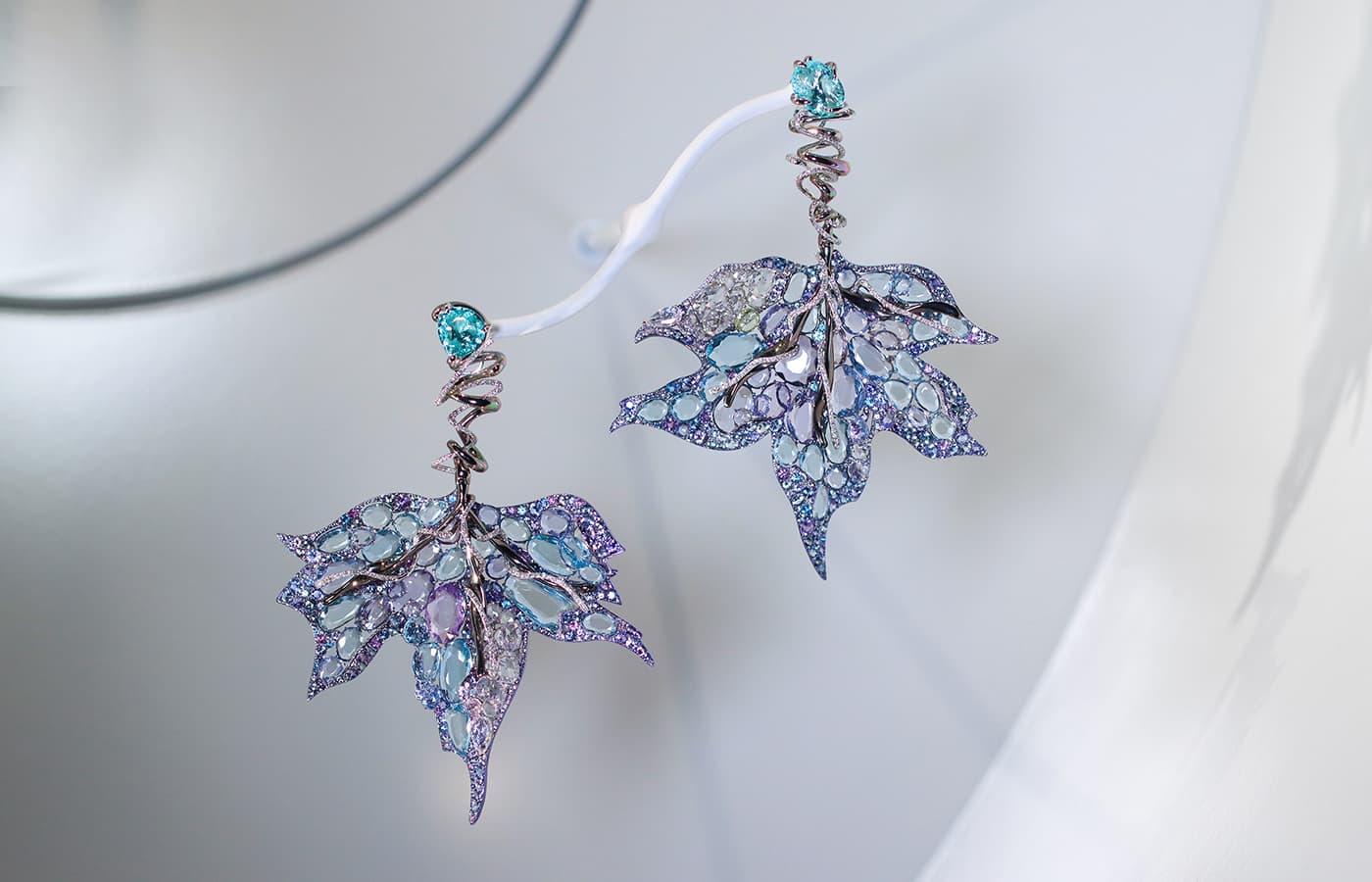 Two things underpin Feng's mastery of this technique. The first is her 'Painterly' style – a kind of aesthetic vision for her jewels – which relies upon combinations of light, hue and saturation that one would more commonly expect from an artist. The second is her bank of coloured gemstones. This matrix of colour, just like a collection of oil paints for a painter, allows her to blend shades of double rose-cut gemstones to create the most sensational swathes. So, just like an artist mixing the ideal shade on their palette, Feng can compose with crimson, scarlet, cardinal, poppy and carmine, and not simply red. This is the joy of her painterly style and what's made her pieces so instantly recognisable.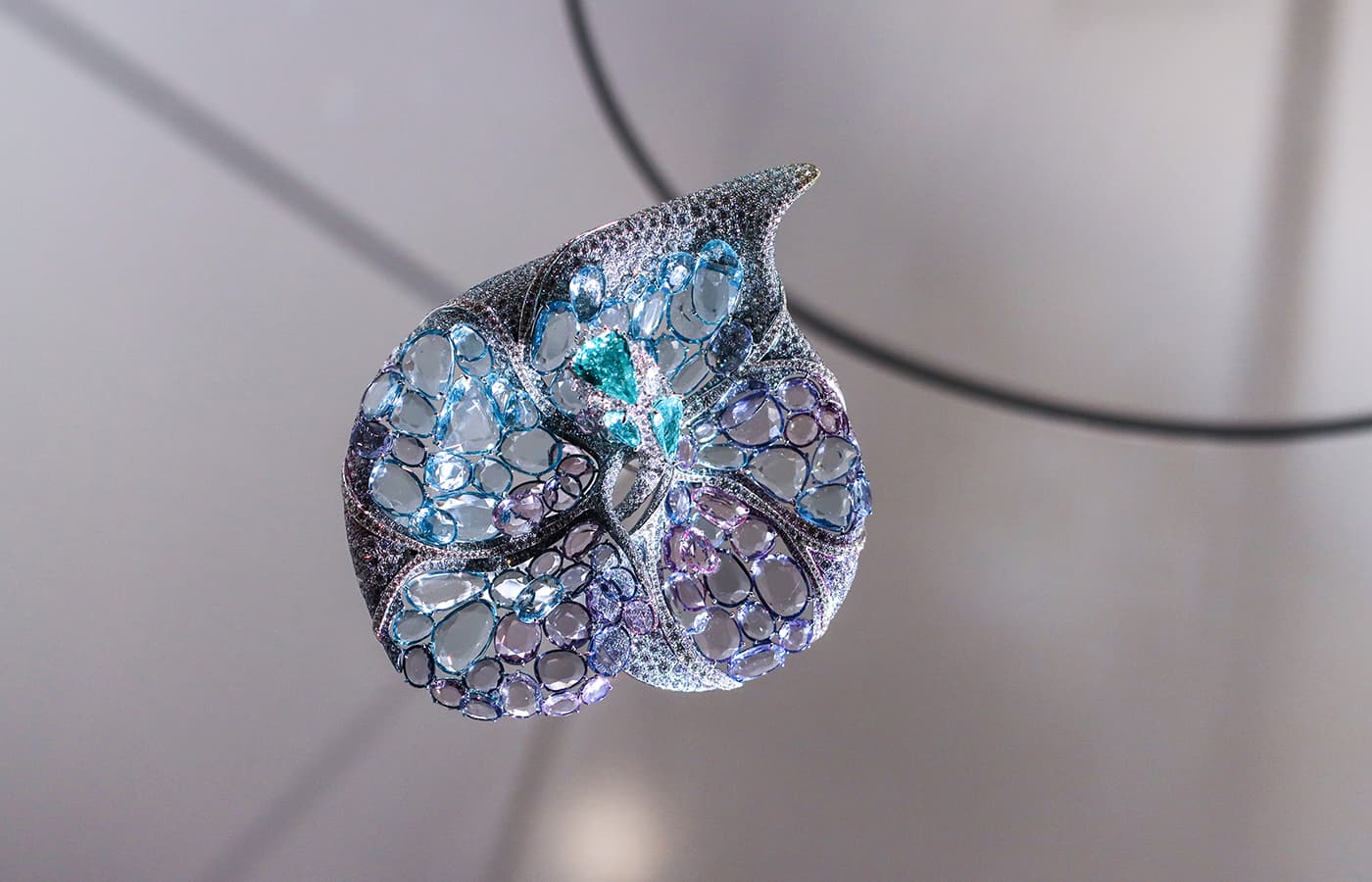 During my visit to this year's Fine Arts Paris & La Biennale, I saw Feng J's new pieces for myself. Each has broad surfaces of colour with many double rose-cut gemstones placed closely together and secured with only delicate claws of precious metal. What elevates her technique to the next level, however, is how she manipulates these gemstone surfaces in three-dimensional, voluminous, and highly original ways. This new suite of masterpieces is light, airy, and tremendously colourful but also dynamic and different for the designer.
The ultimate masterpiece of the fair is, in my opinion, the 'Blooming Dragonfly Diva' brooch. This piece has an abstract quality, with the shape of the dragonfly achieved with an enchanting opal, double rose-cut pink sapphires, purple spinel, aquamarine, and diamond beads in 18k gold and titanium. It's hard to tell at first glance how the gemstones are structured and ordered… they simply look like they've landed on the whisp of a breeze in shades of blue, lilac, lavender, hot pink, indigo and violet.
If you've read my previous articles about Feng J, you will have seen images of her Gingko Leaf and Lily of the Valley-inspired designs. Now, for 2022, we see how these motifs are being reworked to showcase the 'Floating Set' in more three-dimensional forms, inviting us to look inside and around a work rather than simply gazing upon it. The new Lily of the Valley in Canvas brooch features double rose-cut chrysoberyls, aquamarines and tsavorites all set in a lightweight 3D structure made of green titanium that create extra volume intriguing to the eye. I'd also like to point out a quirky detail: pearls, cut in half and used like the cap of a snowdrop with diamond briolettes.
In another piece, the 'A Dragonfly Wearing Moonlight' brooch, it's clear that Feng is trying new techniques. Of course, we see her iconic, light-infused selection of pink sapphires, aquamarines, black spinel, sapphires, diamonds and diamond beads, but also lacquer-painted titanium, which is inky black like the night sky with blue streaks radiating from the base of the wing. This is Feng's take on adding colour to titanium. At the centre of this piece is an oval unheated sapphire that's like an anchor to all the colours around it.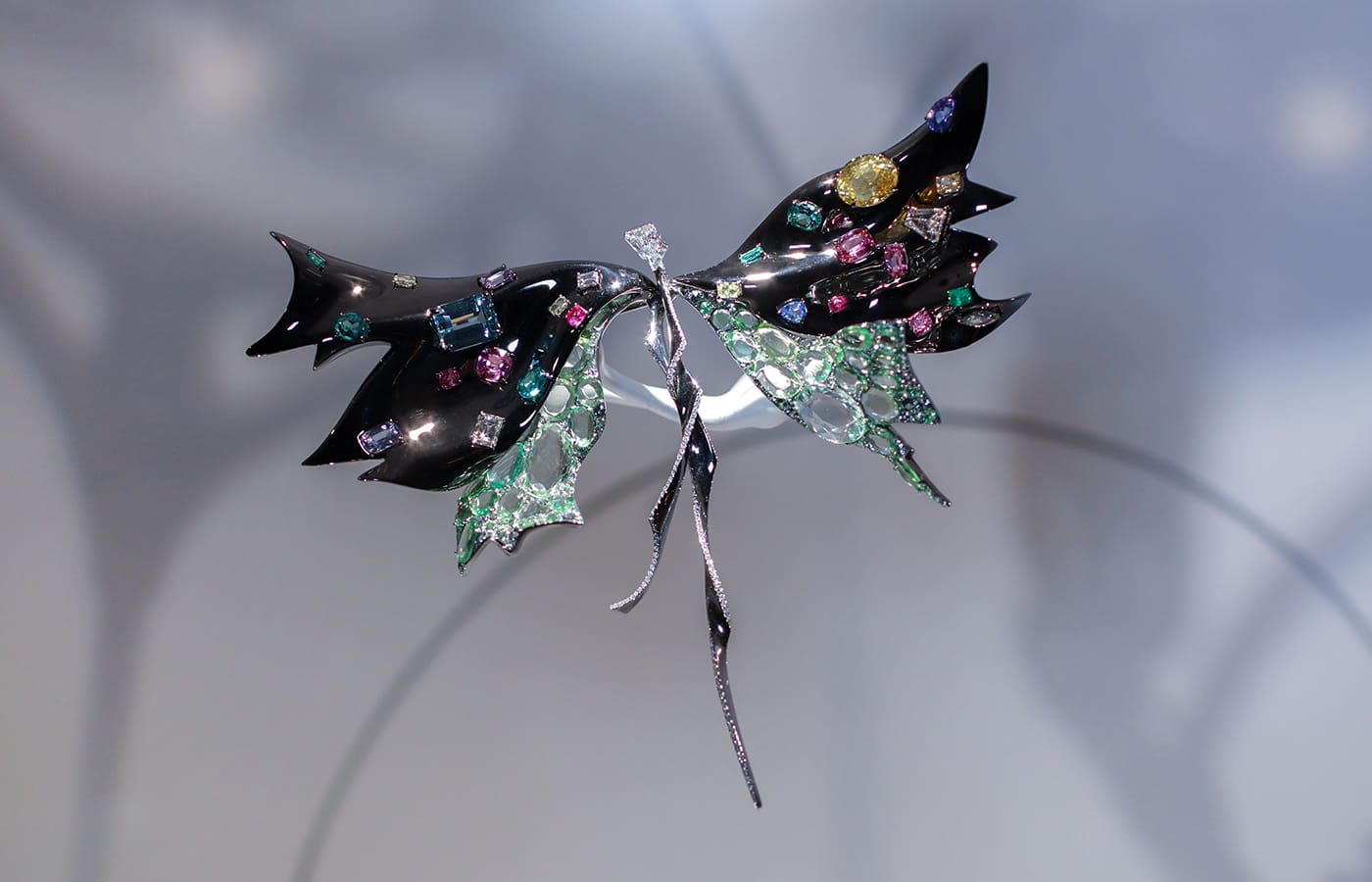 I must also highlight the 'Ginko Leaf of Impressionism' brooch with sapphires, tsavorites, aquamarines, chrysoberyl, spinel and rose-cut diamonds in titanium, and the Matisse Dragonfly brooch with emerald, aquamarine, sapphire, spinel, tourmaline, tsavorite and lacquered titanium. The latter is a clear example of Feng J's love of art and how she interprets this passion through the depth of tone, hue and saturation in the gemstones she uses.
I think we are in an exciting era of design and creativity for Feng J. She's comfortable with her painterly style to such an extent that she can play with colour, shape, form, and texture in her latest works while adding volume and contrast with titanium. It never ceases to amaze me that something so featherlight and delicate in appearance has all the strength of precious metal and titanium at its core.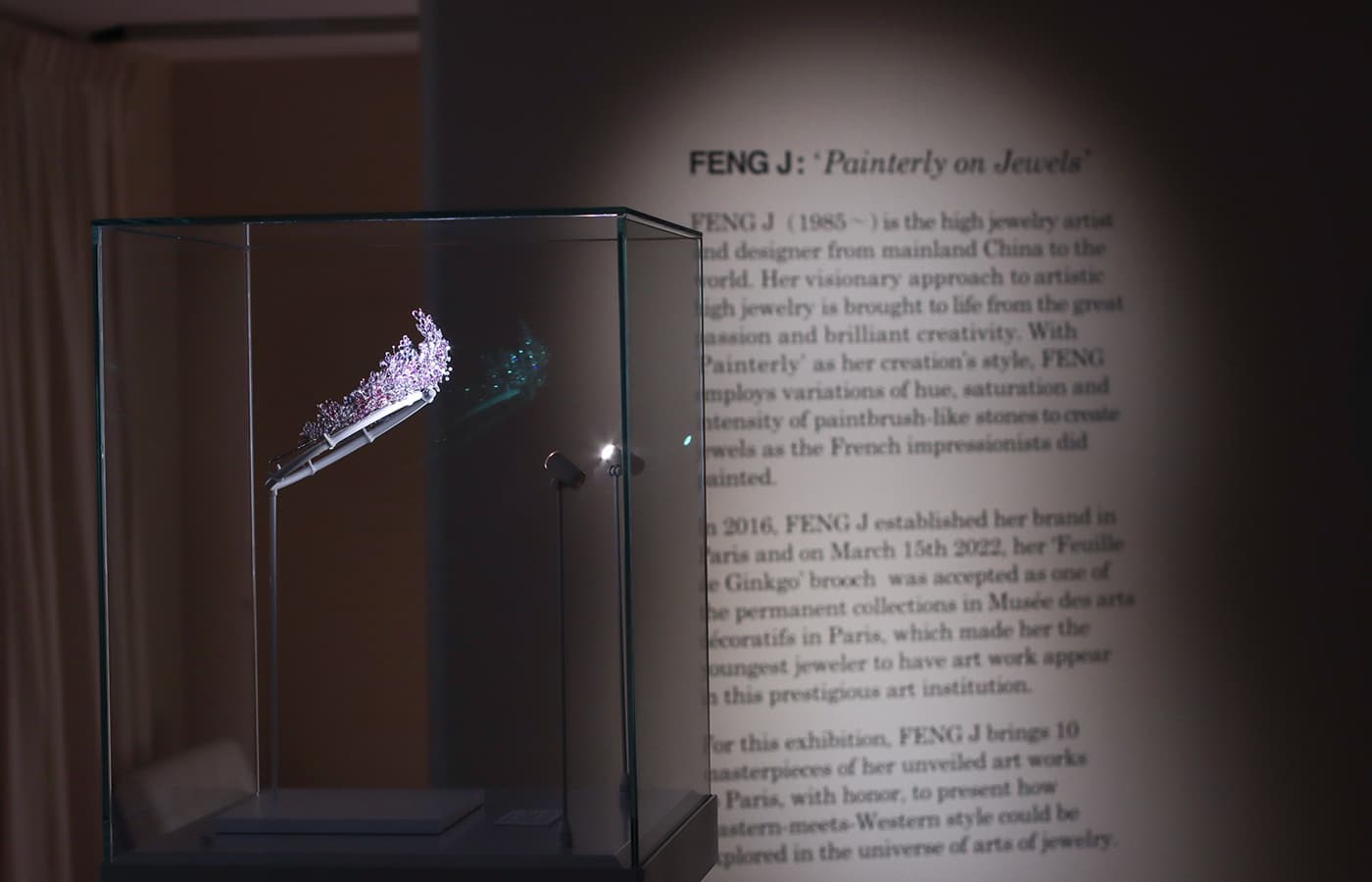 I must also point something out to my fellow jewellery lovers. As each gemstone that Feng uses has its own distinct shape and size, a setting must be made for each individual stone before it is constructed into the pieces you see here. Can you imagine the meticulous work, preparation and planning that must go into each creation? Herein lies the magic of Feng J and why she's so deserving of a place at Fine Arts Paris & La Biennale.