Diamonds are probably the most sought-after precious gems in the world, and one can say with absolute certainty that there is no outstanding jewellery collection presented without at least one jewel incorporating diamonds. But despite the fact that each house uses this same natural treasure, the results can differ vastly...
For the first time in the history of the Chanel Joaillerie, the French brand has introduced jewellery with old cut diamonds. Two rings – the 'Precieux Envol' with a pear cut stone, and the 'Fleur de Diamant' with an oval diamond – have become part of the extensive 'Coromandel' collection. The main distinctive features of these stones from the modern ones is that they have a strongly pronounced culet, and when you look at the stone from above, you see a an obvious dark area in the centre. However, this only gives old-mine diamonds a certain charm, demonstrating their unique character.
The De Beers jewellery house specialises exclusively in diamond jewellery, so its designers use this stone in all its many forms, including its natural one. When a diamond is formed in kimberlite, it looks like a cube with an oily surface which dampens its shine. In spite of a rough diamond's modest appearance, it is more than suitable for use in high jewellery art. And that is what the De Beers jewellery masters have proven in creating the 'Vulcan' set for the newest 'Diamond Legends' collection.
Another jewellery brand which places diamonds at the fore is Messika. During Paris Haute Couture Week, Valerie Messika presented the latest pieces from the 'Once Upon a Time' collection, which is dedicated to her favourite children's fairytales. Each necklace, ring and pair of earrings has its own exciting design, but I was most taken with the laconic and stylish 'Spears' diamond choker. It is comprised of alternating diamonds in pear and marquise cuts, with a total weight of 70 carats, foregrounded by a 10 carat pear shaped diamond in its centre. It is worth noting that each of these diamonds was not only selected for its cut, but for its exceptional features and quality.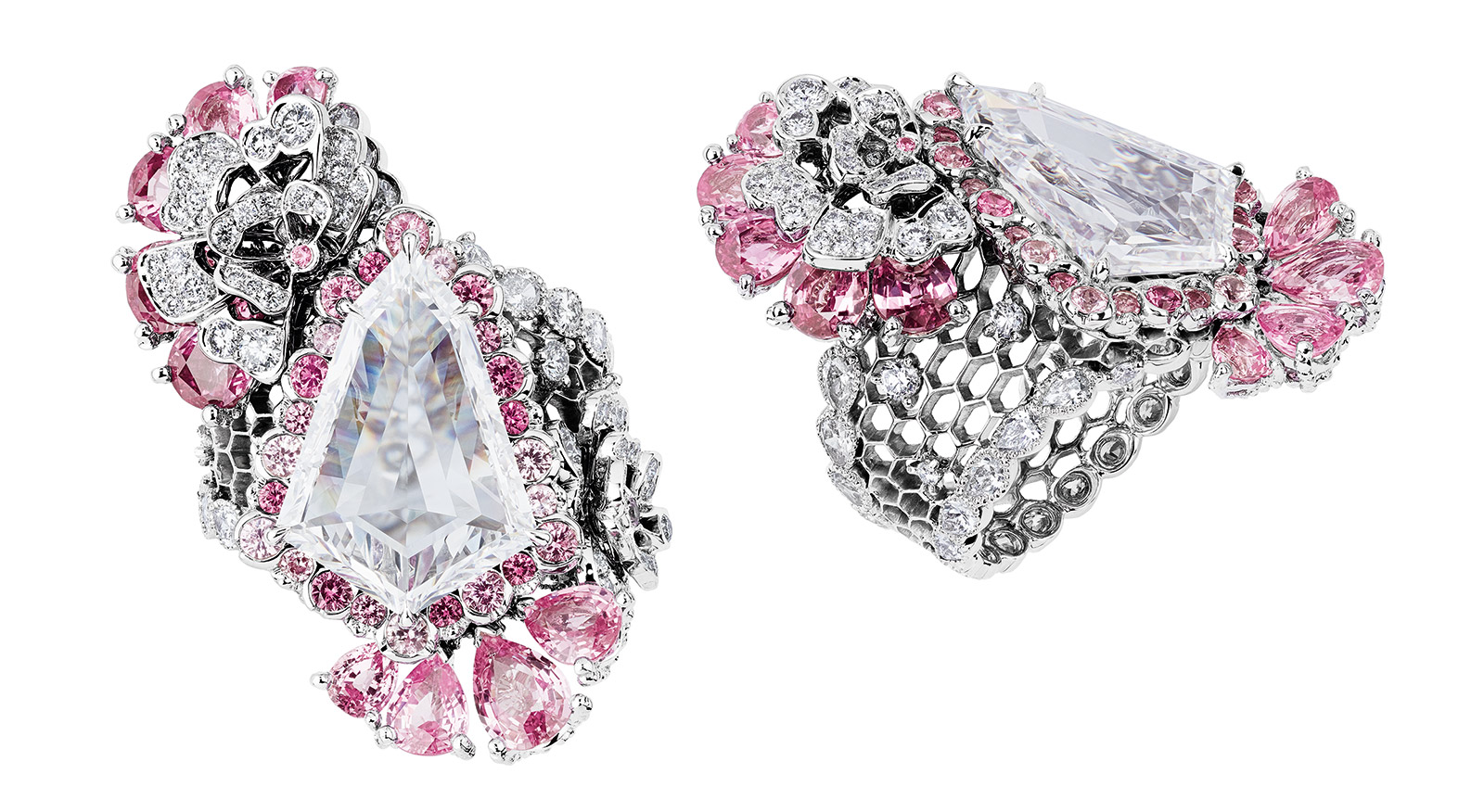 A diamond which made me stop to pay my absolute and fullest attention was sparkling at the heart of the 'Dentelle Organza' ring from latest lace inspired 'Dior Dior Dior' line. I was attracted by the unusual form of the diamond; something between a bullet cut and a shield cut. The 5.07 carat stone took pride of place, surrounded by smaller diamonds and pink sapphires adorning the ring's shank. Incidentally, this is not the only fancy diamond in this high jewellery collection: many 'Dior Dior Dior' pieces are decorated with flat diamond 'discs' which imitate sequins.
This season three jewellery houses - Piaget, Boucheron and Van Cleef & Arpels - have turned to rose cut diamonds, whose shape originates from a time before the contemporary technique of applying facets to maximise brilliance were put in place. Rose cut stones are flat at the base, and feature a crown which is polished into a dome with triangular facets. In 'Sunlight Escape' from Piaget, these colourless stones with their delicate brilliance decorate 'Mirror of Lights' watch, necklace, ring and earrings, whereas Van Cleef & Arpels use 14 yellow rose cut diamonds as the key decorative element for their 'Victoire' earrings – the pendants of which can also be removed and worn as studs.
In conclusion, I wish to draw your attention to a luxurious necklace from Chopard, which the master jewellers of the Swiss house finished creating shortly before Paris Haute Couture Week began. In order to understand its intricate design – which appears at a distance to be a collar studded with diamonds – you must first take a closer look. You discover that the necklace is made from 580 heart cut diamonds, arranged in opposing pairs. The total weight of the stones? No less than 226 carats.
It's evident that jewellery brands are now moving away from traditional jewellery forms in high jewellery, offering potential clients completely new design solutions and gemstone cuts. And it's precisely these innovations that make us look forward to Paris Haute Couture Week year in, year out – and all of the fine jewellery discoveries it brings.