These latest jewels from the Swiss designer are only her second big release - following her jewellery debut in 2017 - and are no less exciting and jovial than her inaugural series of jewellery creations. Nadine explained her inspirations and what drives her design process at the event while showing me her latest jewellery: "I'm finding a negotiation between a cool aesthetic, a precious look that's grand and expensive, at a modest price. I want people to be able to enjoy my jewellery."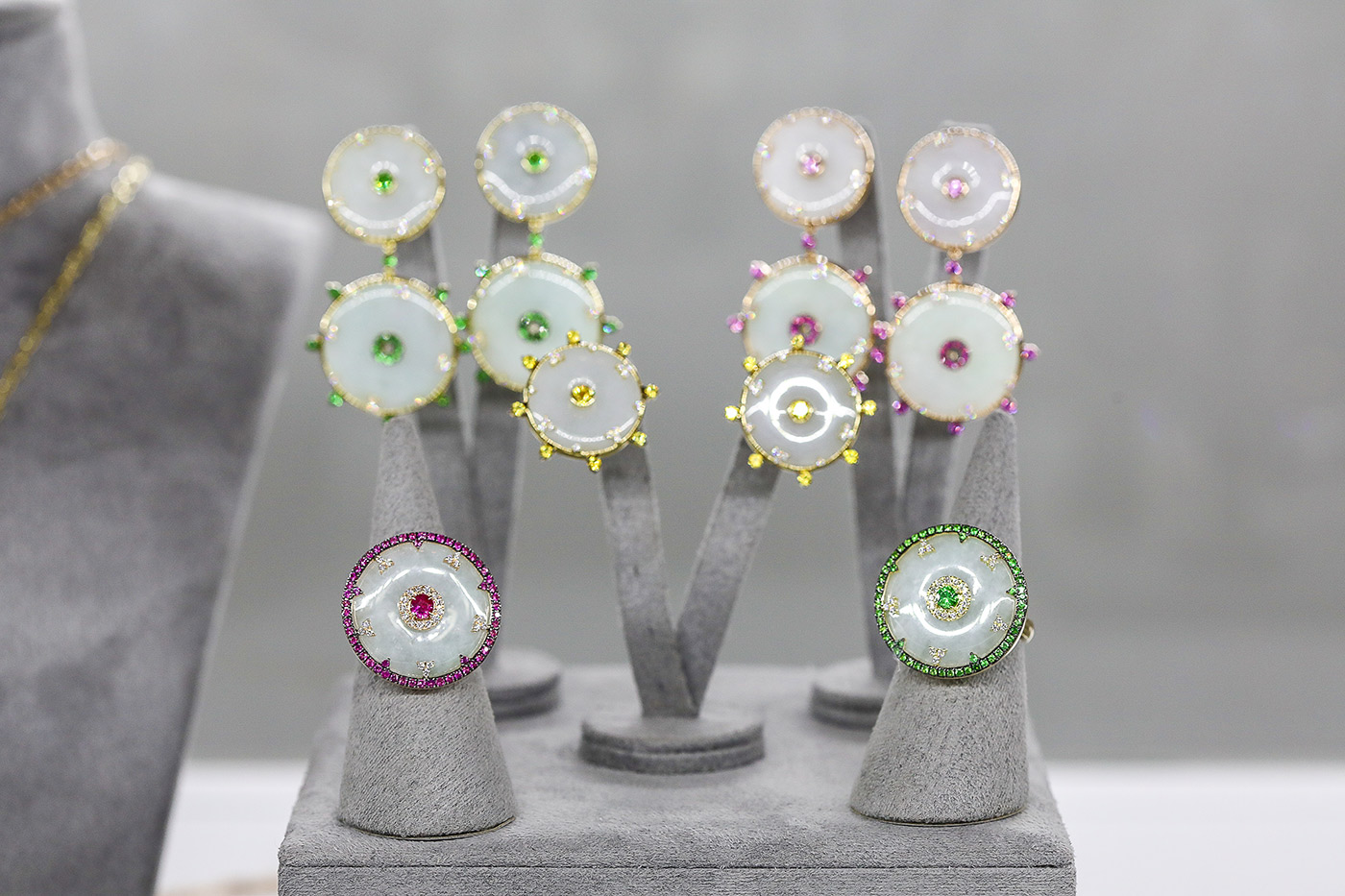 The first jewels on display that I was drawn to turned out to be the brand new 'Celeste' earrings, pendants and rings comprised of contemporary jadeite amulet-like discs accented by vibrant tsavorites, pink sapphires and diamonds. Their modern and timeless aesthetic seemed to appeal not just to me but to other guests too as they were busy trying jewellery on. Next we moved to Nadine's most popular Tsarina collection (which is my favourite too!) that has been extended with grander novelties. The striking look of drop earrings and pendants with snowflake motif had been amplified by additional gemstones - opal, chalcedony, milky aquamarine, rose quartz and sun stone.
This youthful, delicate and unapologetically feminine jewellery is Nadine's signature style, injected with a luxurious approach to quality. "I want my pieces to be trendy, always designed with women of every age in mind," asserts Nadine. "Too much colour can cheapen the look of fine jewellery, but it all depends on the way you work and finesse it. Just as with all art, it's all about the composition, what will differentiate a painting which is full of colours, between one which is monochrome? It is the quality of the work and craftsmanship."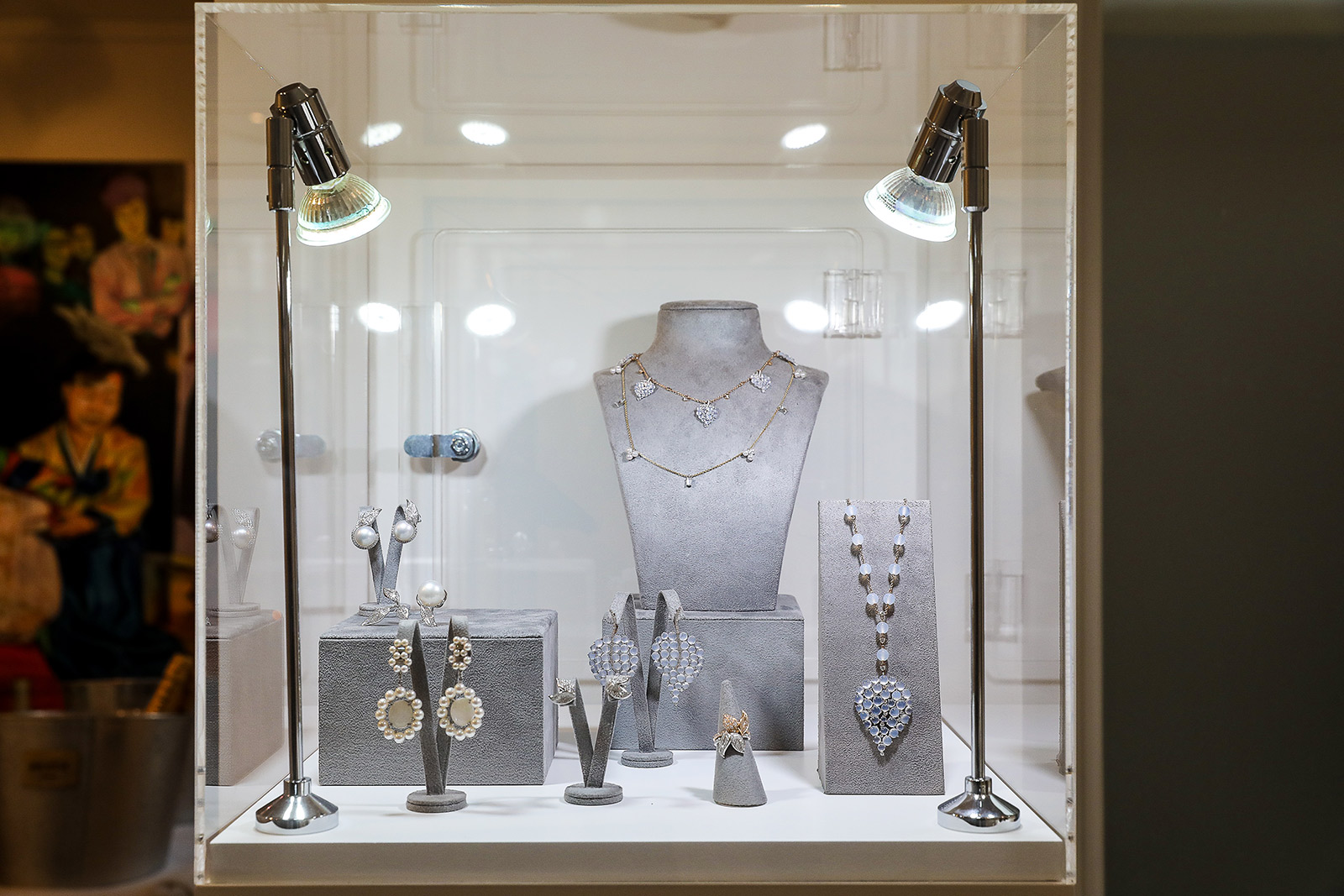 Since the launch of Nadine Aysoy fine jewellery in 2017, the designer was often mentioning the success of her 'Mille et Une Feuilles' collection and this love for simple and elegant leaf motif resulted in creation of a brand new 'Grandes Feuilles' line. With the long necklaces, delicate chain chokers and drop earrings dappled with luminous chalcedony cabochons Nadine explored a new visual approach to traditional gemstone pave.
However, the stylistic decisions which have gone into the evolution of this line is far more complex than simply adding gemstones; Nadine is considering some of the largest sociological questions within the luxury industry in creating these pieces: "The millennial audience is driving the demand for ethically sourced fine jewellery, and what I care about is that my pieces look luxurious, but also have the right price for my clients. The element which costs the most in my jewellery is usually not the stone itself but the actual labour. It is impossible to produce a piece for under a certain amount, it is not ethical to underpay someone to produce jewellery which is cheaper than it should be," says the Swiss designer.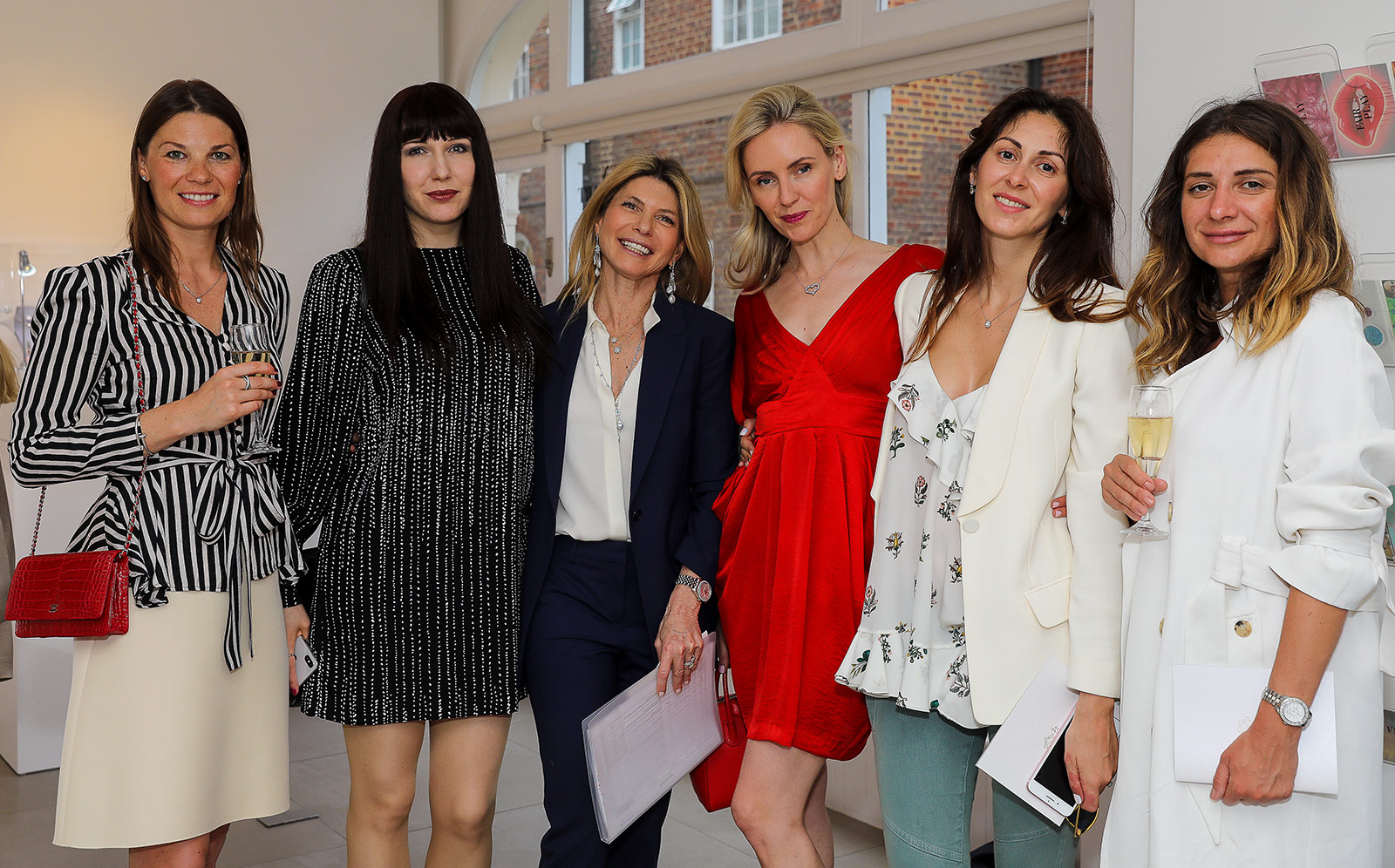 For Nadine, ethical jewellery is based on three key elements: fair pay to the jewellery-makers, good conditions of their work, and creating designs which are original and not inspired by someone else's work. Don't you agree that when it comes to fine jewellery wanting something precious at a cheap price is in itself unethical?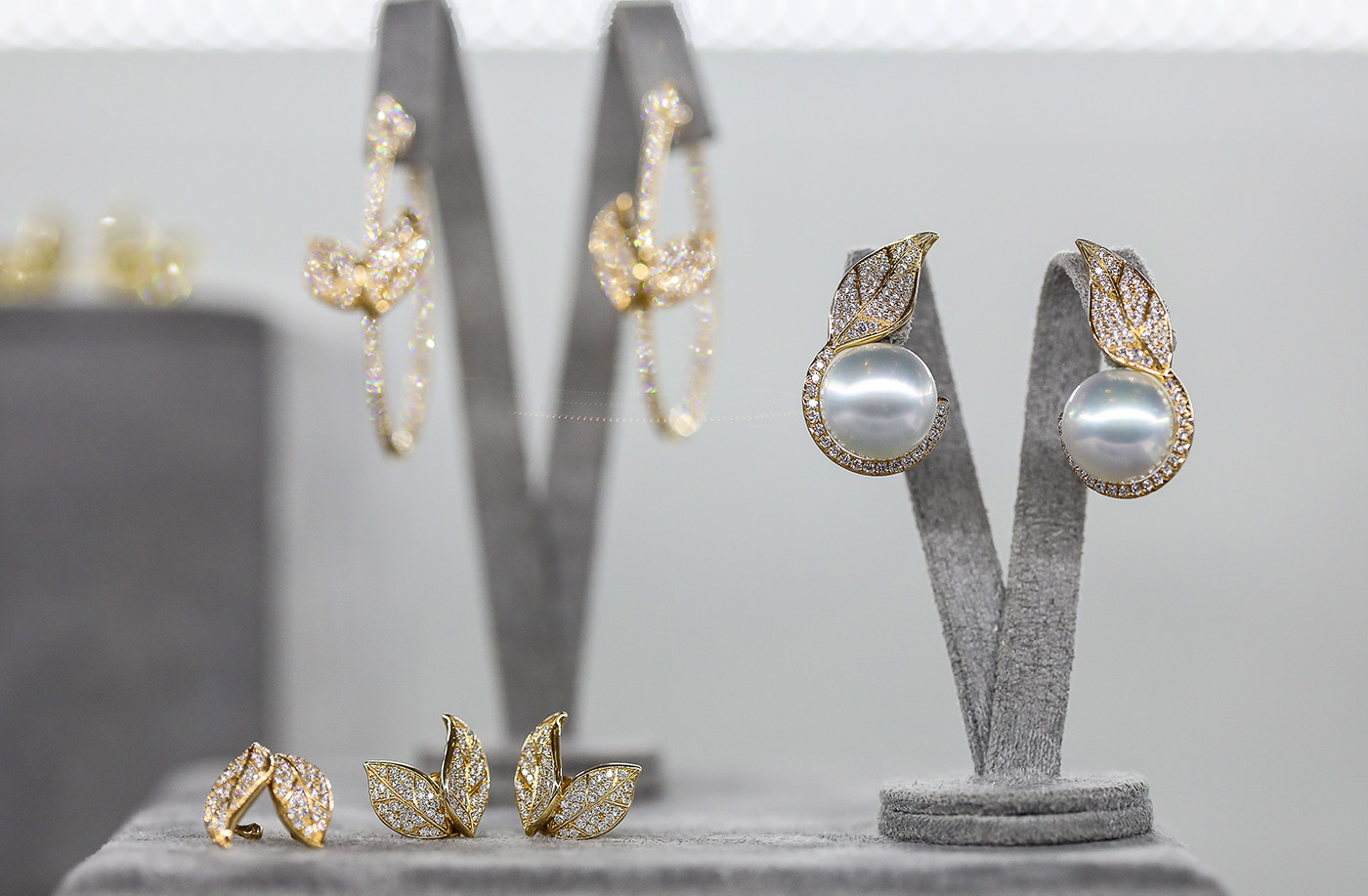 The way in which Nadine Aysoy is appealing to a broad range of fine jewellery lovers of all ages is far from merely at a superficial level. Large, affordable, exciting mixtures of gemstones don't just attract younger clients, but also provides an entry level into stylish fine jewellery for a great range of tastes. It's no wonder that Nadine Aysoy won 'New Designer of the Year' at the Retail Jeweller UK Jewellery Awards 2018!