Unlike many large jewellery houses, which usually release new high jewellery collections twice a year, Piaget opts to focus on only one theme a year, releasing different elements of the same subject in stages. This approach has been adopted for the release of the aforementioned Wings of Light collection, the different parts of which appear with enviable regularity in various glossy publications. Readers, the pages of my website are no different and you can find them covered here! Last year, the vast majority of the jewellery from this collection remained in the imagination of Piaget jewellers and designers or, occasionally, in a two-dimensional form, sketched down on paper. Just recently, several more pieces from the collection have been released in real life. I'd like to present them to you here.
"This year, the collection is called Wings of Light. The collection is a seamless continuation of our journey that follows the path of the sun: a symbol that has always played a central role for Piaget. After Piaget's Oasis collection, where one could experience the play of light and the grandeur of nature in the context of a desert Oasis, Piaget has unveiled the Wings of Light Collection which is set instead in a luxurious jungle," says Christophe Bourier, Piaget's Global Director of High Jewellery, in an interview with Luxurious Magazine.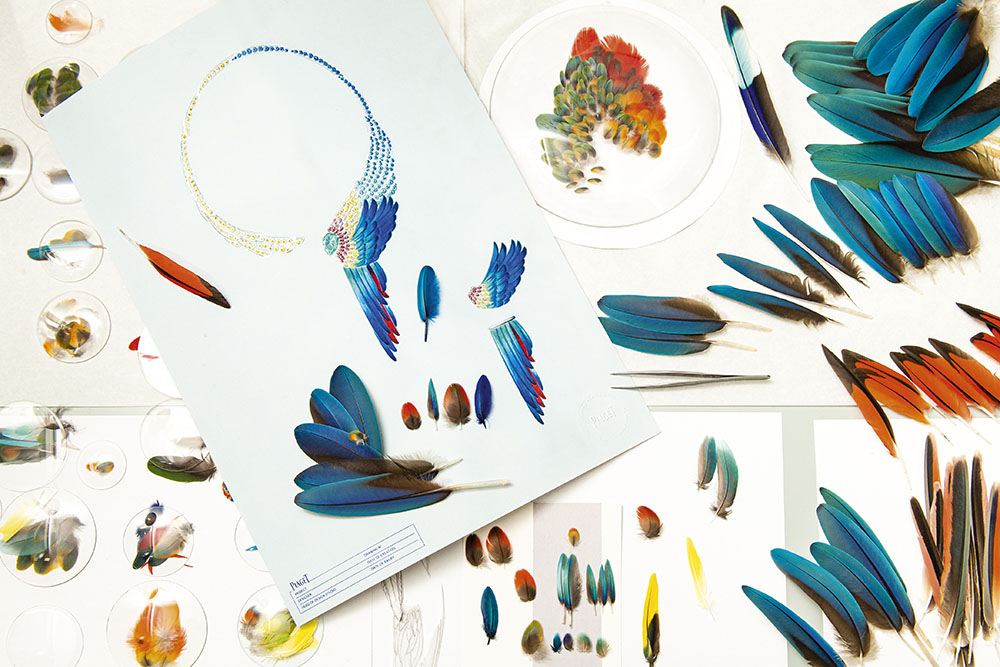 The colourful plumage of birds has been a constant source of inspiration for Piaget designers. To achieve the greatest possible resemblance to the brand's ornithological object of admiration, Nelly Saunier, one of the few craftswomen who has mastered the techniques required to recreate plume and marquetry, has been involved throughout. This time more than ever, her involvement was an absolute necessity. Never before has this plumage technique been used so extensively. Take for example the Majestic Plumage necklace, where Saunier uses a whole rainbow of bejewelled feathers with minute precision, each shaded with an array of sapphires and spinels. In the centre of the necklace, one will have no difficulty locating a 7.49-carat neon Paraiba tourmaline all the way from Mozambique, which illuminates the jewellery from within. The beauty and shape of this stunning stone are matched here with a sense of real functionality. The necklace can be worn with or without the feather marquetry, which can be removed and used as either a cuff earring or as an asymmetrical pair.
The set also includes earrings that harmonise with the necklace in terms of their design and colour palette, with two pear-shaped red spinels from Tanzania weighing a total of 2.70 carats, in addition to blue, yellow and orange sapphires, and an inevitable set of Paraiba tourmalines. It took Piaget's craftsmen no less than 140 hours to turn this stunning set of stones into an even more impressive piece of jewellery, which it should also be noted is surprisingly comfortable. Another transforming necklace in the collection is the Blooming Flor sautoir. This piece possesses a slightly less extravagant design. The regal shimmer of long strands of pearls in two different varieties -freshwater and Akoya - is offset by the brilliance of diamonds and pink sapphires. The central stone - a 10.62 carat cushion-cut Tanzanian red spinel - explodes with vibrant colour. Function and form are perfectly synchronised here: the necklace can be worn in three different ways, while the central element can also be worn as a brooch. Earrings from the same set can also be had in white and pink hues, accented with bright spinel.
The next piece of jewellery that I couldn't wait to catch a glimpse of was the Rainbow Light cuff bracelet from the set of the same name. This piece took an astonishing 250 hours of work and demonstrates an even more complex use of marquetry. It is the product of an absolute master of this art form: Rose Saneuil. She tells me: "I am passionate about this profession as a marqueterie, a field constrained only by one's imagination."
In her work on cuff bracelets, earrings and watches, Rose has made extensive use of feathers, simultaneously using wood and leather in various shades of red, as well as pearlescent inserts and pavé diamonds for the desired sense of contrast. The heart of the bracelet is adorned with a juicy rubellite, weighing 22.68 carats, while the earrings comprise a pair of pink sapphires and rubellites. The lustre of these stones is brilliantly contrasted against the backdrop of matte wood and leather.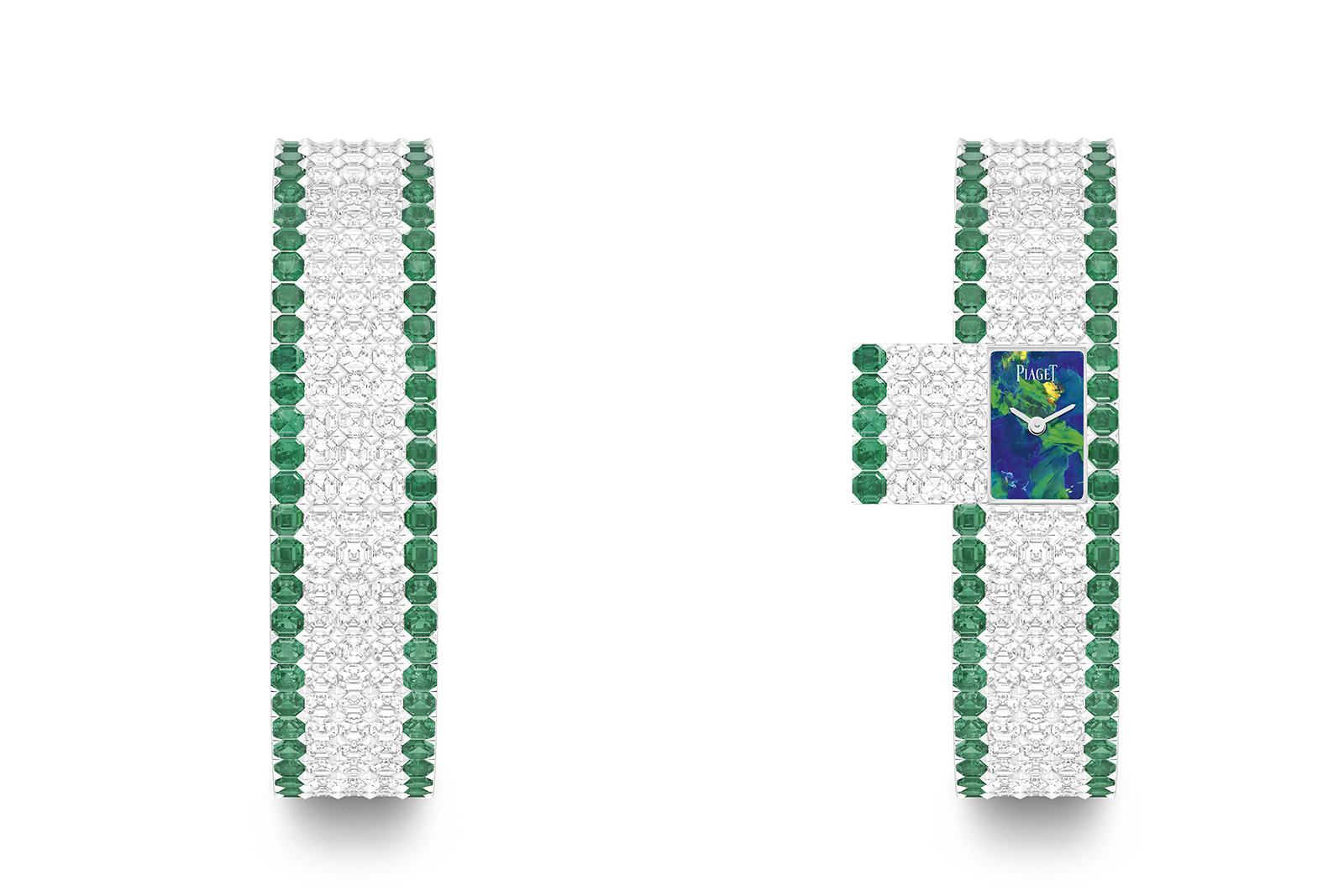 The third piece I feel the need to discuss in the Wings of Light collection is a watch entitled Natural Harmony. Readers, it possesses a rather magnificent secret. Before we come onto this piece, I would like to remind you that you have already likely seen on my website the precious timepieces that are part of the Majestic Plumage, Secret Cenote and Audacious Leaves collections. All of these turned out to be rather extravagant, and at first glance, Natural Harmony looks a little like a broad tennis sweatband, encrusted with 171 colourless baguette-cut diamonds possessing a total weight of 24.80 carats, as well as 114 emeralds in the same cut with a total weight of 12.54 carats. Only an extremely small group of people will know that this splendour hides a quartz movement 56P created by Piaget. The black opal dial is successfully masked by "baguette guards".
Lastly, I am at last ready, readers, to let you in on a little secret. This journey does not end here! Piaget is still working on creating new masterpieces for this collection. I have been fortunate enough to see some of the sketches, and let me tell you, it is worth being excited!