Before I tell you about the necklace, I would like you to get acquainted with its creator. Ekaterina Kostrigina's namesake jewellery line was born in the heart of a family-owned antique salon in St. Petersburg's busy city centre. Having existed for more than 20 years, the salon has been gathering the best objects of art under one roof from day one.
Ekaterina is a graduate from St. Petersburg State University, History Faculty. A passion for rare antiques, professional approach to jewellery making and perfect knowledge of vintage techniques in her work has organically intertwined with new methods of embodying contemporary art. Her team boasts true masters of their craft: jewellers, painters, stonecutters and enamellists.
Ekaterina, who has a strong understanding of beauty, does not prioritise fashion trends that are usually short-lived or certain techniques and materials. The main criteria are that her jewellery should be beautiful and perfectly crafted. This is all that she desires. Her artistic ideas often fascinate and surprise the jewellers who translate her dreams into exquisite pieces. "I often hear: this is not the way things are done," laughs Ekaterina. But nothing stops her from realising her vision and, therefore, she creates jewellery that is difficult to describe in a single word – they require a whole bunch of adjectives.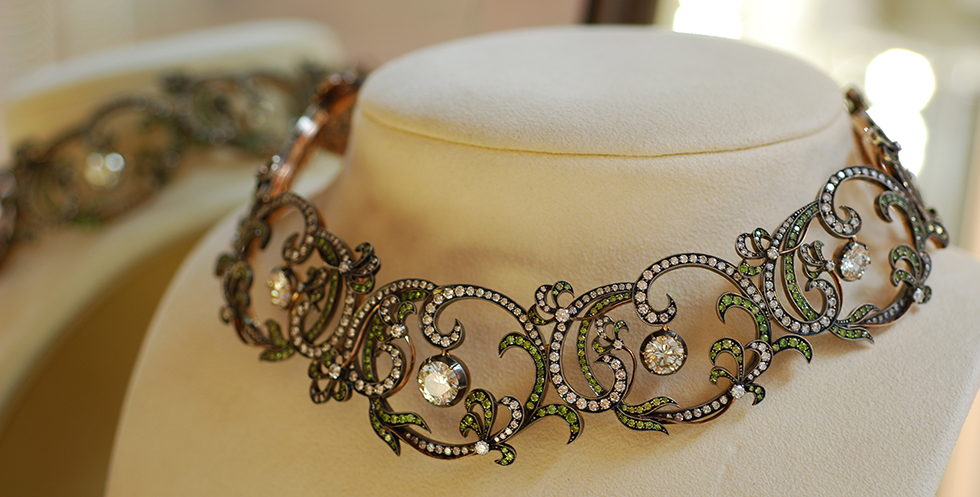 Romantic, elegant and aristocratic are the words that I would like to use to describe the 'Revival' diamond chocker. Apart from colourless diamonds, the jewel also features soft green waves studded with demantoid garnets, the 'gems of monarchs.' When I looked at the piece, I involuntarily imagined a beauty at a ball, graciously dancing in a lush dress with this precious necklace adorning her swan-like neck. Diamond drops on the jewel are fixed using a special antique technique that is similar to bezel setting so that they gently sway to every move. It is hard to keep your eye off the central 3cts diamond, which looks fantastic in its blackened frame.
"I wanted to make a piece of jewellery that would be elegant, but not ordinary and not just another precious necklace. What I have created would have looked perfect on a woman of any age. As for clothes, a dress with open shoulders would be a perfect match," says Ekaterina.
The beauty of the designer's idea was appreciated not only by clients, but also by professionals from the jewellery industry. In 2013, the 'Revival' necklace won the first prize in the 'Time Travel' category of a contest held during the prestigious JUNWEX jewellery exhibition in Moscow. In May, the next year, it won yet another prize. This time in the 'RUSSIA XXI Century' competition arranged by Gokhran, which awarded Ekaterina for the "high craftsmanship of traditional jewellery techniques".
It took a whole year to create the necklace and, in the end, Ekaterina was pleased with the result. Finally, an existing elegant 'Awakening' bracelet saw its harmonious continuation in the form of a necklace. When you see Ekaterina Kostrigina's creations, it becomes apparent that the artist stays true to St.Petersburg's traditional style, which illustrious court jewellers Fabergé and Bolin were also fond of. Now you know who to go to for jewellery that wonderfully combines the traditions of the past with the high craftsmanship of the present.