The pandemic starved jewellery seekers like myself of access to the most exceptional works, but how did it feel for the designers themselves? This is the first question I posed to fine jeweller Sunita Nahata when we spoke following her return to Couture Las Vegas earlier this year. "This was our first show since the pandemic started, and there isn't a better place to start again. Through months of hard work and an extensive creative process, I assembled unique new collections showcasing exotic stones from Paraiba tourmalines and emeralds to aquamarines and kunzites," she says. To celebrate the occasion, Sunita presented multiple new collections in keeping with her colourful aesthetic and blend of classical and contemporary designs.
To ensure she keeps her finger on the pulse of the current trends, Nahata spends much of her time studying the market and predicting what her customers will covet in 6, 12 and 18 months. She uses social media - Instagram and Pinterest - to see new designs. However, she does this simply for 'knowing what's out there', her creativity is mostly fed by the plethora of gemstones she has access to. In Sunita Nahata Fine Designs, the designer has her own gemstone manufacturing setup, additionally with the help of her broad network that she 'inherited' from her family who were in the gem business, she can source any gem or create her own cuts that allow her to experiment with design. This connection to a treasure trove of gemstones also provides another advantage… it allows Nahata to take some risks.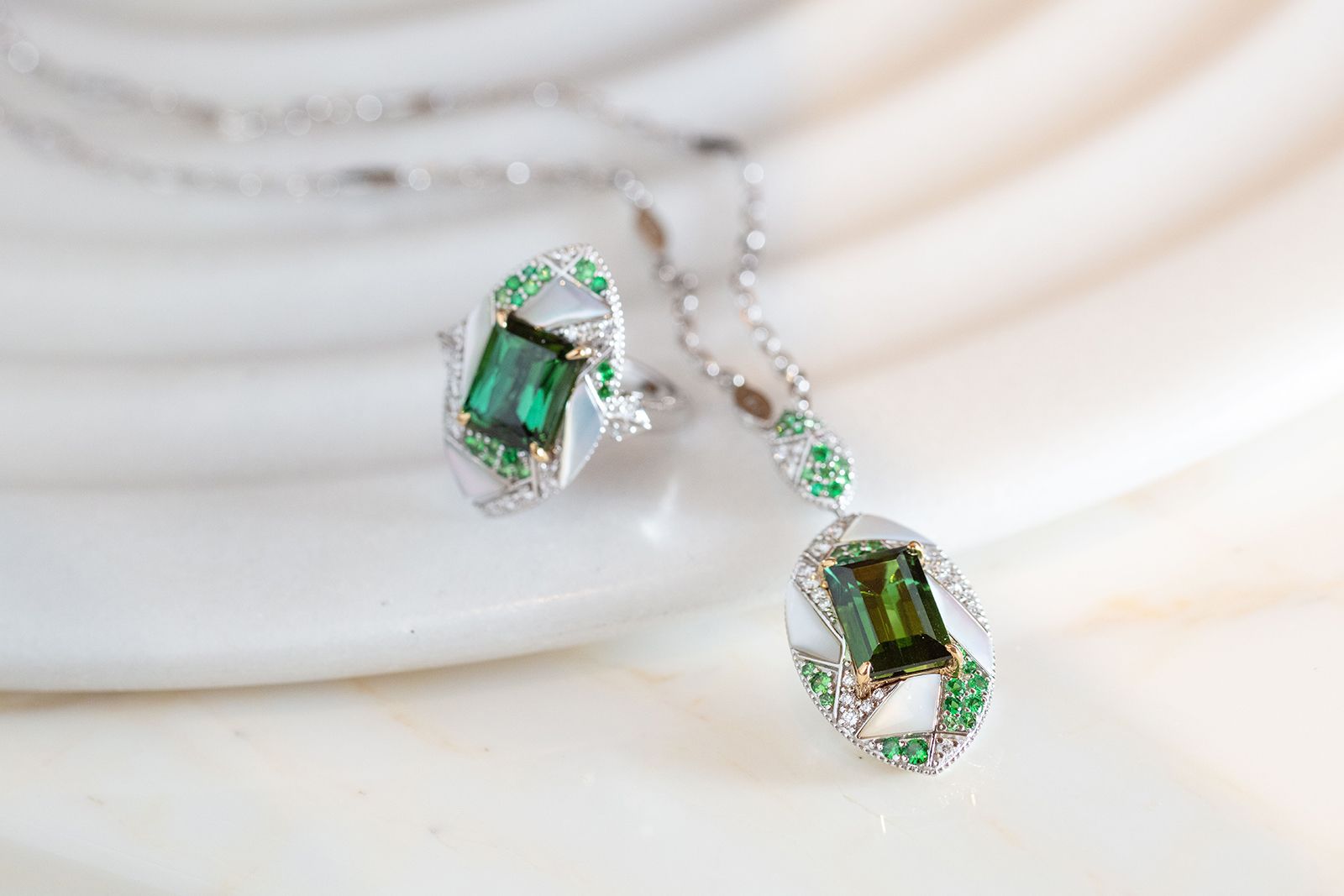 "There are always cases when designs don't work out how we originally planned for and we must rework it, but it is always a fun learning experience to understand the different technicalities when constructing jewellery which is just as important as the design process."
So, in tribute to her brand's creativity and uplifting use of colour, I am sharing highlights of my interview with Sunita based on the different gemstones that arose in our conversation. We cover beryls, spodumene, and tourmalines, which this year are animated with mother-of-pearl inlay, rose-cut diamonds and black onyx.
Kunzite
It is no accident that some of the latest jewels from Sunita Nahata are set with kunzites. The brand launched a small collection of jewellery set with this variety of the mineral spodumene last year. Thanks to the positive response, it was a "stone that I wanted to work with again," according to Nahata. She continues: "The kunzites I found this year have a very electric pink tone, and I wanted to accent this with more coloured stones. I also used inlaid pink mother of pearl for the first time, and I am happy with how it turned out. The pinkish grey tones of the mother of pearl brought together the neon tone of the pink kunzite and the subtle hues of the accent stones around it".
Paraiba Tourmaline
This year, Sunita Nahata Fine Designs presented the second edition of its Blue Planet collection – an ode to deep greens and blues with splashes of alexandrites, pearls and diamonds in white gold. "One of the highlights from this new release is a 17.20 carat pear-shaped Santa Maria aquamarine," Nahata explains. In fact, this gemstone has a particularly unusual, elongated pear shape that gives the impression of a water droplet ready to make a splash. Elsewhere in the updated Blue Planet collection, there are two Paraiba tourmaline rings, both of which were on display at Couture Las Vegas. The first, the Nilofer ring, features a 3.07-carat Paraiba-like tourmaline from Mozambique with a neon blue hue. "In Urdu, Nilofer means water lily, and we have recreated this with pear-shaped rose cuts that surround the gem," she explains. Next, there's the Ocean Eyes ring with a 2.30 carat pear-shaped Brazilian Paraiba-like tourmaline, this time with neon blue-green colouring. The stone has a pleasing colour tone, so Sunita surrounded it with rose-cut diamonds and more accent Paraiba stones.
Aquamarines
If there's a new Sunita Nahata Fine Designs collection, it's almost guaranteed that beautiful blue aquamarines will feature somewhere, either in a starring role or as a complimentary gemstone. This year, the brand launched an Art Deco-inspired collection that places hand-selected, facetted aquamarines in intricate frameworks of diamonds and blue beryls.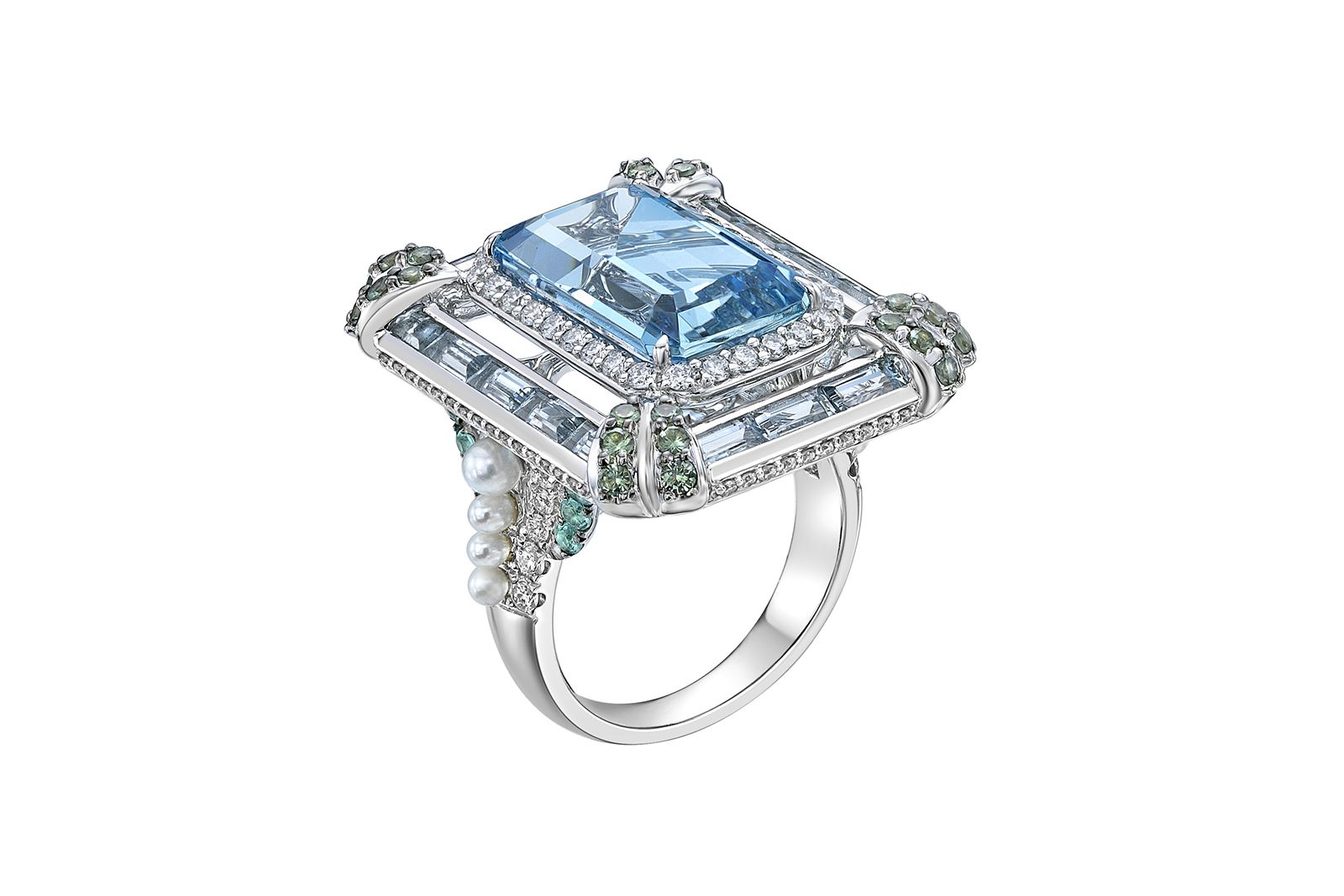 "Aquamarines have a very soothing blue tone which I can never stop falling in love with. I can source some bigger-sized aquamarines, which allows me to create more extravagant designs with this gem. My Art Deco aquamarine collection is bold and lavish, I think it works well."
"Emerald is my all-time favourite gemstone because of what it signifies for my family and forefathers. My father, grandfather and uncles were all heavily involved in the emerald trade in Jaipur, and my memory of them inspires me to create emerald jewellery in their honour."
Despite her enthusiasm, Sunita admits that mastering emeralds is a delicate art, as when designing jewellery with this precious gem, the thought and design process is quite different. One must be a lot more mindful with how they want to use the emeralds because of their relatively delicate nature, so Sunita goes through a long process of creating and reworking designs before she finalises one.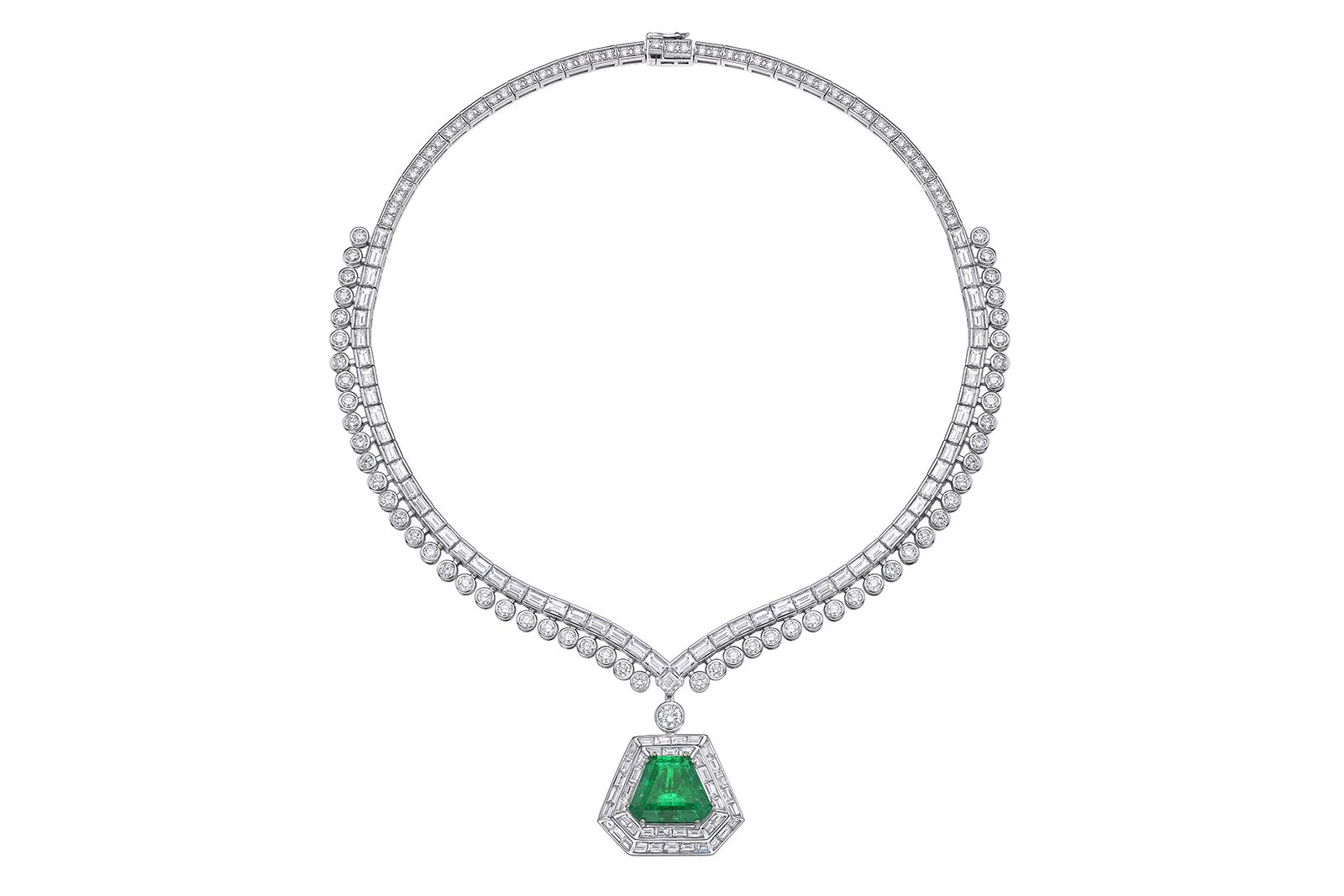 Nahata's family connection to emerald trading explains her deep-rooted respect for this particular variety of beryl. But as a native of Jaipur, India, she's also able to draw on the history of emerald use in jewellery and their cultural significance, which provides an endless font of inspiration: "Mughal jewellery has a strong connection with Jaipur, which was and still is one of the core regions for manufacturing traditional Indian jewellery. I have always been inspired by the historical reputation of my city and use emeralds as they are especially significant to royal families from this period; thus, many of my high-end bridal or, as I like to call them, my 'Timeless' collections incorporate green beryls."
Coming back from a long hiatus and re-emerging onto the scene through Couture Las Vegas is equal parts exciting and daunting. Fortunately for Sunita Nahata, she managed the task with colourful conviction. If she's noticed a particular trend since launching her new collections, it is her customers' desire for multi-coloured and multi-tonal jewels. After all, why have a single shade when you can demand a whole rainbow?