Aquamarine, the name of which in Latin is aqua marina, and is translated as "sea water" – is a variety of greenish-blue beryl. To the untrained eye, it is sometimes mistaken for pale sapphire or topaz. The experienced eye, however, recognises aquamarine by its main differentiating feature – the two-tonality which appears when you alter the angle from which you view it.
There are three factors which attract future owners of this beautiful stone which also define its cost: colour, purity and size of the cut stone. The most valuable specimens are considered to be those that have just the right balance of colour and minimal amount of impurities. Add to this an impressive carat weight, and you'll understand what criteria I used to choose jewellery for this article.

As a rule, the largest specimens are not broken up into a mass of small stones, but are used in all their glory in extraordinary necklaces. One such astonishing stone was a 106.47 carat aquamarine which found a home in a nautically-themed pendant by Anna Hu called Siren's Aria. To recreate the whole variety of underwater life the designer also used a huge quantity of pearls, moonstones, sapphires, diamonds and tourmalines. When creating The Art of the Sea necklace from the Tiffany&Co 2016 Blue Book collection, the brand's head designer, Francesca Amfitheatrof, also chose a magnificent aquamarine weighing 52.8 carats as the central element. She emphasised its beauty with tanzanites, tourmalines, diamonds and more modestly sized aquamarines, creating a magnificent ensemble of the blue-green-purple hues of the surface of the sea.
The designers at the house of Van Cleef & Arples discerned in their 76 carat, cushion-cut stone, a unique floral potential. They placed the gem in the Thenaria necklace from the Voyages Extraordinaires collection amongst a cluster of diamonds and pink spinels. And Buccellati celebrated the beauty of a 131.34 carat green-blue stone in a necklace which was used to complete the look of one of the models at Giambattista Valli's spring-summer 2017 fashion show.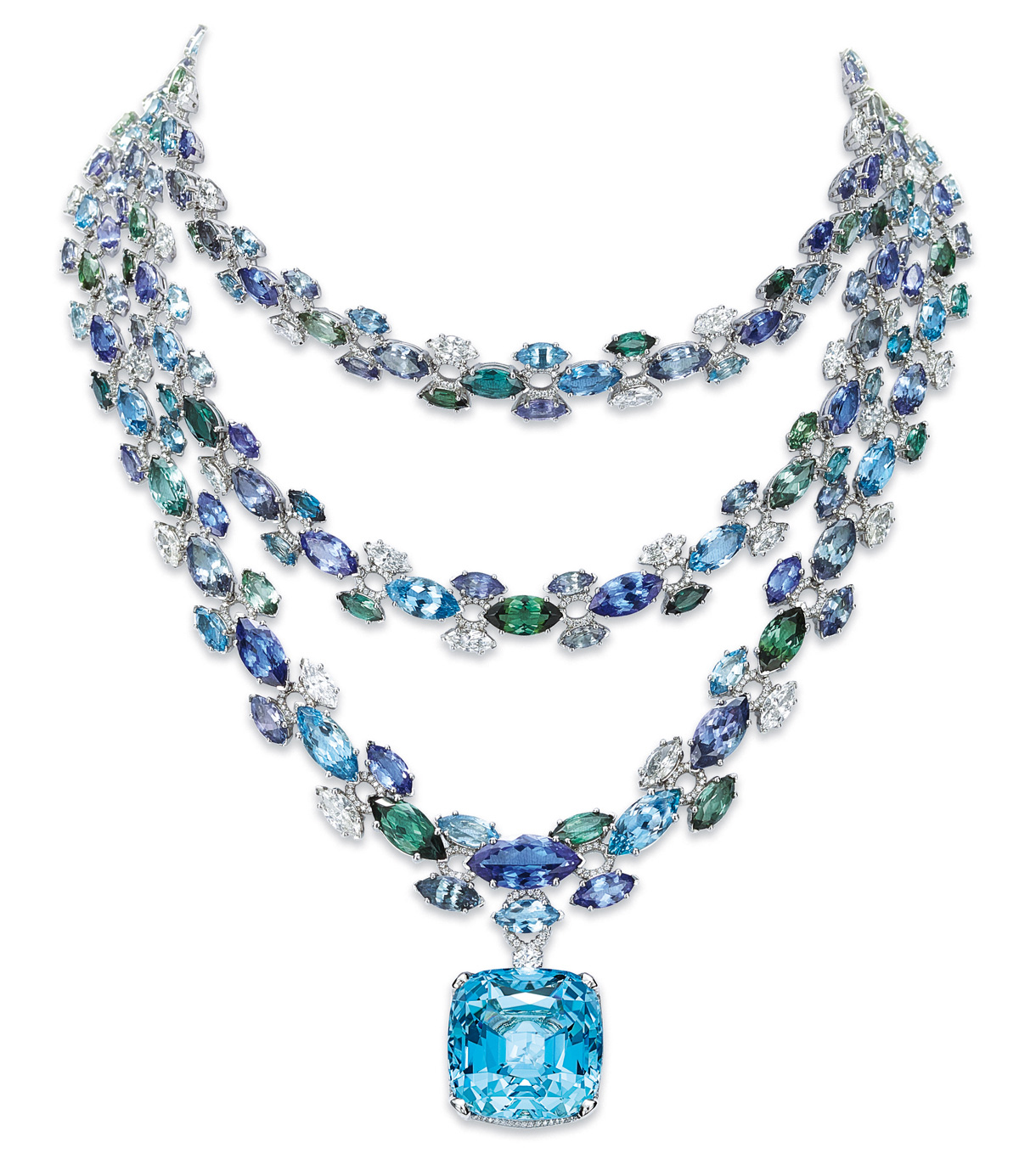 At Cartier they went even further. To begin with, the house's craftsmen engraved a fantastical pattern on an aquamarine weighing 164.57 carats which they placed on a string of beads in the form of . Do you reckon this piece of jewellery bypassed the theme of water? You're mistaken! They have made the watch waterproof. Another waterproof example of Haute Horlogerie, which is adorned with a 8.03 carat aquamarine, can be found in the Piaget collection. A white-gold cuff watch supplemented with 228 colourless diamonds with a total of weight of 14.31 carats, producing a result that is brilliant in every sense.
However, perhaps, the most popular form of aquamarine jewellery is the cocktail ring. Pop in and see the craftsmen of this jewellery form and you will undoubtedly find confirmation of my words. For example, the British jeweller Andrew Grima, was one of the first to use large coloured stones in his jewellery and chose a pentagonal beryl when creating a ring with his signature textured gold.
Dior's Victoire de Castellane has made several rings with large aquamarines in her career, one of which, Gourmand, is presented here with its 14-carat stone. Fawaz Gruosi was also not able to avoid the draw of this gemstone and adorned a ring from the Melody of Colours collection with a 10.85 carat round stone along with cognac-coloured and colourless diamonds. Here are just a few striking examples of jewellery with the blue-green variety of beryl. You can find even more pieces with aquamarine in my jewellery gallery.