The jewellery, which radiates a festive mood, has been created using dazzling gold and bright precious stones of contrasting hues that include emeralds, unheated sapphires, yellow diamonds and neon Paraiba tourmalines among some others. It is precisely this mood which rules in Palm Springs, a place not far from Hollywood with a special atmosphere that inspired Piaget's designers to create this latest collection.
Sunny Side of Life includes approximately 140 magnificent pieces of jewellery. As is the case with many of Piaget's collections, a key role is played by gold – a material, which is unmatched when it comes to radiance. At the forefront of the Sunny Side of Life collection are the varied techniques for working with this metal, developed by generations of craftsman at the Geneva-based brand.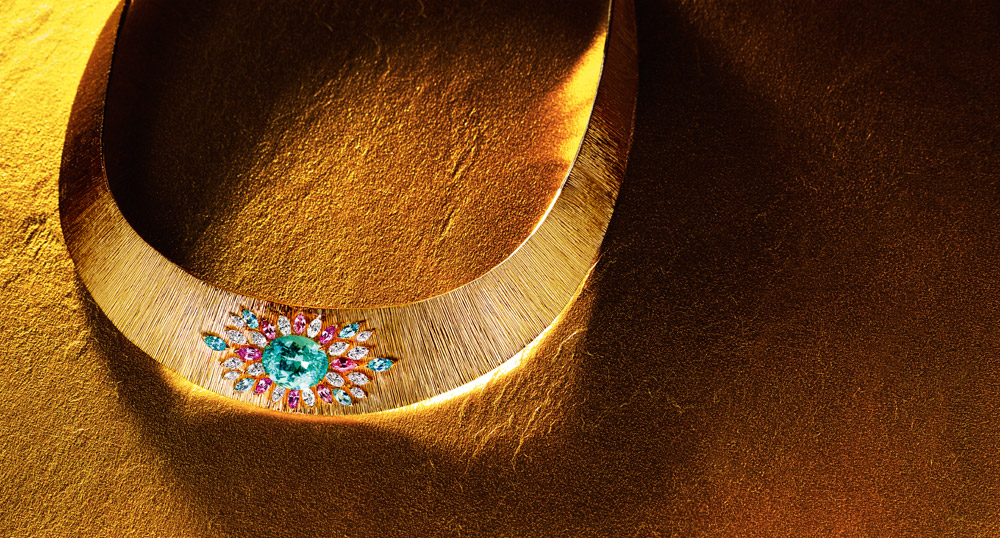 For example, engraving allows you to create gold items with a soft, fabric-like texture. In order to create the desired effect, jewellers make irregular furrows by hand, resembling separate silk threads, which cause the gold to sparkle and shimmer. The palace decore technique is used to recreate the texture and movement of plant fibres. This was used for the creation of the watches Palm El Dorado and Sunny Gateway, the necklace Summer Crush and the cuff bracelet Deep Blue.
Piaget's exclusive new way of creating gold chains stands out for its complex design and bright shine, circular gold links are adorned with sporadically-placed marquise-cut diamonds. Take a look, for instance, at the Palm El Dorado necklace – the flexible, light and elegant braiding flows across the skin, resembling precious silk. Last year Piaget began to work in collaboration with the artist, Nelly Saunier, who specialises in working with feathers. This year their partnership has continued with the joint creation of the cuff bracelet Life is a Party, a unique model with a fan of blue sapphires and diamonds. Saunier has perfected the ancient technique of working with feathers, she guards its secrets and loves to use it to create modern pieces. Such an approach resembles the philosophy of Piaget, who regularly turn to the seemingly forgotten crafts of the past in their search for the new.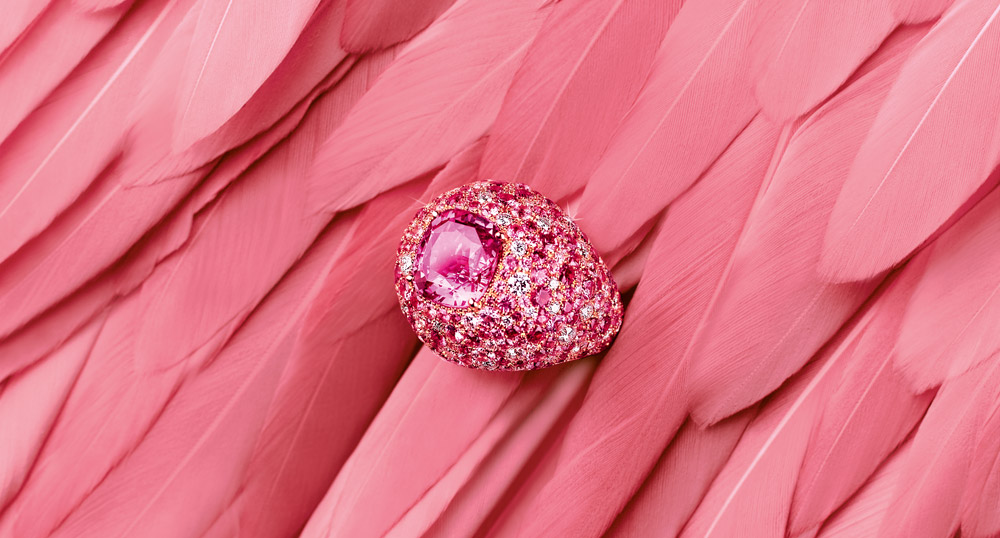 For over half a century the Piaget jewellery house has ceaselessly shown its commitment to the marquis cut, something which has already become one of the elements of Piaget's characteristic style. The form of stone can be seen as an improved version of the old "navette" cut, named after the shape of a boat's hull. It gives diamonds a unique shine, causing all 55 facets to sparkle. Marquise cut diamonds were used in many a jewel of Sunny Side of Life, including the necklace Palm Sensation with a cascade of stones, the cuff-watch Green Oasis and the Pink Plumage earrings, which resemble a bird's plumage.
All of Piaget's creations are characterised by playfulness and levity, which is also manifested in the original and daring ways in how they are worn. Have a look at the series of transformable models within the Sunny Side of Life Collection. The necklace can be shortened in an unnoticeable and original way to be work as a choker and the rings can be transformed so that the diamond is worn as a solitaire. Besides watches, adorned with precious stones, the Sunny Side of Life collection also includes 4 models fitted with gold dials and Grand Feu enamel. This type of enamelling requires subtle alchemy: to begin with a guilloche pattern is applied by hand onto the gold surface, then a transparent enamel coating creates an effect of depth. After the dial is covered with a coloured powder, which is fired and polished several times.
Sunny Side of Life heralds summer parties. Parties where Piaget always remains the centre of attention thanks to its talent to share this energy. Having strewn the bright sky with 140 treasures, the jewellery house makes you believe that life is a bright holiday, which should never come to an end.