Yet every such work, however self-sufficient it is, carries within it the style of the creator who dedicated years of work to it. It is precisely these stylistic peculiarities that allow you to spot the 'hand' of the designer on any given piece of jewellery. Today I am talking about the jewellery of one such master, Vladimir Markin, creator of his very own jewellery lab. "Purest quality gold can allow itself to provoke, and natural diamonds to allow light-mindedness," states one of Markin Fine Jewellery hypothesis. Its style is original and easily recognised, with complete mechanisms made from gemstone elements. Discovering new previously hidden frontiers. Would you like to find out some of the lab's secret recipes? Alright then, let's have a look at one of their new works, Aperture No. 2.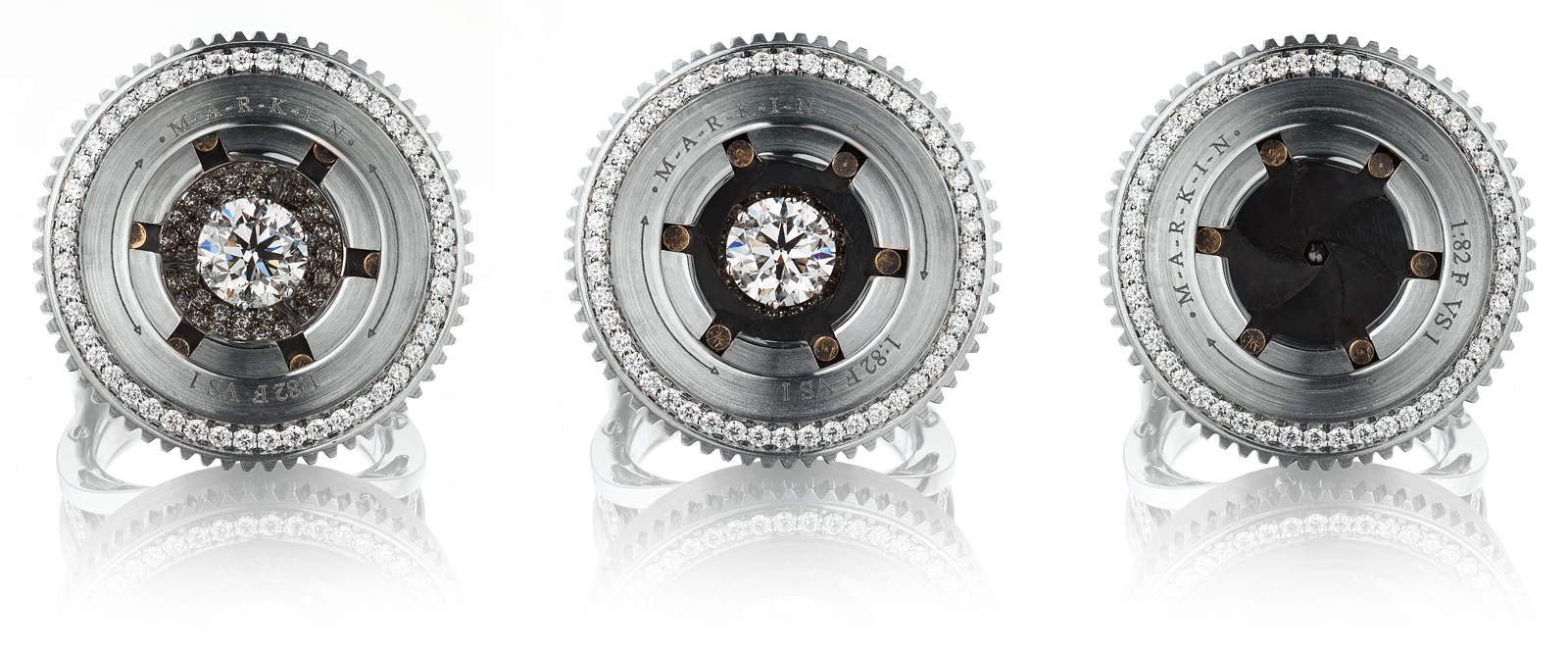 Before creating the first ring of the series, Vladimir Markin spent a long time buying old camera diaphragms from flea markets. He would take them apart, spread out the bits and then put them back together in order to understand how the mechanism worked. It took six months of hard work and research to materialise an idea into a real piece of jewellery. The amount of sparkle of the central gemstone in the "Aperture" ring can be regulated by rotating the mechanism to partly hide it or cover it completely. This is reflected in the marking 1:40 – there is 1 diamond visible when the lens is closed and 40 when it is open.
The Aperture No. 2 ring uses an analogue mechanism but the design is different. It took several months of intensive work to come up with this particular innovation. In the new version the ratio of diamonds inside the 1:40 diaphragm changes to 1:82, with an additional row of diamonds on the outermost part of the ring. The elements of the piece are all rendered in white gold, hallmark 750. The average weight of the diamonds is 2.56 carats: a central stone of 1 carat F VS1 and 140 diamonds on average 1.56 carats. The ring's complex mechanism allows you to adjust the carat of the main stone from 1 down to 0.05.
All in all, three Aperture rings were created. One of these has found an owner in Moscow, another is in Saudi Arabia and the third, Aperture No. 2, is now in Hong Kong and is going up for auction this spring.