Mythology and religion are brimming with winged creatures: winged animals like Pegasus or the griffin – part lion, part eagle deemed to be guardian of scared places; as well as winged humans who appeared in ancient Greece with Hermes the Olympian god – and his Roman counterpart, Mercury.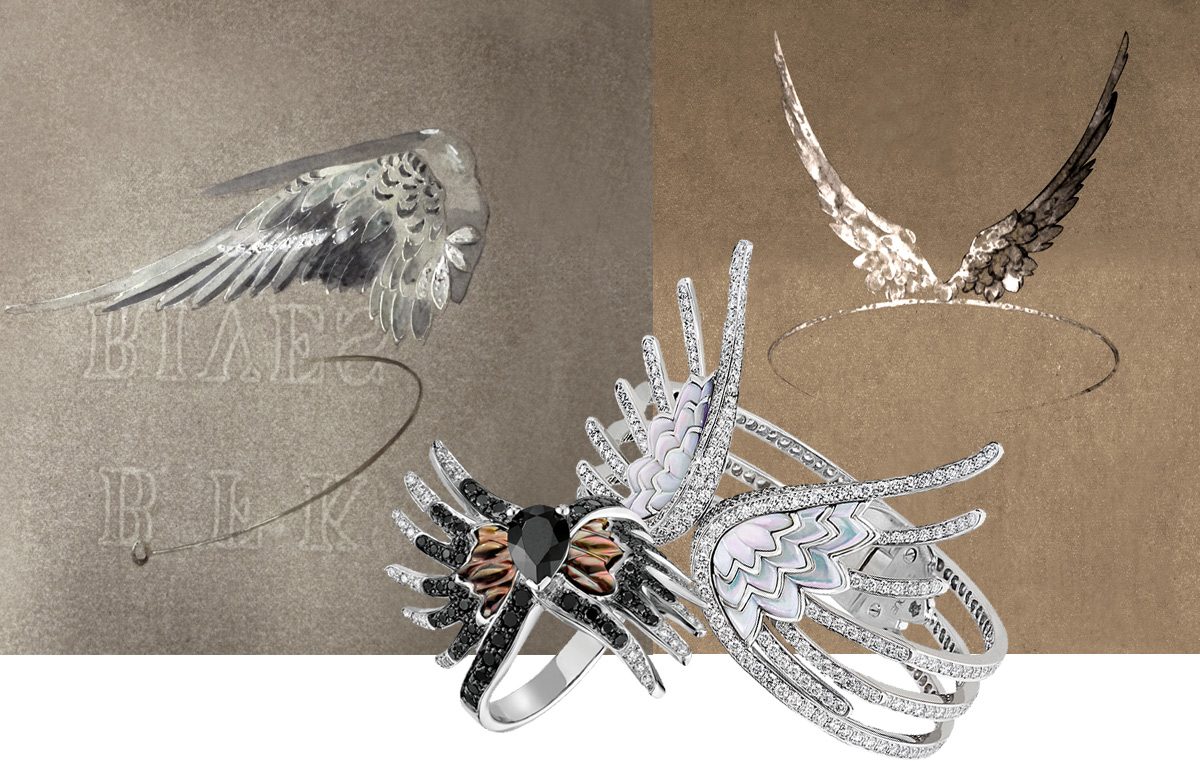 In the late 19th century, jewellers to the aristocrats and silver screen stars were quick to retrieve the symbolic essence of wings. The fascination with antiquities at the time helped propel ancient symbols to the forefront. Houses such as Boucheron did not re-interpret wings, but rather celebrated their components like feathers seen in the "Plume de Paon" necklace created in 1883 featured on the right.
René Lalique also explored the wings motifs which is exemplifies by a variety of archival drawings among which are Perroquet and Vesta designs you see below. The last has inspired the current creative director of Lalique Quenin Obadia to re-interpret the drawing into a whole new Vesta collection. Its white gold, diamonds and mother-of-pearls bracelet as well as a white gold, colourless and black diamond ring you see below.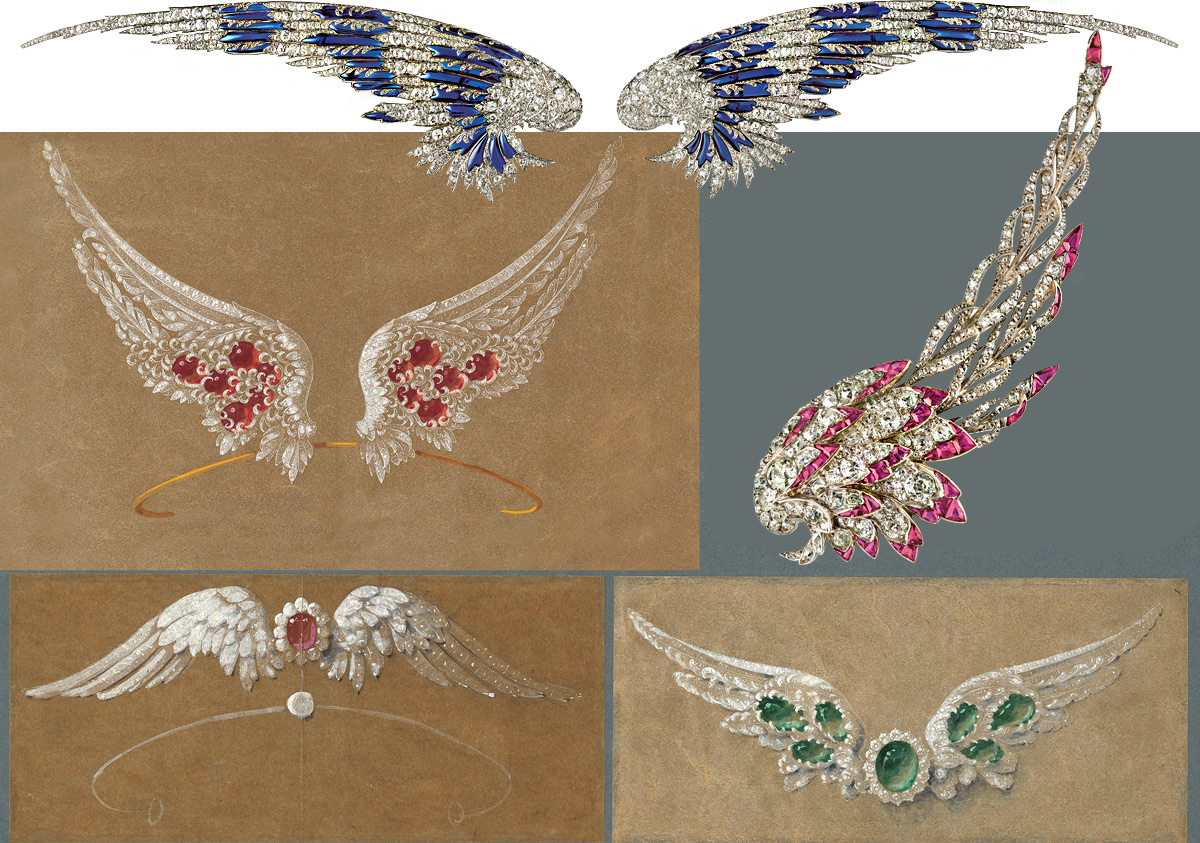 However, it is truly Chaumet who fully embraced the metaphor of wings to create fashion statements. At the Belle Époque, aigrette (bejewelled winged tiaras) were extremely fashionable, as they would help ladies claim their 'love conquers all' aspirations by mimicking Roman deities. These precious headpieces would complement the ladies' couture gowns, as sometimes the wings could even be detached and worn as brooches. One of the most versatile examples is a pair of wings mounted on an aigrette (1908) for American heiress Gertrude Vanderbilt. 'Among myriad pieces by Chaumet, she also owned a second pair of diamond wings. In this pair, the taut rows of diamonds contrast with the translucent curves of blue enamel', according to the Chaumet team.
With the predominance of Art Deco in the 1930s, the likes of Suzanne Belperron, René Boivin, Paul Flato and Fulco di Verdura all revelled in the combined use of non-precious with semi- and precious gemstones. Belperron in particular favoured bold pieces that somehow diverged from the convention of Art Deco. Her "Wing" brooch is a splendid example for the new use of carved hard stone in this time period. 'The chalcedony was carved by her famous lapidary, Adrien Louart, whose craftsmanship is so renowned that it has become a hallmark of Belperron jewels', Caroline Stetson, archivist for both Belperron and Verdura companies, explains.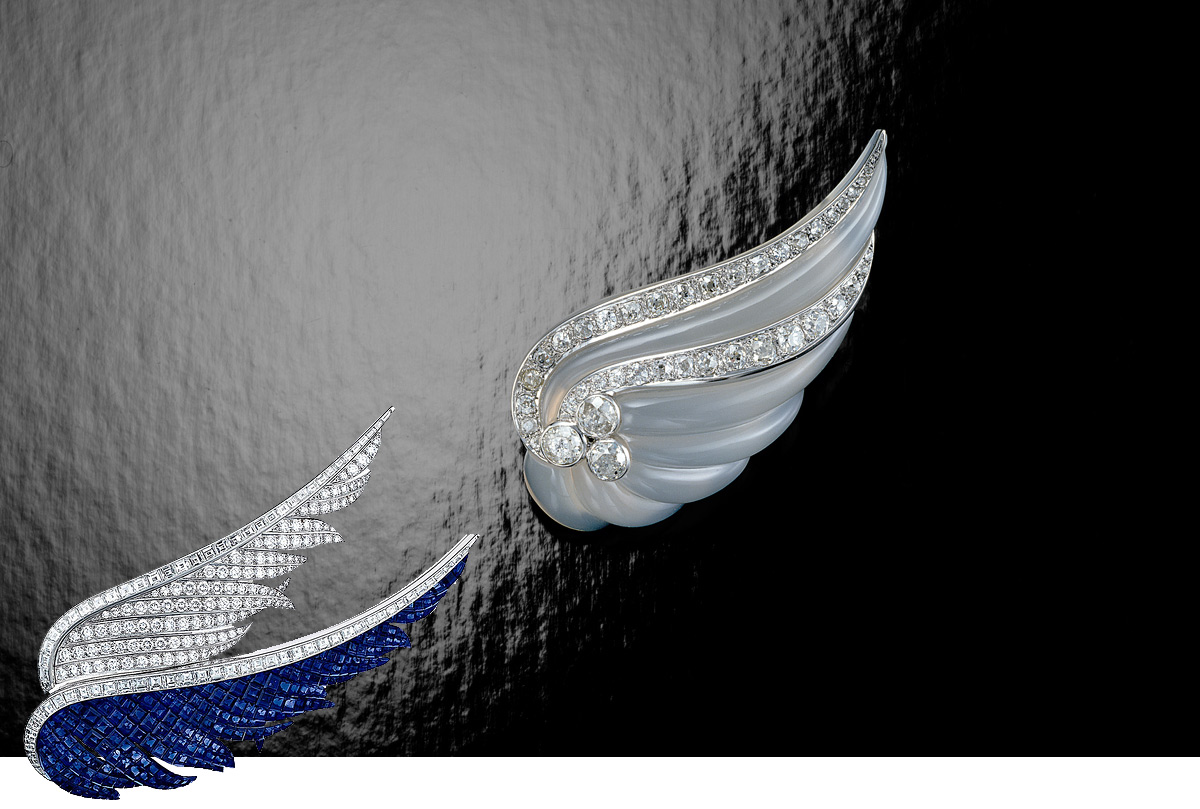 Worth noting is also a design by Verdura for Paul Flato in 1939, a pair of brooches – large pear-shaped rock crystal stones with diamond wings – which literally seem to float up in the air. At the time, winged designs were so coveted that a few even made it to posterity. Verdura's pink topaz, gold and diamond "Winged" brooch (1939) was purchased by Joan Fontaine and worn in Alfred Hitchcock's movie, Suspicion (1941). Around the same time, Van Cleef & Arpels created a double winged brooch, the "Aile de Samostras", for the Duchess of Windsor. A feat of Serti Mystérieux, it looks as if a gentle breeze is ruffling through each feather.
Naturally high jewellers have continued with the winged theme mid century and beyond. Cartier explored 'flight of fancy' with life-like results, such as in the "Bird" clip/brooch (1944), whose wings and tail are articulated; or the "Dragonfly" clip/brooch (1953) with a "tremored" (en tremblant) openwork setting of the wings, each attached to the body by a spring, allowing them to flutter at the tiniest movement.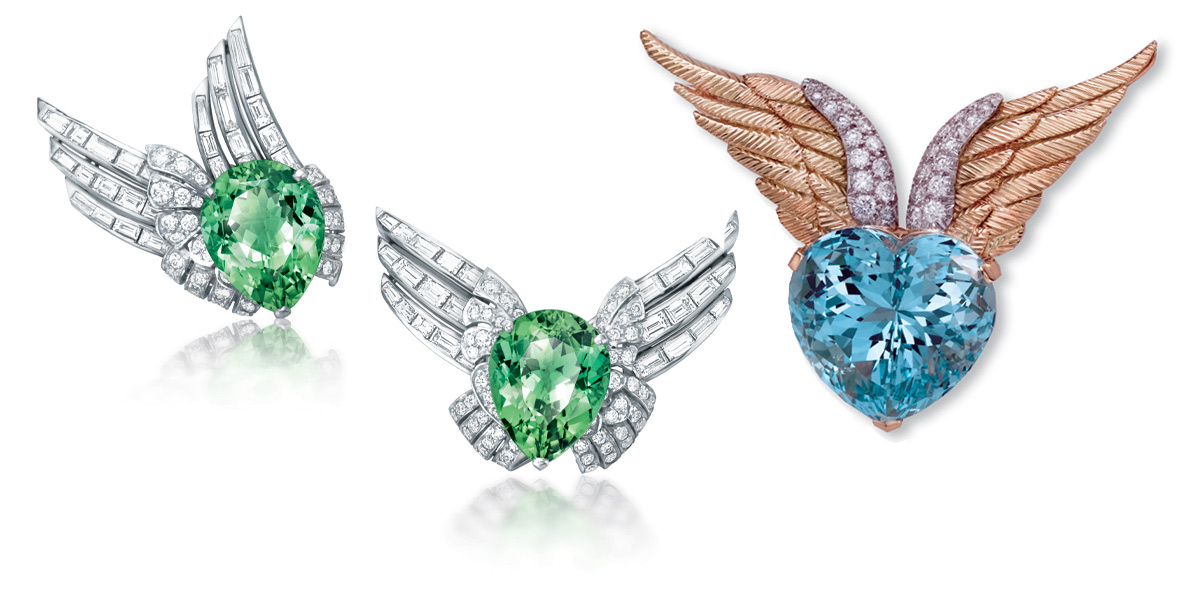 Another notable jewel, Cupid's Wings, was designed by Salvador Dali in 1950 while living in New York and made by Alemany & Ertman in their St. Regis' hotel workshop. Crafted fully in yellow gold, the wings have feathery due to neat engraving and fold demurely across the finger. Ten rings were initially made, all signed by Salvador Dali and one is available now at Didier, London.
More recently, Van Cleef & Arpels designed the "Isadora" clip from the Ballets Précieux collection (2007). Homage to the Russian Ballet, the half-woman, half-bird dancer dramatically throws herself in the air on pointed toes. In 2011 the house went further with the Bals de Légende collection, and notably an evocation of "Swan Lake". Playing on the black & white dichotomy at the heart of the piece, Van Cleef & Arpels's ateliers captured with black onyx and diamonds the moment the white swan morphs into its darker self.
Last but not least, Verdura recently released the "Winged Heart" brooch with an aquamarine and "Winged" brooches with mint tourmalines, the best homage to its founder and testament that winged designs stand the test of time…