At first glance, 'Gem Dior' fascinates the eye - though it has the same effect on the ears too: the title world "gem" in a French accent is a homonym of the phrase "j'aime", or "I love". This collection really is about Victoire's confession of love for unique gemstones, which has always been present in her Dior jewellery collections. This celebratory line comprises such a remarkable variety of stones that it is completely impossible not to fall in love at first sight! Diamonds, rubies, spessartite garnets, pink and yellow sapphires, emeralds, tsavorites, multi-coloured spinels, tanzanites, rubellites and Paraiba tourmalines — all the most significant gemstones in an endless palette of shades, added to which the jewellery is named after its prevailing tone: Framboise, Coquelicot, Glaçon, Tilleul, Jonquille.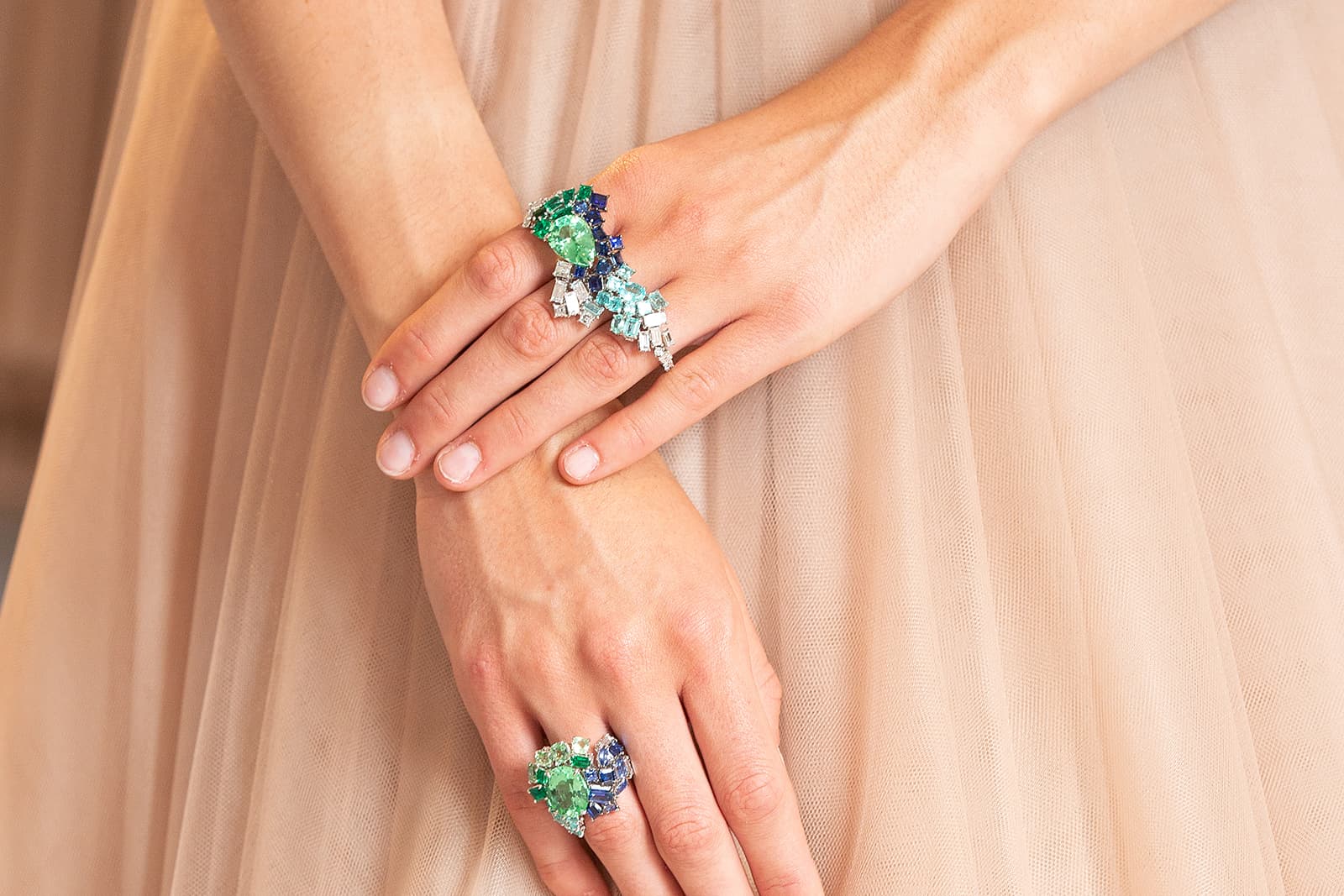 The new 'Gem Dior' collection is, naturally, the most extensive in the history of Dior Joaillerie, with 99 different pieces ranging from earrings to rings and other jewellery to adorn the hands. The epithets "abstract" and "geometrical" best describe the new line. Despite the absence of the usual Dior jewellery features - meaning no smooth lines and curves - the new pieces invariably possess trademark features in Victoire de Castellane's recognisable artistic style: poetry, asymmetry, futurism and a bold combination of shades.
"It's as if I had put all my collections from the past twenty years into a shaker and what popped out were freeze-frames and very large pixelized close-ups," expands Victoire de Castellane her vision for the collection. "In the end, what's left is material and colour."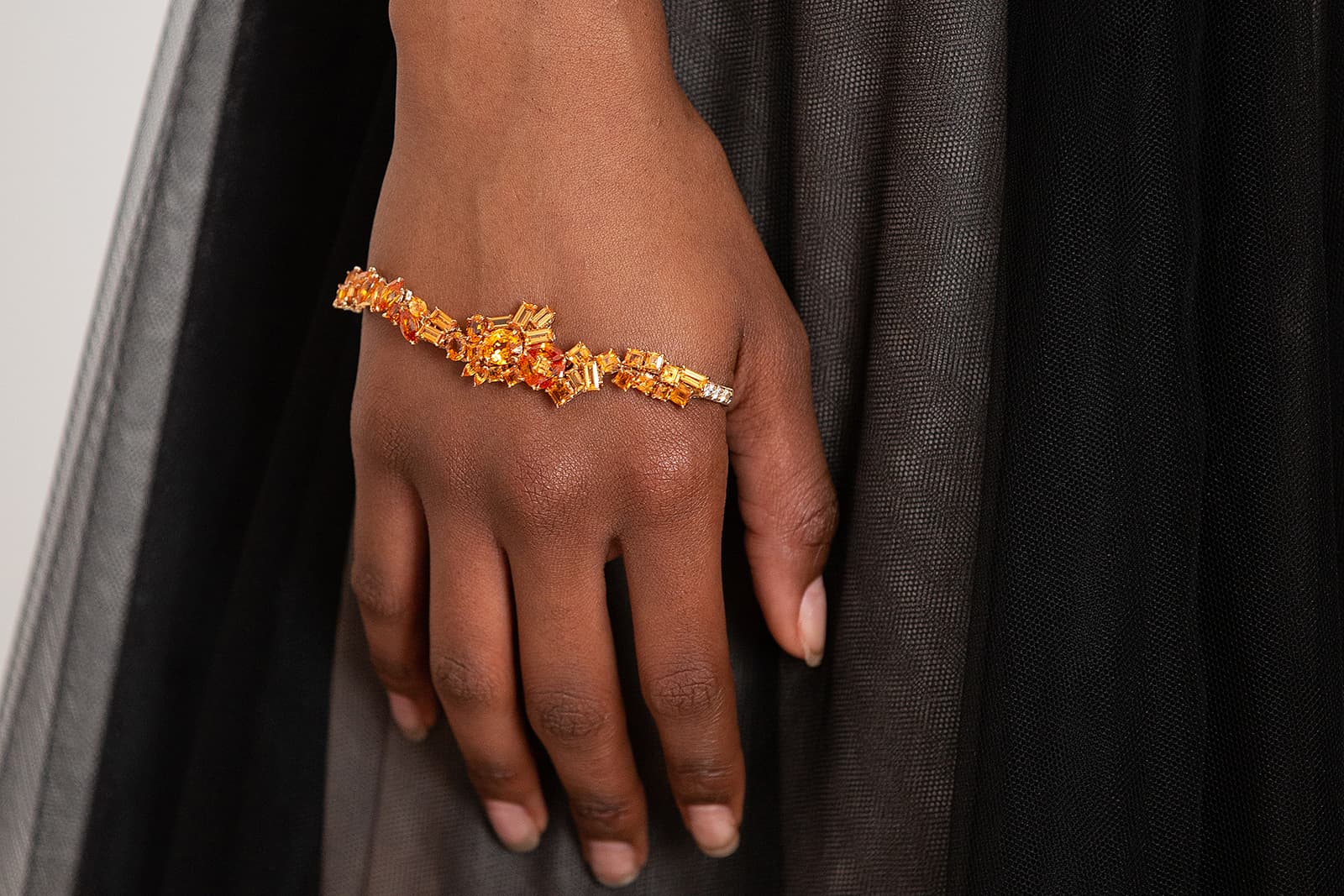 Each piece in the collection combines various types of cut, including baguette, square, pear, marquise, cushion and oval. The placement of these differing cuts side by side seems quite chaotic, with the "mood" of the stones' effect broken by designs in white or yellow gold.
"The jewellery in the 'Gem Dior' collection is like a little packet of stones that have been placed on the finger. A throw of stones like a throw of the dice. They topple over one another and wedge together to create effects of volume and relief just like geological strata or certain minerals such as pyrite, which have very geometric constructions," the creative director of Dior goes on to expand about the structure of the jewellery.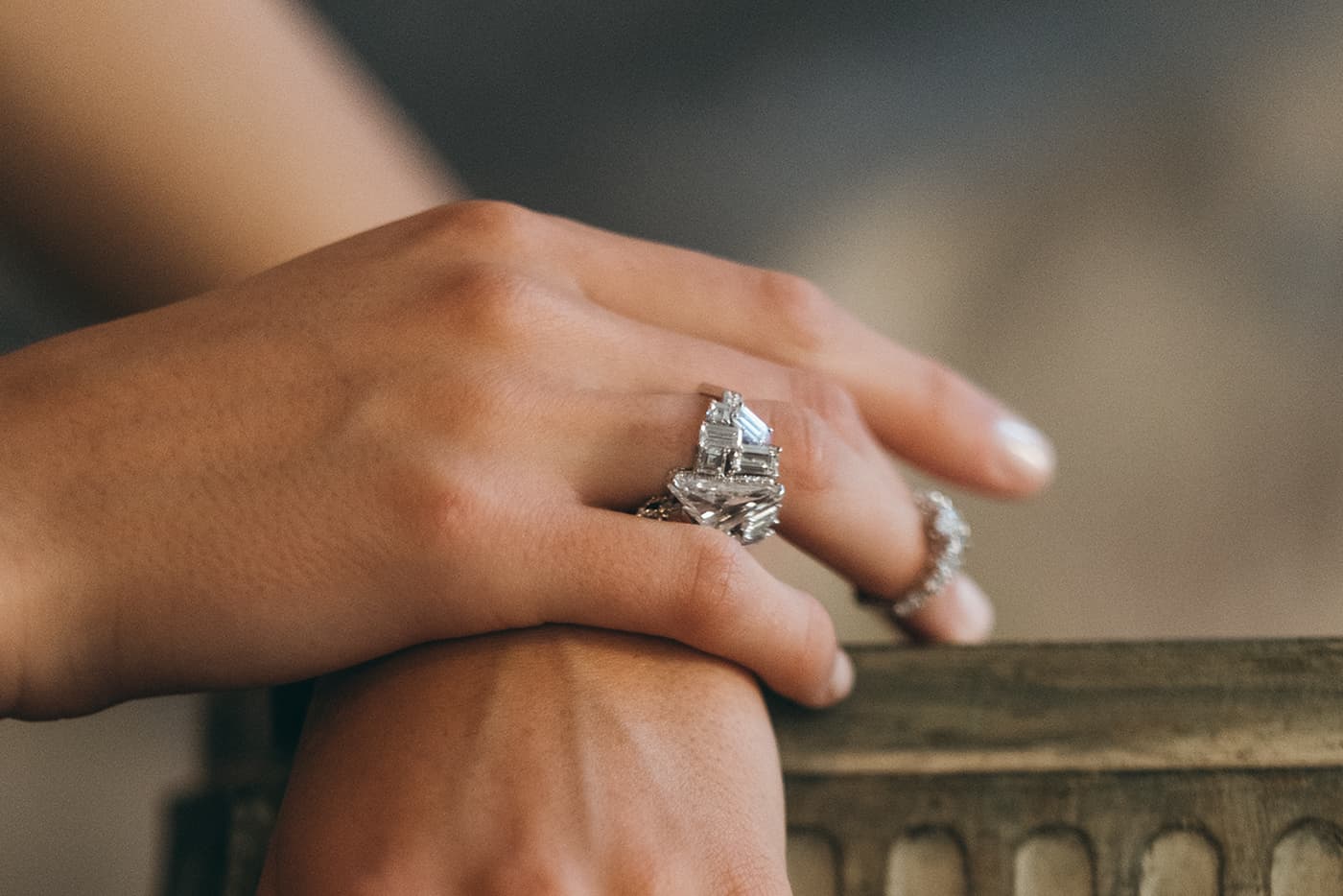 I find the comparison with gambling very appropriate. The brave, mischievous and rebellious spirit the pieces emanate are the ideal embodiment of Victoire de Castellane's favourite trick – asymmetry – plus the collection comprises types of jewellery very much in vogue at the moment: two-finger rings, and asymmetric earrings and bracelets.
Behind these seemingly simple designs is the painstaking work of the jewellers, cutters and polishers — of course, everything ingenious seems simple. I'm certain you'll agree that the new 'Gem Dior' collection is filled with a certain musicality of minerals, a harmony of colour combinations and boldly rhythmic forms.