Even after a decade as a public figure in the jewellery sector, I still get butterflies when I walk onto a stage to give a talk or provide my opinions. Perhaps that's human nature, but if anyone has a trick for banishing the fluttering of wings, please let me know! Fortunately, my turn at GemGenève in May 2023 was guided by jewellery business consultant Donatella Zappieri, who put me at ease with her questions. I was tasked with talking about the shifting sands of jewellery and its evolution as an art form, especially during the 10-year lifespan of KaterinaPerez.com.
Of course, it is impossible to talk about the changes in any artistic pursuit over the last few years without discussing the advent of digital communications, especially social media. As that's my forte as a jewellery key opinion leader, I opened up about my experiences growing a jewellery-related business online and share how emerging and established jewellers can tap into this digital community.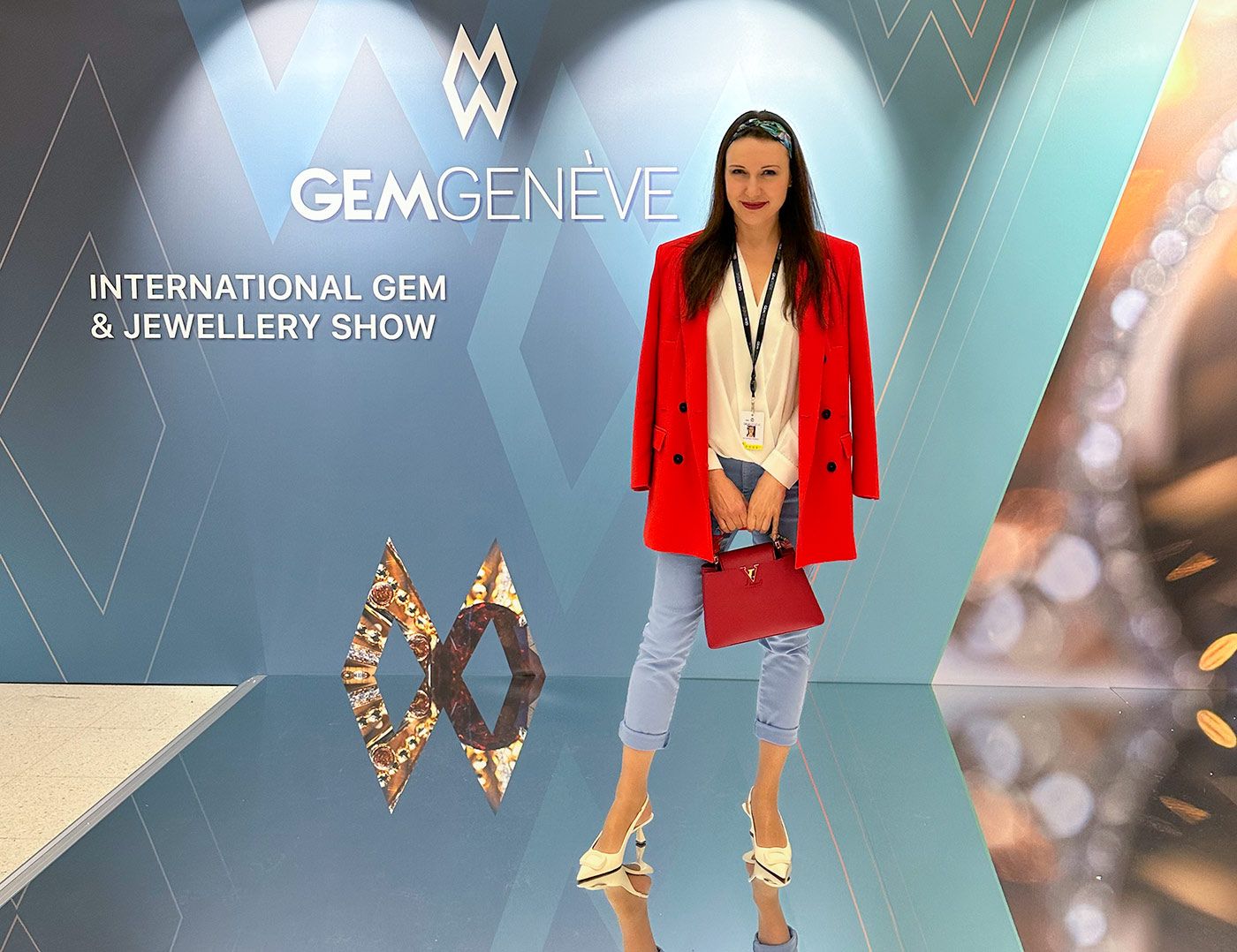 Our hour-long discussion started with some background information about my jewellery journey and what ignited the spark that sent me down the editorial route. My goal has always been to help more people fall in love with jewellery, not simply for its value or the carat weights of the diamonds and gemstones pieces contain, but for the artistry, craftsmanship and aesthetic value of a creation. We then spoke about the role of jewellery in the lives of modern women, which I also dedicated an article to here. Ten years ago, jewellery was mostly about status, special occasion gifting, and investment value. Nowadays, there is a significant shift towards jewellery as a form of self-expression in a way that tells the world, the viewer, who you are. This also influences how jewellery is styled on the red carpet and at Hollywood events.
Jewellery design has also changed in the last decade. Both Donatella and I agreed that jewellery has diversified into more varied and accessible fine and fashion categories. We also discussed the role that large fashion brands have played in making jewellery more mainstream, especially the likes of Dior, Louis Vuitton and Gucci. Our conversation shifted to the diverse materials that brands are using today, including aluminium, titanium, petrified wood, hardstones, precious gemstones, fancy colour diamonds, and so much more… there really is so much available on the market, which is both a blessing and a curse! How does one choose the piece that reflects their personality best? This is where KaterinaPerez.com serves as a destination for people to research and plan their purchases while seeing the myriad options available to them from international brands and designers.
Finally, our session concluded with the future of jewellery and how I think the next ten years will present themselves. I truly believe that the future lies in immense, boundary-pushing creativity in a way that sets brands apart and creates a unique, singular identity for designers. Technology, like the Metaverse and AI, will no doubt play a role, as will unusual and unconventional materials, innovative techniques, and a shift towards online education and platforms designed to uplift the knowledge of the end consumer. If you attended this session at GemGenève, I would like to thank you personally for showing your support and for following my journey as a jewellery key opinion leader, writer and consultant. Hopefully, I will see you again at GemGenève from November 2-5, 2023, where the fun will undoubtedly continue! Don't forget, you can see more of my adventures at a range of international trade shows on Instagram.