For this selection of brands, being creative with colour and curating a palette of shades and tones is part of their DNA; an inherent part of the jewellery-making process. Here, I'd like to highlight six brands whose approach to colour I admire, whether they pair contrasting shades, create kaleidoscopic rainbows of gemstones or simply use a single gem to striking effect.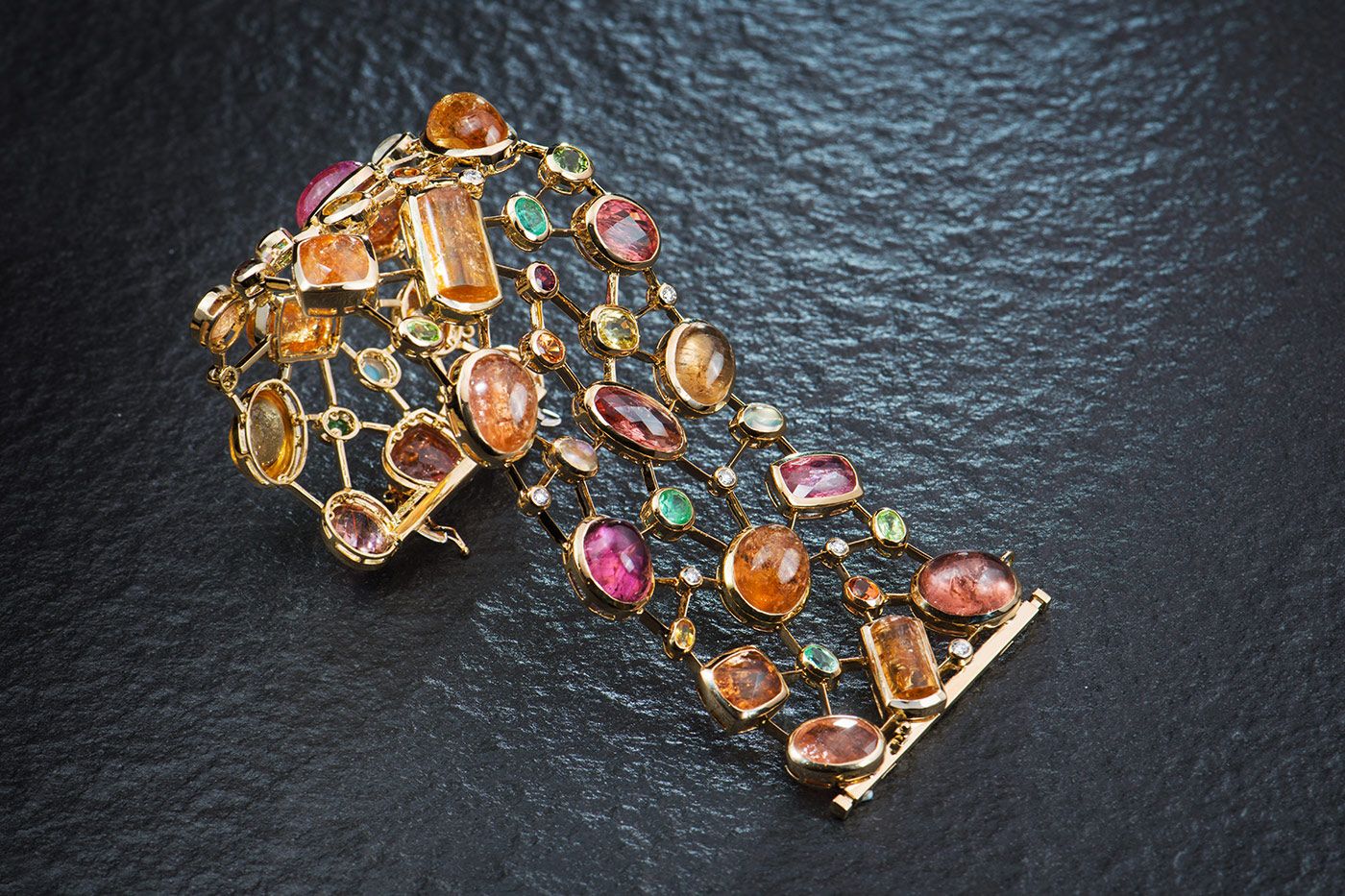 Singaporean bespoke jeweller, Madly, exudes joyful energy with its candy store of colourful faceted gemstones and cabochons. As I've mentioned in previous articles about Madly, the brand uses a variety of unusual and unique gems, often simultaneously, which is well demonstrated by a piece with colour-changing Alexandrite, hot pink Jedi spinel and a lagoon-blue tourmaline. Madly was founded in 2014 and has swiftly become one-to-watch among those with statement tastes, both in terms of scale and volume as well as saturated hues.
Hong Kong based jewellery designer Sunita Nahata has been on my radar for some time and she's never failed to captivate me with her vibrant pops of colour, served in the form of large cut gemstones like aquamarines and emeralds or amethysts. Her cocktail rings have daring proportions to draw the eye towards coloured gems, while her Floral Fantasy earrings are just one example of shoulder-skimming designs that are feminine and fierce all at the same time. I've always enjoyed her use of briolette-cut gemstones and her Happy Moods collection with amethyst, quartz, topaz and onyx.
If you're seeking a combination of colour and texture, then Veschetti's carved gemstone jewellery suites may be exactly what you're looking for. The brand is well-known for using hardstones in its distinctively Italian fine jewellery designs, including lapis lazuli links in bold chains; carved emeralds against a backdrop of stark white enamel; and even jade and angel skin coral open beads that are connected together with diamond-studded gold links. Veschetti has long used these materials to give its jewels more character and, dare I say it, more 'oomph'. When you see them in person and get to try them on, like I have done in the past, you'll know exactly what that means!
The first thing you notice about TAYMA Fine Jewellery is its fabulous use of opals. Founder, Tayma Page Allies, who is based in Hong Kong, has designed the one-of-a-kind 10 cm long Aurora Australis earrings that celebrate the brand's 30th Anniversary with boulder opal 'slices' from Australia's Lightning Ridge. Since 1991, the TAYMA brand has designed one-of-a-kind jewellery highlighting rolling flashes of blues and greens in opals, enhancing the pieces with Paraiba and indicolite tourmalines and diamonds to enhance the beauty of the gem. Page Allies grew up in the Caribbean and Africa which she says shaped her passion for colour and collecting rare coloured gemstones.
As with many of its peers in this selection, Omi Privé doesn't just add gemstones to its designs… it creates around them. Each piece starts with a gem, whether it's a sapphire, ruby, emerald, aquamarine, garnet, tourmaline, opal, alexandrite, or spinel, and then builds from there. The brand is based in Los Angeles, but its legacy features a long history of gemstone trading and sourcing with roots in Burma (now Myanmar). I can remember speaking to founder Niveet Nagpal and being blown away by a lizard brooch he was wearing, set with rare alexandrites from Tanzania that were left in their natural form.
Los Angeles is a true destination for luxury jewellery, so it's no surprise that Ricardo Basta has found its home there. The brand's eponymous founder and his family specialise in colourful cocktail rings - in almost every shade – using sapphires, emeralds and rubies as well as quartzes, opals, tourmalines, beryls, jade, sunstone and Mandarin garnet. It's not difficult to imagine the custom creations that emerge from this maker's bench, especially when browsing its website where rings are ordered by colour in a way that makes every scroll a rainbow experience!
I hope you agree with me that colour is a fundamental facet of these designer brands. Can you imagine Madly without its clusters of red, green and blue gems? Or Tayma Fine Jewellery without the colour-play of opals? I hope to never see the day.