Arnold & Son Ultrathin Tourbillon Dragon & Phoenix
The idea behind this new release from heritage brand Arnold & Son is "merging mineral with myth," using the structure and colour of hardstones to tell the story of the dragon and phoenix who, according to legend, decided to make a pearl together using their teeth and talons. In this series of five timepieces, both beasts are depicted by two miniature rose gold, hand-engraved sculptures that are placed atop a dial of either bronzite, eudialyte, marcassite, pietersite or verdite. These rarely used hardstones have unusual colourways, like the beige pearlescence of bronzite with its red and black inclusions or the iridescent clouds that seem to float across the deep blue-grey surface of pietersite. Inside, there's a skeletonised tourbillion movement that's just 2.97mm thick, which means that despite its detail this is a sleek watch on the wrist.
This new timepiece from the artist-watchmaker is available in shades of rose gold and deep red or titanium and royal blue. Both variations are decorated with grand feu enamel, guilloche enamel and two ornamental engraved dragons that curve around a blue sapphire cabochon or a 'pigeon's blood' ruby cabochon that sit right at the centre of the dial. This is complemented with hand-engraved clouds that float across the dial's surface, giving the impression that the dragons, which are characteristic of traditional Chinese art, have been captured mid-flight. This creation also features a completely new internal mechanism, the CRM89 calibre, which offers a 60-hour power reserve and a minute repeater complication with cathedral bells.
This new creation from Swiss watchmaker GENUS is all about its centrepiece – a guardian dragon that lives within the dial to indicate the passage of time. As with so many extraordinary pieces of haute horlogerie, this watch really is a combination of mechanical engineering, goldsmithing, sculpture and engraving; take one of these elements away and it simply couldn't exist. The articulated dragon is made of 11 segments of 18k gold that can each move freely. Its visual style is inspired by traditional Chinese interpretations of the dragon, which is wingless and pictured with a bearded mouth and whisker-like tendrils. This is an incredibly complex movement, but what's important here is that the dragon's head expresses the tens-of-minutes display. This makes this creation unique in the world of high-end watchmaking.
Jaquet Droz Petite Heure Minute Dragon
This new timepiece is a collaborative effort between Jaquet Droz and John Howe, an artistic director, illustrator and conceptual artist best-known for working on The Lord of the Rings. The fantasy element is clear to see here with a micro-painted dragon, created by Howe in his own inimitable style, on a dark blue grand feu enamel backdrop. The watch itself is available in two colourways, red gold or white gold, with a hand-engraved gold oscillating weight in the form of a dragon's tail visible through the open case back. I especially like this quote from Jaquet Droz: "What else spans continents, transcends cultures and religions, defies myths and legends, stretches from the Far East to the Alps, and soars over Babylon? There is no other. The Dragon is far more than just a mythical creature. It is something that has never existed, yet it has always been there. From the Big Bang to the end of time, it embodies perpetual renewal, both evil and redemption."
Louis Moinet 8 Marvels of the World
Swiss watchmaker Louis Moinet arrives at the dragon theme in a different way… through its '8 Marvels of the World' collection. Each unique piece is inspired by a different global icon, like Machu Picchu, the Taj Mahal, Petra in Jordan and, of course, the Great Wall of China. In this latter watch, the 6,200-kilometre icon is reimagined as an undulating hand-engraved dragon that fills the 47mm watch dial, emerging from a skyline of 129 brilliant-cut sapphires, 11 brilliant-cut diamonds and an engraved white gold applique mountain scene. The case is made of 18k rose gold and is decorated with engraved dragon talons (or perhaps teeth) in all directions for a three-dimensional effect. Beneath this is a high-precision tourbillon movement that means its eventual lucky owner will benefit from a homage to the Great Wall and a miniature mechanical marvel.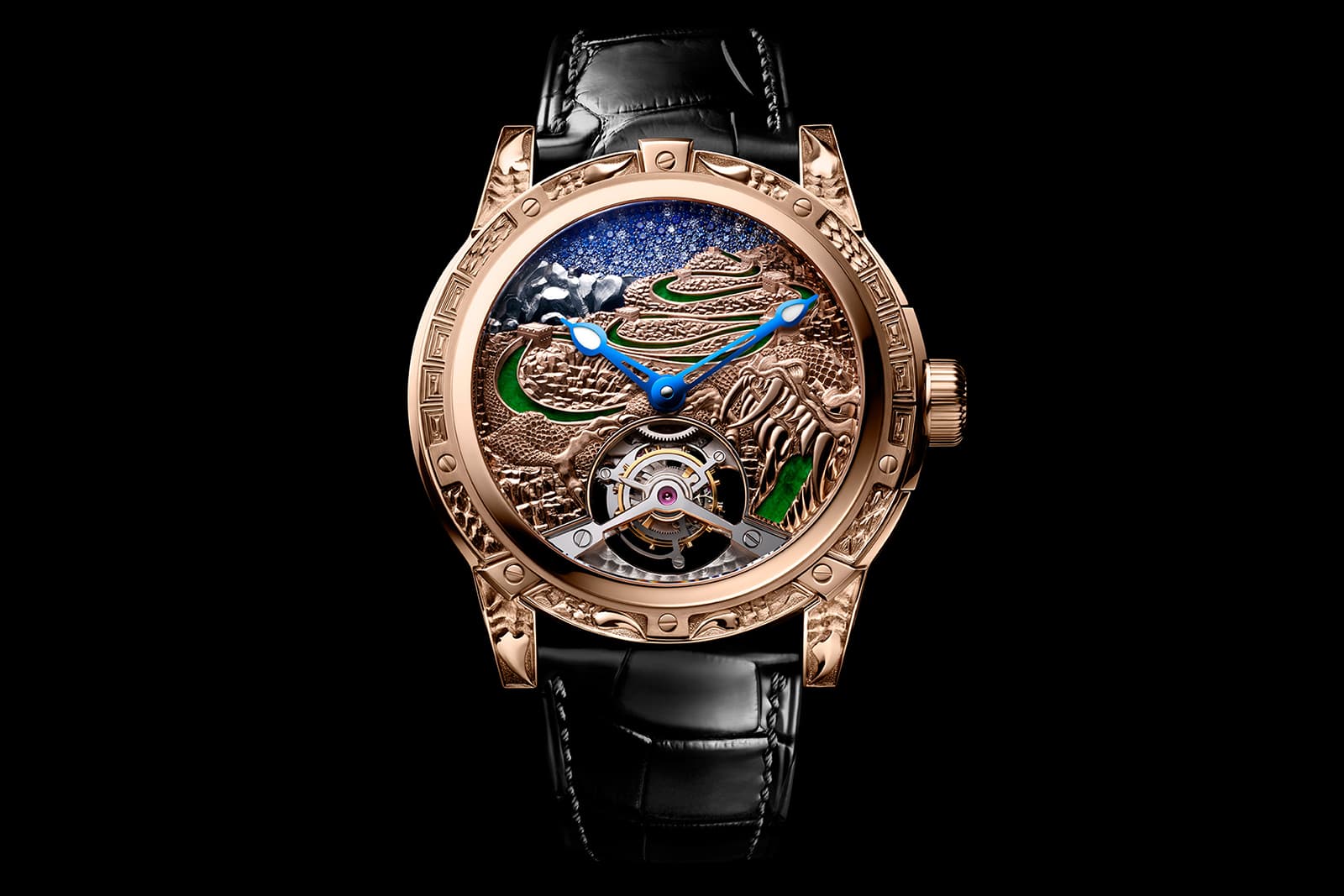 Whether you're a fantasy film fan or a passionate devotee of traditional Chinese artistry, the dragon is a remarkably universal creature that seems destined to capture imaginations across the globe.