Let's start with actress Li Meng and her 'poncho' necklace from Bulgari's Cinemagia collection. The piece, which contains 64 amethyst beads, 61 cabochon rubellites, 35 cabochon tourmalines, 54 turquoise beads and 80 diamonds, was actually inspired by the house's famous relationship with Elizabeth Taylor, who often visited Rome to purchase jewels while filming Cleopatra. Elsewhere, actress Anna Cleveland also chose Bulgari, combining a golden sequined gown with the High Jewellery Serpenti necklace in yellow gold set with four brilliant cut emeralds, 25 bead-cut emeralds of 42 carats, 41 bluff top-cut emeralds and diamond pavé.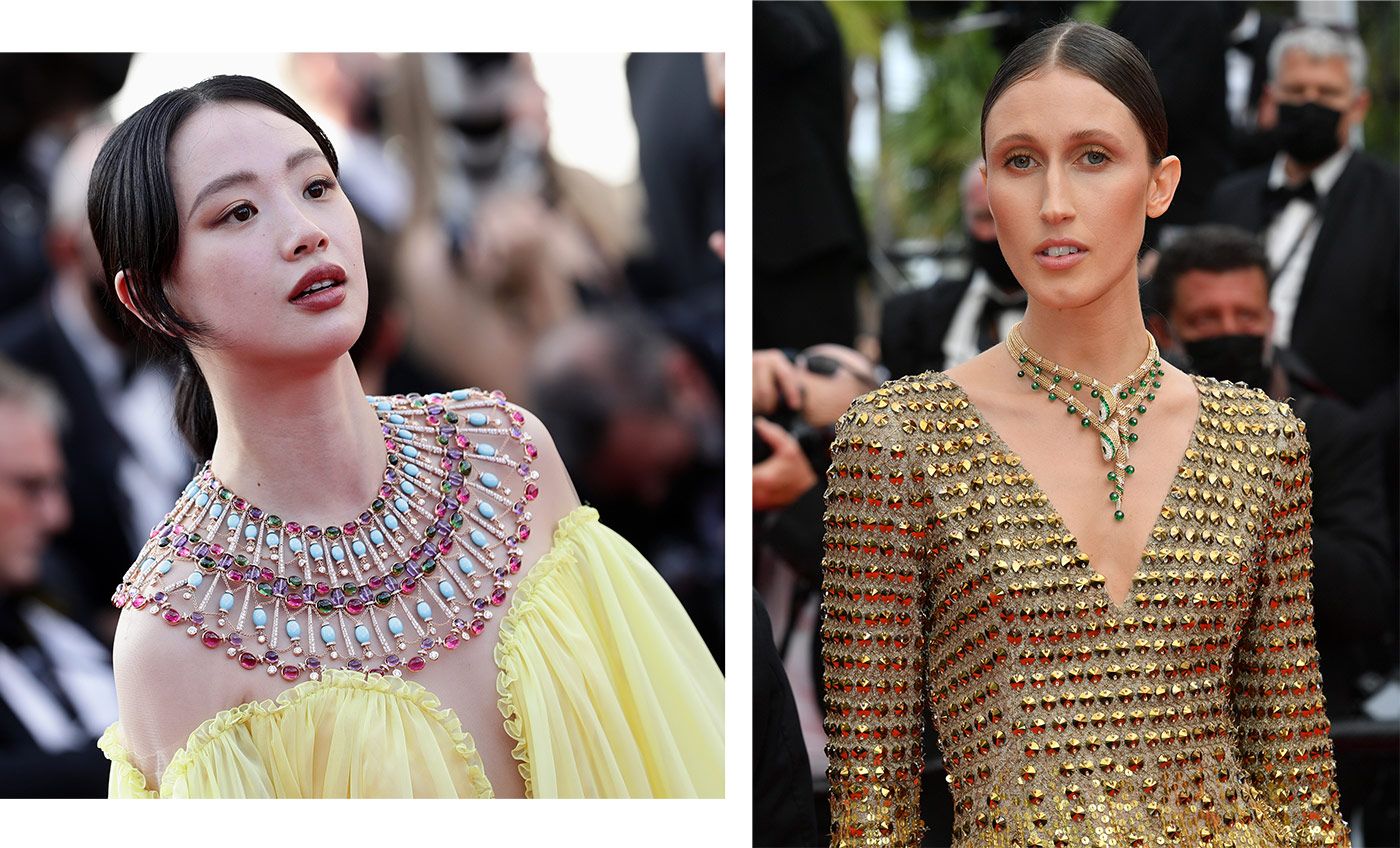 Of course, wherever the name 'Cannes' is uttered Chopard, the official Festival partner since 1998, is not far away! This year its famous faces included models Bella Hadid, Eva Herzigova and Carla Bruni, and actresses Amy Jackson, Maggie Gyllenhaal, Sharon Stone and Marina Ruy Barbosa among many others. Some of its jewelled highlights include Hadid's Red Carpet Collection earrings with a pair of pear-shaped diamonds of 18.05 carats, plus the 5.45 carat marquise-cut diamond ring and the 2.42 carat heart-shaped ruby ring she wore on her fingers.
I especially liked two refined looks of Carla Bruni – one with a Red Carpet Collection bracelet with 27.52 carats of Paraiba tourmalines, 40.39 carats of Padparadscha sapphires, 14.37 carats of opals and 36.28 carats of diamonds, and another -with a diamond necklace and stack of solitaire rings featuring a diamond, a ruby and an emerald. And an honourable mention goes to Sharon Stone in her floral gown complemented with a pair of statement yellow and colourless diamond earrings.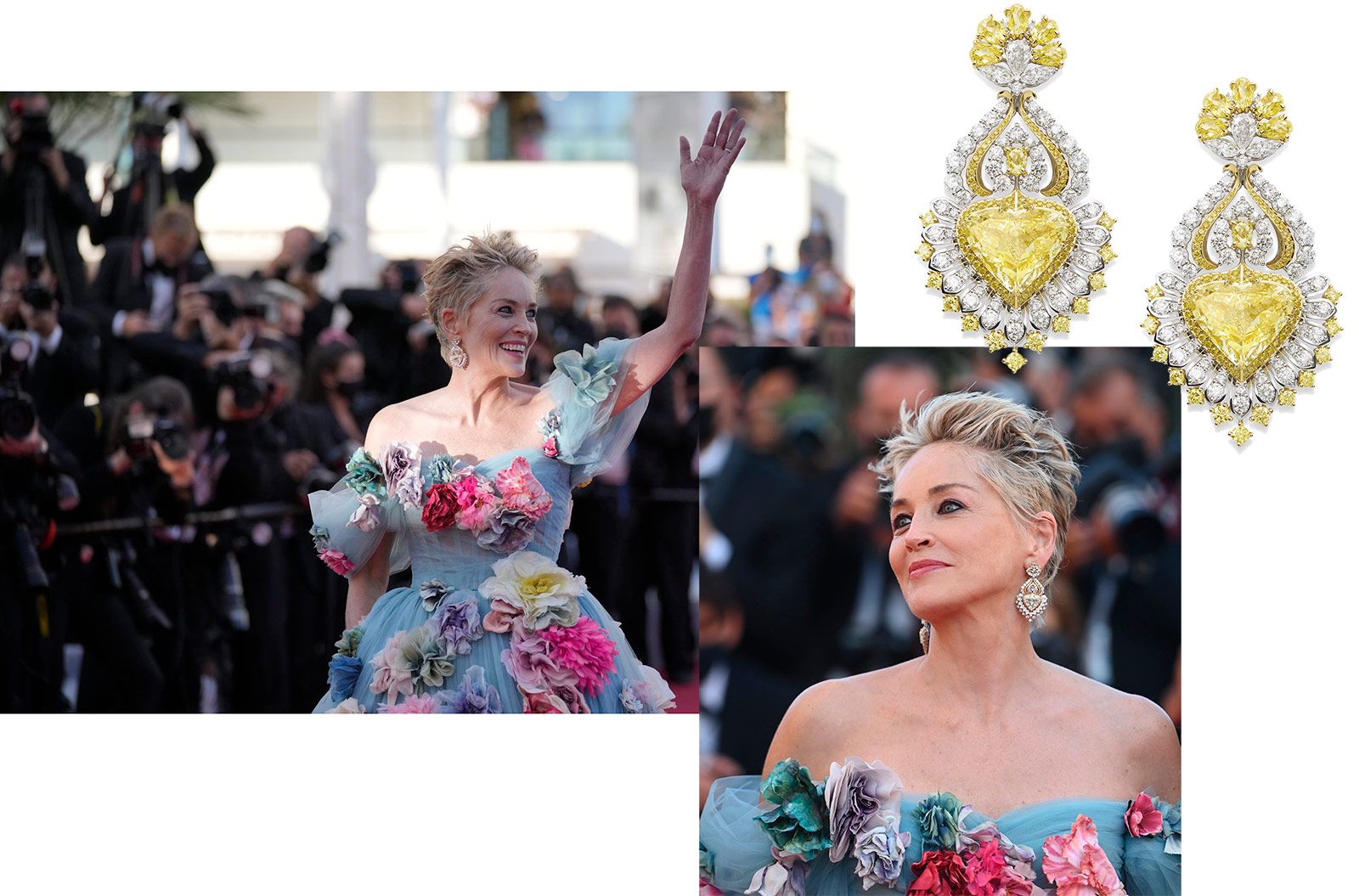 Boucheron also outdid itself, most notably with American film producer, Tonya Lewis Lee, who wore the Holographique High Jewellery necklace, set with a 20.21 carat octagonal yellow sapphire from Sri Lanka, alongside holographic rock crystal and diamonds in white gold.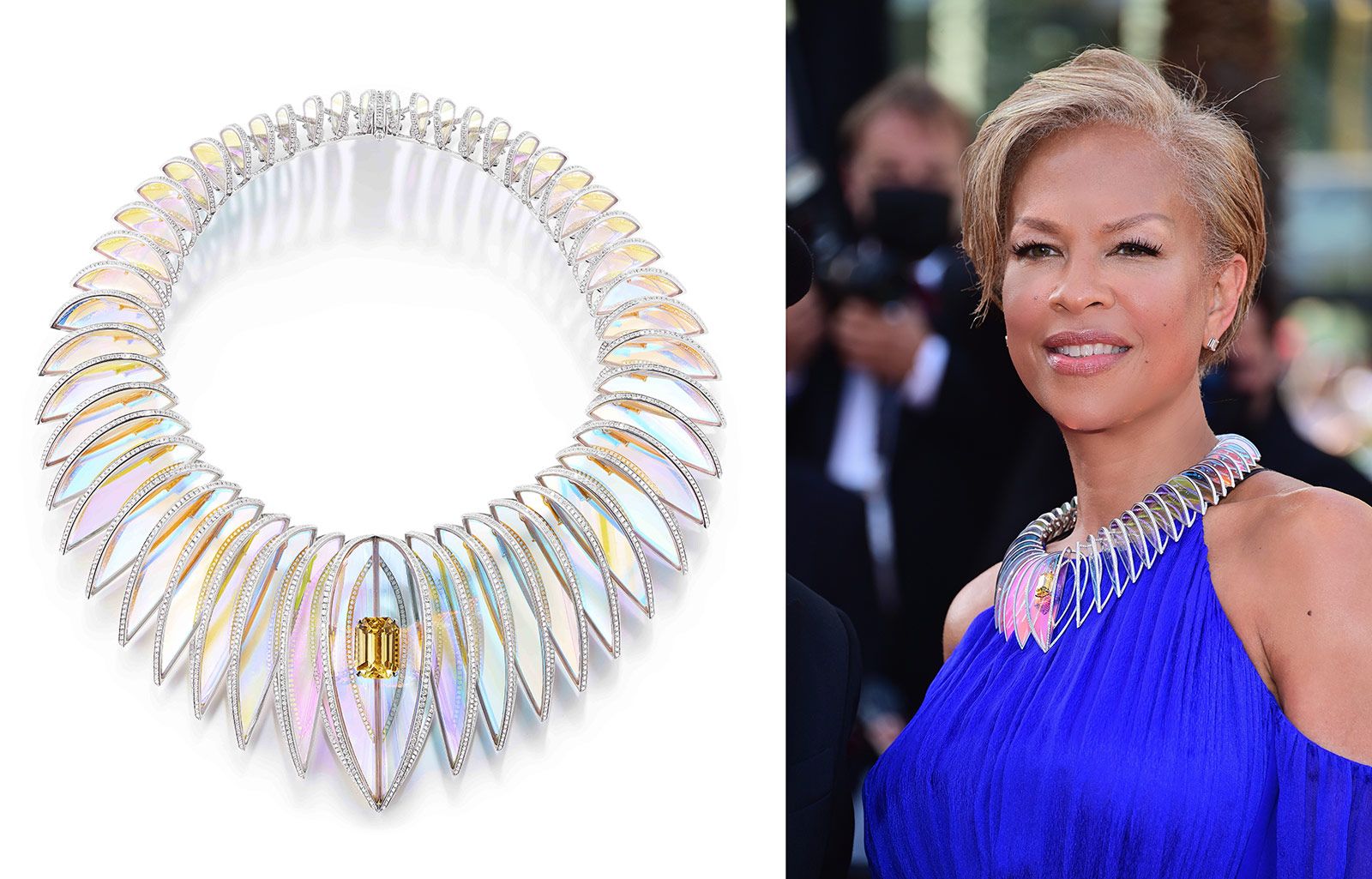 Their Place Vendome neighbour, Chaumet, dressed actress Diane Kruger in the Nuages d'Orpair earrings and ring, and the Soleil Glorieux ring, all from the Les Ciels de Chaumet High Jewellery collection, as well as model Natasha Poly in the Lueurs d'Orage ring from the same High Jewellery offering, and earrings from the Liens and Torsade de Chaumet High Jewellery collection. The result? A feast of pear-shaped white diamonds, fancy intense yellow diamonds and sunny yellow gold.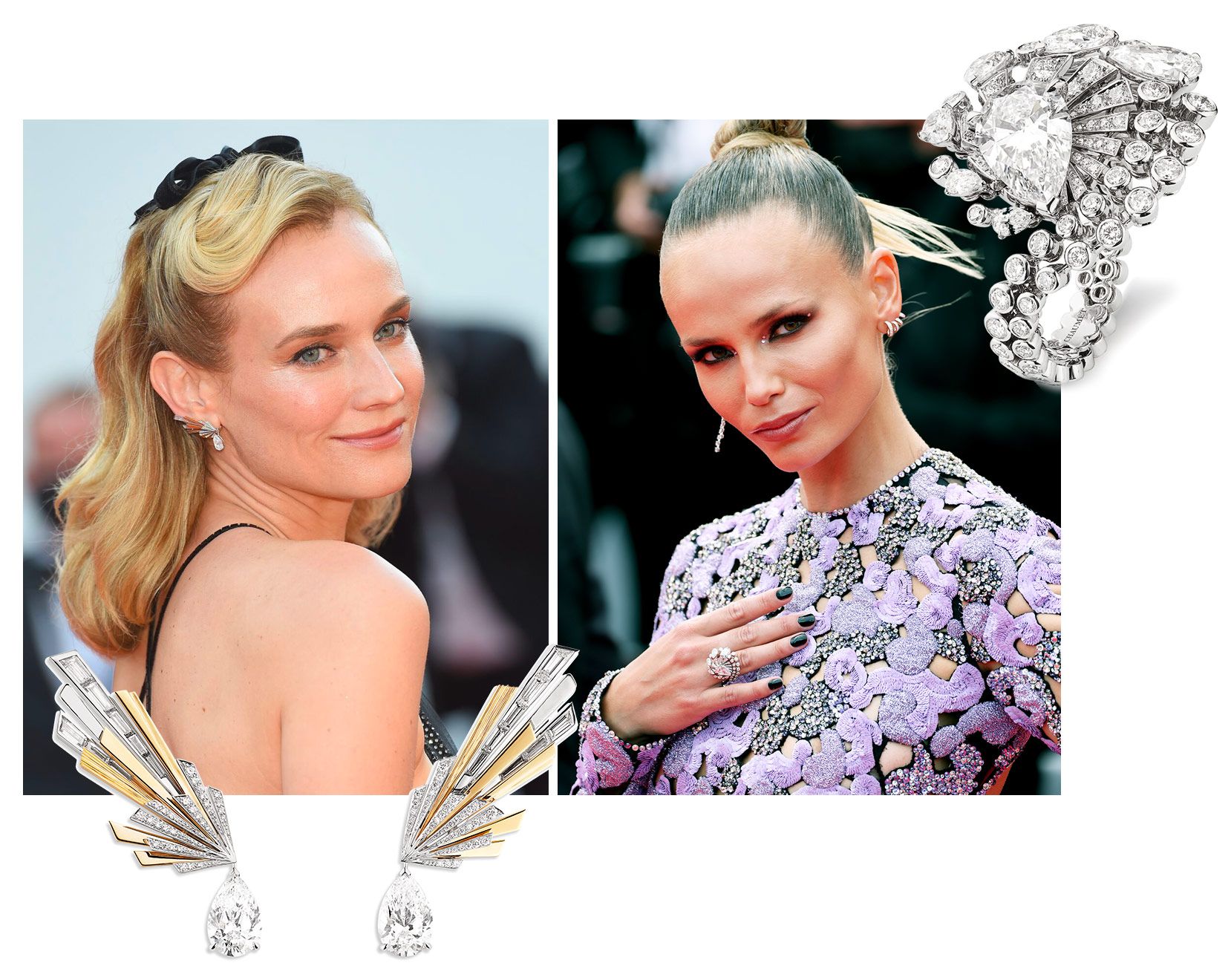 Two of the more unusual looks were offered up by Maggie Gyllenhaal and Luma Grothe. The former wore Chopard Precious Lace earring in 18k white gold, titanium and 11.32 carats of diamonds right at the top of the ear, presumably subverting how they were expected to be worn at the lobe, while the latter – a Brazilian model - was decked with Messika jewellery: she adorned her ears with mismatched Unchained Soul and Independent Icon earrings from the collaborative collection with Kate Moss and her arm with a diamond pendant arm bracelet.
Some further highlights from this year's fabulous females include Dame Helen Mirren wearing a canary yellow Dolce & Gabbana dress paired with an emerald and diamond suite.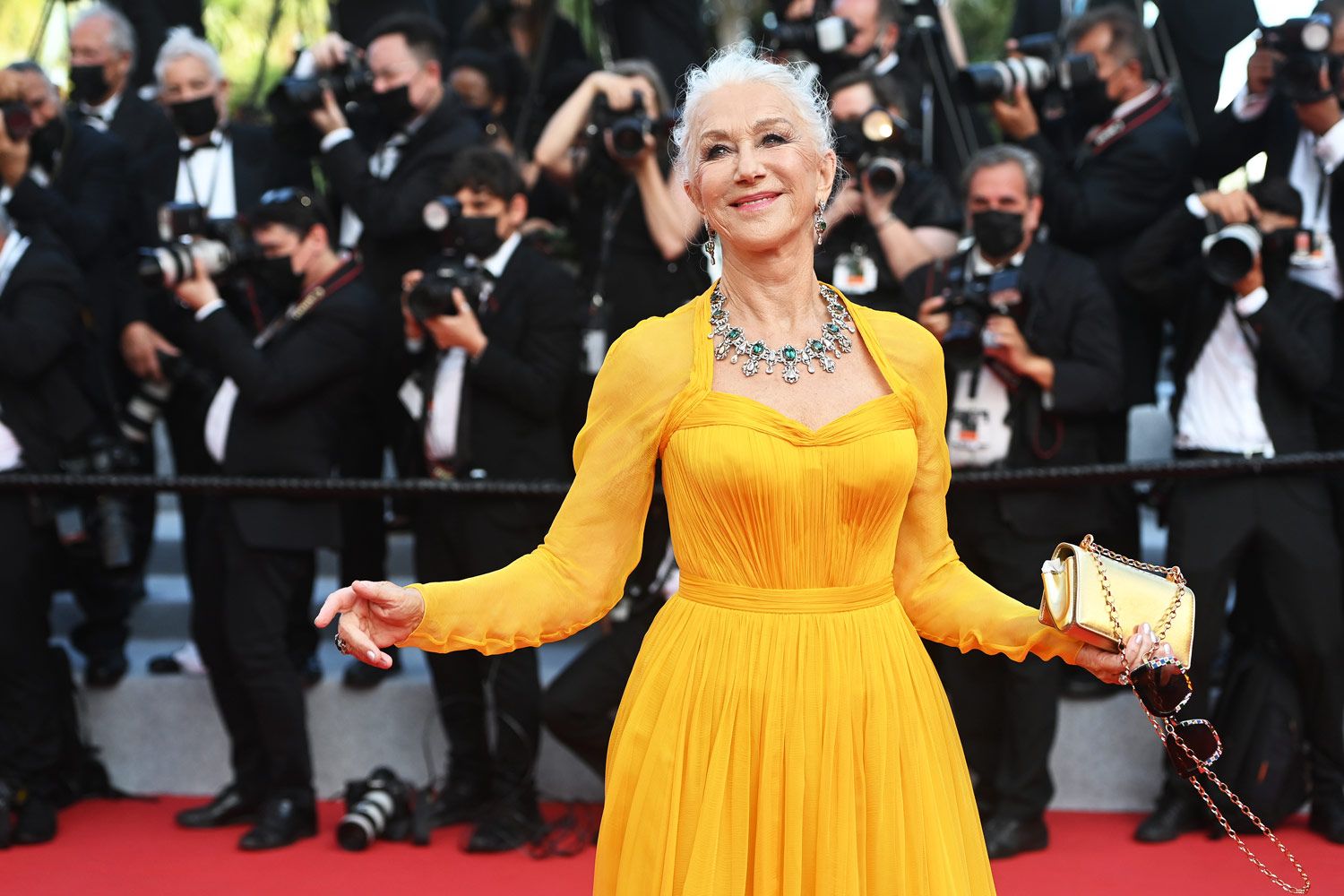 Next, there was actress Melanie Laurent in a sumptuous necklace by Cartier featuring the iconic panther. Leonie Hanne and Emma Clare Thynn, the Marchioness of Bath, both looked radiant in statement Pomellato jewels. The latter's choker necklace was a special statement piece from the latest La Gioia di Pomellato High Jewellery collection, set with a large rubellite tourmaline.
Fearless colour appeared to be the theme on this year's Cannes Film Festival red carpet, which wasn't without its dramas. Actress Jodie Turner-Smith, who wore Gucci High Jewellery to attend her movie premier, later discovered her own personal jewellery had been stolen from her hotel room. It is thought the thieves were looking for the Gucci suite, including a necklace, bracelet and earrings with yellow beryls and diamonds, as well as a Gucci heart-shaped sapphire ring that were immediately returned to the brand after the photos were snapped. It's stories like this that serve as a reminder that Cannes is the epicentre of fine jewels – a target for all those with nefarious intentions but, also, a beacon for people like me who adore coloured gems, dynamic design and the opportunity to see high jewels in their 'natural habitat'.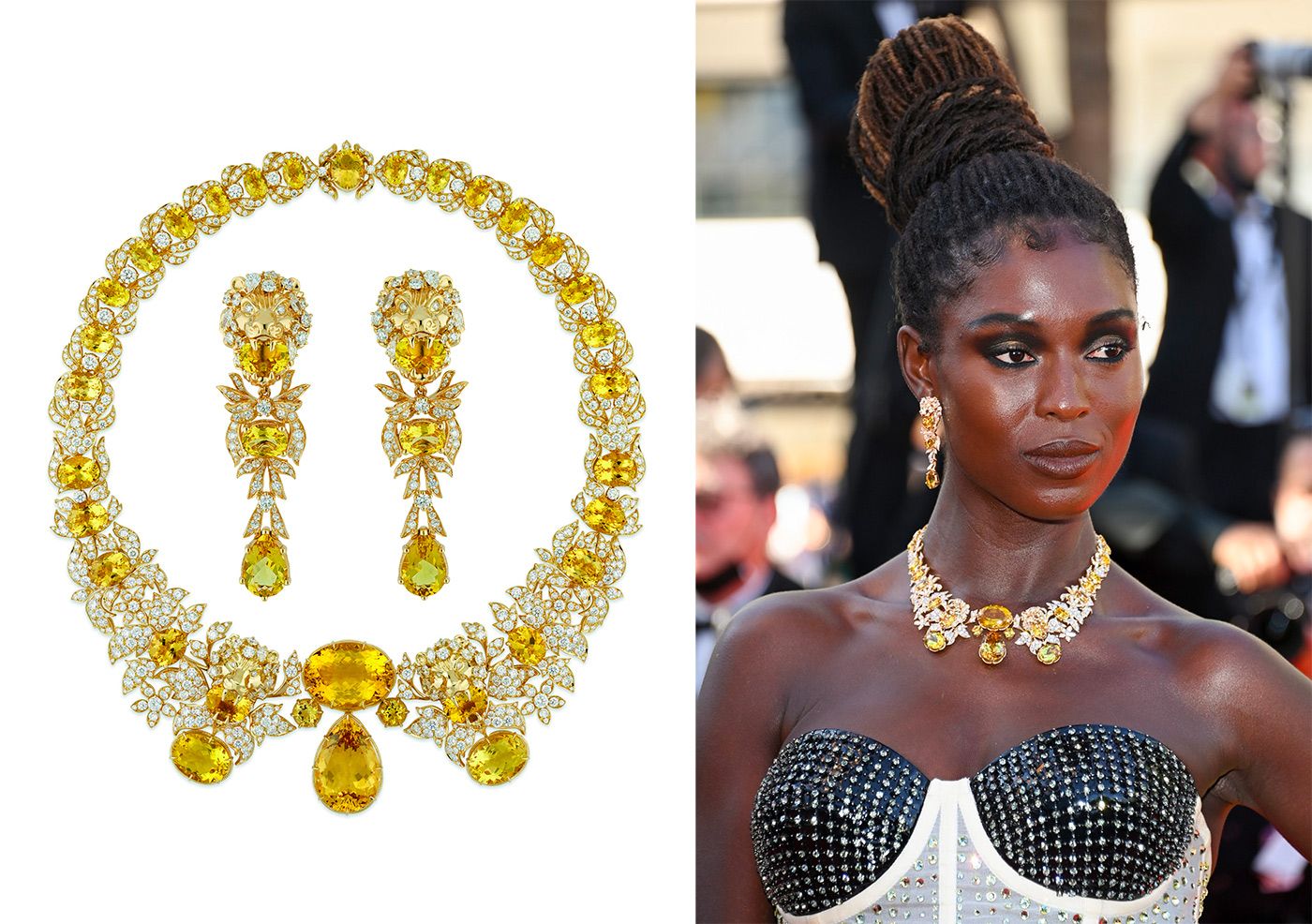 The gentlemen at this year's festival took a backseat when it came to jewellery, with two notable exceptions: Timothée Chalamet and Nicolas Maury. Both actors demonstrated their inimitable style in different ways, with Timothée Chalamet wearing a suite of Cartier rings and some bracelets, hidden beneath his shirt cuffs and obscured by a shiny metallic Tom Ford suit, white boots and dark sunglasses.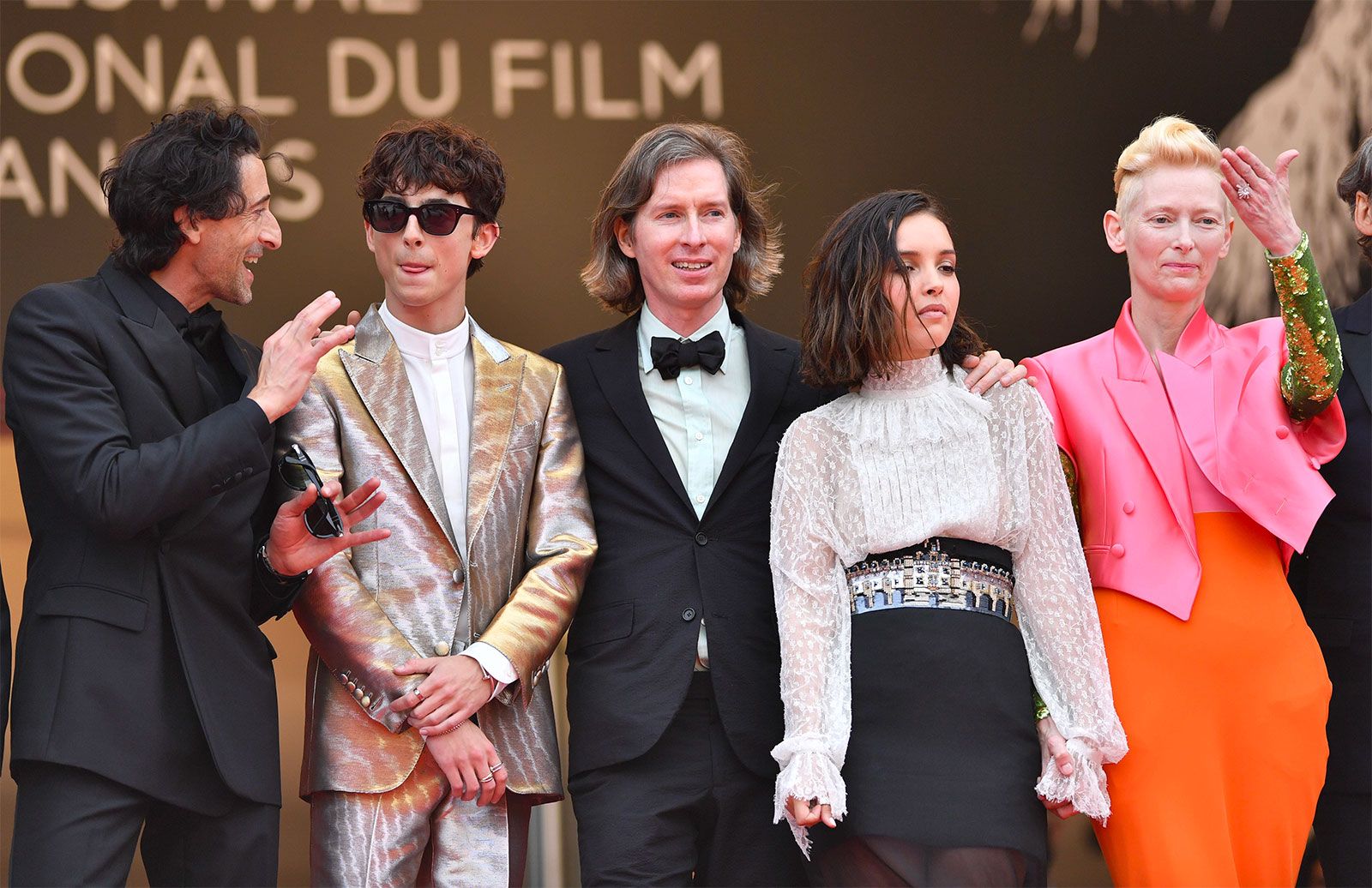 Rather than letting his suit do the talking, French actor Nicolas Maury relied on the power of Boucheron to demand attention. His look included the Opalescence brooch, set with a 71.69 carat oval cabochon white opal from Ethiopia, as well as the Opalescence pendant earring set with opals and diamonds with lacquer, in pink gold. Both pieces are part of the Carte Blanche, Holographique High Jewelry collection, which was unveiled during Couture Week in July 2021.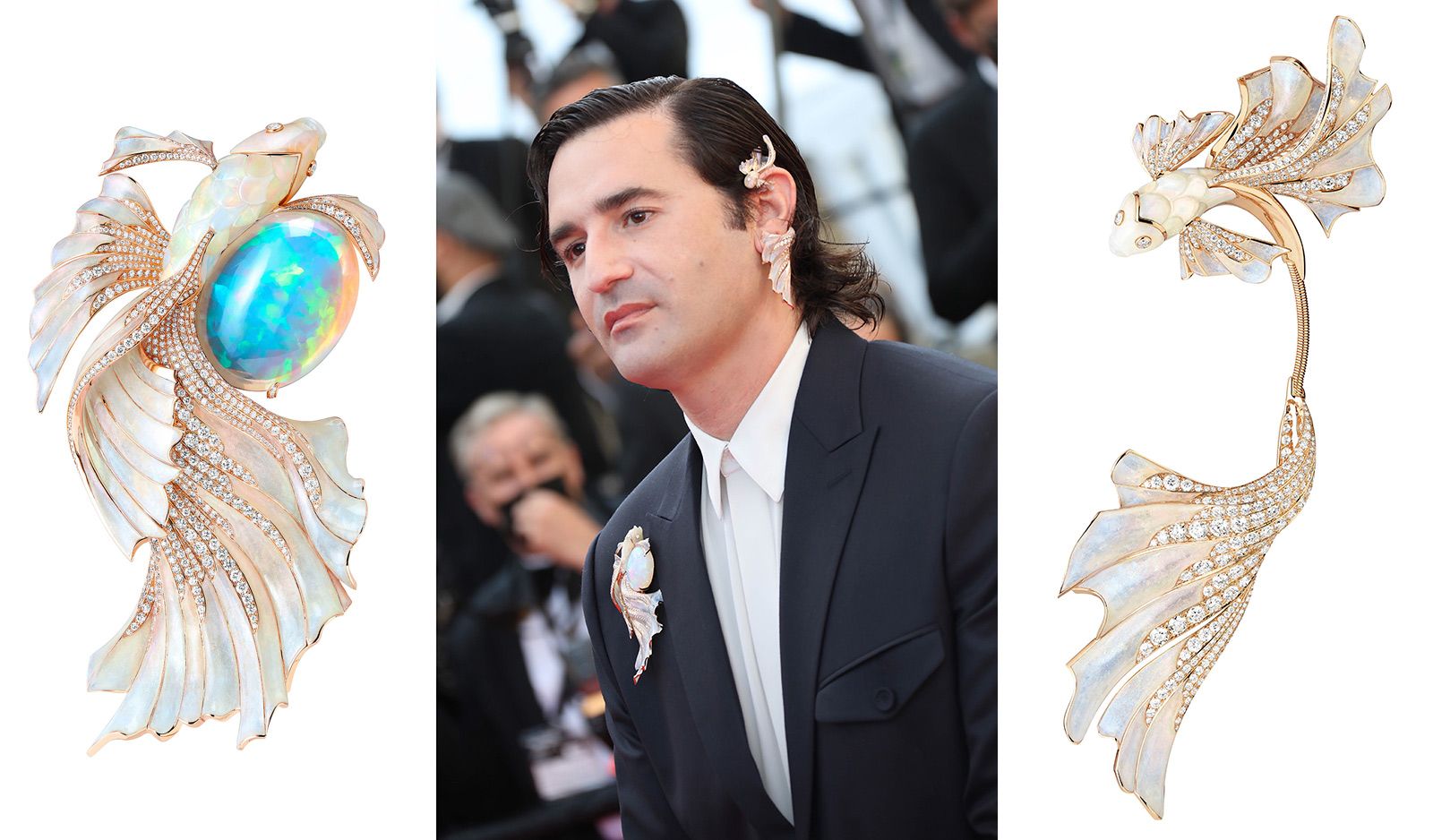 This year, I also got to enjoy my own 'star' moment on the red carpet while attending the premiere of the Italian film, The Three Floors. I paired up my Gemy Maalouf gown and Alzuarr shoes with Lydia Courteille earrings from the Topkapi collection, adorned with white opals, sapphires, rubies and diamonds.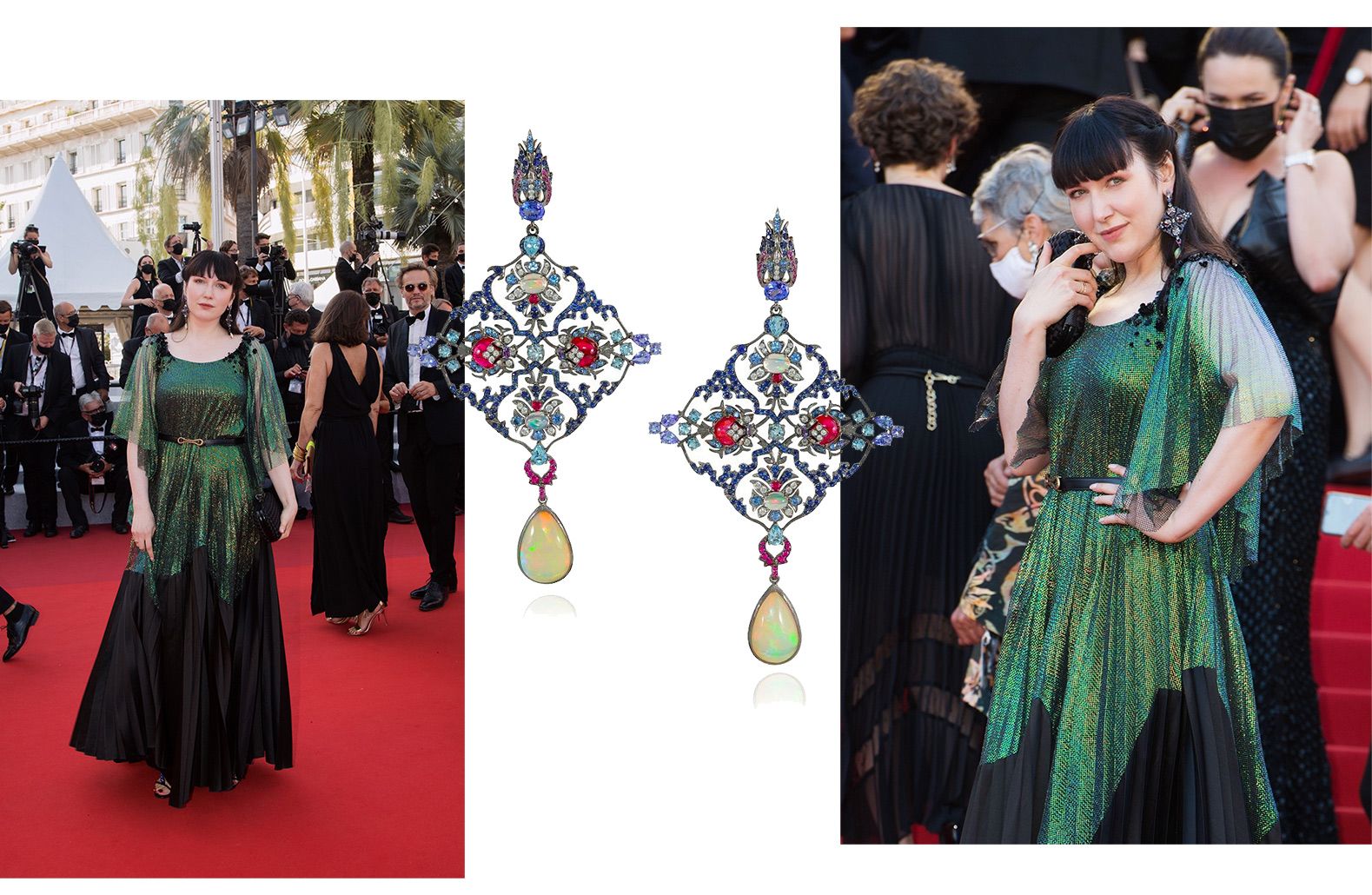 Somehow, over the course of the festival's history, it has fostered a relationship with high jewellery that means it's not simply worn on the red carpet but experimented with, in a way that spotlights the dynamism and variety of the art form. Of course, we continue to see diamond pendant earrings like we would do at The Academy Awards, but where Cannes comes into its own is with the larger-than-life and unique designs that find their way onto the necks, wrists and ears of celebrities and models from all over the world. I can't wait to see what is presented next year!