The mixture of completely different techniques used in WITR precious pieces arouses the desire to hold them in your hands and study all the subtleties of craftsmanship in more detail. During last year's exhibition, clients were constantly gathering around the WITR showcases, and when I finally managed to get access to the jewellery, all the masterpieces were already sold. Nevertheless, what I did see was enough to appreciate the unique signature of the designer.
Decorative motifs from antiquity, lush, truly royal jewels, baroque style - these are several aspects that have a direct impact on WITR high jewellery aesthetics. However, the brand is famed in Qatar for its different direction: everyday pendants, bracelets and cufflinks with a unique design element - iris prints. In this exclusive interview, Reem tells us how she came up with the idea of creating jewellery with an iris motif, why she likes to explore different jewellery styles in her creations, and what made her decide to produce her pieces in her native Qatar, rather than in Italy or France.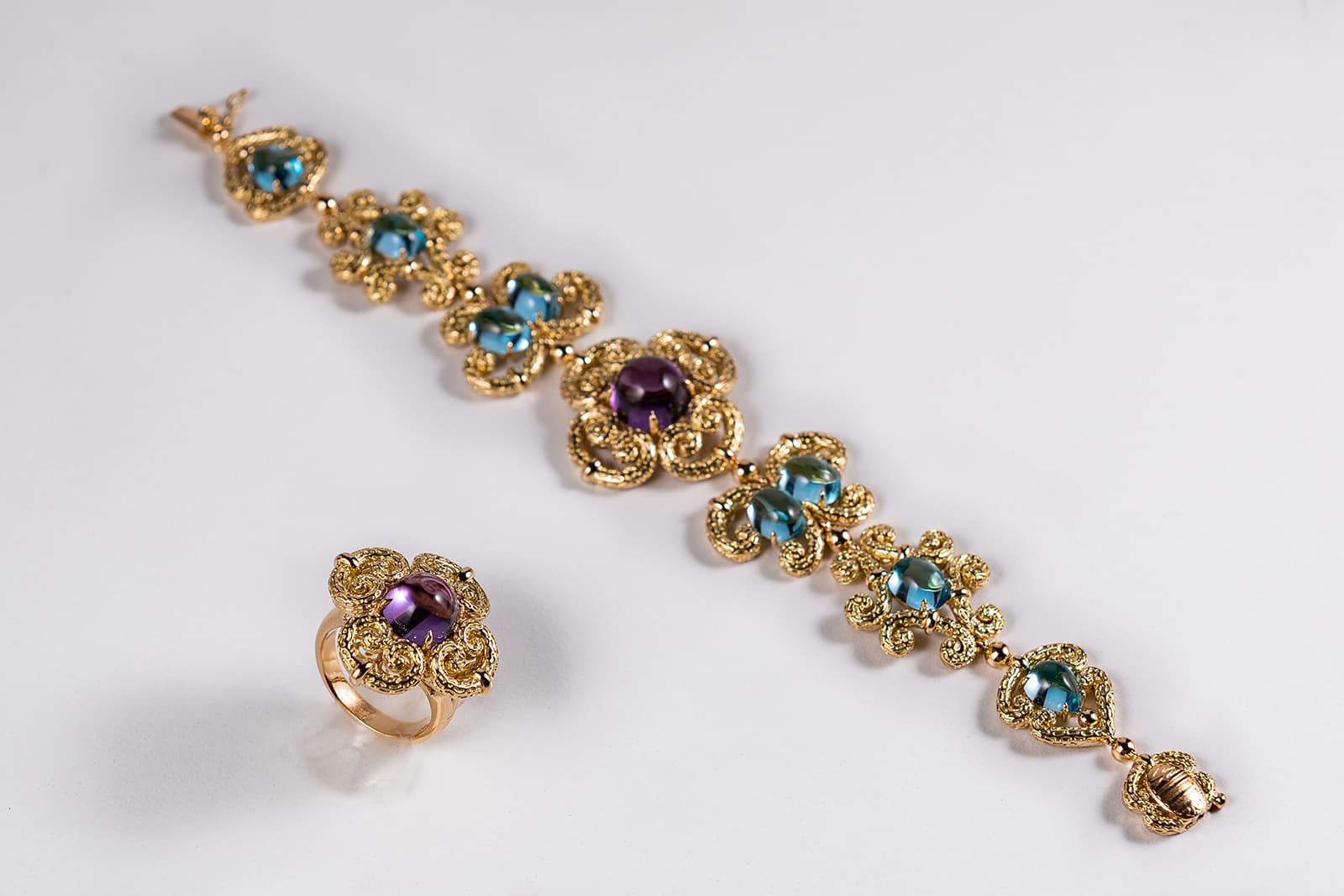 KP: Unlike many other Qatari designers, your jewels mostly feature statement voluminous designs, textured gold and large coloured gemstones. How did you shape up this bold personal jewellery style?
Reem Al Shamari: The love of art was instilled in me since childhood, so I grew up with an endless appreciation to beauty and colours. Now, large gemstones and perfectly textured gold help me to express it in a subtle way. I also have great fascination for the monarchic designs of ancient jewellery, especially those regal sets owned by emperors, kings and queens of the ancient era. Those designs were expressive to the status of the possessor - full of pride, majesty and pageantry - and this is something I want my customers to enjoy, majestic pieces of beauty. I'm greatly inspired by those eras, but in WITR we study those designs carefully, improve and add our own touch of culture to create a new line of ancient motifs that express our love and dedication.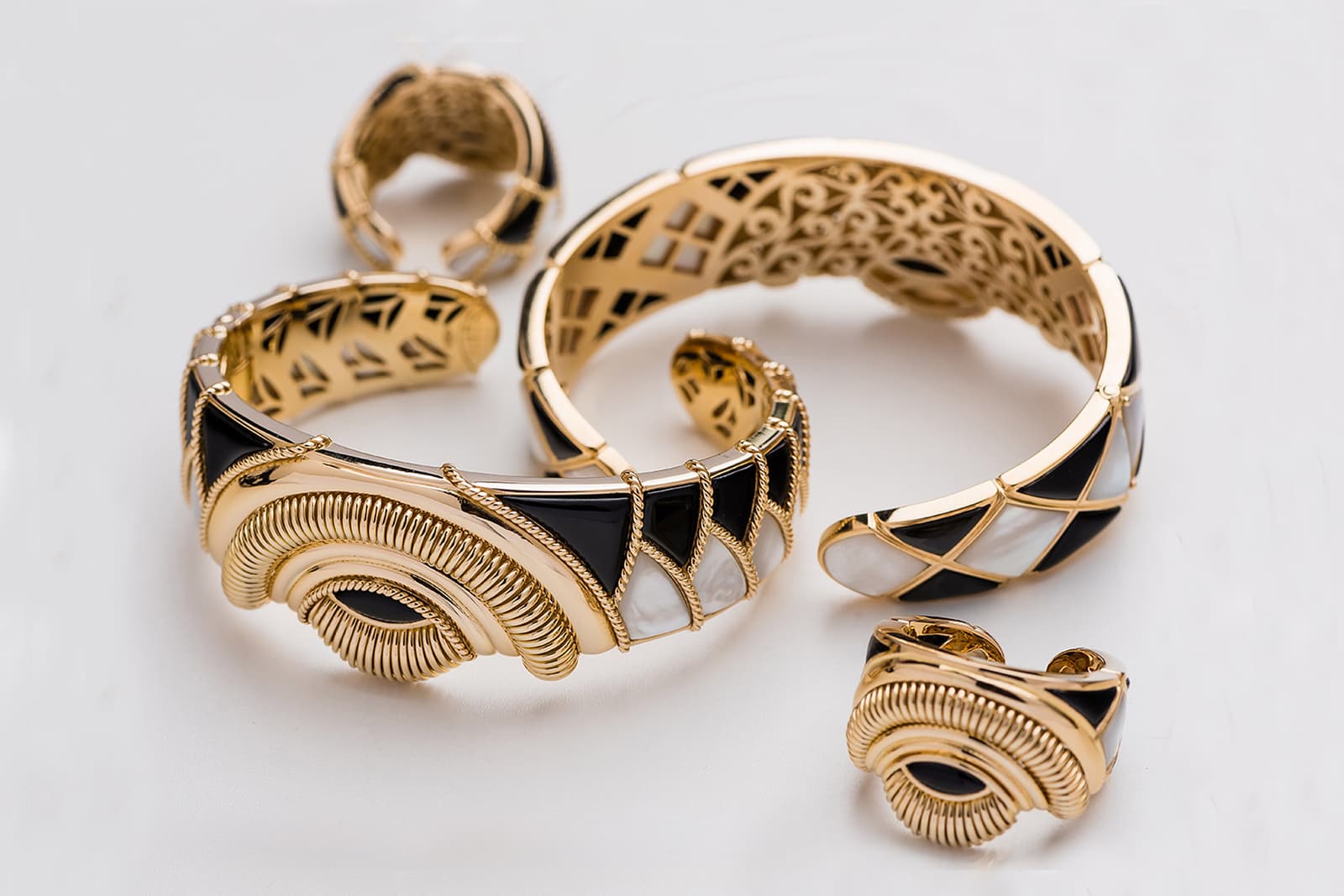 KP: Looking through your collections, I couldn't help noticing a variety of styles, jewellery techniques and inspirations: textured gold, carved mother of pearl, personalised iris jewels, simple gold designs. Is this connected with your desire to explore various stylistic directions?
RAS: Yes, it is connected to my desire to explore, as well as design for those with a gourmet level appreciation for classy jewellery. What we do is savour the beauty of jewellery as though it's the only spiritual nourishment a person needs.
KP: How were you first inspired to include the unique 'print' of the iris into your jewellery design?
RAS: We humans are naturally possessive of those we love... so much, that we cannot accept the idea of losing them. Personally, I'd rather keep everyone I love with me forever, and this is where I got inspired. We humans are made of two compositions: body and soul. We cannot keep the body, but can definitely keep the soul - literally. How? Eye prints are second to DNA, so every person is born with a magnificently unique eye print that can never happen twice. Eyes are not only the window but the face of the soul as well. So, by engraving those godly artistic details we immortalize those souls on precious metals as jewellery to be worn, seen, kept and felt forever.
KP: This WITR jewellery collection is so original in its concept…
RAS: Yes, I'm always driven by unprecedented uniqueness that speaks volumes of personal value, so every design was purposely meant to be unique to each individual. Based on that, we're currently working on establishing a new service specialised in personalising fine jewellery sets for jewellery lovers and brides that aspire to wear a special piece in their special day. The design will be made according to unique factors like the shape of the face, the length of the neck and width of the chest as well as personality.
KP: One interesting detail of your jewellery is that everything is made in Qatar…
RAS: In 2015 we made a decision to manufacture WITR's jewellery in Qatar, as manufacturing elsewhere certainly steals away the thrill of being the actual creator of each jewel. We believed in business continuity and the only way to achieve that was to manufacture locally, so that we could be an inseparable part of the process during manufacture. Not only that, this way we could supervise the making of every piece closely and personally.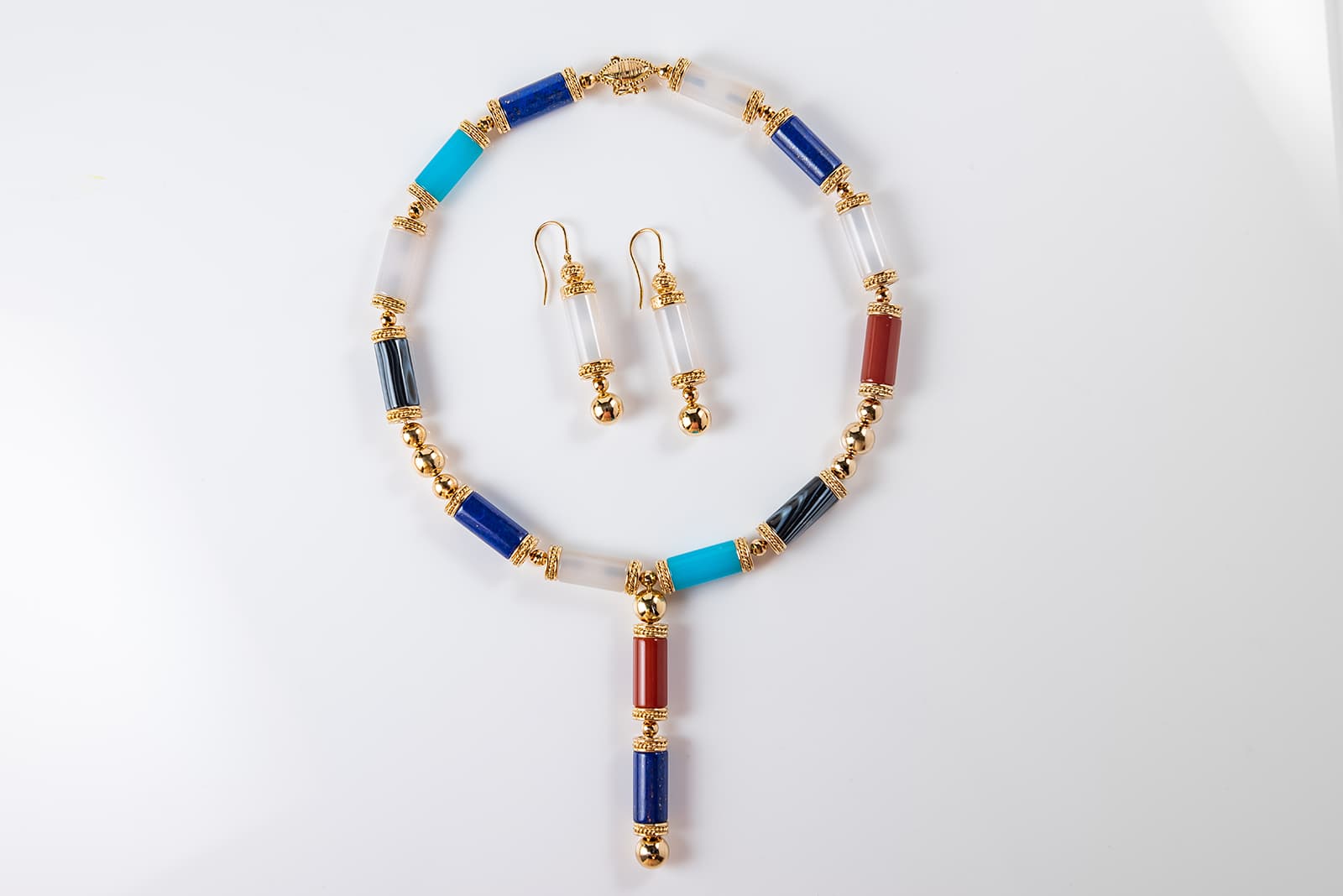 KP: With the Doha show fast approaching, are you bringing something special to the exhibition in 2020?
RAS: Yes of course, I spend the beginning of every year acquainting myself with new gemstones as well as new techniques to manufacture new styles. I'll be exhibiting seven new designs bejewelled with semiprecious stones and yellow gold which will certainly wow jewellery lovers. There will be an exciting variety of ancient designs, delicate, elegant and pageant styles debuted in 2020 exhibition.