To be honest initially I planned to write only about the newest collection – Mughal Perfumes – that features earrings and rings with white, champagne, golden, silver and fancy Tahitian Keshi South Sea Pearls interspersed with sapphires of different colours, diamonds and tsavorites. However, after a conversation with Alessio Boschi about his travels around the fascinating land of the maharajas, I decided to also include last year's high art jewellery pieces that made up Breakfast in Jaipur.
"Ever since I was a student at the Academy of Costume & Fashion of Rome (which included Jewellery Design) design I used to always go to Paris and see exhibitions of big brands like Van Cleef &Arpels, Cartier or Boucheron. The Golden Age of these incredible brands coincided with the time when they were making design for the maharajas. After attending the exhibitions, my passion for India and its culture grew stronger, I dreamt about going to this country, visiting Umaid Bhawan Palace and seeing its décor," tells me Alessio.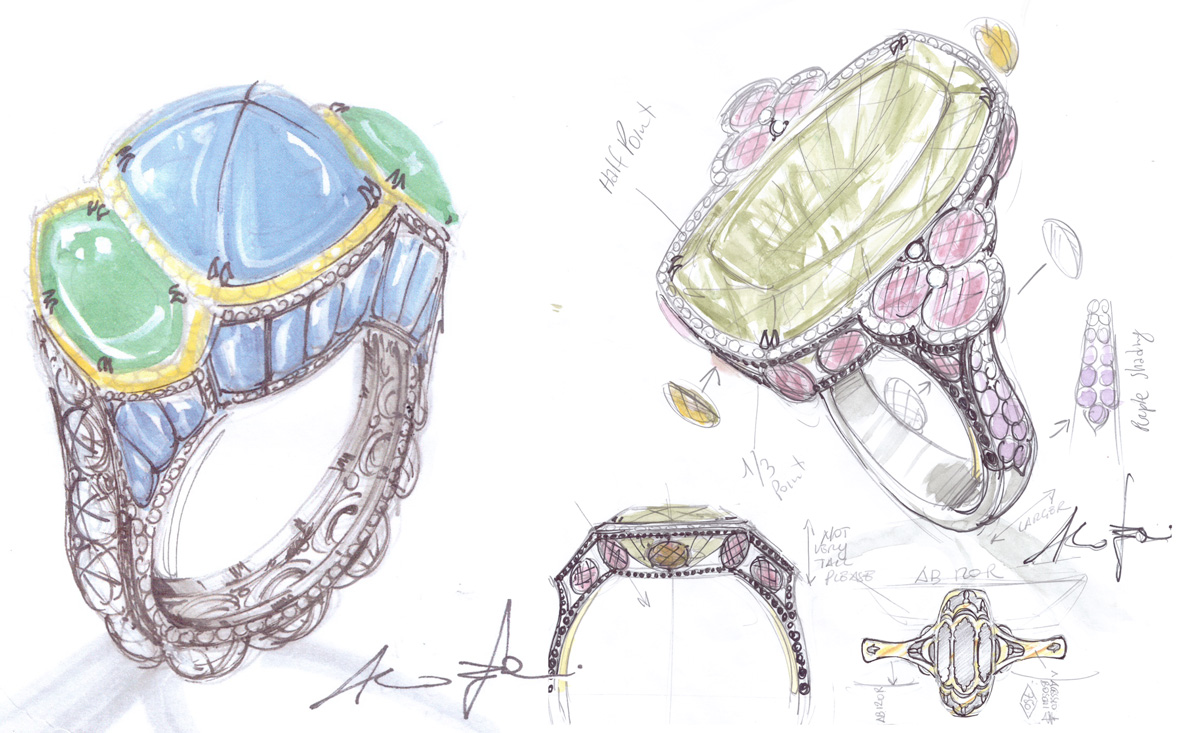 There is a theory that if you really want something, you'll get it. Three years ago the Italian designer was invited to the wedding of a very influential Indian family, and set off for Jodhpur. He was met at the airport and taken to what he thought was a local hotel. "Upon arrival at Jodhpur, I saw this amazing palace in the distance. I started taking pictures of it on my way to the hotel, but when we arrived I looked up and realised that it was the palace we arrived at. I simply couldn't believe it! Having entered the building, I found myself in this incredible 1940 art deco hall. Just imagine the grandeur of European Art Deco mixed with Mughal style," carries on his story Alessio.
Over the four days the designer spent in the stunning Umaid Bhawan Palace, he took 1800 photographs, and made a firm resolution to create a luxury collection Breakfast in Jaipur inspired by this unbelievable place. Alessio embellished his pieces with decorative motifs he'd seen in this palaces and other remarkable sights: floral motifs cut from marble and sandstone, and geometric patterns decorating the windows. In order to convey the atmosphere of wealth and luxury, for the first time in his company's existence, Alessio decided to to use stones of high importance, specifically large emeralds, rubies and blue, purple, yellow sapphires.
"I mixed clashing colours in my designs in the same way as Cartier did in the "tutti frutti" Collection. Imagine the colours of India in combination with Mughal Palaces décor elements and some high-end precious stones set in relatively classic designs and enriched with oriental flare – this is what the Breakfast in Jaipur collection is like." The classic volumes, less extravagant that Alessio's usual creations, are a reminiscence of beauty icon Audrey Hepburn in the famous "Breakfast in Tiffany" film. However, the colour combination and the lacework of the galleries remind us of the splendour of Rajasthan.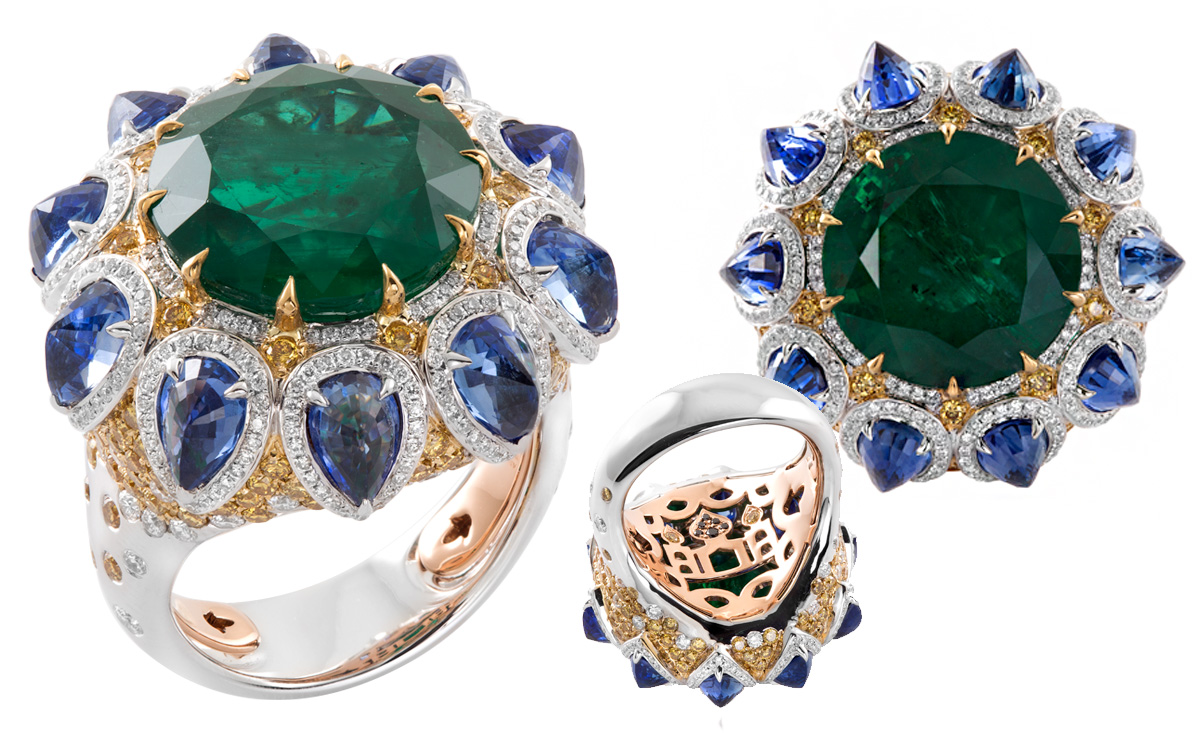 When it came out in 2015 at Baselworld the collection startled many of the fair's visitors. This motivated Alessio to extend "Breakfast in Jaipur", and its themes of opulent decoration in the exotic Umaid Bhawan Palace. He decided to create a more accessible line which many more clients could buy into.
"I have always been passionate about uneven pearls, rare specimens, baroque and Keshi pearls. Especially the latter, which in Japanese means 'without nucleus'. Keshi pearls are never the same, each one being unique and they have an incredible colour and luster due to the many layers of pure nacre on top of each other. About 4 months before Basel 2016 I went to my pearl supplier and handpicked a bunch of these pearls based on their unique colour, shape and luster. Back in my studio I sat down and started imagining earrings, mixing colours, and allowing myself to make left and right earrings with pearls of different hues," said the designer about his Mughal Perfumes collection. The beauty of Jaipur, its City Palace as well as the numerous venues that the jewellery designer had attended contributed extensively to the creation of this enchanting line.
Alessio Boschi's story is an example of never saying never. If, after reading this article, you thought that you'd never be able to afford such luxury, as any of the jewels featured here, don't be so sure – fate might have other ideas.