Flower motifs have been an integral part of jewellery design for centuries, but what makes floral jewels from contemporary artists special is the ingenuity and complexity of the processes, implemented unconventional materials and experiments with gemstone settings. Some of the biggest jewellery houses in the world, as well as talented young designers and established master artists, treat flowers with extraordinary reverence, so let'ss look at some examples of some extraordinary flower designs.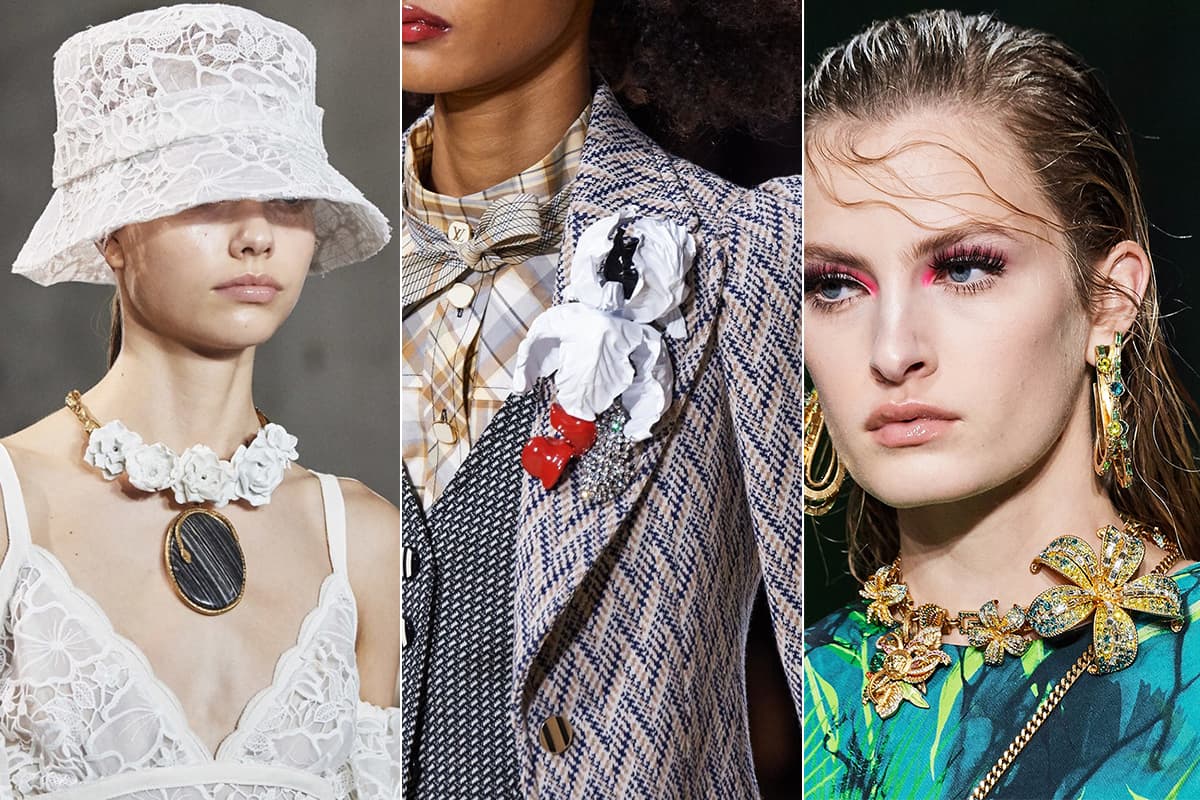 Original jewellery style
Bvlgari's high jewellery 'Jannah' collection features a rather unusual poncho-style necklace that boasts not only an abundance of gemstones on floral motifs, but a weight of incredible labour which was necessary to create it. Requiring between 1,200 to 1,500 hours of work by a single artisan, the making of this unique jewel was supported by a team of foundry workers and gem cutters. This design is far beyond just a necklace, the cape-like structure is embellished with 46 rubellites weighing 213.77 carats set against mother of pearl and 62 Akoya pearls, as well as emeralds and diamonds.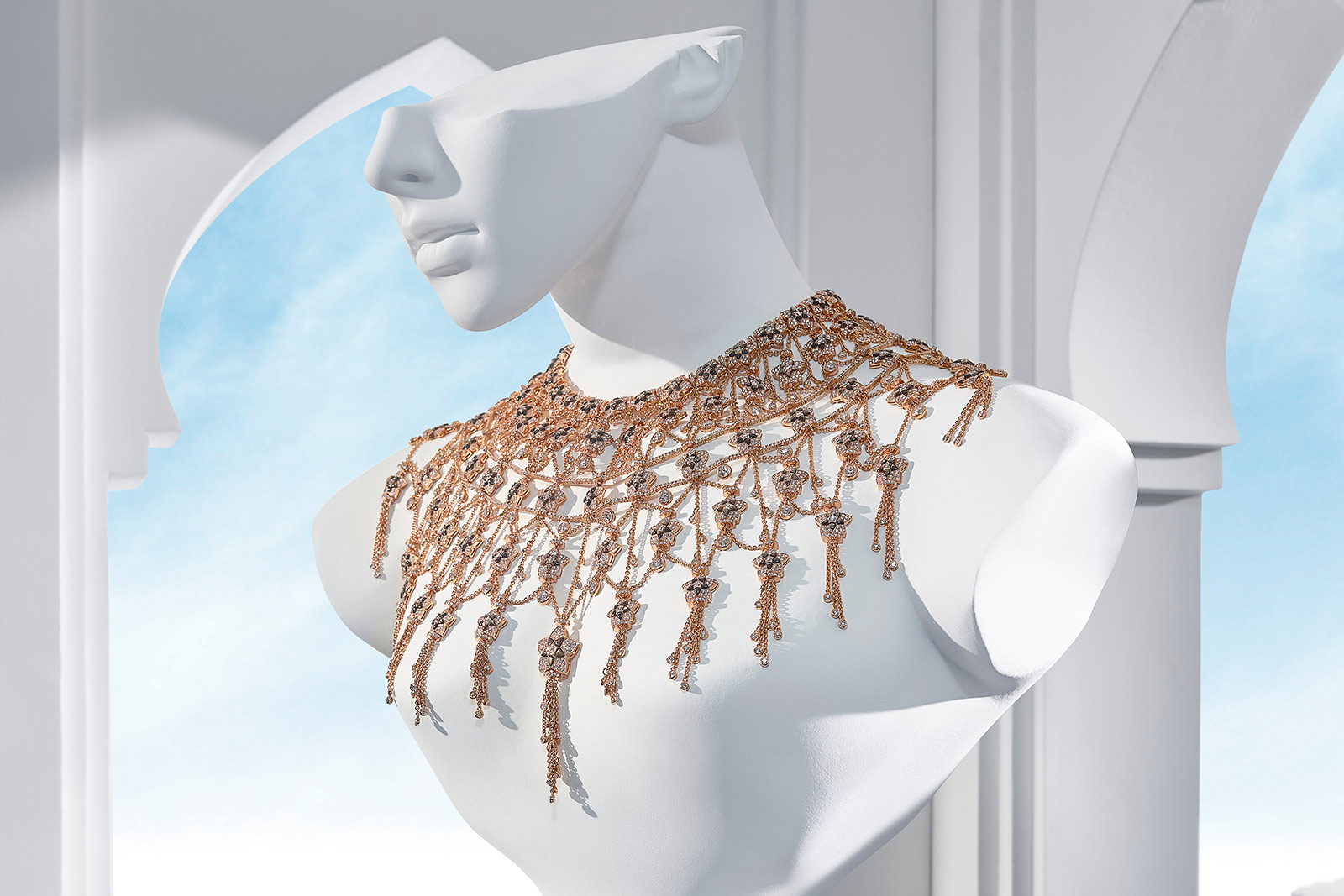 Invention in gemstone setting
Having the prestigious title of the most exciting new jewellery talent to emerge from Mainland China, Feng J. has an appropriately enthralling design process for her 'Floating Set' jewellery. The result is the lightweight, almost invisible gold structure that supports the gems and lets light pass through each stone in a delightfully fresh way. Feng reveals: "every gem we use is 1mm-1.2mm thin custom cut by hand in an organic shape, meaning that no stone is exactly the same, and the process of cutting and matching stones to a design usually takes months. It is like putting together a jigsaw puzzle out of gemstones or painting with them."
The art of Invisible setting
Stenzhorn have a reputation for creating complex floral jewels using their signature mystery setting technique that allows petals to showcase one single colour without visible metal. The brands' founder Klaus Stenzhorn admits that regardless of creating several floral collections - 'The Noble Ones'(2016), 'Snow White and Rose Red' (2017) and 'Sakura' (2018) – it was the Chrysanthemum necklace from the first collection that marked a pivotal moment in Stenzhorn's history. "The workmanship of this piece is of staggering complexity, both in its three-dimensional effect and the setting of the stones. If you take a close look at the petals you will see that rubies embellish even those parts that are not instantly visible," Klaus Stenzhorn says of his creation.
Elevating rock crystal
In July 2019 Rubeus Milano, a brand specialising in ultra-luxury goods, presented its first 'Imperial' high jewellery collection consisting of two magnificent parures with rare collectible gemstones - alexandrites. The 'Eternal' set featured a transformable necklace with a detachable flower brooch whose petals were embodied in jagged slices of rock crystal surrounding an oval alexandrite of 10.30 carats. Each rock crystal fragment was cut by hand to correspond to the design dreamt up by Frederic Mané and I, then crafted by the jewellery studio of Jothi Seroj. I believe it's a breath-taking accomplishment to work with such delicate fine jewellery material (some rock crystal did crack in the cutting process and had to be re-cut), to unquestionably stunning effect.
Sculptural beauty
Cindy Chao's 'Damask Rose' brooch from the 'Tango in the Garden' collection became the star of the show when unveiled at the Masterpiece fine art fair in London in 2019. The design was inspired by Cindy Chao's trip to Oman, where she experienced the fragrant Omani rose water which emanates from damask roses. To begin with, the central bright pink 8 carat cushion cut sapphire is surrounded by 65 stamens, each covered with French lacquer in yellow, peach and pink hues, with varying textures creating an unusual interplay with tactility. The petals of this masterpiece are made of titanium, and drenched in almost 2,000 diamonds and more than 1,500 pink sapphires. To create a work of this calibre, convention had to be eschewed for an 18th century wax technique, proving that complex designs do not always rely solely on high-tech innovations.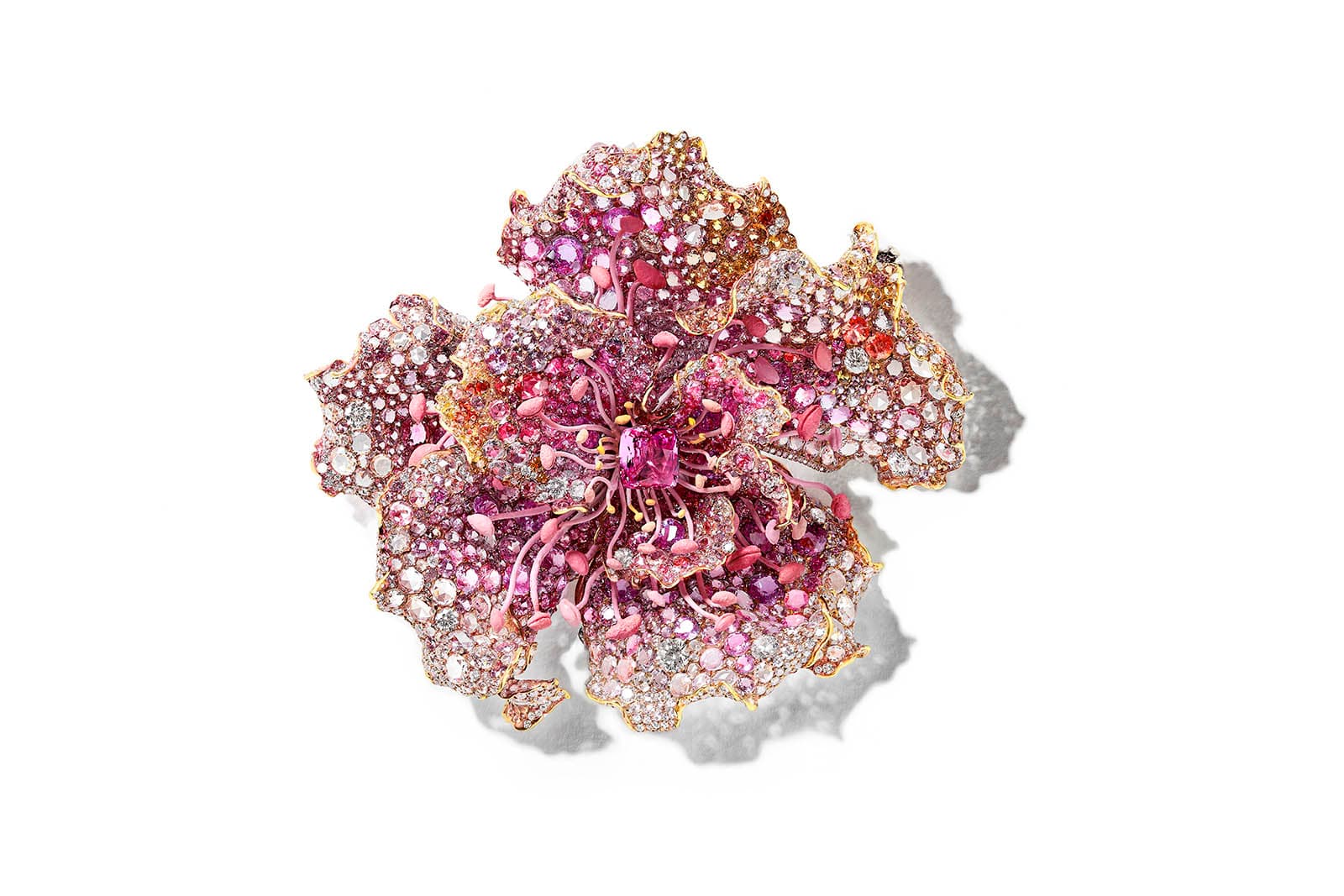 The allure of a rare gem
The jewellery company that always takes its jewellery design and gemstone selection to the most sophisticated level is Gübelin. In 2019, the Swiss house with a globally esteemed background in gemmology created an outstanding 'Aurora' collection featuring rare Padparadscha sapphires set in necklaces, rings, earrings and a bracelet. The hero piece - 'Rising Lotus' ring - with a pink-orange 14.25 carat cushion cut gem was made in rose gold forming a blossoming flower. This Sri Lankan Padparadscha sapphire in the centre of the jewel was further embellished with pastel fancy colour sapphires and diamonds. The combination of an extremely rare gemstone and the intricacy of the floral design make this a truly special floral jewel.
The art of Inlay
The Swiss jeweller Boghossian has become known for their love of the ancient inlay technique. A number of such complex designs have been produced over the years, with the most recent one being a glorious cuff bracelet. It is adorned with delicate flowers detailed with no less than 18 Burmese, non-heat treated star rubies, further highlighted with 15.53 carats of rubies, and oval, pear shaped rose cut diamonds and round brilliant diamonds set in mother-of-pearl and 18 karat white gold.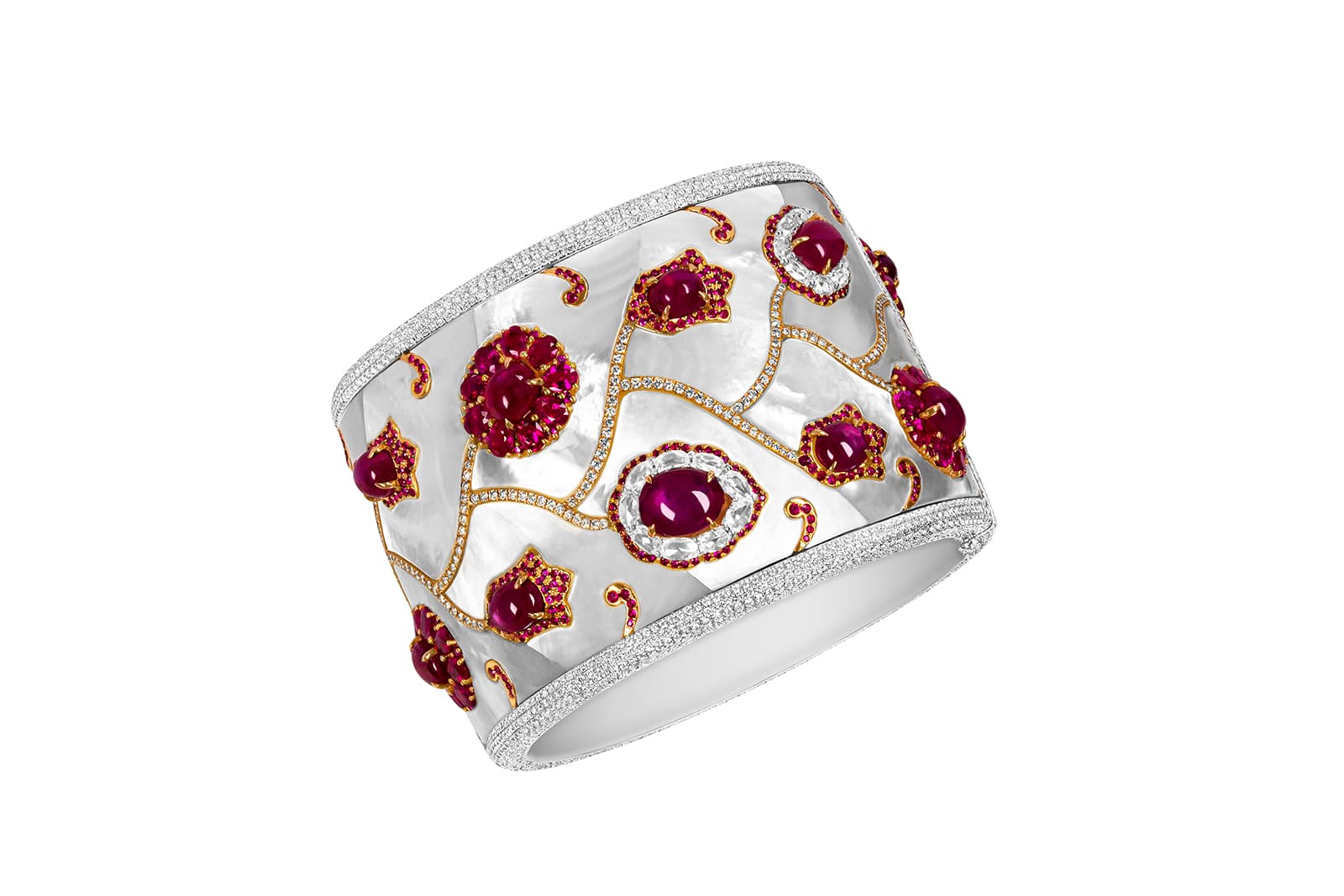 Precious flowers are timeless and the styles of interpretations are endless, but as jewellery artists continue to experiment and innovate with materials and techniques, the future of fine flower themed jewellery is full of exciting new possibilities.