Alice is not a novice in the world of joaillerie: she learned how to create and design jewellery at the jewellery atelier of Cartier, where she used to spend a few hours every day after finishing her work at the renown watch company Baume & Mercier.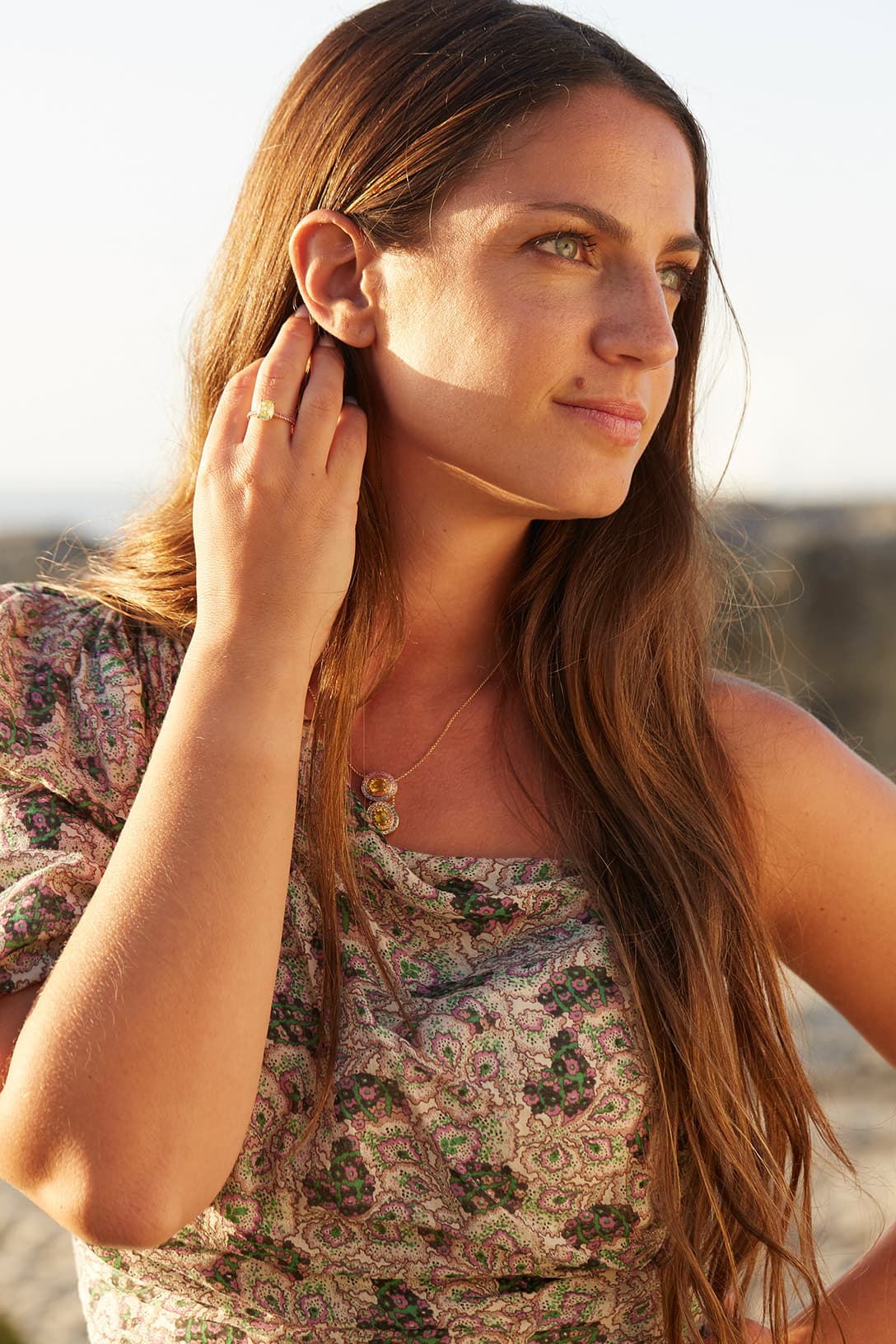 Such personal masterclasses from some of the most respected names in the jewellery industry equipped Alice with the skills she needed to one day envision her own brand: for modern women who want to wear jewellery as an act of self-expression, and not just an embellishment for a special occasion.
"One of the first tasks I was given at the atelier is cutting the Queen out of a coin and drilling holes to make honeycomb patterns. I was shown that you can do anything in jewellery design," confides Alice during our recent meeting at my London office.
The designer was born in Belgium, but is based with her young family in London. Alice has created her line with two very distinct but equally important goals: to translate emotions into jewellery, and to offer a durable, yet delicate and wearable design to active women like herself.
Katerina Perez: Your pieces really do feature rainbows of gemstones. Where does this desire to use so many colours come from?
Alice Van Cal: When I was pregnant, I was developing these designs to express my wide range of emotions. I used gemstone colours to express this whirlpool of feelings, and it was important for me to use a graduating and accurate spectrum of colours, rather than a block of them. I paved my Journey Bracelets with multicoloured sapphires, iolites and peridots to help me achieve the lighter and more subtle tones in the purple and the green. For the rest of the collections, the 'Union' bracelet, the 'Alice' and the 'Halo' earrings, I only use sapphires as they are bigger stones, and therefore the colours are more intense.
KP: I noticed you have created versions of the 'Journey' bangles with a calmer palette...
AVC: Yes - for daily wear I employed diamonds in the centre, but you can still see graduating pink and blue sapphires on each end. It's a little hint of the colours representing a boy and a girl. I also have the unisex option coming in yellow gold with yellow sapphires.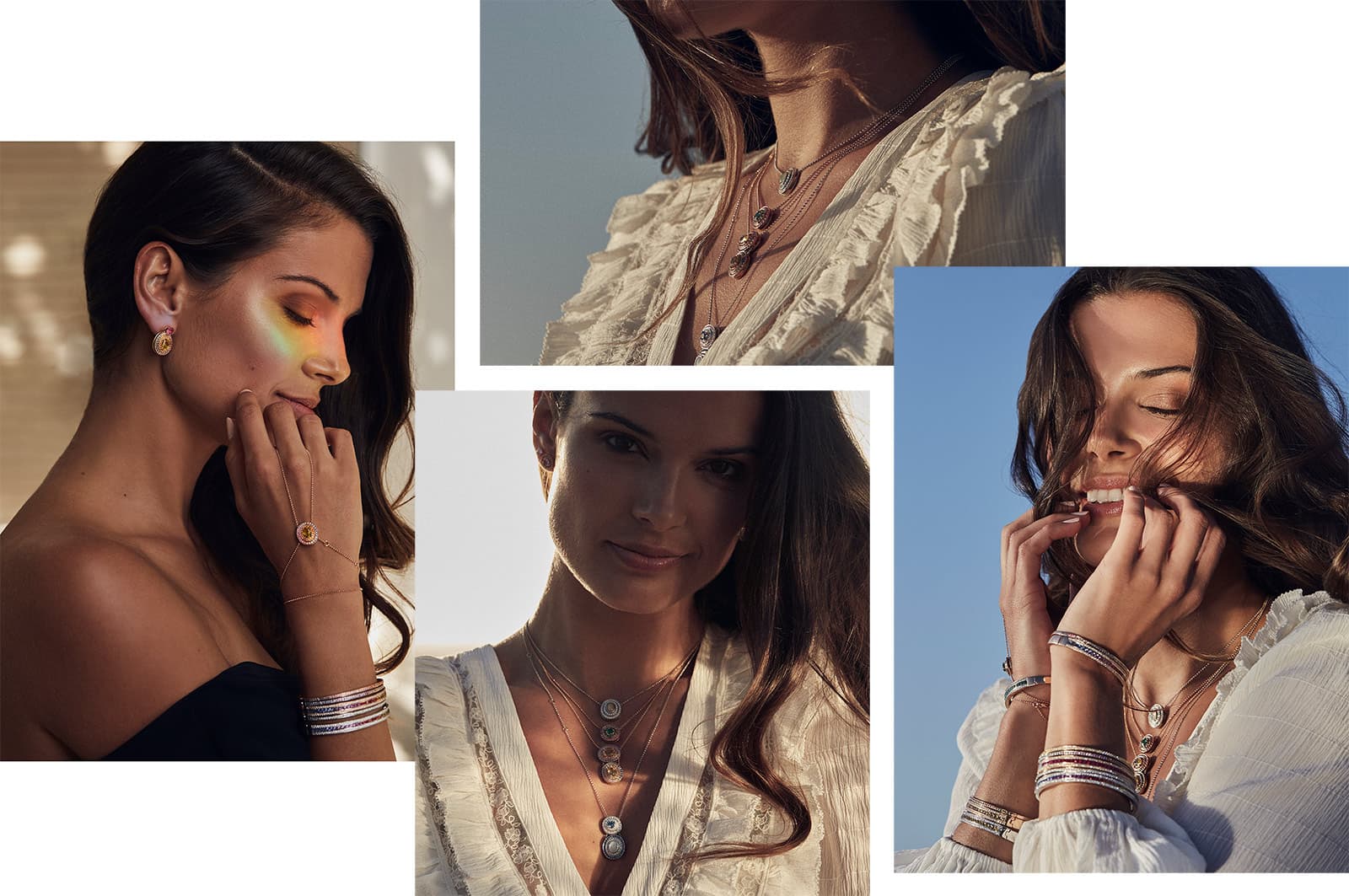 KP: Your signature piece is the transformable pendant that can be opened like a locket - so that depending on the way that the delicate chain sits inside - it can be transformed into a bracelet, a hand jewel that connects to a bracelet, and a drop earring. How did you come up with such an interchangeable design?
AVC: I have always wanted to make a versatile piece, and it took me 4 years and about 100 prototypes to do it! I was looking for a jewel that would be beautiful from all angles, delicate and at the same time strong. First of all, there was the bracelet, the hand piece and the pendant, and then I thought that I absolutely must find a way to transform them into earrings as well! I drew an oval link in the beginning that would connect a stud with the oval drop, but as everything, it took a few prototype to get it right and I decided to make it resemble an '8' shape, so that there is no extra metal visible.
KP: Making pretty jewellery isn't so complicated, but making jewellery that is pretty, comfortable, and perfect from every angle is what takes time...
AVC: There are many ways to make fine jewellery suitable for daily wear, making it not fragile and comfortable. Jewellery shouldn't be left in the safe - if you spent so much money on it, it's to enjoy, to wear, to make memories with - if you are too careful and scared then you stop living!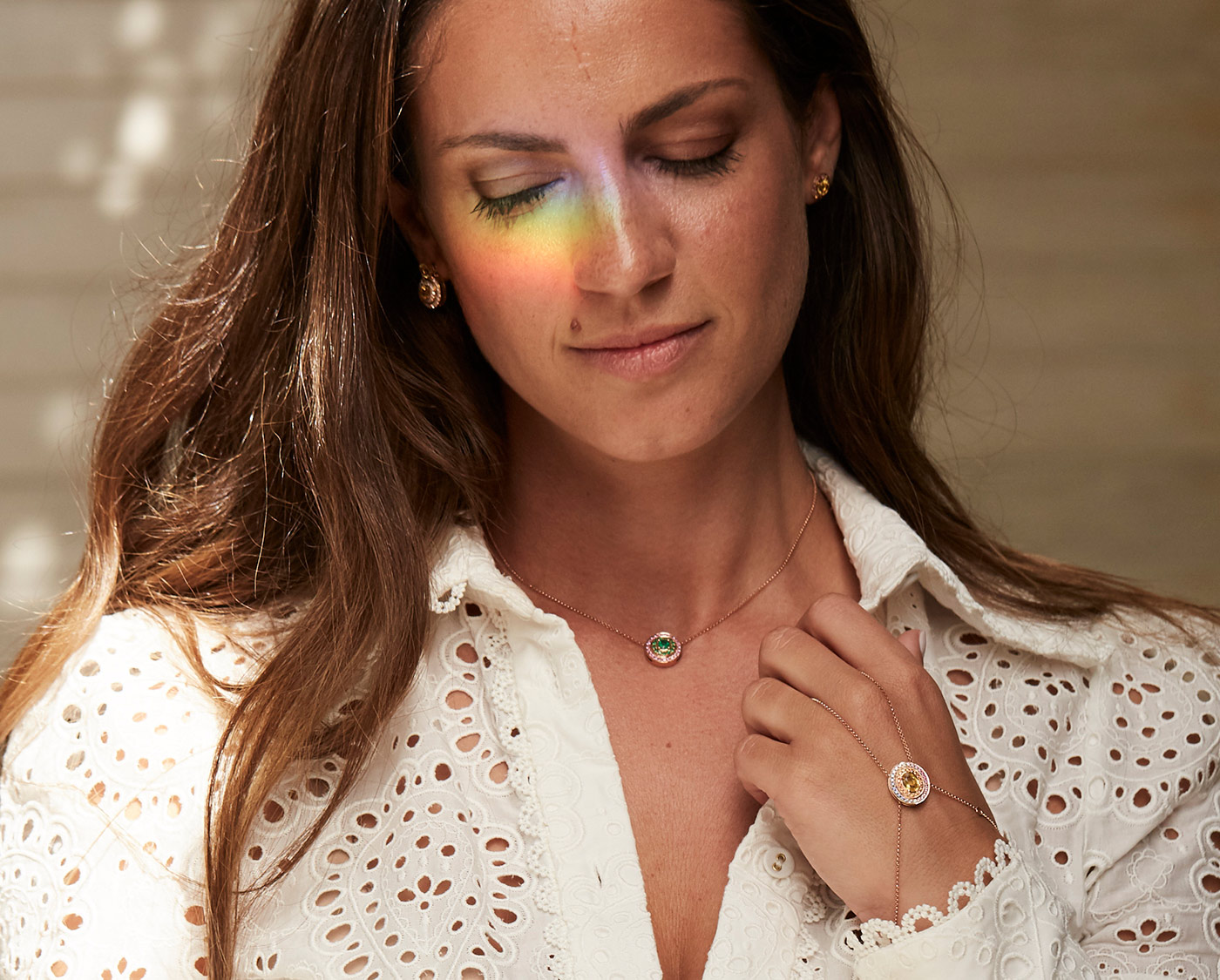 Alice Van Cal is still developing her collection further, and has now come up with the fifth way of wearing her iconic transformable design! The details are yet to be unveiled, but the designer did share that the prototype has been successful and put into production. The launch is planned for Autumn 2019.