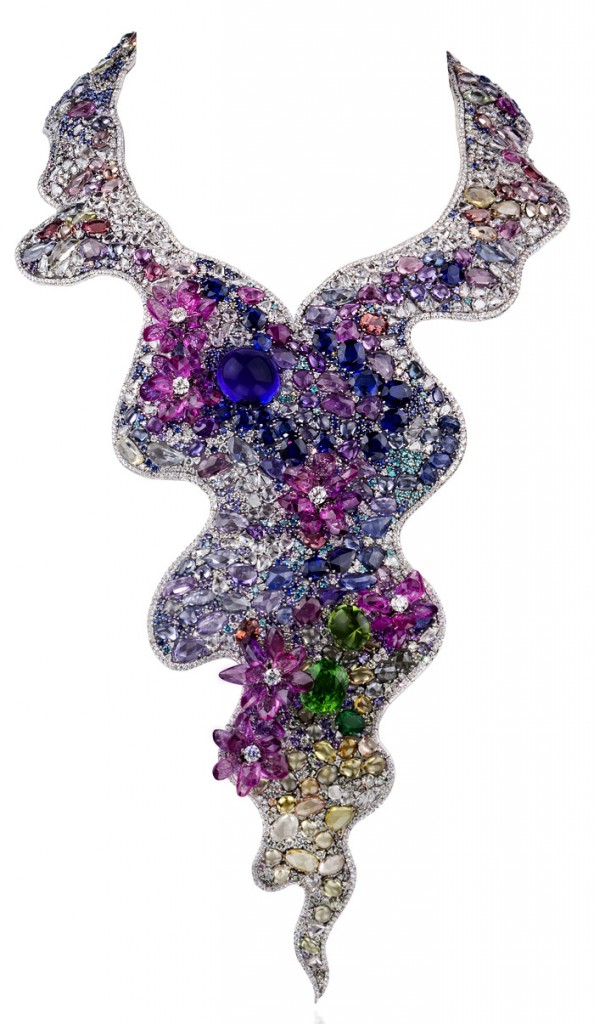 Anna Hu Necklace inspired by Claude Monet's Waterlillies featuring one 5.22 cabochon tanzanite, 11 sapphires weighing 41.5 carats, tsavorites, tourmalines, morganites, alexandrites, Paraiba tourmalines, natural pastel-colored sapphires, white, pink, and silver-gray diamonds, for a total of 1,590 gemstones weighing 630.17 carats, hand set in 18-karat white gold
There is a term in the world of fashion which defines a high class designer: "couturier(e)". However, I have yet to come across a word that can encapsulate the very best jewellery designers. So I would rightfully call those whose every creation is an objet d'art "jewellery artists". As it happens, I wanted to write about one such artist and her highly exquisite work.
Anna Hu was born in Tainan, Taiwan. After her family emigrated to the US, to New York, her father began to trade in diamonds. This gave Anna the opportunity to acquaint herself with precious stones from quite an early age. Nevertheless, she didn't immediately take to drawing and designing; from the age of four she was devoted to the idea of playing the cello professionally.
Anna achieved significant success as a cellist but fate had other plans for her. She injured her shoulder when she was still a girl and could no longer play her cello. This made her turn to the magical world of gemstones and jewellery design. In Anna's words, "the process of creating jewellery is like writing music".
The inspiration for Anna Hu's unusual work can be identified in pieces of classical music (as if a professional musician was "playing" the melody of the stones), Chinese culture and art, films (Avatar inspired her to design a whole jewellery line) and pictures. The Monet painting of the water lilies was what stimulated Anna to make a necklace which I'd like to draw your attention to.
Despite the fact that Anna is not the first to be inspired by an artist's canvas, she, unlike other designers, has presented her interpretation of what she sees in full, without omission. For example, the Tiffany&Co bracelet "Seurat", which was made in honour of the eponymous pointillist, has a smooth gemstone canvas with stones that are all identically faceted and tightly fixed close together. But Anna has incorporated cabochons, semi-precious "rose" and cushion cut stones, together with sapphire petals for the six lilies on one side that face upwards like real flowers.
In Anna Hu's design, pastel toned corundum, alexandrite, Paraiba tourmaline and diamonds are all arranged in a kaleidoscopic blue-green array which resembles the smooth surface of the water that quivers with every blow of the wind. To imitate these placid waves, Anna came up with designing a necklace that smoothly and gently mimics the movements of its wearer.
It took two years to create the Waterlillies necklace and there was no intention to put this piece up for sale. KP