In 2017 year Anna Hu will be celebrating 10 years of her illustrious career as a private jeweller to the starts, jewellery collectors and connoisseurs. Her pieces, exquisite in design and striking in colour combinations, have been regularly sold at Christie's auctions in Geneva and Hong Kong. The most remarkable of all – the Orpheus ring with 45.39 carat oval jade, boasts the status of the most expensive piece created by a contemporary Chinese jeweller to be sold at an auction. It fetched 2.5 million dollars at Christie's Hong Kong in 2013.
David Warren, Senior International Jewellery Director and Head of Jewellery Middle East at Christie's believes that "Anna Hu is among those who can truly be classified as exceptional. She is like a red diamond of the gemstone world, the ghost orchid of the flora world – she is a treasure in our midst." She is a solo player and lives in her own world feeling that there is no competitor for her work but one. Who is it? Read on to find out.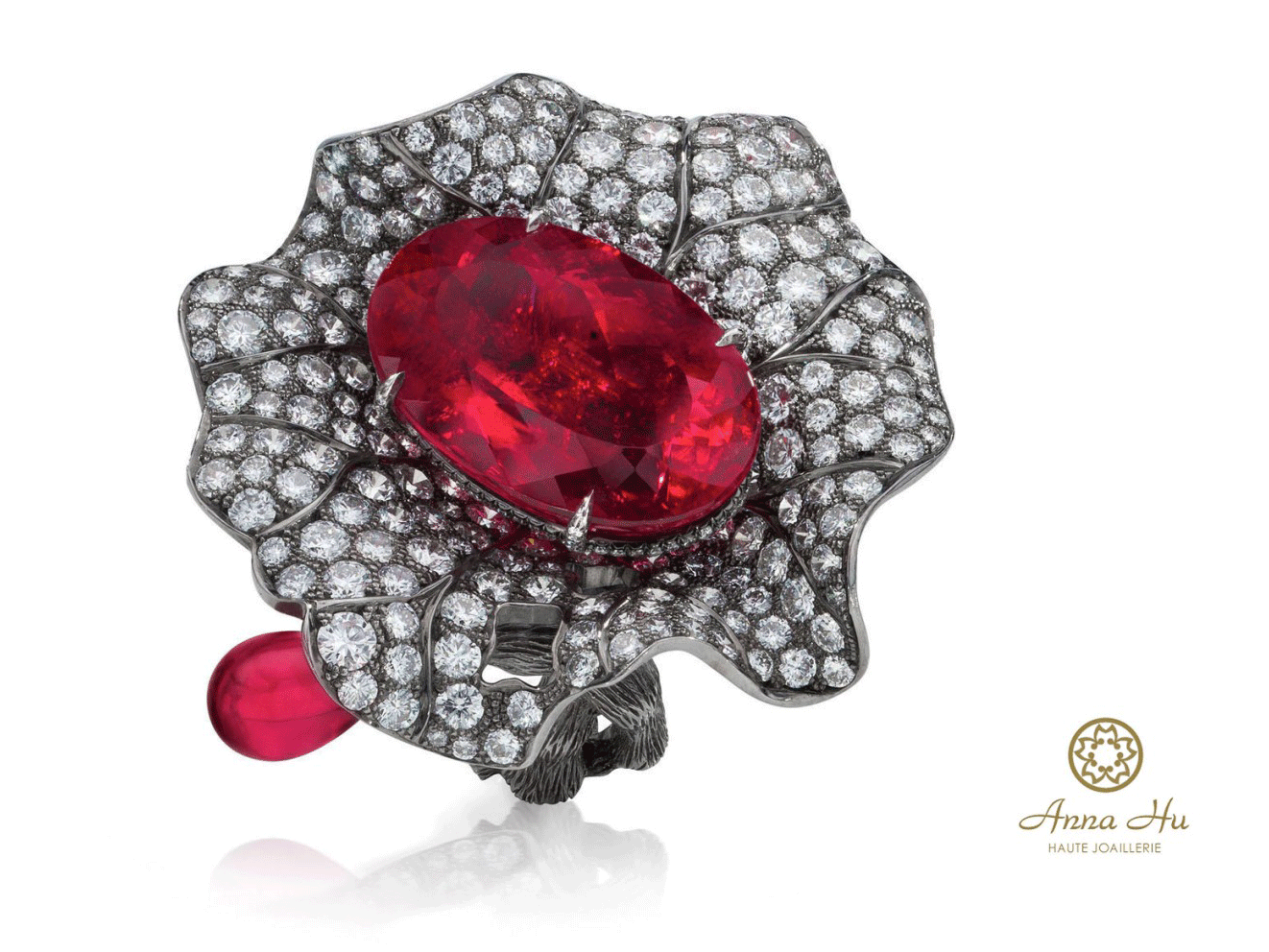 When I was a child, instead of playing with Barbie and Ken I would amuse myself with diamonds. My father is one of Taiwan's leading gemmologists and diamond dealers, so I already knew all shapes of diamonds from emerald cut to pear cut, when I was 5. After playing cello or piano, I would take a little break and would go to my father's office to sort the diamonds. I remember sorting gemstones by colour and size. My parents were very liberal and never actually asked me to follow specific career path. I showed a very early interest in cello playing and succeeded in mastering this instrument, going from district to national competitions. When the injury happened at 18 and I found out I would no longer be able to practice cello at the same level and I didn't know what to do.
I was living in Boston then. My father had his 5th avenue workshop in New York and suggested I would pay a visit. When I did, he casually took me to GIA and told me about the summer courses in diamonds, coloured gemstones, and jewellery design. So I went for the jewellery design course and also the entire graduate gemmology course. Being a jewellery designer is exactly like being a composer, you can re-draft and re-design everything until you have something perfect. I apply musical theory to jewellery and re-do every shape, re-set every stone until I achieve perfection. The design of my jewellery has become more refined since I started. I also learned to appreciate different gemstone cuts and carvings, technological achievements and new techniques.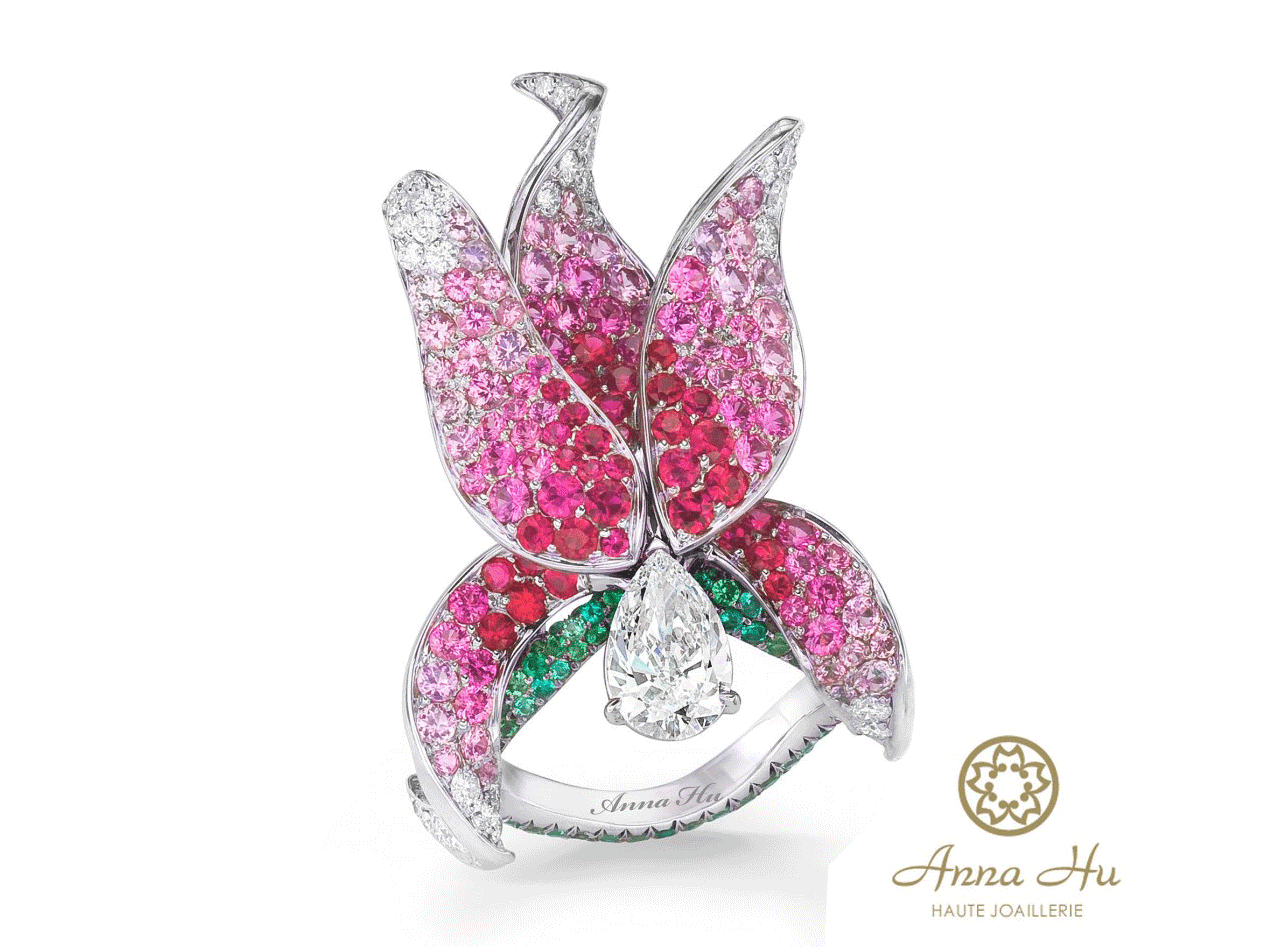 I wouldn't say that I follow certain style when designing jewellery, like Picasso had different periods to his style, art depends on the mood. My first five years and second five years are quite different, and I never know what will come to my mind tomorrow. It seems that a lot of other designers try to show off too much. I like my pieces to be like classical music, something that is timeless as timeless as the Mozart. To provide that I ensure that my creations are wearable, with right proportions, they lie perfectly on a woman, because she is the best canvas for an artwork.
I love colours which comes from my musical training. While learning the major and minor scales, such a E+ and E sharp, the 7 sharps, the key-tone formality, we would always refer to colours. For example, the Bach C major, is so obvious- it is a golden day light. I think music can be transformed into hundreds of layers of colour. I can divide the spectrum from red to pinkish into 10 different shades. In music when there is a 3 chord, or a 5 chord, each note is a colour and when played together they are a rainbow of colours. It is difficult to describe, but it explains why I have the Waltz collection and why my book is called Singing in Jewels. I really think in colour!
Maurice Galli, my mentor while at Harry Winston, taught me the classical structure of jewellery and how to ensure that every piece fits perfectly. It was mostly the very fundamental knowledge like how the earrings should go different directions because of the shape of the ear lobe. Although it was mostly very technical information, Maurice inspired me in many different ways and set an amazing foundation for me.
When I was pregnant with my second child, I resigned from Harry Winston and decided to start my own business because I felt that I wanted freedom and space to perform and create what I believe is beautiful. Being a mum is an enlightening experience for me, it gave me unlimited, almost electric energy to feel young, energetic and fresh to design. Jewellery is a true family passion. My daughter who is only 9 years old already has interest in design, she is naturally passionate about jewellery and more obsessed with it than myself. If I was to name one competitor it would be her!