The first piece, which as a matter of fact was the first in the entire collection, was a gold cuff designed with Zaha for Aziz & Walid Mouzannar back in 2014. The bracelet's shape resembled the architecture of a miniature tower and was decorated with 1,048 white diamonds. The sparkling stones adorned the smooth gold surface of the bracelet, forming a complex web of petals radiating out from the centre of the cuff right out to its edges. The constant play between the intersecting lines and flashes of light reflected from the stones imparted the piece with a certain dynamism, and created the impression that the bracelet was filled with a sort of emanating energy.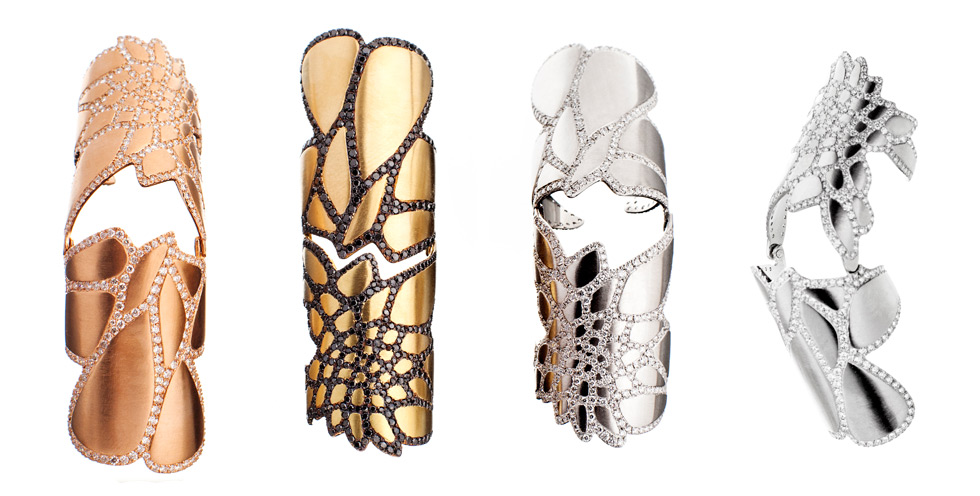 In 2014 a model of the cuff was released in limited edition with only 12 pieces made, one of 18-carat white gold and the others of gold in different colours. "Silene expresses the fluidity and complexity of natural forms," said Hadid. "An intricate web gently envelops the pristine white gold cuff resulting in a delicate piece that explores the evolution of organic geometries and patterning."
Inspired by the stunning results of their collaboration, Zaha Hadid together with Alia and Dori Mouzannar created a whole new line of jewellery, naming it in honour of the very first bracelet, Silene. The new collection included revised versions of the cuffs and large rings, all 18-carat gold in different colours: pink and white gold with clear diamonds, and yellow gold with black diamonds.
"We chose to collaborate with Zaha Hadid because she is a great artist, a friend and our visions are aligned," said Alia Mouzannar. "It is a very contemporary collection that involves a very strong spirit, which is rich and feminine yet delicate."
The design of the new items echoes the 2014 bracelet but does not repeat it "verbatim". The two new gold cuffs, under the names Silene II and Silene III, are much lighter than their predecessor, in that they are similar to the engraved contours that comprise the central ornamentation on the original Silene I cuff. The perforated Silene II ring comes in various golds and evokes the outline of stars bursting out into the night sky. It is lighter than the Silene III ring, which is made of pink gold with diamonds. The design of the three rings in Silene I is more ambitious, as these rings cover both the lower and upper section of the chosen finger with an infusion of gold and dazzling diamonds.
"Alia's work celebrates materiality and composition in the rich history and traditions of Lebanon's jewellers. Each immaculately detailed piece conveys formal complexity and precision with the highest standards of craftsmanship. Our collaboration with the House takes full advantage of Alia's expertise and Dori's knowledge to explore the beauty of natural forms and the unique properties of nature's materials." says Zaha.