If you ask me, US – based brand Bayco are an absolute must for any fan of regal diamonds, emeralds, rubies and especially sapphires. They work with some of the most unusual corundums I have ever had the pleasure to see: first they blew me away with their original tennis bracelets made with green sapphires (and we are not talking pale green here – I mean vibrant); then, a year later, they brought out a jewel with colour change sapphires. You may be thinking that dichroism in sapphires is not that rare a quality (although it is relatively rare), but normally it is a case of dark blue stones changing colour to purplish blue under natural or artificial light. Stones like this are available from a number of the major jewellery brands. The colour of the stones on display in this platinum ring from Bayco, however, is something far more exotic and bewitching.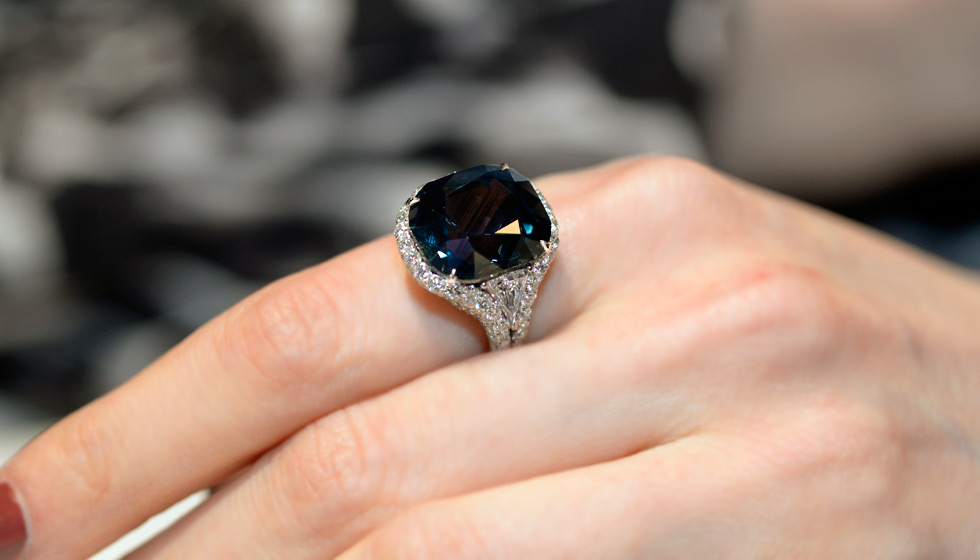 The blue you see in this 17.60 carat sapphire is simultaneously vivid and 'sleepy', as if a deep blue night's sky has become clouded with fog. Turn the stone to one side and you get tones of indigo; turn it to the other, and it seems suddenly touched by a greyish fog. As you gaze admiringly at such a wonderful treasure, you will not be able to help but marvel at the incredible magic of nature.
As if to highlight this magic, the Hadjibay family usually opt for a classic design for their pieces of jewellery, one which will stand the test of time. A typical 'trick' is to frame the outline of the principal coloured stone with a halo of diamonds which, far from detracting from its beauty, serve to draw attention to it. In the case of this particular cocktail ring, the sapphire has been fixed in a platinum frame studded with colourless diamonds. The arcs converge to frame the stone, with trillion-cut diamonds sparkling down both sides of the shank. The whole design was created using 242 diamonds totalling 3.64 carats.
"We are always searching for the ultimate beauty. We come across stones that other people never get to see even in their wildest dreams. That said, we haven't seen a stone like this colour change sapphire in the business for more than seventy years," explain the Hadjibay family.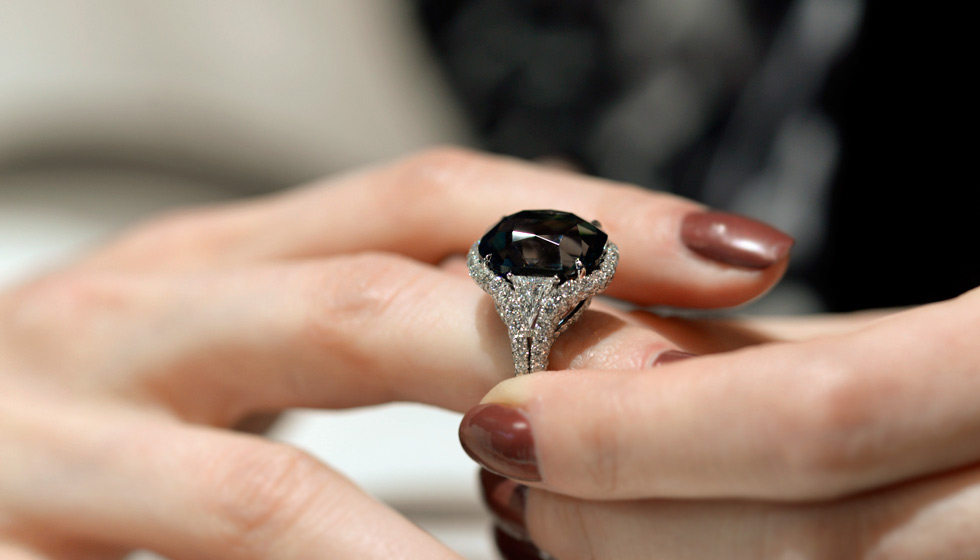 Photographer: Saira MacLeod for katerinaperez.com