Before I assess the five main trends, I would like to draw your attention to the fact that jewellers have increasingly began to take note of what is taking place on the catwalk before they set about working on a new collection; jewellery is no longer only saved for special occasions, since more and more women now wear precious accessories whenever they wish to express themselves and complement their look with something shiny. It is for this reason that we are now so often seeing designers attempting to offer collections that harmonise with mainstream fashions in clothing, in terms of both colour palette and style.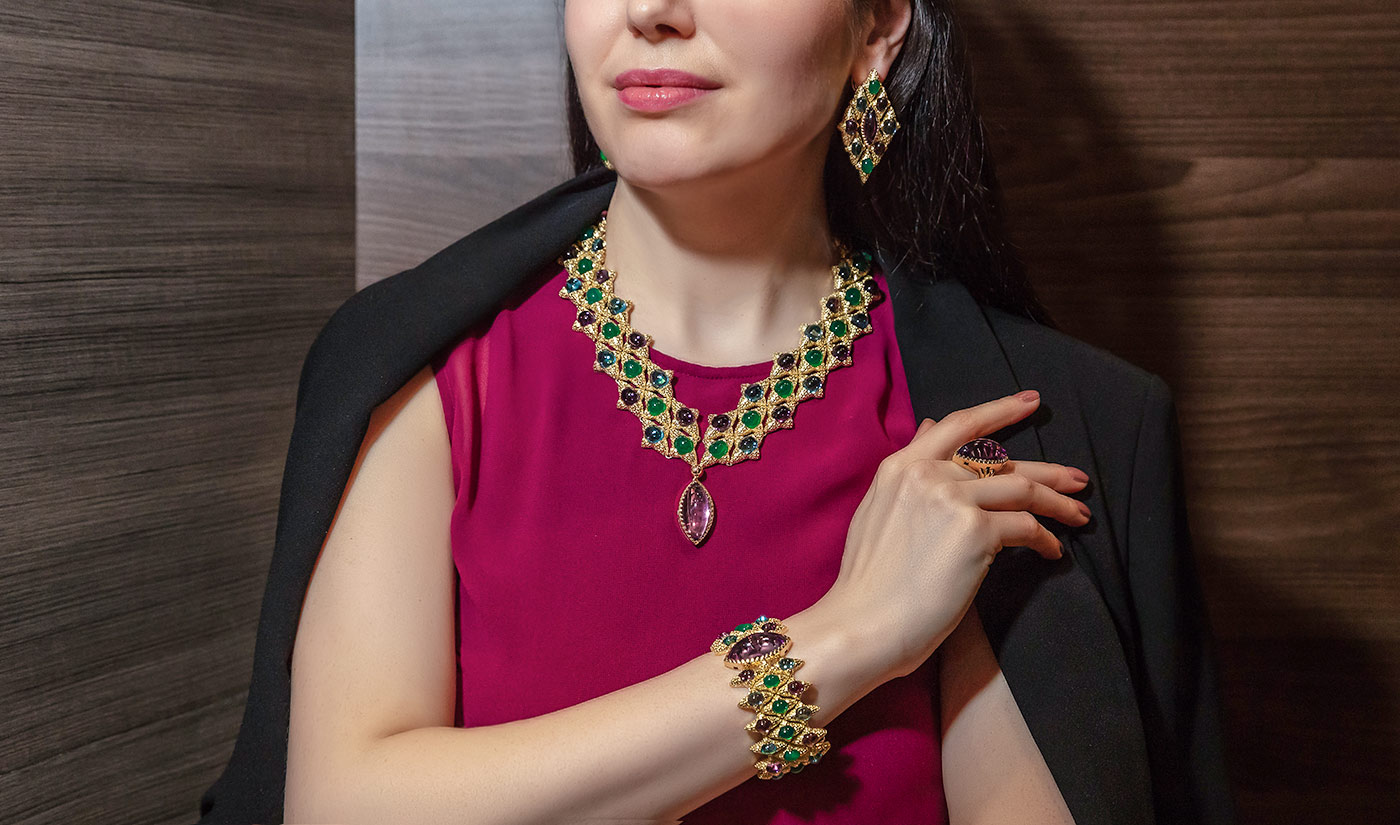 The Colour at the Heart of a Jewel
Cast your mind back ten years and think about which precious stones you most often saw as the centrepiece - at the very heart of most jewellery? Diamonds, sapphires, emeralds and rubies? However, over time, customers developed sophisticated taste and a desire for something else. Soon, an awareness grew among these discerning shoppers – a newfound knowledge was emerging of the rarer coloured stones and led to the desire to buy jewellery with a Paraiba tourmaline, spinel, alexandrite, tsavorite (an example weighing over even a couple of carats is extremely rare), demantoid garnet (with its typical horsetail inclusions), spessartine, rubellite, and so on. Thanks to this interest, an increasing number of jewellery companies have begun to include a greater quantity of these collectable gems in their work, making them an integral part of their design - the centrepiece itself.
It's All About the Cut
Unlike in the case of diamonds – where the final carat weight is the primary consideration during the process of cutting the stone – coloured gems are faceted to a shape that is chosen with the main aim of demonstrating the shade of the stone most brilliantly. There are more than enough fairly affordable gems (the entire quartz group, some tourmalines or topaz), that can be experimented on when trying out a new unconventional cut. The result is often rather interesting and helps to bend the boundaries of jewellery design. It is in this way that we find brands increasingly devising jewellery where the highlight is a gem of an unusual shape – such as the carved tourmaline found in a VMAR necklace, or perhaps an unusual combination of stones, such as the 'Floating Setting" style by the first internationally recognised Chinese high jewellery designer Feng J.
Matching the unmatchable
All jewellery lovers are well aware of the tutti frutti style that Pierre Cartier dreamed up all the way back in 1901 when creating a bracelet with diamonds, blue sapphires, red rubies and green emeralds. At first glance, it might seem that these gemstone shades are in conflict with one another, but the popularity of the tutti frutti style has proven that eye catching jewellery has more than a few fans. Designers and brands continue to create work that has contrasting, often 'unmatchable' colour hues in one jewel even to this day. Take Bvlgari as a prime example: Jewellery Director Lucia Silvestri regularly creates extravagant combinations of emeralds, amethysts, tourmalines, and sapphires, setting the tone for contemporary trends.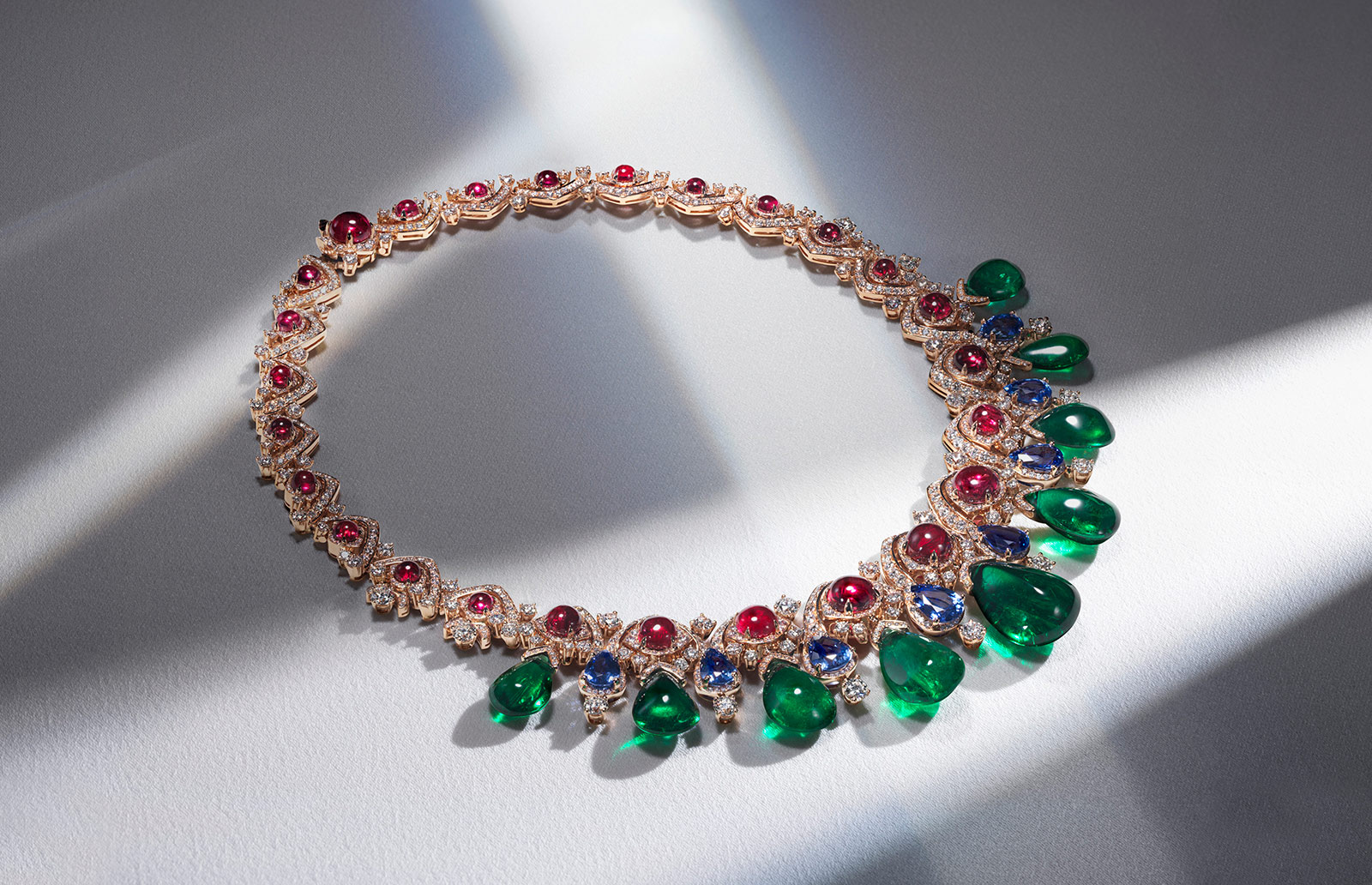 Pastel Rhapsody
In her TrendsVision 2021+ trend book, author Paola de Luca predicted a growth in the popularity of pastel coloured gemstones. The younger generations of jewellery lovers do not want to put on juicy emeralds, sapphires, or rubies as those are more of the style that their parents wear. They prefer jewellery with a soft combination of shades that is not so strong and is therefore easier to match with an everyday outfit. It is for this reason that brands such as Tabbah have occasionally opted for paler shades of sapphires and emeralds for their high jewellery masterpieces.
No light gets through them
In July 2019, several brands presented collections of high jewellery featuring elements carved from ornamental stones: Cartier, Van Cleef & Arpels, Mellerio, Louis Vuitton, Pomellato to name but a few. They used using lapis lazuli, malachite, turquoise, onyx, jasper, agate as well as other opaque stones and this became a kind of manifesto: "we are ready to put the visual aesthetics of jewellery at the forefront of our designs." Bright shades of ornamental stones allow one to create spectacular colour combinations, while a matte surface works in contrast with the sparkle of transparent precious stones. Combine this with the ability to cut out volumetric forms, and one is left with work that pushes the boundaries of jewellery design.
As can be seen from this article, the latest trends in jewellery design allow jewellers to maximise their creative potential in many more ways than simply a more diverse colour palette; making use of a range of gemstones cuts as well. I'm sure you agree, readers, that this trend for bright colours will be the basis of many stunning masterpieces in the years to come.
Banner image: Necklace by Exquisite Fine Jewellery