Christian Dior's unfulfilled dream of becoming an architect had unexpected consequences: he chose to create dresses designed as though they were pieces of architecture. Meticulously structured silhouettes that serve to emphasise the female form were made predominantly from fabric mixed with lace. A true respect for the masterpieces of the house's founder runs through the new 'Dior Dior Dior' collection, which has been conceived as an effort to transform the delicate lace of the famous couturier's dresses into a dazzling and ornamental collection of jewellery. This time, Victoire de Castellane decided to take on the intricate task of twisting and intertwining the lace to form the creative basis for her jewelled ornaments, thereby bringing to life bracelets, rings, earrings and chocker necklaces that gently curve around the body.
"My task was to capture a sense of the ethereal lightness - the true superiority - of lace, which, like ribbons, silk or drapery, is essential to the vocabulary of Dior," Victoire de Castellane explains.
There are many openwork jewellery pieces within the collection - each carefully 'woven' from yellow, pink and white gold. The finest threads of precious metal have been turned into a single canvas, illuminated by the bright colour and light of the feature gemstones.
Any visitor to this exhibition in the Museum of Modern Art cannot help but notice that a riot of colours often dominates the design of Dior's jewels. The 'Dior Dior Dior' palette also consists of a vast array of precious stones: emeralds, blue and pink sapphires, spessartite garnets, multi-coloured spinels and diamonds - each working to enhance the luxurious look of the pieces.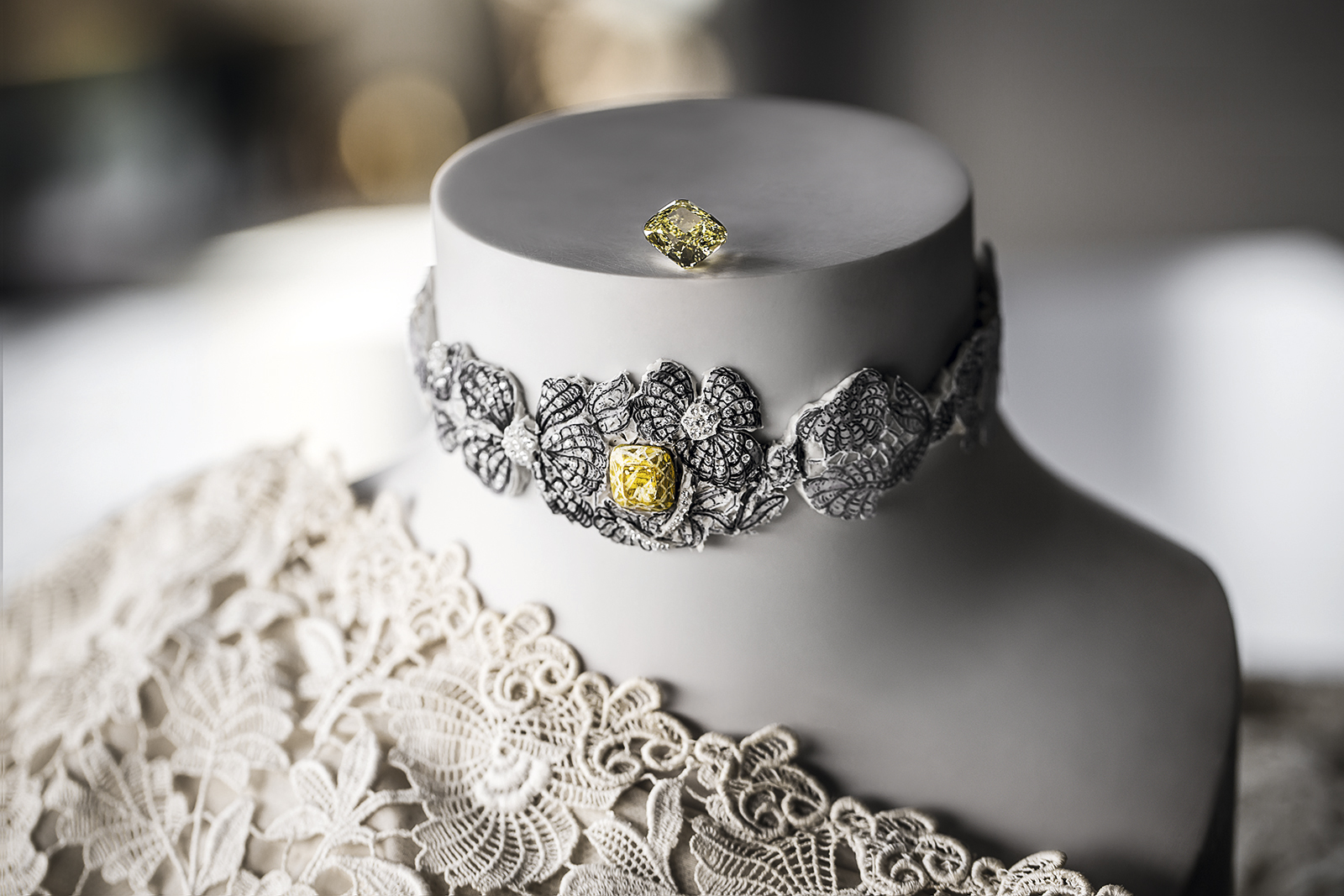 Having examined several dozen of jewels, I have come to the conclusion that this collection of high art jewellery is one of the trendiest of this Paris Haute Couture week. It includes such pieces as two-finger rings, a number of variants on the choker, as well as a palm bracelet that is joined to a ring, and asymmetrical earrings that have already become Castellane's signature.
What else is unique about this collection? If you read my article about jewellery with fancy cut diamonds that were on display during the Couture Week, you will most likely recall the Dior ring with a large diamond that has been cut in the form of a kite. In addition to this fancy form, Victoire de Castellane has used diamond disks drilled through the centre, which sparkle on the chokers and are reminiscent of the sequins that adorn Christian Dior's classic dresses.
The unique ways of wearing jewellery on display at the exhibition, the asymmetric design and - of course - the rare precious stones that tempt with their beauty and originality; all of these features serve as reminders that jewellery and high fashion are truly inseparable.