Silver and blue sapphire 'Meteor' cocktail ring, by Dori Mouzannar from the Lebanese Jewellery House A&W Mouzannar, belongs to the category of jewels created to pass on a message. The jewel was created for Human Rights Watch (HRW), an international organisation founded in 1978 that focuses on protecting human rights.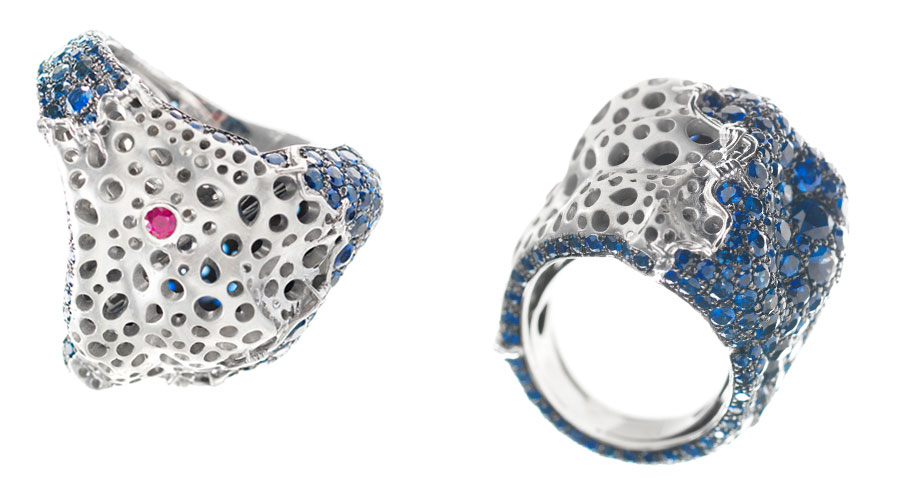 The unusual design of the ring – one part of which is encrusted with precious blue corundum and the other, made to look primitive and unfinished without any stones – symbolise justice and the injustice prevailing in the world. It is not difficult to guess which part embodies what. Between them is a fine line of barbed wire, which clearly separates the two. We are used to the fact that precious stones are mounted in gold. However, the HRW organisation does not accept gold and diamonds, hence silver seemed to be the bestalternative. It is no accident that blue sapphires were chosen for the design – their colour evokes the hue of the HRW logo. Additionally, a small ruby is set on the bare part of the shank: Dori's signature motif that can be noticed in all of his designs.
Right now, the ring by the Lebanese jeweller is in London and will be sold at a charity event at the Victoria & Albert museum on November 16. One hundred per cent of the sale proceeds will be passed on to the HRW to enable it to continue its work, primarily because it does not have any governmental aid. The same Meteor ring with 13.62 carats of sapphires was sold at last year's dinner for $25,000. I hope that this year's auction will be even more successful.