Fernando Jorge at Couture 2014. Image source: Ethan Miller/Getty Images North America
I feel that jewellery helps people's lives. I think it has been around ever since people realised that we are different from other animals. – Fernando Jorge.
Fernando Jorge is a young Brazilian jeweller who divides his time between London and São Paulo. He has just won an award during the COUTURE jewellery show in Las Vegas in the "Coloured stone jewellery under $20,000" category. Fernando was exhibiting together with Rock Vault and I caught up with him to talk about his work, latest collection and what winning the award meant to him.
We started off our conversation by talking about designing jewellery. "It's all about the process," Fernando told me. "I have a background in product design for jewellery manufacturing companies and I have always been attracted to the process of bringing an idea to life, of turning a drawing into the final product. When it comes to jewellery, the process is even more attractive because the final product is something beautiful, something you want to touch and manipulate. I think that when a man is attracted to jewellery, it's because he has a lust for the material."
As a Brazilian, Fernando says that he fulfilled the stereotype by creating a collection which playfully resembles body shapes. There was also a collection called Cheeky and Fluid inspired by the freedom of being almost naked. He saw this as sensual rather than just sexual as, in Brazil, it is completely natural to be half naked given the weather conditions.
"With these collections, I wanted to bring softness and organic beauty to the jewellery scene. I think it's edgy and a little bit rock 'n' roll. I made these snake chains that are a mixture of movement, softness and femininity. My jewellery is the kind you'd want to touch. It's very tactile. That turned out to be a success so I added diamonds and new colours; I made them bigger, more sculptural and more valuable. My designs went from irregular shapes of nature to shapes that have very traditional jewellery proportions. I just stripped the details and left the curves."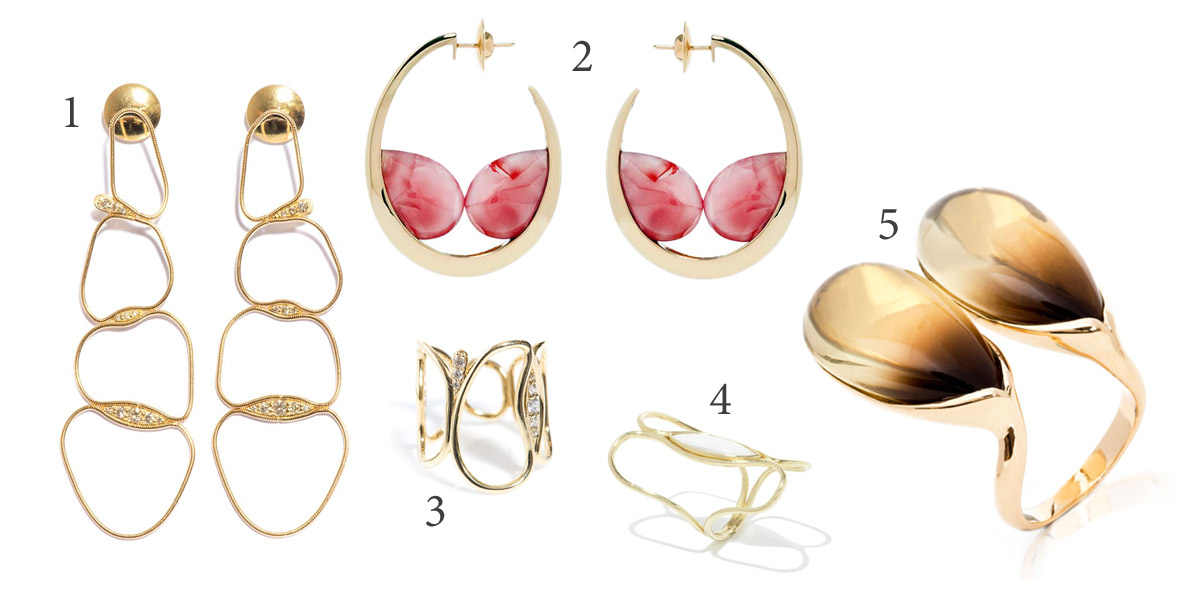 1. Fluid Earrings in 18K Yellow gold and Diamonds 2. Cheeky Earrings in 18K Yellow gold and Rhodocrosite 3. Fluid Ring in Yellow Gold and Diamonds 4. Fluid Chain ring in Yellow Gold 5. Cheeky Collection Ring with Quartz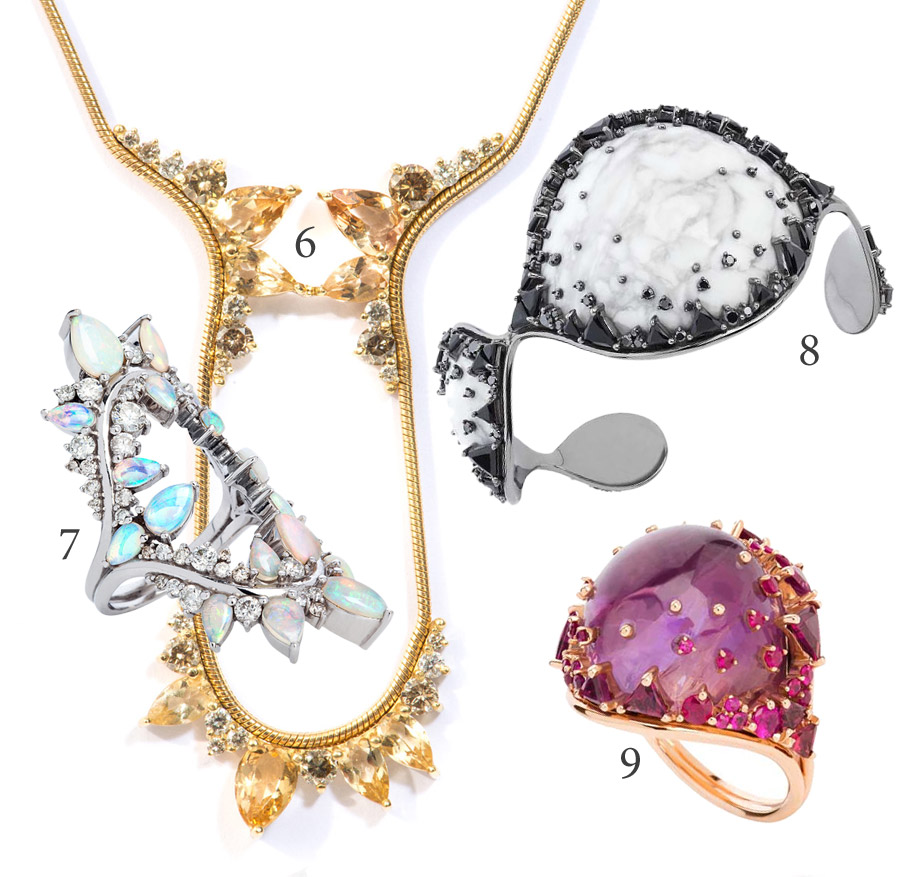 6. Electric Necklace in Yellow Gold with Topaz and Diamonds 7. Electric Opal Ring in White Gold, Opals and Diamonds 8. Fusion Cuff in Black Rhodium Gold and Black Diamonds 8. Fusion Ring in 18K Rose Gold and Amethyst Cabochon, Rubies and Rhodolites
Fluid was just an introduction. Fernando wanted to try different things: "I am not in Brazil all the time and many things influence my jewellery, like London for example. So I started doing something a little bit different and decided to physically transform the construction I created from just curves to something more edgy and spiky".
Then the designer contonues: "There is also a contrast between light and dark because I made this collection called Electric in two versions: one is light with yellow gold, the other one is dark blue. Electric is the best word to define the collection in the sense that it reflects electricity between people and objects, electricity of the moment and actual electricity."
After some more time experimenting, his collection Fusion appeared, a mixture of the two previous collections. "It has this electric effect," he told me, "but it still has soft lines. It plays on contrast like the contrast between mild and fiery women. Fusion refers to the actual fusion of atoms that create a lot of energy and then explode. You can have a fusion of planets and galaxies or a fusion of ideas."
So Fernando created his next collection in order to balance Electric which due to its composition of small gemstones he considers to be a 'light' jewellery line with Fusion which is 'heavy' because of the large gem-studded dome-shaped rocks.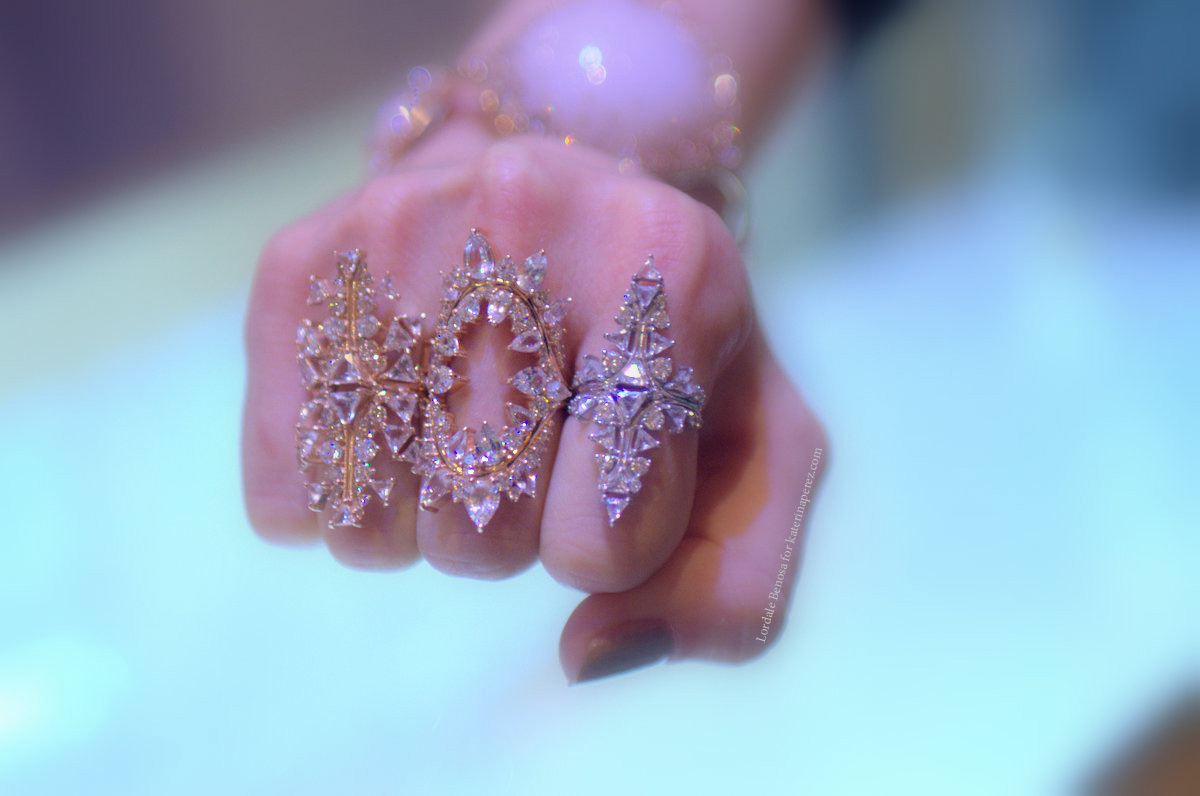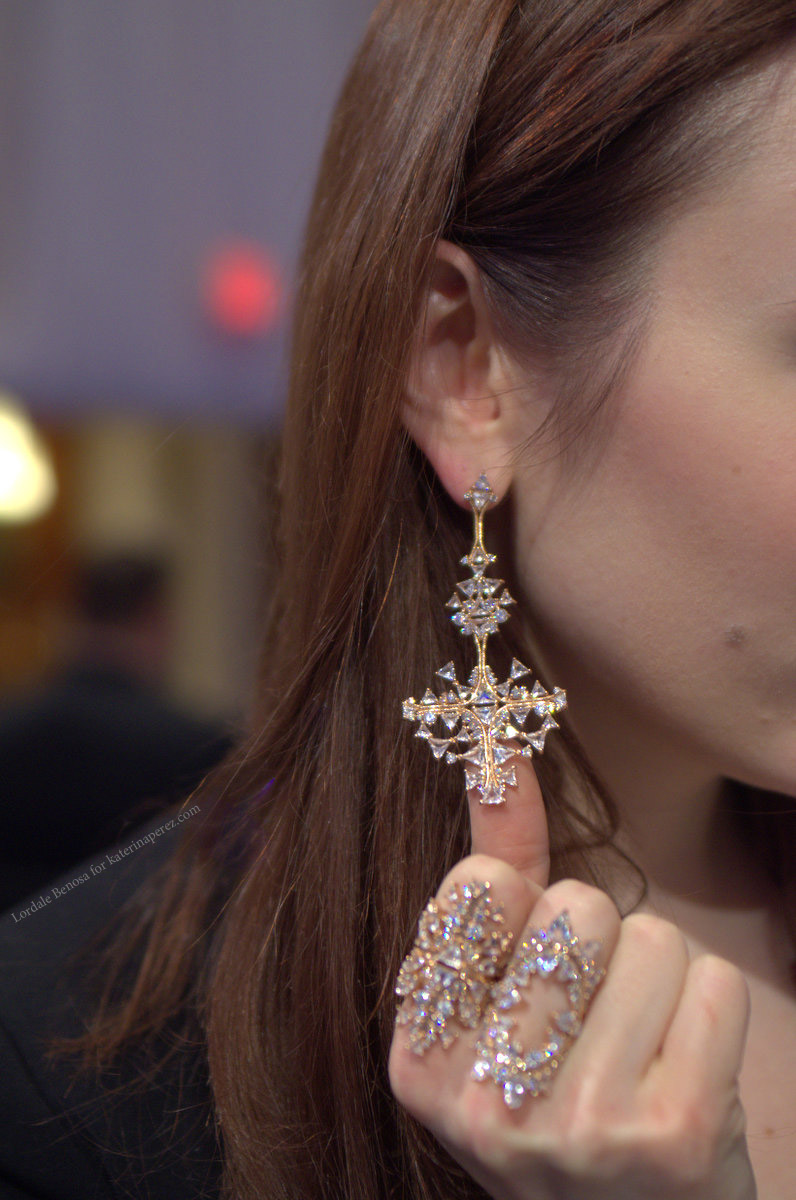 New Fusion Earrings with White Sapphire and Diamonds
"This is a continuation of Fusion which I wanted to extend. I played with very basic shapes of various sizes – rounded domes and triangles which are like planets and molecules. The new collection has symmetry and repetition of my previously launched jewellery."
When I asked the designer why the large drop earrings resemble a cross (see on the left), he explained that this shape came together while he played with design and that he did not have a particular object in mind.
"I do not get inspired by particular culture or an architectural object" – explains Fernando. "When I design I just explore what I can do combining triangles and rectangles until they fall in a particular shape or a pattern. It is a very basic thing that creates a style while exploring shapes. There is no moodboard and there is not much jewellery that I like, but I have seen a lot of jewellery that is at the back of my mind. I actually have seen earrings that have this proportion and when I played around with shapes from the starting point they fell into a certain pattern that I liked. Even thought it is not exactly the same as the rest of the pieces, I felt like it was a beautiful jewel. In Bazil people work like this: if it looks good, it's in, there is not certain direction."
My last question to Fernando was if he expected to receive the Couture award. "Yes, I did, because I people in the panel came and said some nice comments about my jewellery. I also saw competitor's pieces and believed that my earrings were a very strong competition. I am very happy to have won, it will make this year a little bit more special." KP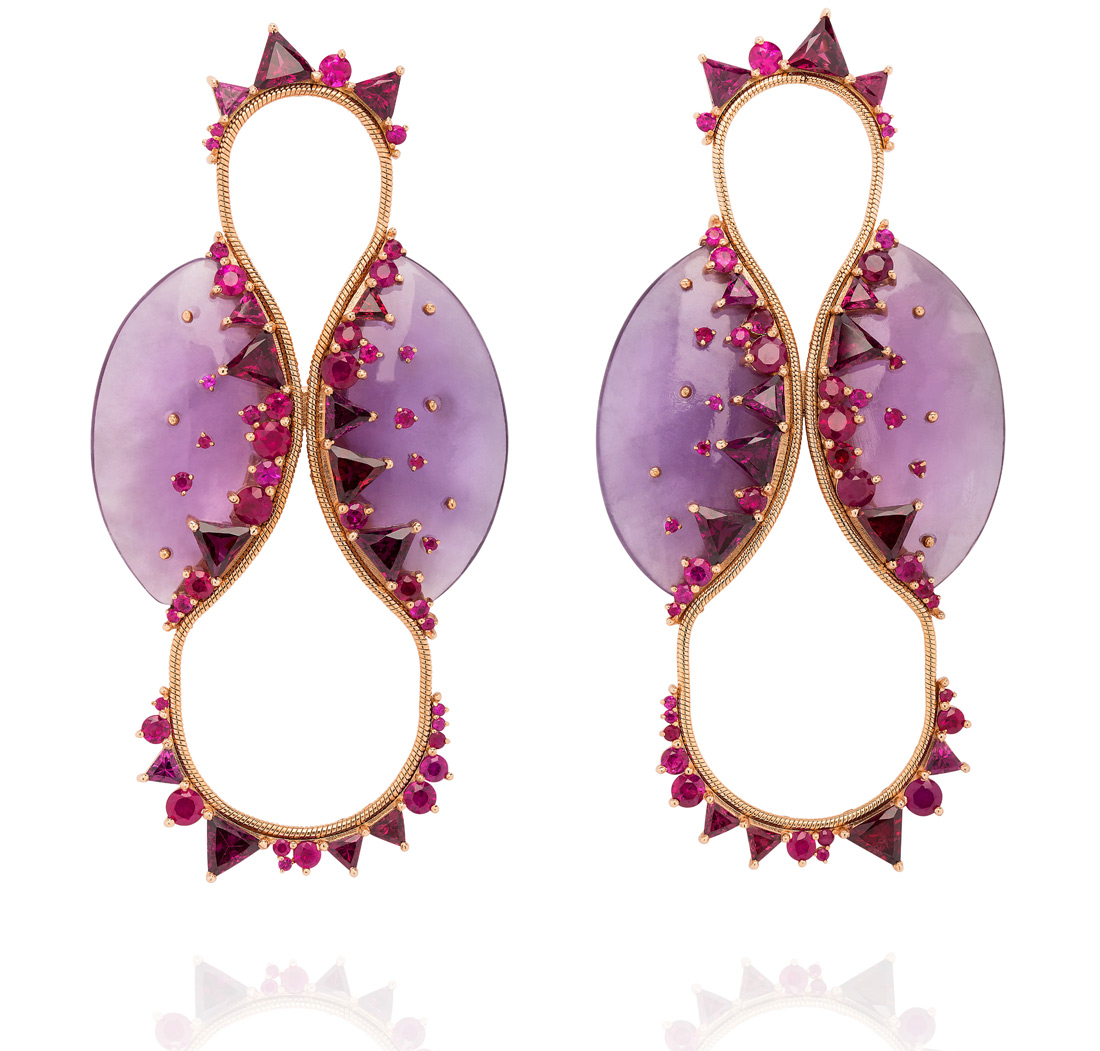 Fernando Jorge Fusion earrings that won him an award at COUTURE 2014
var OB_platformType=3; var OB_PlugInVer='8.0.0.0_Regular';