On June 7th, in the Golden Hall of the listed Moltkes Palace in Copenhagen, Rio Tinto hosted the world-exclusive preview that will kickstart the 2016 Tender process. A two-day US$20 million jewellery exhibition was hosted jointly by Alan Davies, Chief Executive of Rio Tinto Diamonds & Minerals, and Damien Miller, the Australian ambassador to Denmark, Norway and Iceland; Vivienne Becker, the renowned jewellery historian, gave an absorbing talk highlighting the fact that 'in the mysterious and mesmerising Argyle Pink Diamond, light and colour, art and science, come together in sublime perfection'.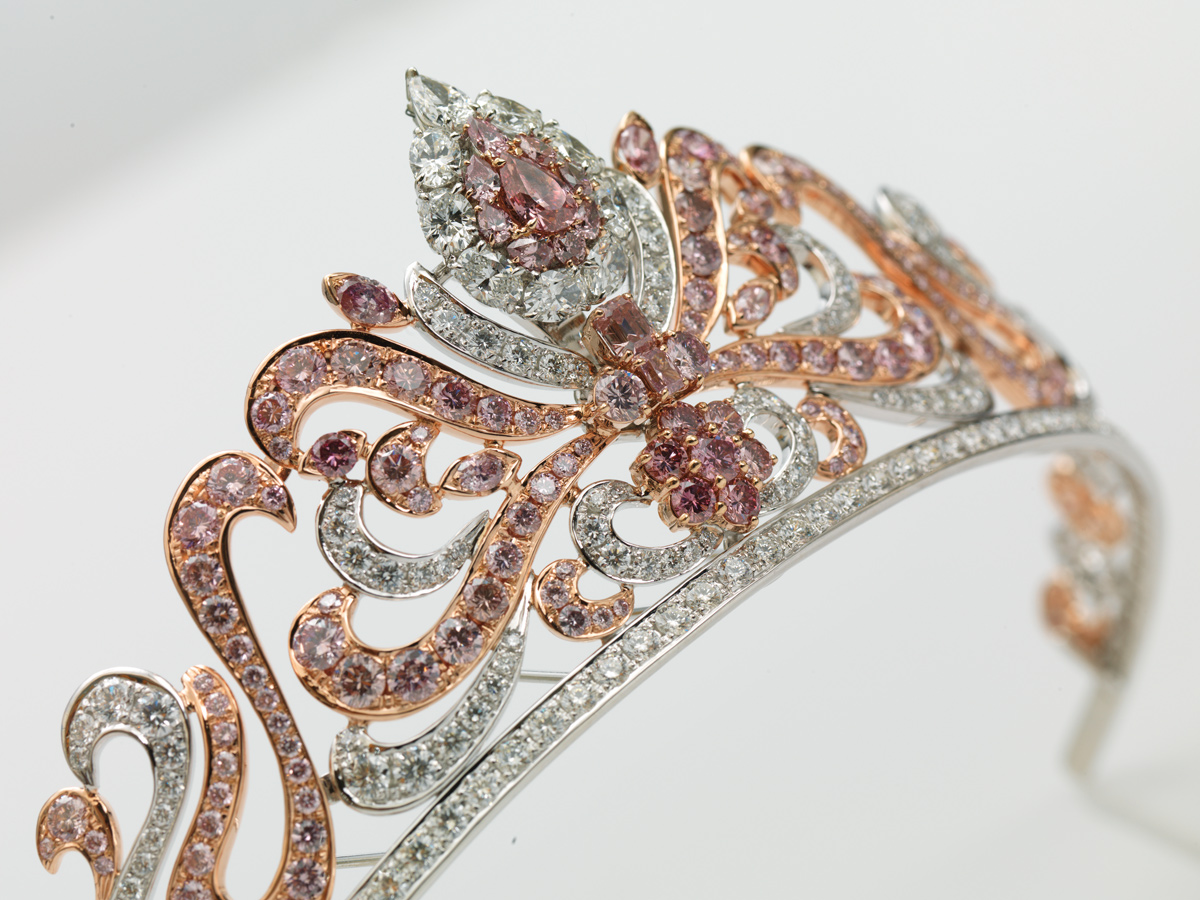 Part of the exhibition featured rare Argyle Pink diamond jewellery from Danish jeweller Hartmann's – a 'Select Atelier' of Argyle Pink Diamonds. The star of the collection was notably 'The Copenhagen Pink' cocktail ring with a 1.41ct pear-shaped Fancy Vivid pink diamond which is the largest pear-shaped Vivid Pink diamond from the Argyle mine in 31 years, part of the 'Iconic Argyle Pink Diamond Tender'. Among other spectacular jewels was the 'Otto' trilogy ring set with a 2.55ct radiant-cut E-colour diamond and two matching Argyle Fancy Vivid Pink radiant-cut diamonds of 1.05ct and 1.09ct; and the 'One in a Million' band ring in platinum set with an Argyle 0.41ct Fancy Grey Blue/VS2 radiant-cut diamond from Argyle Blue Moon Tender 2015 and six radiant-cut white diamonds cut especially to match the centre stone.
The Hartmann's exhibit on either side of the ballroom served as a sensational backdrop for the Tender exhibition itself, which showcased a selection from the 'Chroma Collection' alongside spectacular jewels made by other selected 'Ateliers' and incorporating pink diamonds from previous Tenders, such as 'The Argyle Blossom' ring with five pink diamonds and one central violet diamond for a total of 3.55cts.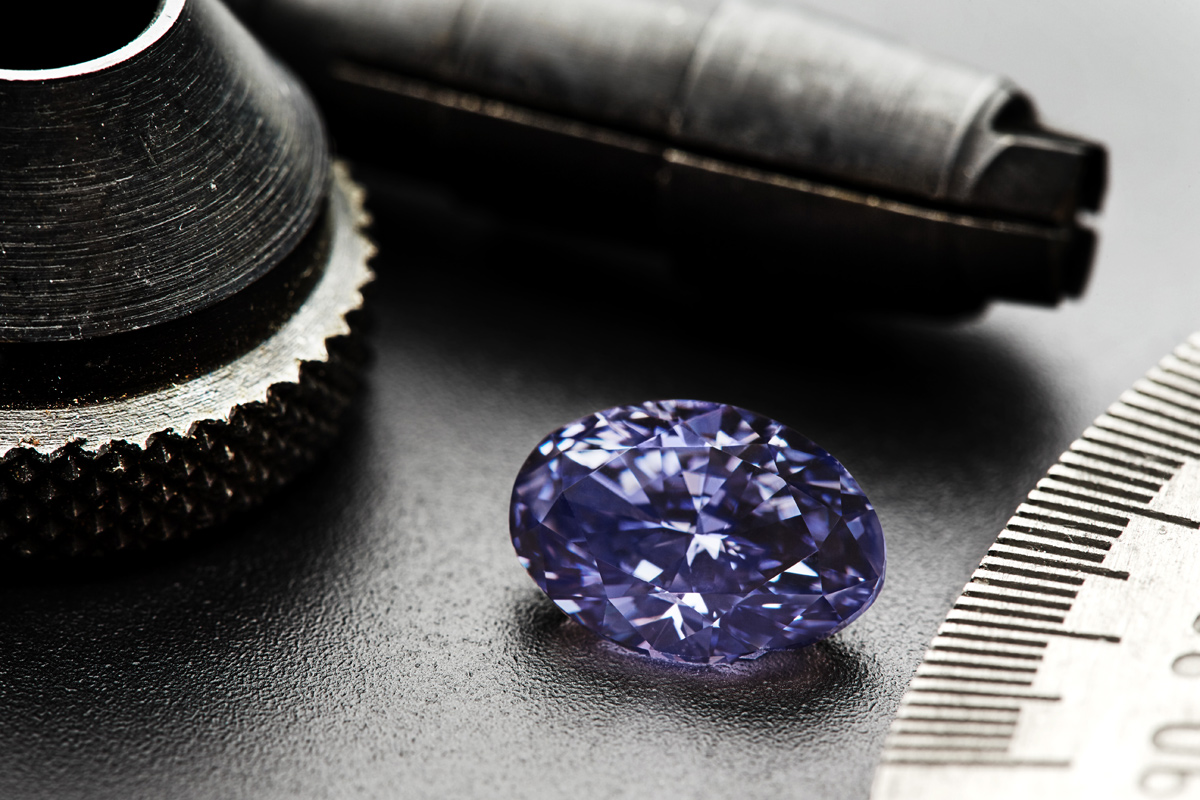 This year's hero – part of the 'Chroma Collection' – is undeniably the Argyle 'Violet' 2.83 cts, oval Fancy Deep Greyish Bluish Violet, SI1. Discovered in August 2015 in the Argyle mine (the only known source of hydrogen-rich violet diamonds) as a 9.17 cts rough, it has been artfully polished by Richard How Kim Kam. The rough was so challenging that it took 80 hours of polishing to unearth its potential, and about 6cts went to dust in the process. At one point towards the end, Josephine Johnson (manager of Argyle Pink Diamonds) recalls that Richard worried any further polishing would crack the stone and all could be lost. After much deliberation, it was decided to press on. On D-day, a colleague came back from the workshop with tears in her eyes, which prompted Josephine to think that the stone had cracked. However, despair quickly turned into joy, when the colleague whispered, 'It is absolutely beautiful!'
Let's put into perspective what the 'Violet' represents. 'Just 12 carats of violet graded diamonds have been presented in more than 30 years of the annual Tender,' says Rio Tinto. 'It has been assessed by the GIA as a "notable" diamond with the unique colour grading of Fancy Deep Greyish Bluish Violet, and it is the largest violet ever unearthed from the diamond mine, and to date only one other diamond, "Argyle Ocean Seer", sold in 2008, has been greater than 1ct.'
The first Tender took place in 1985 with 33 diamonds, and since this first inception it has always been by invitation only, with the allocation of an hour window for each invitee. During that precious hour, they can view the diamonds and place sealed bids. Prior to the viewing session, they all receive a limited-edition catalogue that lists each diamond's data. This year's Tender process will take place in Hong Kong, New York and Perth, with a closing deadline for bids of October 12th 2016.