If you have not heard about the Australian brand Calleija, it is time to give it a search on Google. Founded by John Calleija, the brand is best known for its wide range of jewellery with pink diamonds, mined in the famous Argyle Mine. One of the most spectacular products you can currently find at Calleija is the "Tzarina" ring with the pink diamond Fancy Intense Purplish Pink, a pear-cut diamond weighing 2.15 carats. The colour of this stone is accentuated by four blue diamonds and several white diamonds surrounding the central stone.
A ring with an equally detailed design can be found in London at the British luxury goods retailer Asprey. The jewel is decorated with eight colourless pear-cut diamonds, arranged like rose petals around the 1.07 carat Fancy Intense Purplish Pink centre stone. The ring is made to resemble a traditional English coat-of-arms, from Hampshire specifically, in the form of a flower, and it has therefore been named "Tudor Rose".
Also in the semblance of a flower is the elegant engagement ring the Fleur de Lilas, "authored" by the British jeweller Thomas de Montegriffo. The ring's centrepiece comprises three carefully placed pink diamonds, with a total weight of 1.38 carats. Their gentle hue stands out against the four-carat colourless oval and round diamonds arranged around the central composition.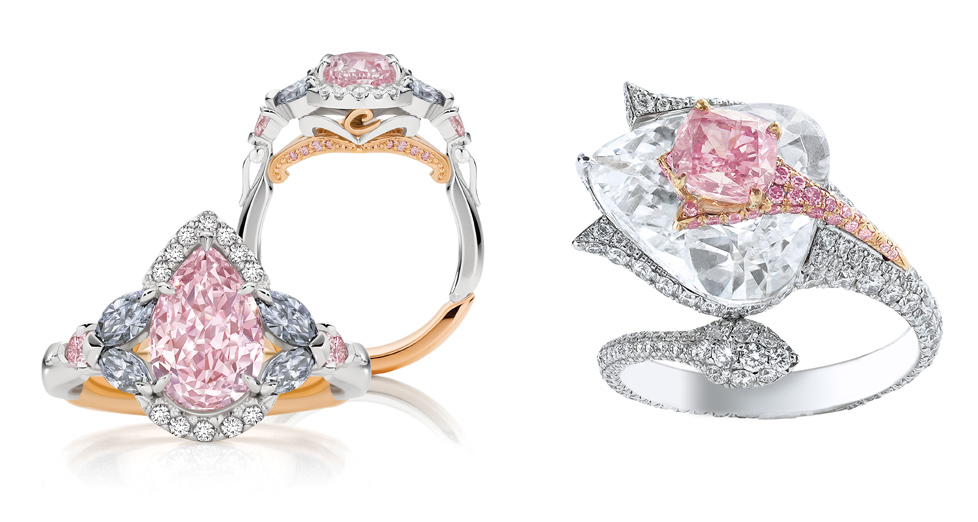 The Swiss brand Boghossian, famous for the extraordinary jewellers, created a ring with a sophisticated and exotic look. Its design is more reminiscent of an ornament from the Far East than any real-life blossoming flower. The five-carat Fancy Intense Purplish Pink diamond looks as though it has been incrusted into the surface of the colourless diamond as it rests on a frame of white gold studded with pavé set diamonds. I reckon this is how new Creative Director, Edmond Chin, has chose to invite us to dream, to see in the piece something that could be ours…
Proponents of a more traditional jewellery style can find themselves something special at Graff, more precisely, a ring with a rather large pear-shaped diamond of 6.79 carats. Pink stones of such impressive size that are still a bright shade of Fancy Vivid Pink are extremely rare to come across and therefore usually fall into the hands of private collectors who amass the very best gemstones going.
And last but not least, I simply must mention the David Morris ring, though I have already written an article on it, and on David Morris' pink diamonds on the whole. This unique product with a Fancy Pink teardrop diamond weighing in at 8.06 carats debuted at the 2014 Biennale des Antiquaires in Paris. As far as I am aware, the ring is still available, so you have every chance of filling up your collection with yet another unique and precious jewel.