"The Dal Lake is one of the most picturesque lakes in the world. Its scenic views and the natural beauty surrounding it can be witnessed from the shore line of the Mughal Gardens such as Shalimar Bagh and Nishat Bagh. I translated this gorgeous and charming landscape into a line of jewellery which encapsulates the delicacy of floating lotus flowers and the romance of roses in the gardens," explains Siddhartha.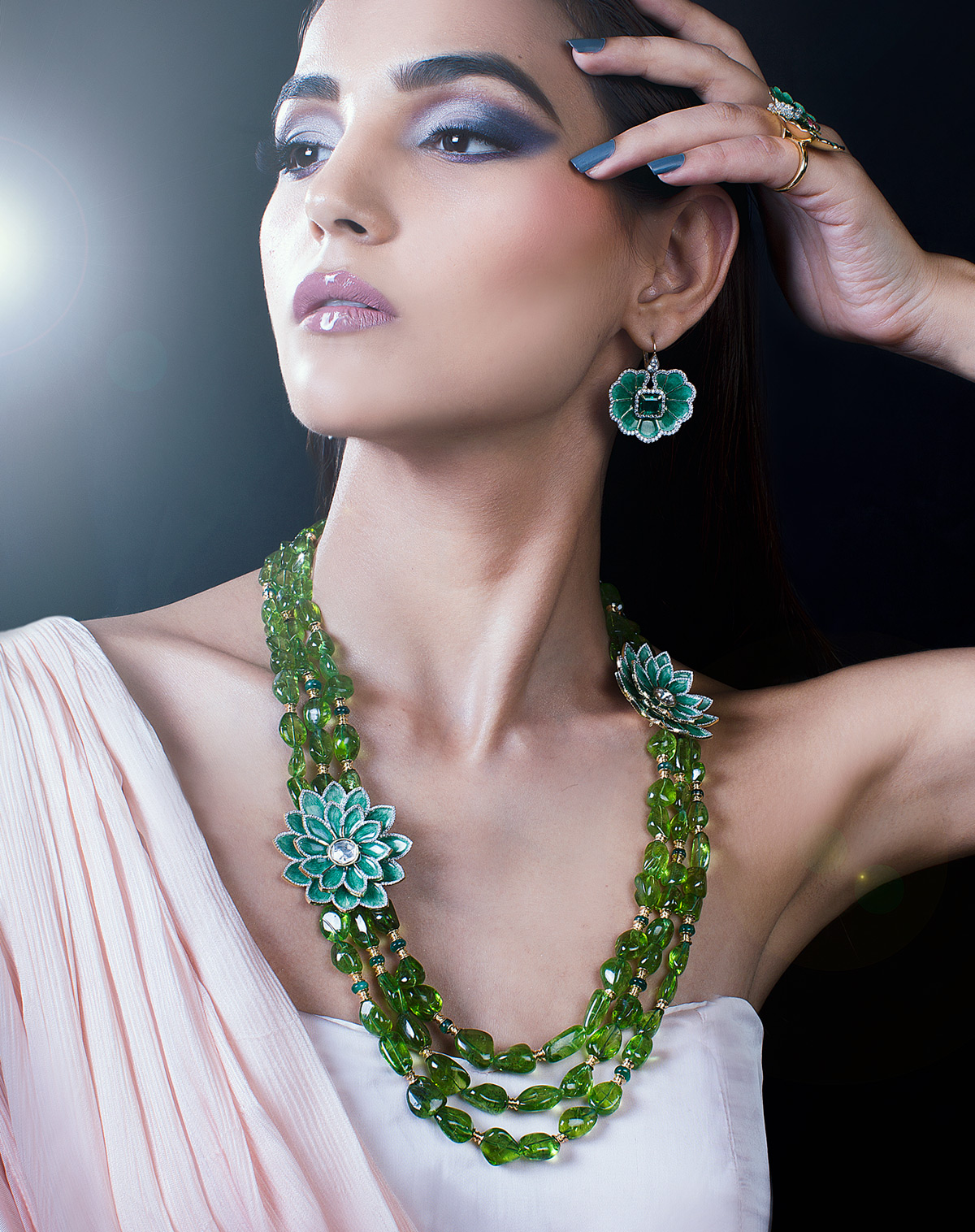 The collection's signature piece is the rich Dal Lake necklace decorated with two lotus flowers fixed to long strings of peridots. The succulent green stones with their characteristically golden tint were specially chosen for their colour and size to create a harmonious ensemble reminiscent of a smooth water surface. The jewellers at Jaipur Gems did not facet peridots; they left them practically untouched aside from polishing their surfaces and giving them a rounded shape. Gemstone after gemstone, they strung them onto three threads along with some small emerald beads and decorative yellow gold insets.
To this day, many still mistakenly believe that peridot is a semi-precious stone that naturally occurs in abundance. However, you have to take into account the fact that several examples of it, especially those that are mined in Myanmar, are quite rare. Siddhartha Sacheti emphasised how difficult it was to find 917.40 carats of perfect peridots.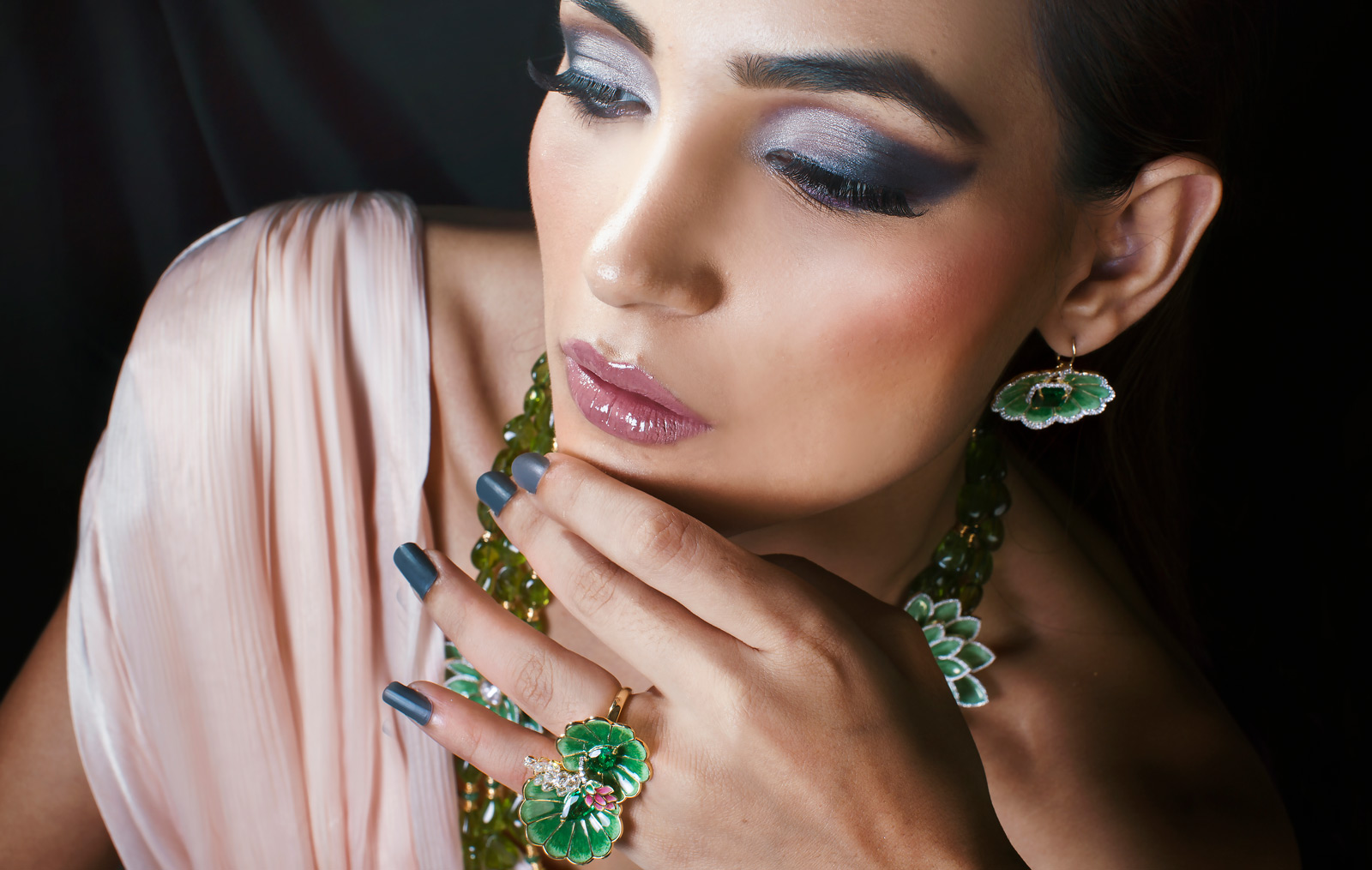 "Once we laid eyes on them, we were thrilled to add the gems to the Dal Lake collection. The vivid greens were so vibrant, there really couldn't have been anything else to have crossed our minds other than adding them to a collection that is dear to our heart," says Siddhartha.
The necklace brings out the strong green colour palette of the 16.80 carat high quality emeralds and the hand-painted green enamel on water lily petals. Its gentle hue was chosen specially to emphasise the beauty of the gemstones and complements them perfectly. The delicate paintwork was completed in the best of Meenakari traditions, an ancient technique of ornamenting the surface of metals with enamel that was born in Iran several thousands of years ago. Look at the elegant strokes on the surface of the gold that have hardened into thin lines resembling streaks on flower petals.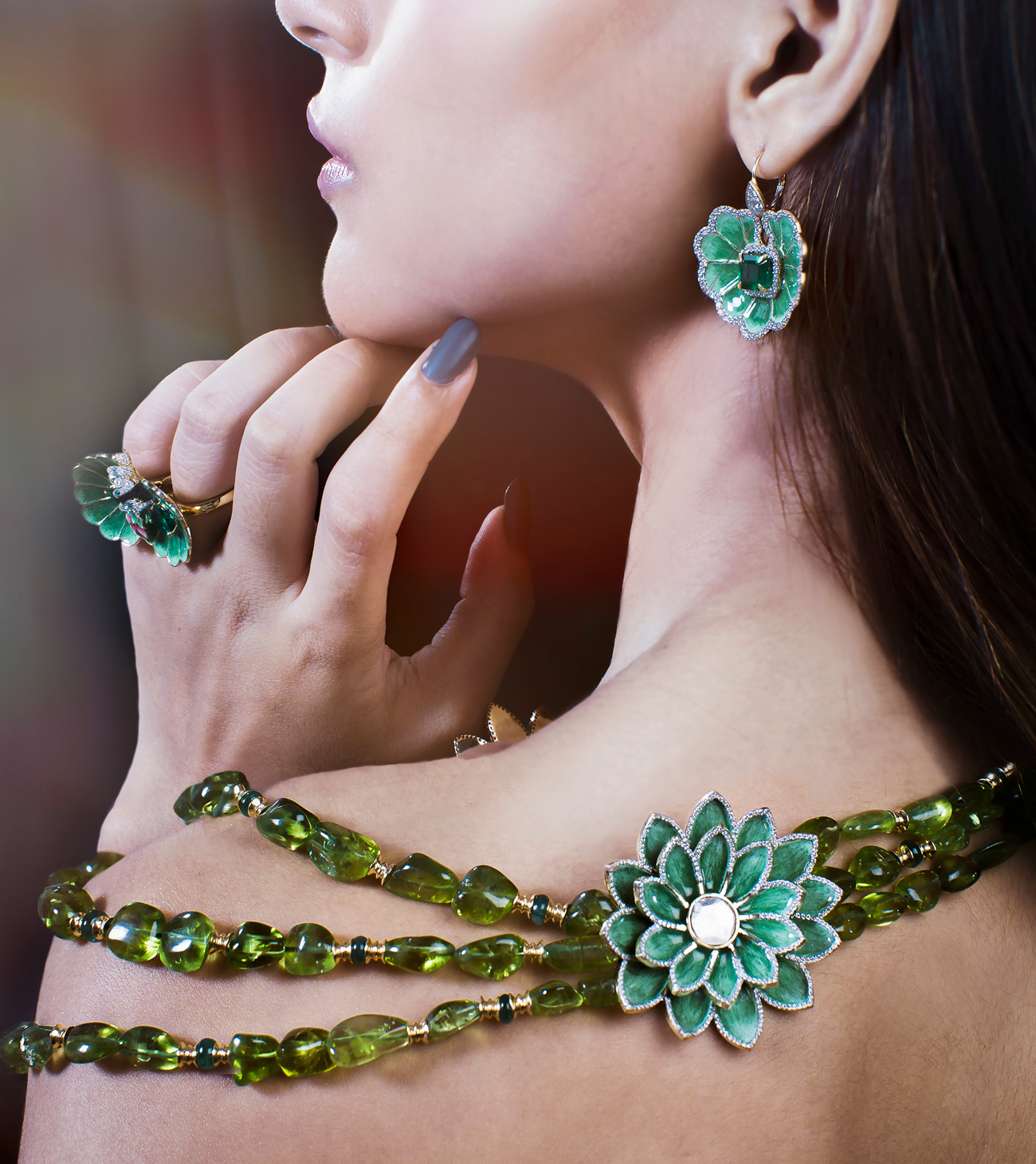 Other than the luxurious necklace included in the Dal Lake collection, there are also earrings and a two-finger ring shaped like water lily leaves. The jewellers at Jaipur Gems have decorated them with Meenkari green enamel before adding stunning emeralds and a sprinkling of diamonds. "Meenakari is a traditional enamelling technique enhanced by modern technology that offers a consistency and depth that is unparalleled. It took us almost 3 weeks to perfect it, applying enamel several times before we were satisfied with the result and then used it to decorate the final pieces," says Siddhartha.
It's worth mentioning that it took about a year and a half to find the perfect gemstones, then develop and create the Dal Lake jewellery parure. Each piece required a prototype that the craftsmen had to recast several times over in pursuit of perfection. It was thanks to that desire, to do everything possible to create a masterpiece, that allowed Jaipur Gems to immortalise the beauty of nature through its glorious creation of jewellery.