The design of Les Icônes de CHANEL jewels is based on the existing decorative motifs of the house: comet, feather and camellias. They became an integral part of the most famous brand thanks to Gabrielle Chanel. And this is how it happened. Feathers and comets appeared as decorative elements in Chanel jewellery in 1932, when Mademoiselle Coco Chanel presented her first and only precious collection Bijoux des Diamantes. It also featured pieces with stars, sun and bows. Subsequently, timeless and poetic comets, bows and feathers took their rightful place among the signature motifs of Chanel jewellery.
Camelia was the favourite flower of the legendary Coco Chanel, which explains why over the years we have repeatedly witnessed how the house's creative team has been using this flower in a variety of jewellery and timepiece designs. In 2011, camellia blossom became the signature motif of the Camélia Brodé line crafted in white gold and diamonds, and in 2014, the Chanel Camélia Galbé collection too featured flowers made of ceramic.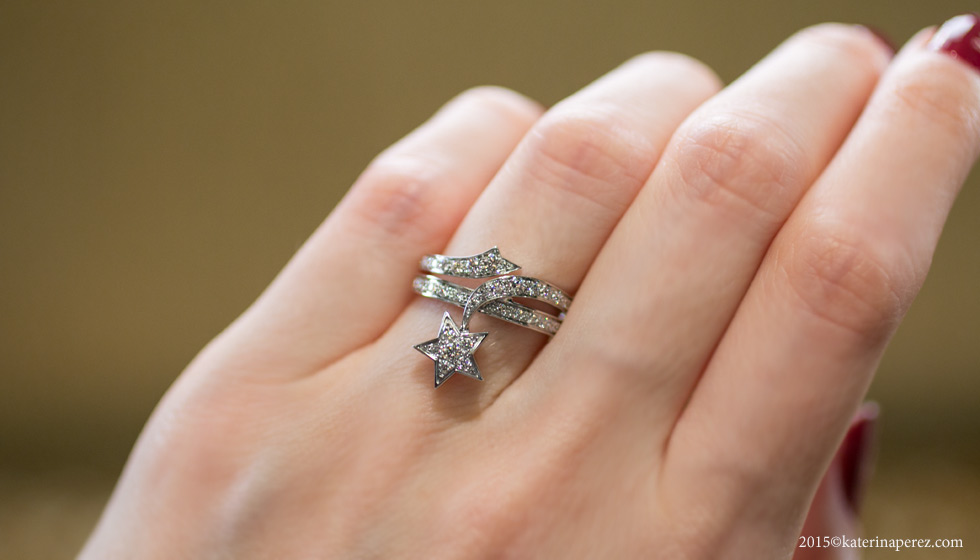 With the arrival of 2016, camellia appears in yet another interpretation as a part of Les Icônes de Chanel. An open-work Camélia Ajouré ring, necklace and stud earrings are designed to resemble the flower's silhouette and create the effect of a "second skin." It happens when jewellery is so comfortable to wear that it becomes a part of us and we hardly feel its presence. The new Plume de Chanel earrings and pendant, shaped as feathers, retain subtlety and elegance of curves of precious metal once seen in the Bijoux des Diamantes collection. To emphasise the shimmer of diamonds, Chanel designers left the teardrop-shaped diamonds in the middle of the pendant and earrings.
It is worth mentioning that the current fashion trends did not go unnoticed at Chanel. Over the past few years, they have been periodically reflected in the fine jewellery. So, the design of the feather earrings was clearly influenced by the ear-cuff trend and the design of the Entrelacs d'Etoile ring (very first image), which flies across a few fingers, was inspired by the ongoing fashion of multiple-finger ring. These two pieces in the Les Icônes de Chanel collection exemplify the bold style of contemporary Chanel jewellery.
All of the above motifs are Chanel's precious sources of inspiration, which were embodied in the simple and elegant Les Icônes de Chanel line. Thanks to the elaborate design and relatively small size of earrings, rings and pendants, they border between precious everyday jewels and evening pieces. And this makes them versatile and absolutely perfect for the modern woman.