Before you continue reading, I recommend you revisit two articles in the KaterinaPerez.com archives. The first is dedicated to the initial launch of Bravery by Louis Vuitton, which included some 70 pieces of high jewellery. The second is a homage to Louis Vuitton the man and helps to explain why trunks and luggage have become so core to the French brand's identity. The second phase of Bravery – simply known as Bravery II – continues to celebrate the 200th anniversary of Louis Vuitton's birth but, rather than focusing on his early life, we are instead celebrating one of his most iconic creations – the trunk. We are surrounded by luggage in the 21st century and, yet, during Mr Vuitton's time, the trunk was a novel item reserved for a privileged few and brimming with patented and trademarked mechanisms… some of which are lauded in high jewellery form below!
"The first part of the collection was really based on Louis Vuitton and his journey," says Francesca Amfitheatrof at the brand's Couture Week presentation at Maison Louis Vuitton Place Vendôme. "He lived in such an old Paris that we can't even imagine. He went to work at the Savoy, where he met the great and the good and started to understand how they travelled. Bravery II is really about the flat trunks, his legacy."
Using the trunk as a starting point, the twenty pieces in Bravery II translate the locks, studs, clasps and pins of Louis Vuitton's invention into four different themes: La Mini-Malle, Le Magnétisme, Le Multipin and Cocktail Rings. Amfitheatrof has created a colourful, tonal and playful collection of jewels with some extraordinary unheated and untreated gemstones. As part of her process, she takes larger, statement gemstones and gemstone layouts and "matches everything together" to achieve her goal of "painting with stones". She adds: "I don't like strong contrasts, I like a softer and more seductive combination of gems."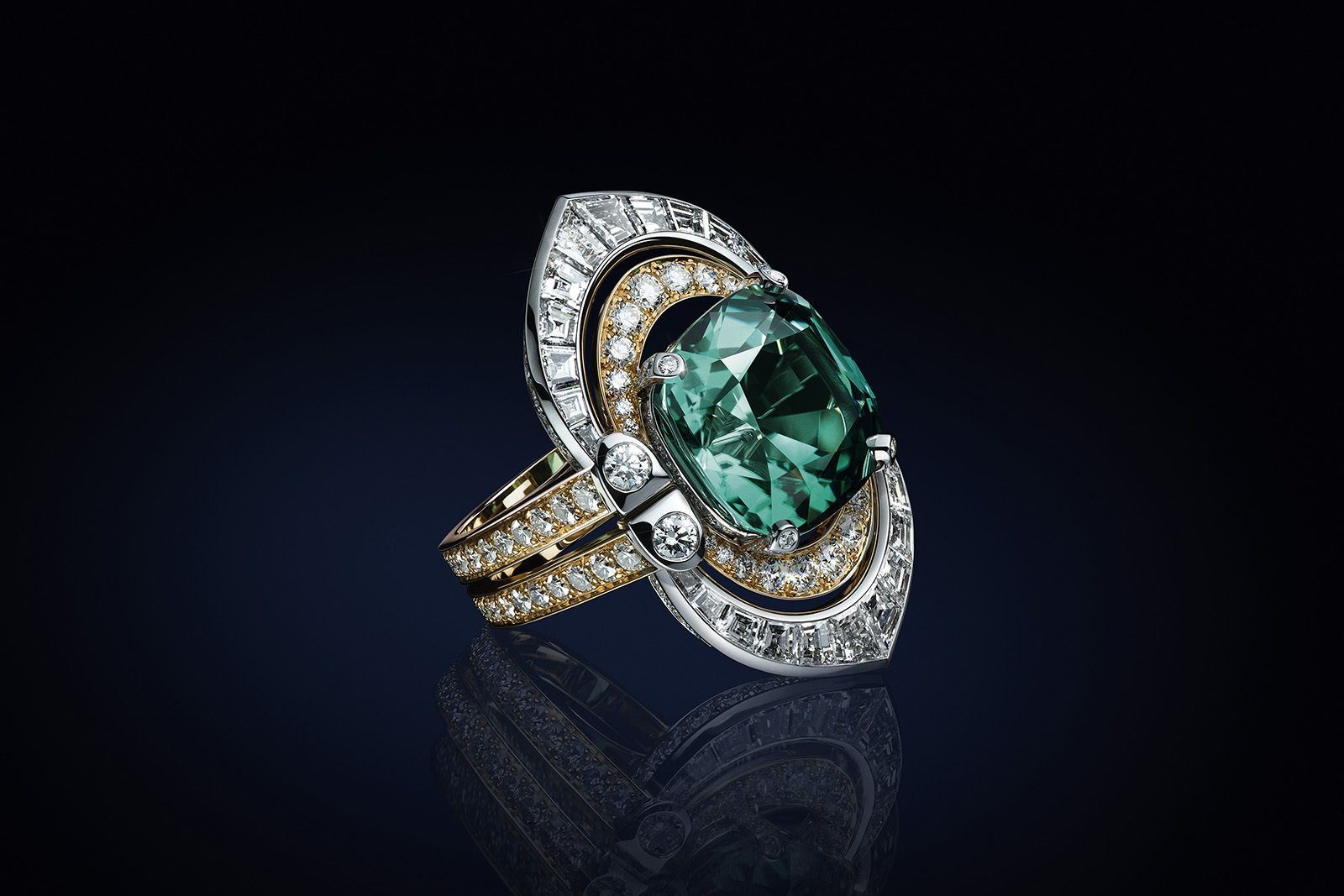 La Mini-Malle
"We start with a collection of pieces that are all white. The idea is that the sautoir, bracelets and ring are suitable for both men and women," explains Amfitheatrof as she presents to me a crisp monochromatic set including a choker, sautoir and signet ring that takes inspiration from the geometric shape of the Petite Malle released by the House in 2014. Diamond-pavé links suspend three 'Mini Malles' in the choker, which are adorned with LV Monogram star-cut diamonds, one of which weighs 3.34 carats. Next, there's a beautifully flowing long necklace that can be transformed into a pair of bracelets and a choker. Finally, the signet ring features diamond marquetry and incorporates signature characteristics of Louis Vuitton trunks in the form of baguette and round diamonds, plus a 1.55 carat LV Monogram Star-cut diamond. Interestingly, this set also includes a bracelet and Louis Vuitton's first high jewellery timepiece.
Le Magnétisme
"The yellow sapphire was here when I arrived and I have been wanting to use it, but I couldn't put it with other sapphires because it is just too vibrant! It would make other sapphires look wishy-washy." This was the introduction I received to a spectacular necklace in Bravery II - Le Magnétisme – set with a 20.29 carat cushion-cut sapphire from Sri Lanka (detachable). Although this stone is no doubt the focal point of the necklace, I found myself captivated by the two rows of pink, orange and yellow tourmalines, totalling 152.86 carats, that culminate in a baguette-cut diamond 'V'. This 'V' doesn't just represent the surname Vuitton; it evokes the metallic corners of a flat trunk. Similarly, the placement of diamonds between each round tourmaline "echo the metal studs on the trunk". This theme is completed by three rings, each set with a pink sapphire, a red tourmaline and a raspberry tourmaline, the former of which Amfitheatrof describes as "hot disco pink" that is "simply extraordinary in daylight".
Le Multipin
"Louis Vuitton created two famous trunk locks – the tumbler and the multipin," explains Amfitheatrof as she begins to tell the story of Bravery II's most striking star – the 'Le Multipin' necklace. "He created and engineered a lock that has lots of different sheets of steel and you have to align them to get the key in. He also invented the fact that you only needed one key for all your trunks and only your trunks. The multipin was known as the 'unbreakable lock' and Louis Vuitton even challenged Houdini!"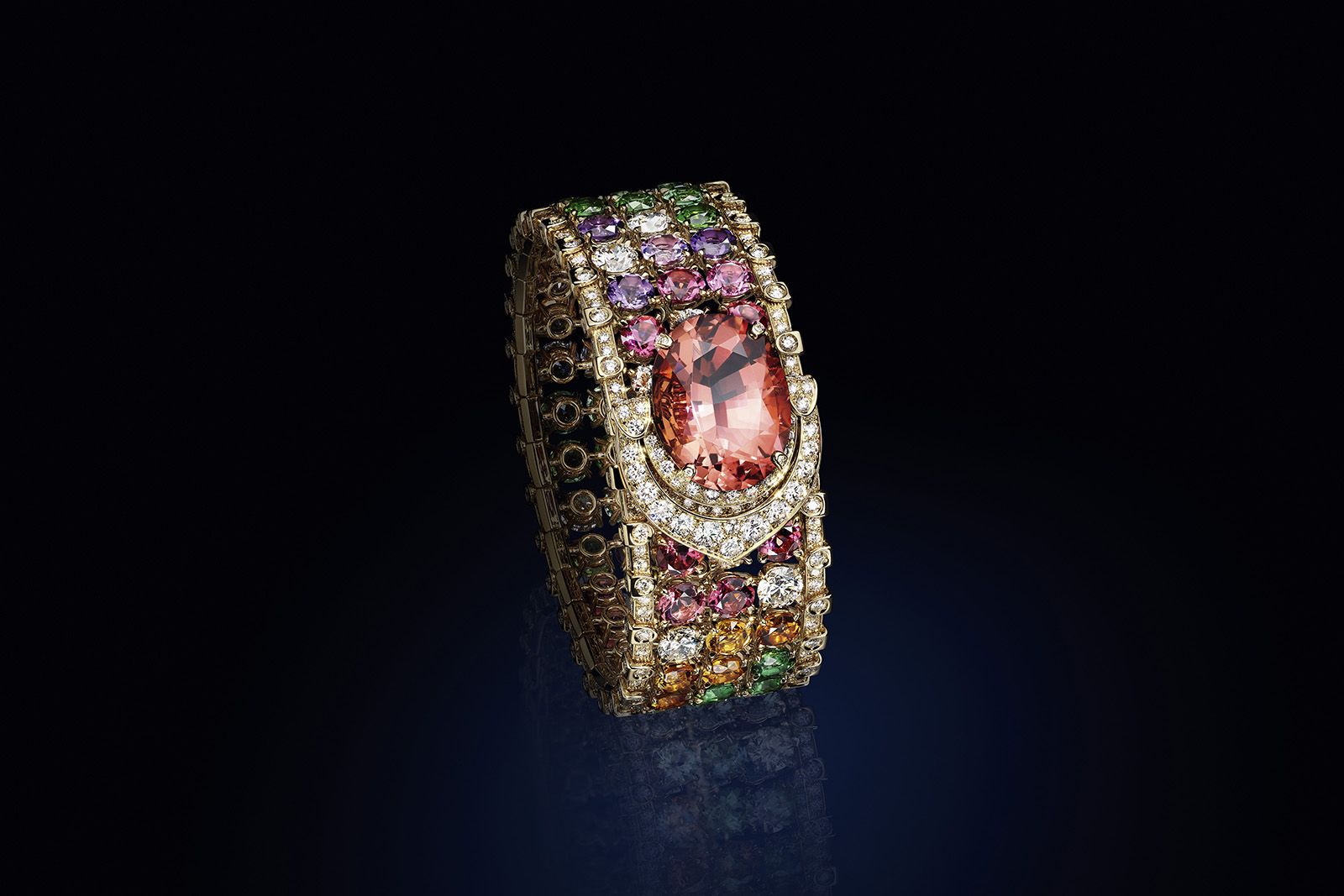 The necklace contains more than 100 colourful stones, including tourmalines, citrines, aquamarines and tanzanites, organised into three rows and surrounded by diamonds. At its heart is a 42.42 carat lagoon blue tourmaline that sits atop a working lock mechanism inspired by Louis Vuitton's trunk closures. It is accompanied by a cuff bracelet set with a 20.67 carat pink oval tourmaline, two pairs of multicoloured tourmaline earrings, and four opulent rings, each one centred around a tourmaline.
On the emotional connection she has with pieces, Amfitheatrof adds: "The Multipin was quite difficult because of the matching stones; aligning everything is not easy. It has to move with the body, sit perfectly, and then you want the weight to be good and well distributed. I road test pieces from wax to metal and I wear them before they are totally polished. I touch everything. I've known them [jewellery pieces] from drawings, and I feel very close to them, but after the launch they leave, and I will never see them again."
Cocktail Rings
Finally, there's the fourth phase of Bravery II, simply called 'Cocktail Rings', set with brilliant-cut unheated and untreated coloured gemstones. There's a pink 1.30 carat Padparadscha sapphire from Madagascar, a 1.34 carat ruby from Mozambique, a 2.09 carat cerulean sapphire from Madagascar and a rich, vivid green 1.34 carat demantoid garnet. Each ring features intricate detailing, such as studs and angle mounts, evoking the silhouette of the trunk. These pieces can be worn separately or stacked.
"What is interesting is the provenance," Amfitheatrof explains as she points out pieces to me. "These rubies are from Madagascar and this emerald is from the Urals. We are always trying to push where we source our stones from – we don't go to obvious places, and we support new mines."
"We have an obsessiveness," muses Amfitheatrof when I ask about why her team prioritises unheated and untreated stones. "Our three pillars are creativity in design, incredible stones and the savoir faire of Place Vendome. These things together allow us to do incredible things." When looking at the Bravery II collection, it is possible to see these "incredible things" in physical, three-dimensional form.