I have fond memories of MATHON Paris as they are one of the first Parisian brands I encountered when my jewellery journey took me to France about seven years ago. I can remember being told the story of Roger Mathon, whose creativity across painting, modelling in plastic, wood carving and ceramics led to a career in jewellery design in the post-war period. MATHON Paris is named after him and continued by his children and grandchildren, who each bring their own unique skills to the family business.
The easiest way for you to discover the brand if you're not in France is to visit the website. First, you are presented with a video, followed by a beautifully intricate landing page with tree roots that animate to indicate different routes to follow, like exploring the 'soul' of the brand or the expertise of its craftsmen and women. You're probably wondering why I am describing a website and not jewellery! Well, all this is indicative of the creativity at the heart of MATHON Paris and the whimsical, almost magical nature of its storytelling and presentation. It's almost impossible not to be swept up in the romance of it all.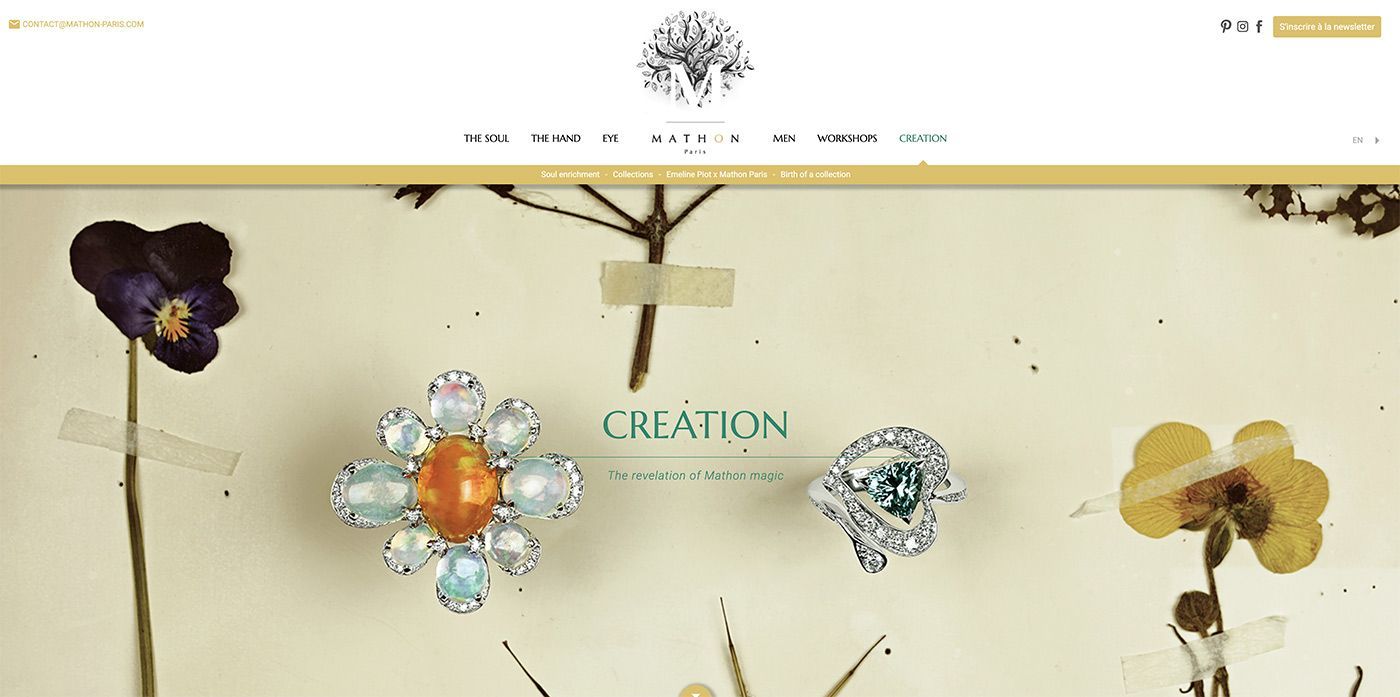 MATHON Paris' president, Aude Mathon, is the third generation of her family to continue this legacy and has recently been through the painstaking process of refining the brand's image. She says: "When my husband and I took over the company three years ago, we changed the visual identity of MATHON. We wanted a logo that embodies our values: nature inspiration, ecology, transmission. The tree was the perfect symbol to encompass the nature side and the family tree metaphor, with the idea that it sinks its roots into the earth and makes beautiful fruit bloom."
Of course, the fruit that's blooming here is in the form of precious metals and coloured gemstones! Below are some of the highlights from my conversation with Aude about her family's legacy and the jewellery designs that are evocative of the MATHON DNA.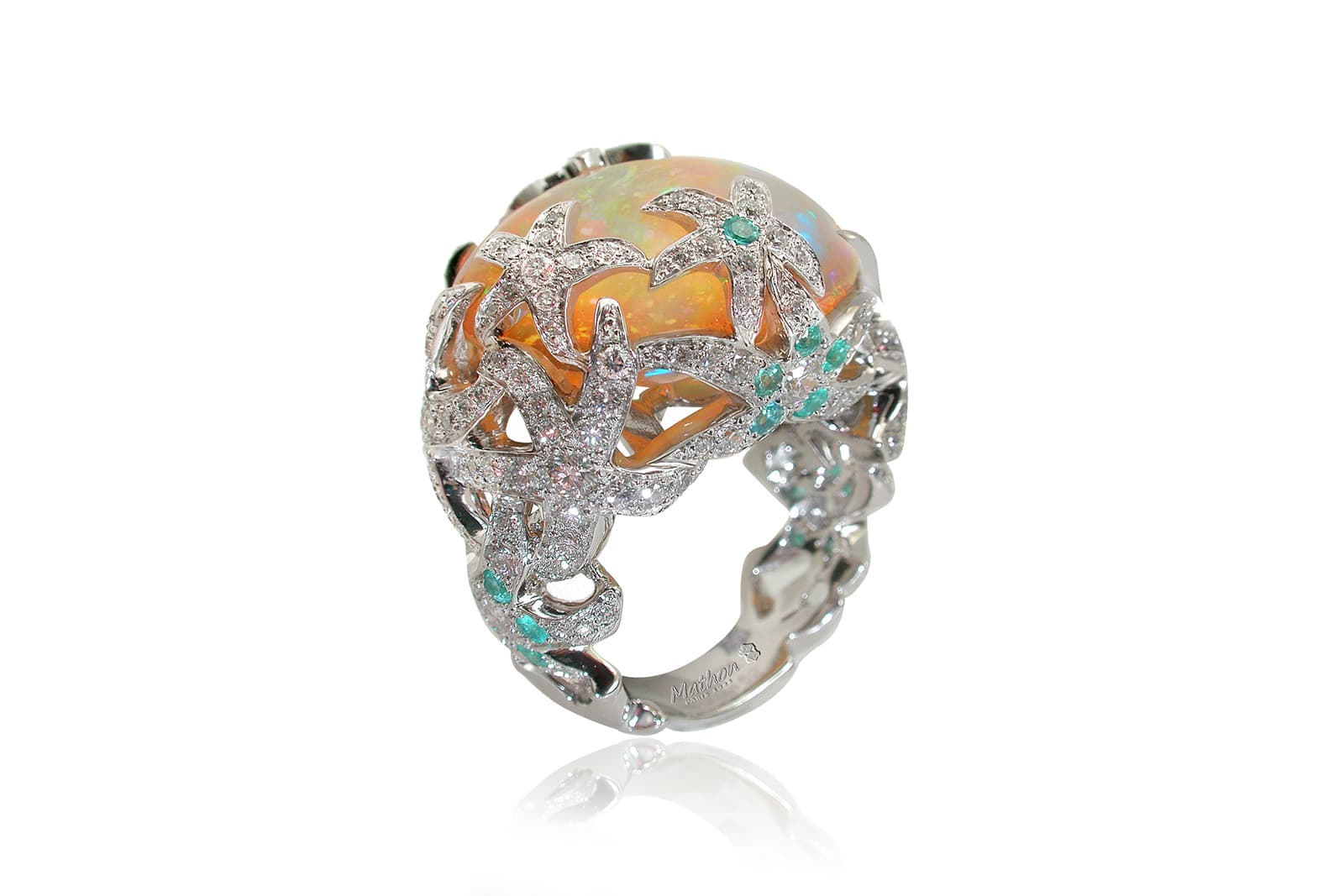 Katerina Perez: What would you say is at the core of MATHON Paris?
Aude Mathon: Our strapline is "La couleur en heritage" and I would say colour is the first milestone of our signature style; colour with gemstones, colour with metal combinations, and colour with enamel or lacquer. The second milestone is our heritage: creativity is deep in MATHON Paris DNA. Today, we want to perpetuate this tradition in our contemporary creations by searching our archives, taking inspiration from former models, and giving them a modern twist. We also spotlight the working of gold (texture and chiselling) because Roger was able to sculpt wood and wax to create unusual textures. Our elders have passed on this carving know-how to the youngest generations. The idea behind this notion of 'heritage' is also to pass on history and skill from one generation to the next – I can say with pride that our workshop nurtures young talent.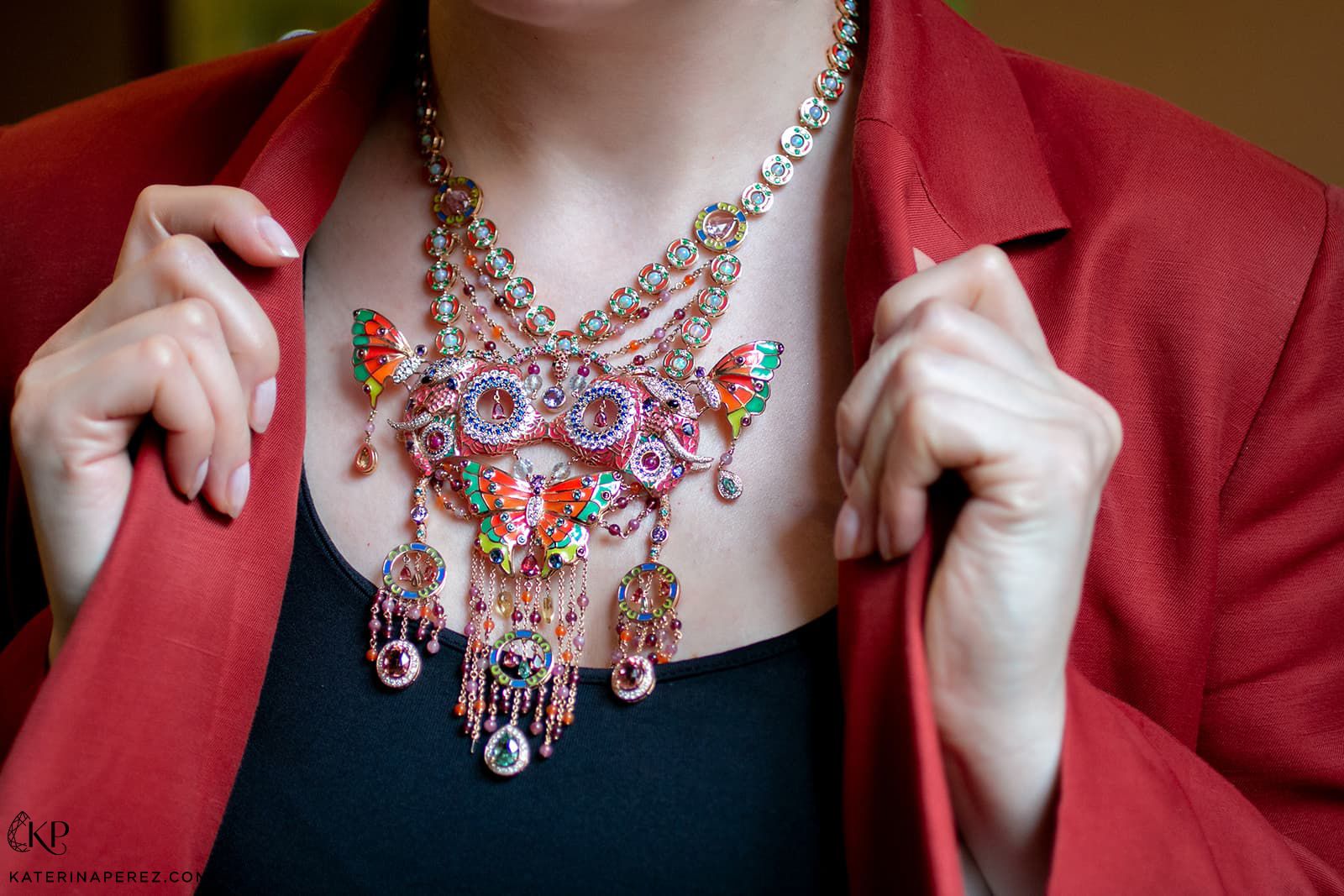 KP: There are a lot of natural forms in your jewellery – am I right in thinking this is partly inspired by the nature around your family home?
AM: Totally right. Among our five universes [collections], three themes are directly inspired by nature: Bestioles (small animals and insects), Merveilles de la Mer (treasure of the deep), Florilège (bunches of flowers). The collection that we have been developing for three years is named Les Vergers, which is also the name of our family's house located in the French countryside. Quatre Saisons is the first chapter of this series.
KP: Are there any materials that you especially like to work with?
AM: Opals, as they represent small universes that change with the light. Next, I would have to say any kind of tourmalines, from rubellite to indicolite passing through Paraiba, largely for their diversity of colours and clarity. Of course, there are also spinels with their adamantine lustre that's comparable to a diamond's brilliance.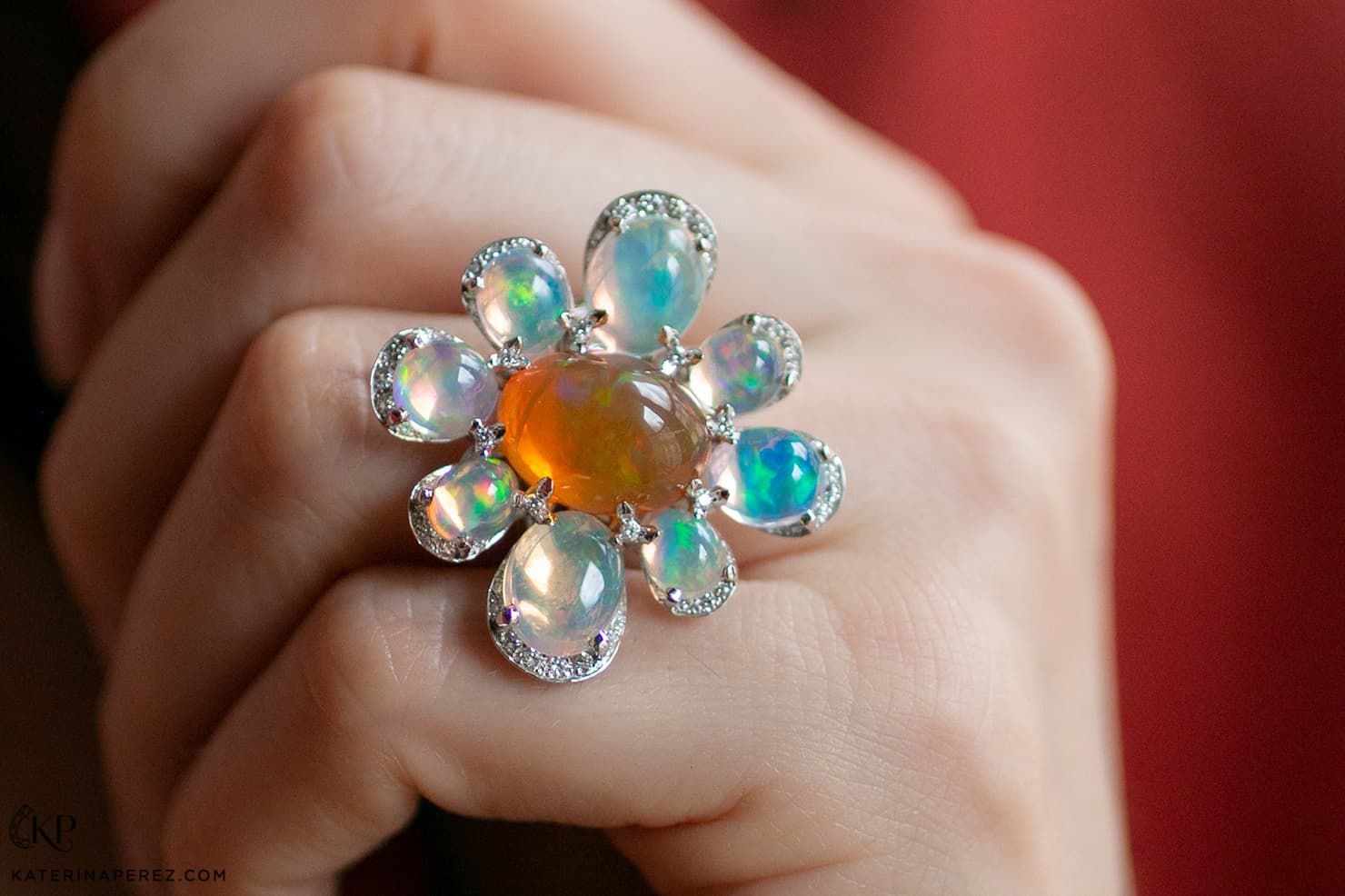 KP: There is a real artistry to your website, which is mirrored in your family story. How has art in general shaped your family's path to jewellery design?
AM: My family and I have been nourished by several forms of art, including painting for my grandfather and aunt, and dance and literature for me. Roger was a jack of all trades and we share this desire to continue trespassing between the boundaries of artistic disciplines. At MATHON Paris, we believe jewellery is a form of art – a wearable expression of artistic sensibilities.
KP: One thing that really stands out about your brand is the way you lead customers on a journey through the 'Soul', 'Hand' and 'Eye' of your identity, before introducing us to all the people behind your jewels. Can you explain more about this?
AM: Behind the smallest ring, there are women and men shaping its form, working the metal, setting gems and making the piece shine. They give their time, craftsmanship and ideas to make our jewellery. People are much more important than products, that's why we talk about humans before jewellery. Our particularity, compared to big brands, is that we have a small production that's 100% in-house. It is true that we can name the jeweller, the polisher and the gem-setter that has worked on your ring. Given that we live in a digital world, it makes sense to me that jewellery would become disembodied from people. Customers are seeking truth and authentic experiences. In my opinion, in the niche of high jewellery, the time of marketing is over. Traceability and authenticity have become the true luxury. What inspires me much more than jewellery is congregating the people in my team for creative projects. I want them to take pride in what they do daily for our company and find satisfaction and accomplishment in their work.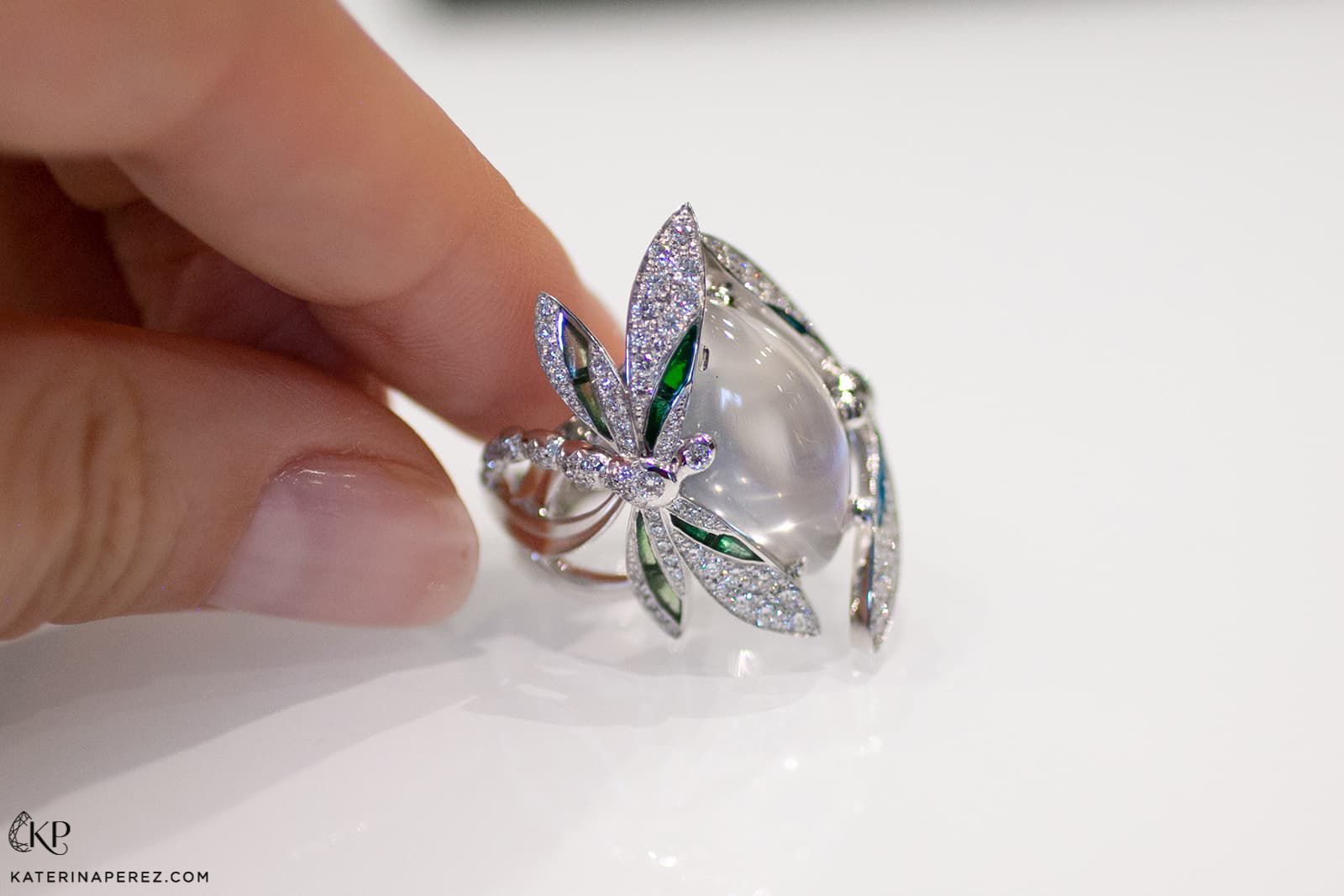 It's wonderful to hear someone speak so enthusiastically about the interdisciplinary nature of jewellery. Could the art of jewellery exist without drawing, painting, sculpting and carving? Perhaps, but it would be far less enticing and certainly lacking in romance.