The new collection of the Greek designer was perhaps one of the most memorable among all that I saw at the show. I felt that the imaginary Universe Nikos created would receive a warm welcome from consumers and global press. The way Nikos translated memories of his travels around the world into high-end jewellery pieces was subtle. The fascinating design was full of harmony. By combining stylistic elements of art – deco (which, by the way, is still rather popular in jewellery and fashion) with modern and sleek designs of chokers, sautoirs, two-finger rings and other fashionable jewels, Nikos has taken the first step towards ensuring the success of his new collection.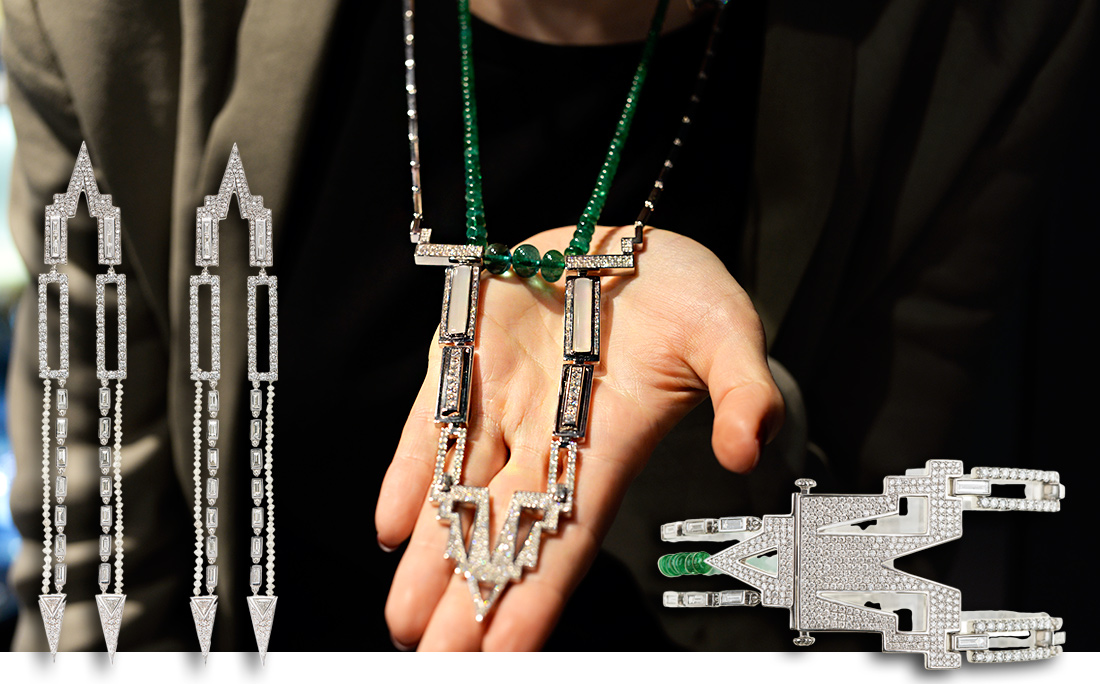 "The name of this new jewellery line mirrors what surrounds me. With this in mind, I created an art-deco necklace that was inspired by Empire State Building in New York (below). For the Kandinsky choker (top photo), I drew upon my visit to Moscow, having fallen under the spell of Russian art. The collection also features a Christian cross with diamond beads and some pieces inspired by the impressions of India (a bracelet that resembles the fans in Indian buildings in the right). You see, the world is full of places that I like and, together, they represent my universe," says Nikos Koulis.
The collection that Nikos put together has been developed into an extensive range with each jewel being equally important. Not even the smallest detail on the simplest of rings was left unattended. One would adorn themselves with pieces that are enriched with elaborate decorative elements, gracefully embellishing not only the façade but also the sides of the pieces. The cocktail rings, for instance, have shanks that are not merely plain gold bands but works of art. This is why one has to admire Universe jewels from all angles.
Nikos has developed an individual approach to every creation stemming out of his desire to create unique pieces. "The new jewellery line is divided into four. But this is not the end … Maybe next year, I'll be in Marrakesh and the city will inspire me to create new additions to the Universe collection," Nikos adds.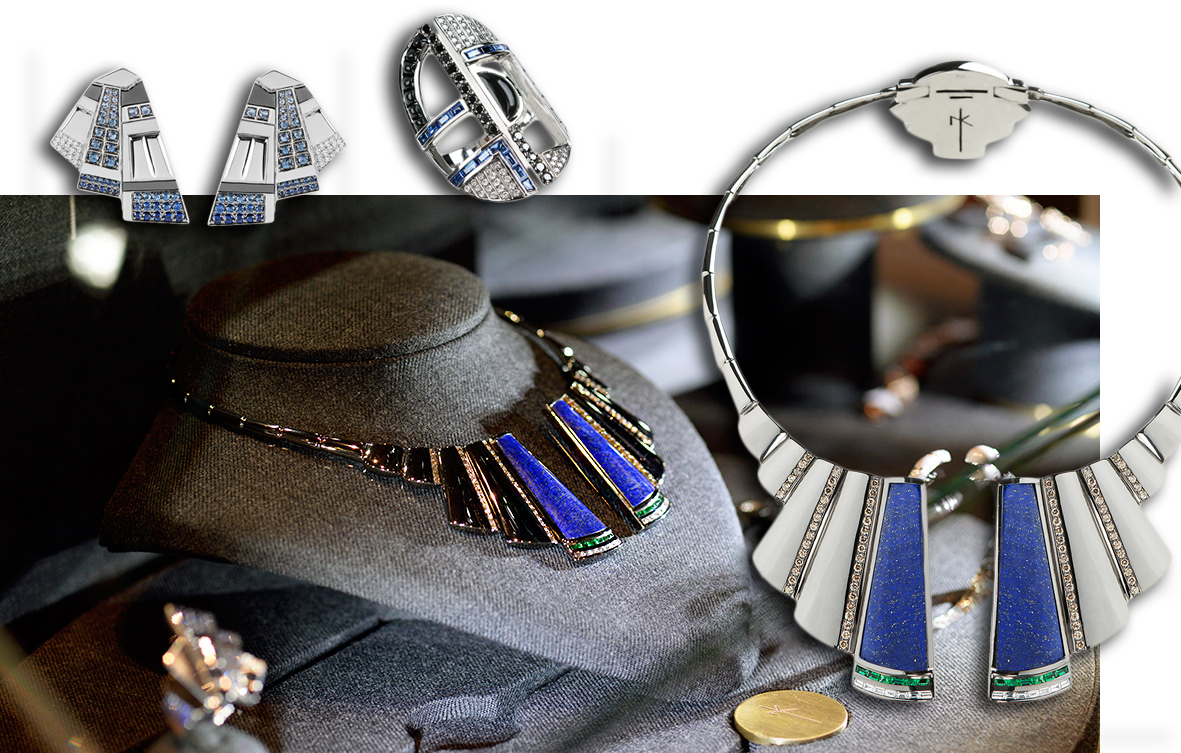 It is the first time that the designer has separated a collection united by a certain idea from his earlier lines, which, in his opinion are more commercial. The new jewels have a strong identity and differ from the earlier pieces with a sophisticated design and higher price point."The new collection boasts important gemstones. I previously used them only to create bespoke pieces," says Nikos. The jewels of special importance include large diamonds on a necklace with a cross and emerald beads on a sautoir inspired by New York architecture.
The sautoir is the designer's favourite piece from the Universe collection. Interestingly, Nikos' personal preference differed from that of visitors at the Baselworld, whose attention was mostly drawn to the Kandinsky necklace. The new collection will be soon available at selected boutiques across the world.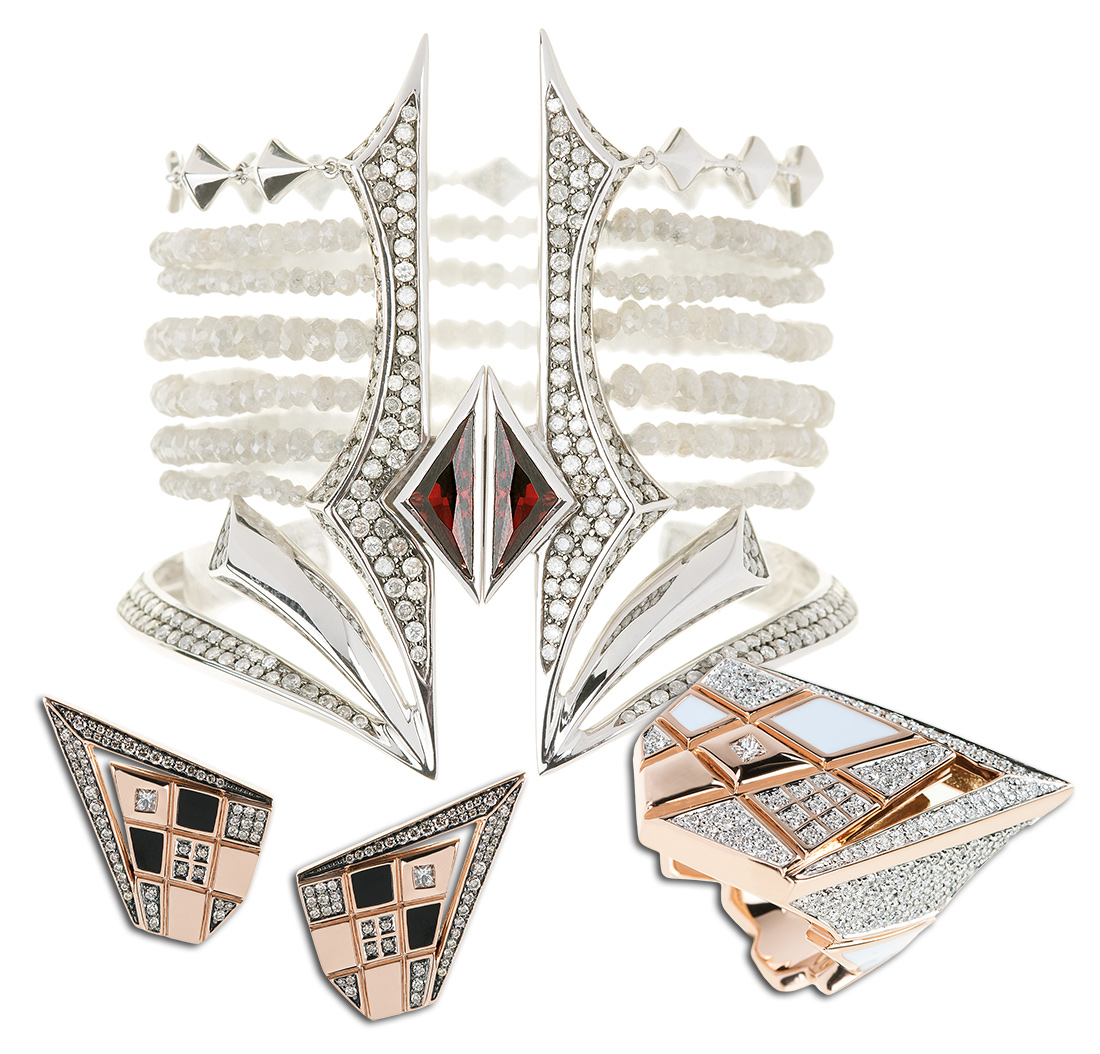 Photos of jewellery at Baselworld are taken by Saira MacLeod
Product shots are courtesy of Nikos Koulis