As expected, seven days passed too fast. Each of them flew by in a frenzy of darting from one meeting to another before finishing up with cocktails or dinner with brands, designers and other industry folk. From Thursday to Tuesday my life reached full boil and the last three days have thankfully been a little quieter.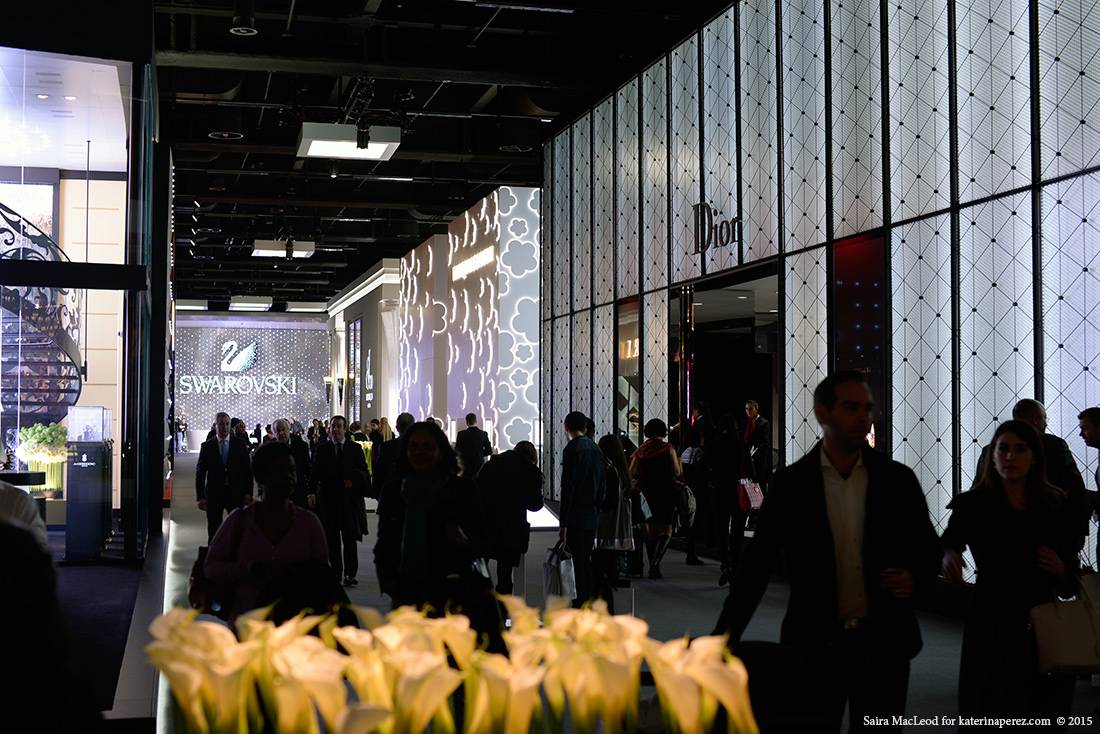 My meetings kicked off with the press preview day on 18th March, and between then and the 26th I checked out the collections of about 40 brands taking part in the show. I honestly have to admit that it felt like here was a degree of creative stagnation – there wasn't much in the way of new designs. Jewellers showed off work featuring animals, birds, butterflies and flowers just like they had done before. Sure, these sorts of pieces will always be popular, but, in my view, they are becoming a bit ubiquitous. As far as gemstones are concerned, it was all the usual big names: diamonds, sapphires, rubies and emeralds. This year, they were joined by Paraiba tourmalines, and I can't help but feel the supply of these somewhat exceeded the demand.
Sadly, this year, Buccellati, Joaillerie de la France brands, Shawish, Vertu and a few others did not feature in the show; instead there were a couple of impressive new players. The Hong Kong designer Karen Suen gave us some nice surprises with jewellery featuring rare precious stones; the Beijing brand Zhaoyi presented pieces with fine quality jadeite, and the Capri label Chantecler showed off their colourful summer masterpiece crafted from coral and turquoise. A New York – based designer Moritz Glik gave the European audience a taste of his conceptual jewellery featuring gemstones enclosed within a flat sapphire glass capsule and Maria Kondakova debuted with a unique jewellery line that features fluorescent diamonds.

In the first hall the salon of a Lebanese designer Christina Debs really stood out from the others – thanks to its bright yellow awning! In the second hall the window of the award-winning Italian brand Qayten caught my eye. They debuted with three main lines: baby akoya pearl jewellery, original diamond designs and jewellery made with rare type of wood. Another new kid on the block at Baselworld worth a mention is Kimberlite Diamond, listed in the top five jewellery brands in their native China.
A new discovery for me on top of individual debutantes was the area dedicated to showcasing the work of contemporary Greek designers. Some of them are already famous names in Europe, for example Ileana Makri and Venyx World, while others were undiscovered gems: Maximos Zachariadis, Yannis Sergakis Adornments, Theodoros, Christina Soubli, Aparte by Michael Pelamidis, Myrto Anastasopolou and Polina Sapouna Ellis. Brought together, these designers represent the broad range of artistic directions among Greek jewellers, from the minimalistic geometry of Polina Sapouna Ellis and the fine and delicate jewellery of Yannis Sergakis Adornments right the way through to the extravagant high art jewellery pieces from Theodoros.

As I have said, I am going to talk about the collections that really impressed me separately. I cannot wait to tell you about the underwater world of Palmiero, Stenzhorn's animals, Fabergé's flower garden, the tropical visions of the Jewellery Theatre, Nikos Koulis' art-deco, Sicis' micro mosaics, Autore's pearl designs, Pasquale Bruni's playful pieces and the sculptural pieces by Carrera Y Carrera.
As a real lover of precious stones I did of course spend day in the third hall, which was dedicated to uncut stones: diamonds, gems and pearls. If you are interested in jewellery made with truly spectacular stones – rare spinel, alexandrite, Paraiba tourmalines, Kashmir sapphires and Conch or Melo pearls – then you will be in your element if you check out what Bayco, IVY New York, Karen Suen and Busatti Milano have to offer.

I could not possibly finish without mentioning such talented designers as Glenn Spiro, Theodoros, Alessio Boschi and Arunashi. They created incredible, unique and utterly original unique jewels which you could not help but turn over and over in your hands as you admire them, without realising as you do that you are falling deeply and dangerously in love with each individual piece.
I am sure now you cannot wait to have a look through the photos featured below and I had better not keep you waiting. Just let me thank Saira MacLeod, who spent a couple of days with me at the exhibition taking photos for this virtual tour.