15 minutes. Glenn Spiro had just 15 minutes to spare for me two days after the opening of G London, his first sales boutique, in Harrods. After a drawn-out business meeting, Glenn had to hurry out for lunch with his daughter. Nevertheless, he squeezed in a chat with me about the philosophy of the brand and the place of G London amongst other jewellers. We also touched on Spiro's "appearance from behind the scenes" and the sale of his jewellery on the wider market.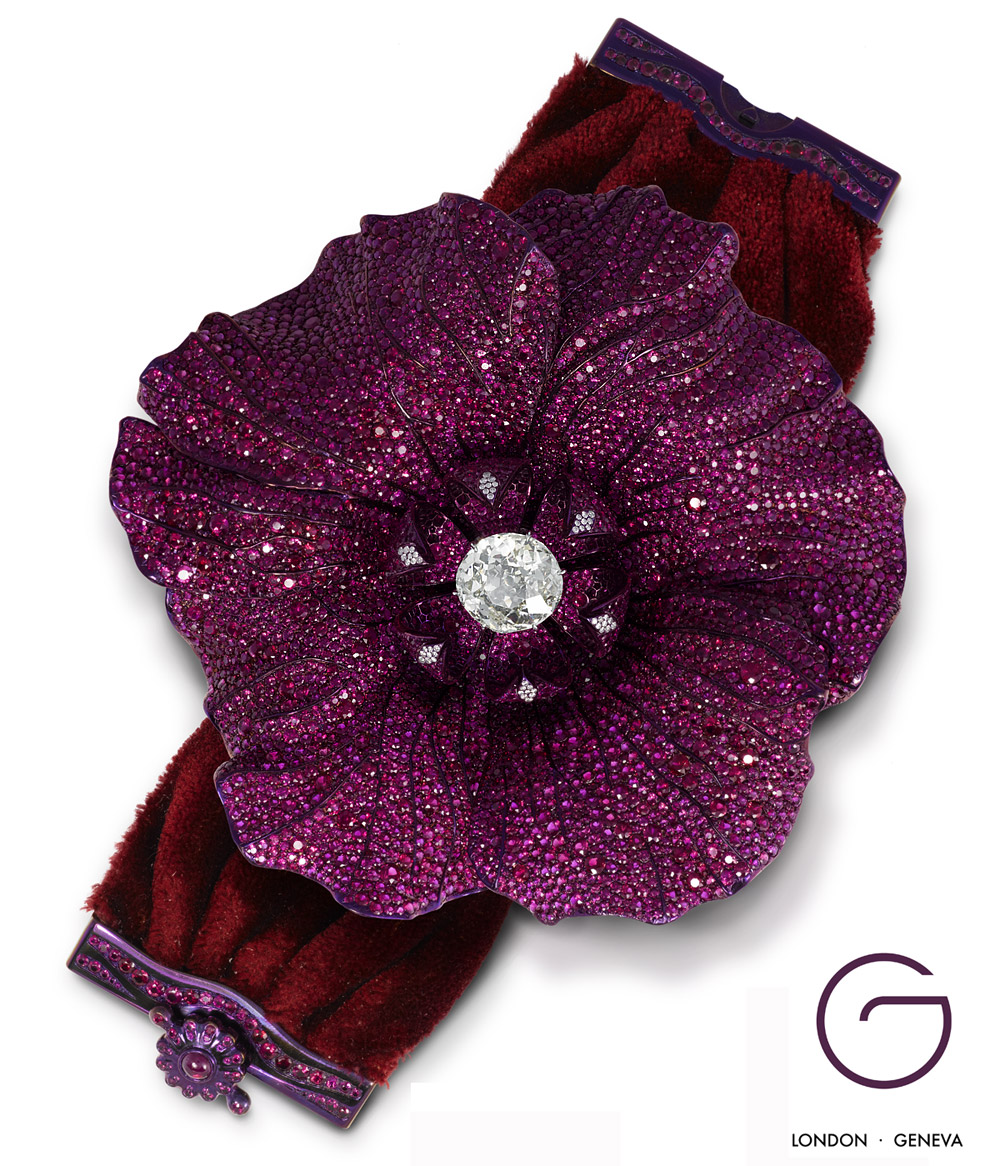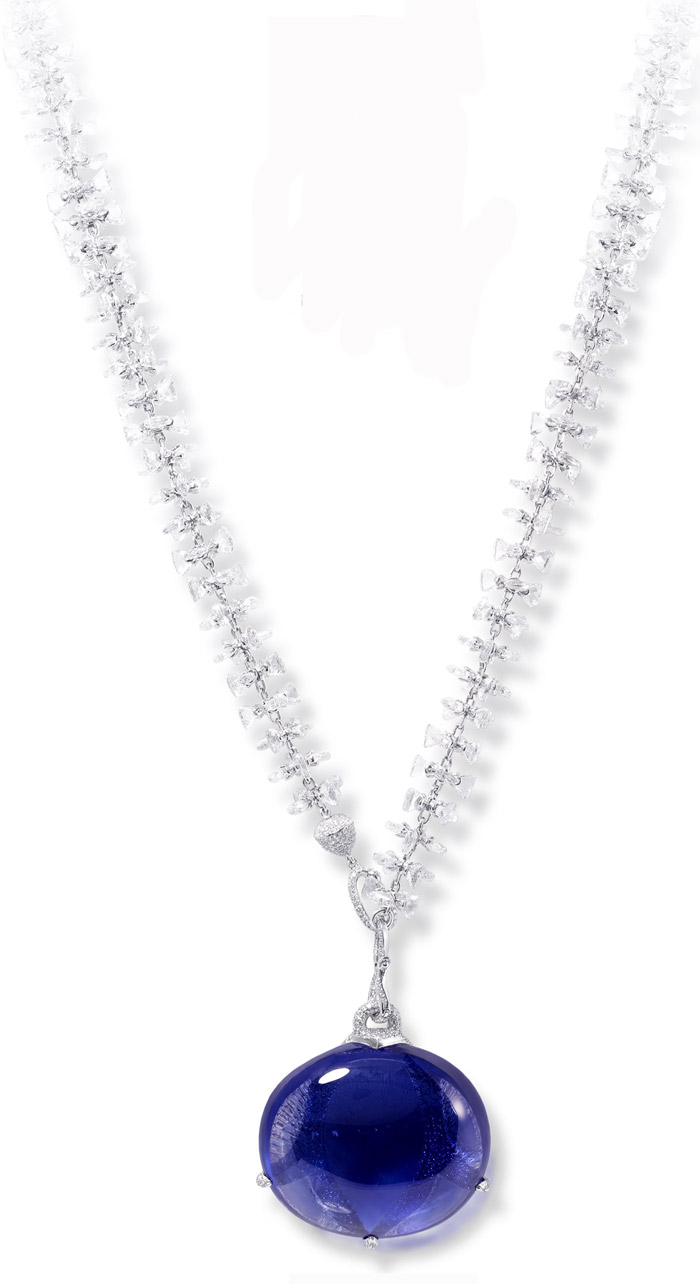 G London diamonds necklace with an important oval unheated sapphire of 180,49 cts from Burma
Dapper, affable and wonderfully well-mannered, but not afraid to exchange some strong words in the course of our discussion, Glenn was charismatic and of a predisposed nature. When he spoke enthusiastically about his passionate devotion to precious stones, it immediately became clear to me what moved him as a person. "I tell you from the bottom of my heart, gemstones are my passion. That is what I really care for. If I have no money but I see a beautiful stone, I have to find the money and buy it because I have an addiction".
It is clear that precious stones play a central role in every G London creation: Glenn Spiro simply has a good eye for the best of them. So what does he go by when he chooses them? I think by the internal voice that speaks to him: "It is the same as with clothes which you buy because you look at them and you like what you see. If I like a stone, it puts a silly smile on my face and it becomes obvious that I like it. It can be a stone for ten thousand or ten million, it can be a bag of old stones or a single rock".
Spiro explained that the purchase of an exotic gemstone is only "half the journey" to a great piece. "When I see a gem, I have no idea what jewellery I am going to make out of it – I'm not that clever! I'll buy a stone and then suddenly see something that inspires me; it can be anything from a woman's bag to an abstract shape. Then I get my team to prepare a drawing which turns into a wax moulding. We then play with the wax until we get what you see."
Until now, Glenn has worked for only a small group of private clients who understand jewellery and the value of his unique designs. "I work with a few private clients. But the best days are when I am with my friends and they buy something. I make a piece of jewellery for them from start to finish and then I get to witness them showing what I have made. How great is that?"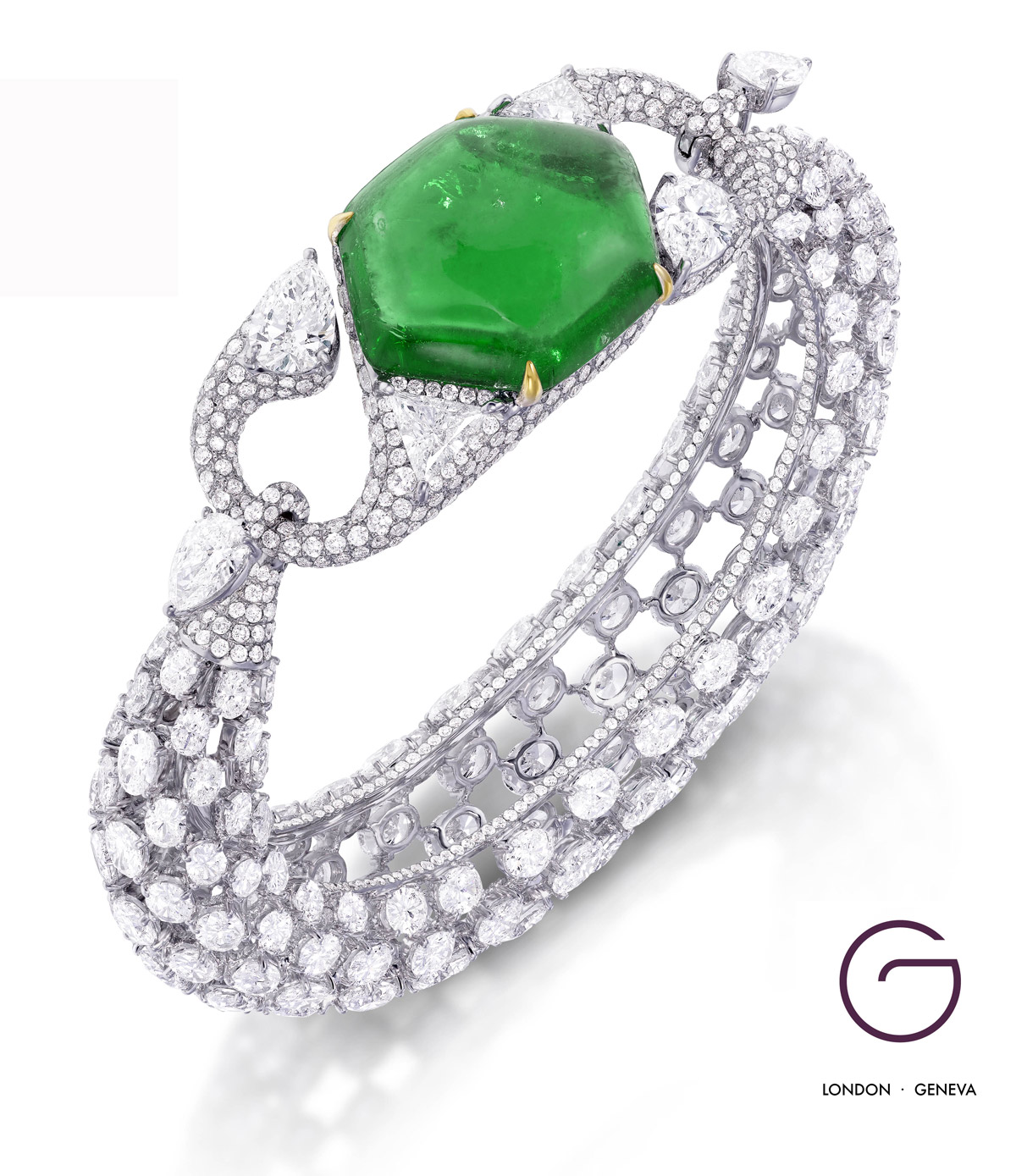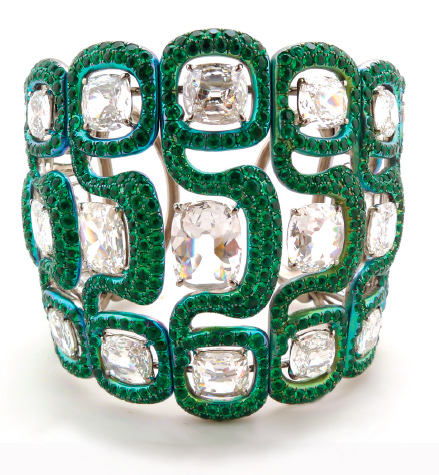 G London titanium cuff with 27 Cushion shape Old-cut diamonds with the total weight of 29.53cts and 1,151 brillant-cut emeralds with the total weight of 17.57cts
"I never do anything to sell my jewellery. It's just mine. If you want the best of the best and you want to deal with the proprietor, you can just call me and I can arrange for you to take a look at the stones. If you buy something special, you want to meet the person who makes it. That's what I offer."
But it is not only private clients who Spiro deals with, he is widely known as a jeweller's jeweller. He had made far from just one piece for the famous brands. So why did the jeweller decide, as he calls it, to "appear from behind the scenes"?
"We have worked with the people upstairs [I believe he is talking abut Harrods' personal shoppers] for many years indirectly and maybe now because it is a family business and a new generation is coming through, it could be our time. That said, I am not looking to build a brand. When the opportunity with Harrods came up, I was not sure if I wanted to open a shop. But Harrods is quite something! It's probably one of the top five most recognised labels in the world. What's most important is that it is a single brand and the one thing Harrods was missing was a real jeweller. I don't mean to be disrespectful; I am talking about a proprietary jeweller who, I believe, will always have the best couture goods in the world." KP