Is there a jewellery master that creates such precious pieces, you might ask? Yes, there is! His name is Alessio Boschi – an outstanding jewellery designer from Italy, who lives and works in Bangkok. His transformable creations do not cease to excite. At times, it almost feels like Alessio's creativity has no boundaries at all – and together with his innovative thinking, he is gifted with the ability to create strikingly eccentric and unforgettable jewels. In this interview, Alessio tells us how his passion for transformable jewellery started, who influenced his style of jewellery and the pieces he is most proud of.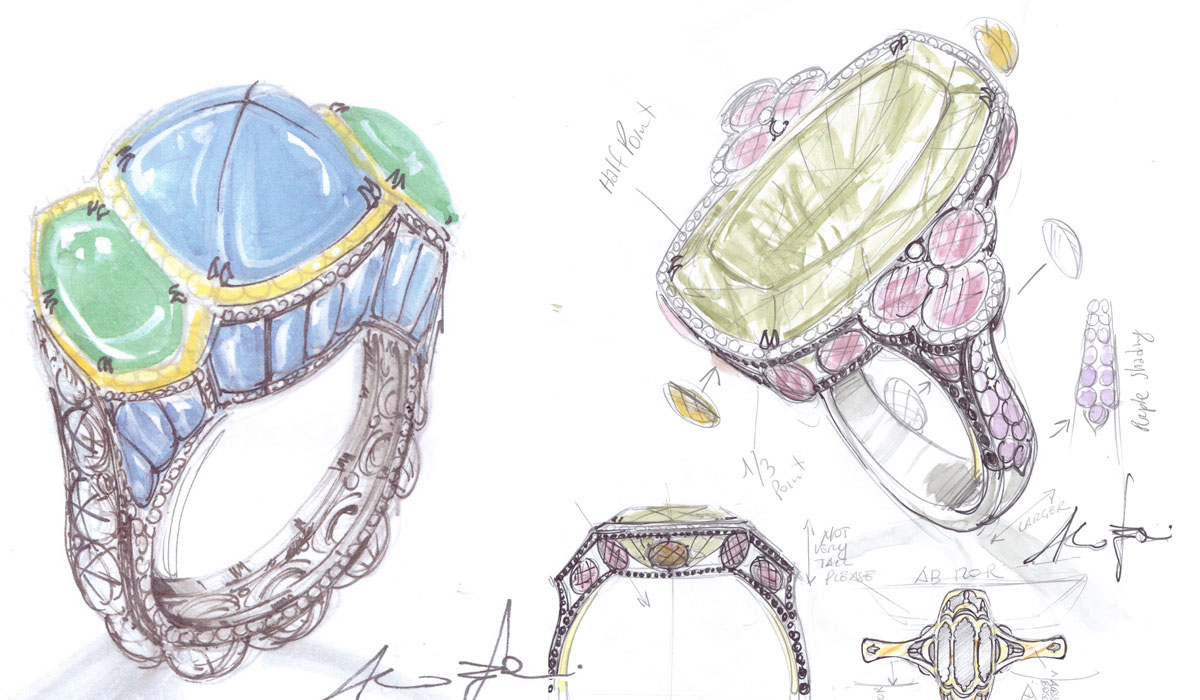 KP: Your jewellery is always striking and flamboyant. Does it reflect your personality?
AB: I am truly a Roman boy and it shines through my jewellery. Let me explain what I mean: Rome is a city of art and its style is determined mostly by the caprice and grandeur of the baroque period. During those 200 years, every building, every square and important road were "dressed" in colourful marble and amazing decorations. We love the drama and together, with the Greeks, we invented the tragedy, so it is difficult for us not to do something that would not suggest a dramatic impression. With this DNA in my veins how could I not make jewellery, which is bright and decorative?
KP: Transformable pieces are a big part of your collections. Do you remember what triggered your curiosity for this type of jewellery?
AB: When I was seven-years-old, my mother took me to Greece for the first time and I was amazed at the proportions and refinement of the treasures preserved in the National Museum of Athens. Around that time, the treasure of Vergina (the treasure of Philippos, father of Alexander the Great) had been just discovered and few items were displayed in those run down and dusty museum vitrines. I was just amazed by the masterpieces created over 2000 years ago. Later, I came across jewellery collection of the 17th and 18th century preserved in the Vatican and other museums or the Pitti Palace. I also studied some books that immortalised beautiful jewellery on their pages, among which were necklaces that could turn into corsets and vice-versa, detachable and transformable bracelets, brooches and tiaras.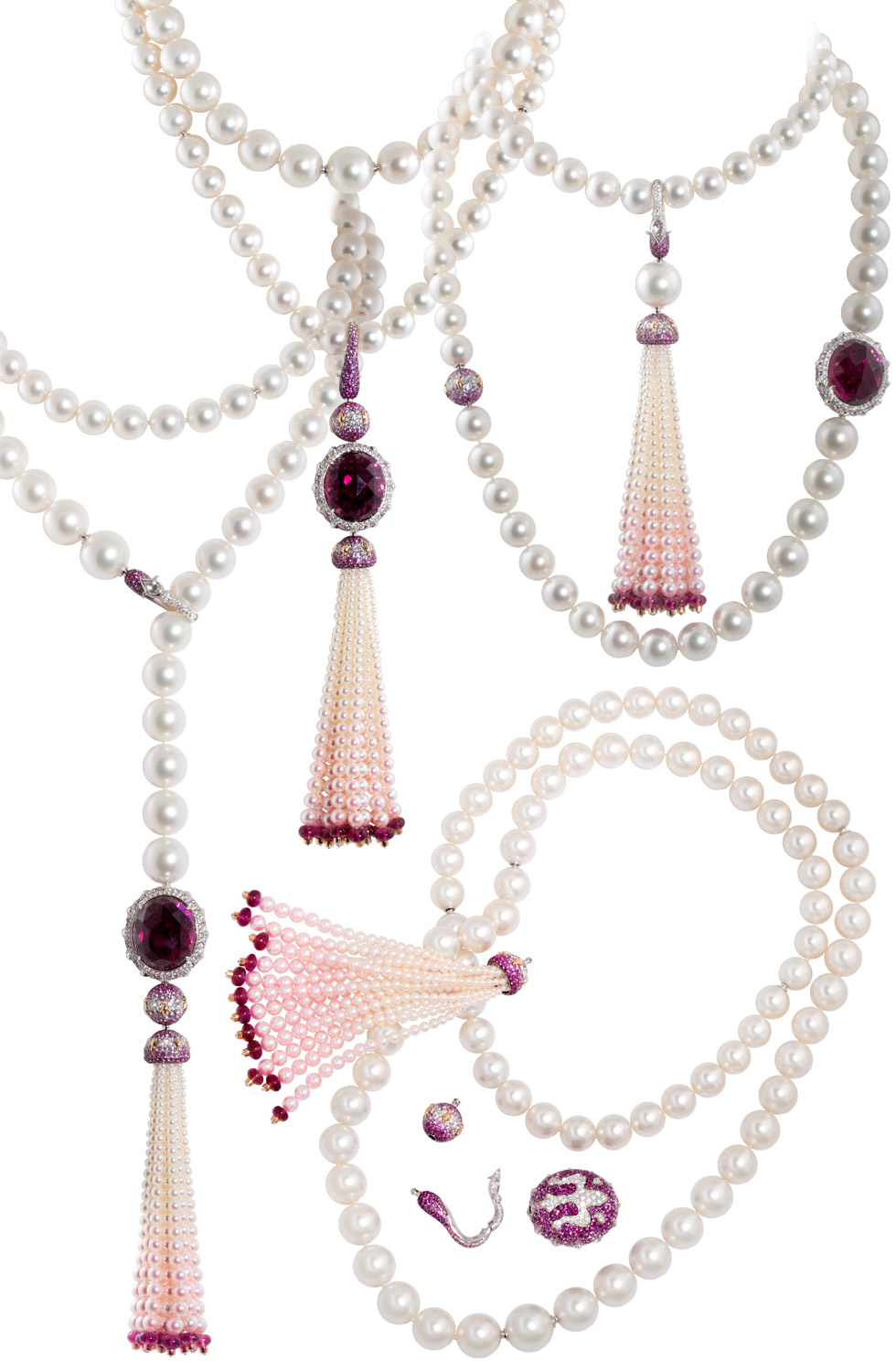 KP: How about modern jewellers? Surely they also influenced your jewellery style…
AB: Of course! I was fascinated with Art-Deco jewellery, like double clips that could be turned in a single geometrical brooch or two separate ones. Then there were incredible bracelets from renowned jewellery brands that already unveiled their secret watches in the 40s and 50s. I cannot forget the Pendules Mysterieuses by Cartier. For me, no one could compare with Carl Faberge. When I saw his creations, I realised I could embark on a very precious journey myself, infuse my baroque spirit of amusement into jewellery and make people enjoy discovering my creations.
KP: I remember you once said that the revolutionary jeweller JAR had a great impact on your work.
AB: Yes, he was the final drop of influence in my development process. When I bought the first edition of his book in 2006 and looked at his master creations, I realised that I could be daring too. Why not? So, I started working with more and more masterful craftsmen, artisans, amazing maestro goldsmiths and capable technicians who wanted to join me on my precious journey.
KP: The fact that jewellery that changes its look is much more complicated to design and create does not stop you. What's your motivation?
AB: My creations are designed to amaze and amuse more than one person and on more than just one occasion. What motivates me is challenging myself to do more and better than before. I don't do only transformable pieces as they take a lot of time, human and economical resources, but even in case of my more 'simple' creations, the element of surprise is always there should it be a different type of setting or an interesting story behind it.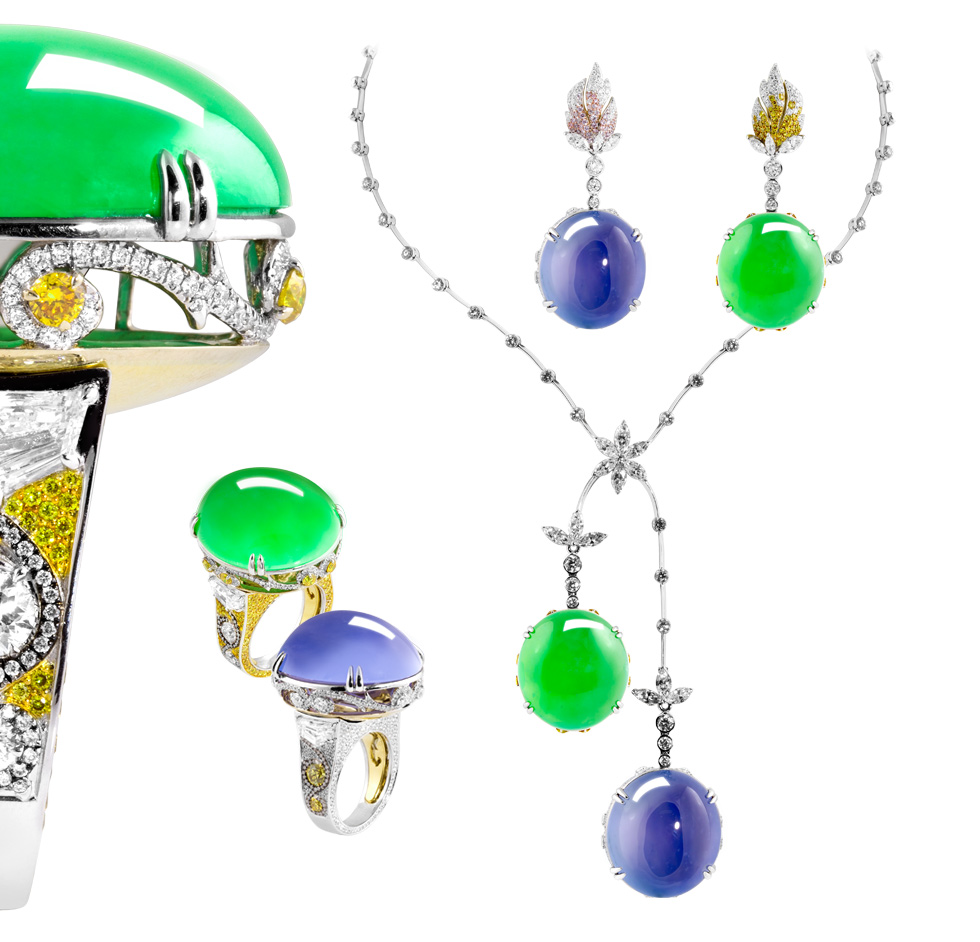 KP: Which ones of your 'babies,' as you call them, are you particularly proud of?
AB: There are at least four or five of them – the Alhambra ring that captures the spirit of the Topkapi and inspired by Granada, the Paradise on Earth. The jewel has hidden secrets in its opening doors or below the blue Abalone pearl. There is a Medici ring that has a little chamber hiding a micro-diamond bracelet below a beautiful tanzanite cabochon – it was created as homage to De Medici family, who allowed Italian Renaissance to develop fast in Florence. My true passion apart from rings is creating as many combinations as possible with long strands of South Sea pearls; it started when I was living in Australia working for a renown pearl company.
KP: What do you consider the pinnacle of your creations so far?
AB: It is the most exclusive and costly transformable piece that I have ever created – the Imperial Jade set. This amazing 'family' includes interchangeable earrings, necklace, pendants and rings with the most appreciated colour imperial emerald-green and lavender jades, both of large size and sought-after Burmese quality. My client, Mrs Zhang, provided such incredible gemstones and the project took over four months to complete. After all the time and efforts put into it, the creation achieved a great sale price at a Jadeite Auction in Hong Kong in December 2015 with the price exceeding 3.33 million dollars.
KP: Last year, you presented a very sophisticated Wisteria necklace at Basel that could be taken apart into a short necklace, a brooch and a bracelet. Are you preparing something special for this year's exhibition?
AB: Of course, you will see a very special collection inspired by the Fountain of Rome and another one by the Baroque gilded mirrors and galleries of the Russian and French palaces. There will also be a unique piece inspired by the Cider of Lebanon and an incredible parure. I can say no more for now. You will have to come and discover them for yourself.