A source of inspiration for the masters of Boucheron since 1875, the pansy is a symbol of tenderness, affection and fond memories; give someone a pansy and you are effectively saying "I am thinking of you". This delicate little flower has featured in their 1878, 1904, 1912 and 1952 collections, rendered in gold and decorated in some cases with diamonds and sometimes enamel. To continue the tradition, Boucheron's designers have adopted the flower theme once again in their Pensée de Diamants collection, featuring rings, stud earrings, necklaces, pendants and a watch all smothered in diamonds, delicate, beautiful and sophisticated.
Of course the great Mademoiselle had a favourite flower! And of course she dedicated a collection to it! The Camélia collection, in fact: a glorious, uniquely feminine and elegantly simple set of rings, earrings, necklace and bracelet decorated with camellia flowers of all shapes and sizes. Gabrielle was struck by the flower's perfect roundness and evenly distributed petals, describing it as the absolute embodiment of beauty. The jewellery uses different combinations of black onyx, white agate, gold and diamonds, which may not sound like the brightest stones, but they are by no means restrained either. The camellia was once upon a time seen as the flower worn by the courtesans, actresses and ladies of the night who played their part in the court life of French emperor Napoleon III. I'm sure the revolutionary Mademoiselle would have known about that…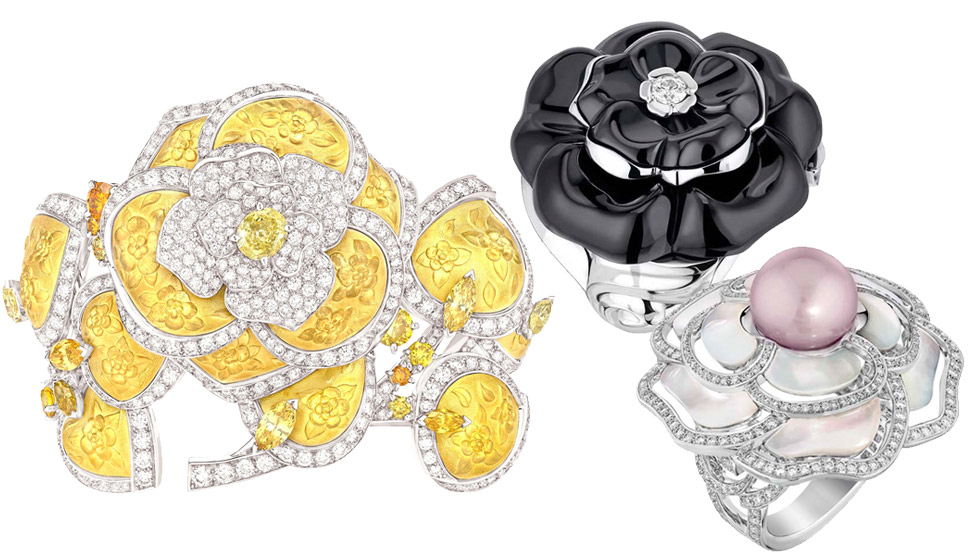 Jewellery house Chaumet already has 235 years to its name, in which time its craftsmen have released a substantial amount of jewellery on the theme of flowers. However, it was not until 2013 that they dedicated an entire collection, Hortensia, to this particular motif.
The focus of the collection, the Hortensia flower, is named after the daughter of Napoleon's wife Josephine, Hortense de Beauharnais, who, like her mother, was a muse and chief patron of Chaumet. The collection features 24 high art jewels split into three separate ensembles representing the three stages of Hortense de Beauharnais's life: pink, for her prime, deep red for her passion and light blue for the emotions she was forced to keep secret.
You can find whole gardens and bouquets of roses in the boutiques of Dior, and they have dedicated a number of collections in tribute to Christian Dior's favourite flower. The delicate fragrance of a morning rose always turns heads, sometimes even more than an elite rose (a woman wearing a haute couture dress at a ball) could!
The Rose Dior Pré Catelan collection's name is a reference to a type of rose in one of Paris' botanical gardens, as is the Rose Dior Bagatelle, named after a rose garden, while the Le Bal des Roses collection comprises 12 marvellous rose shaped jewels, each of which is just like a beautiful woman: individual and unique.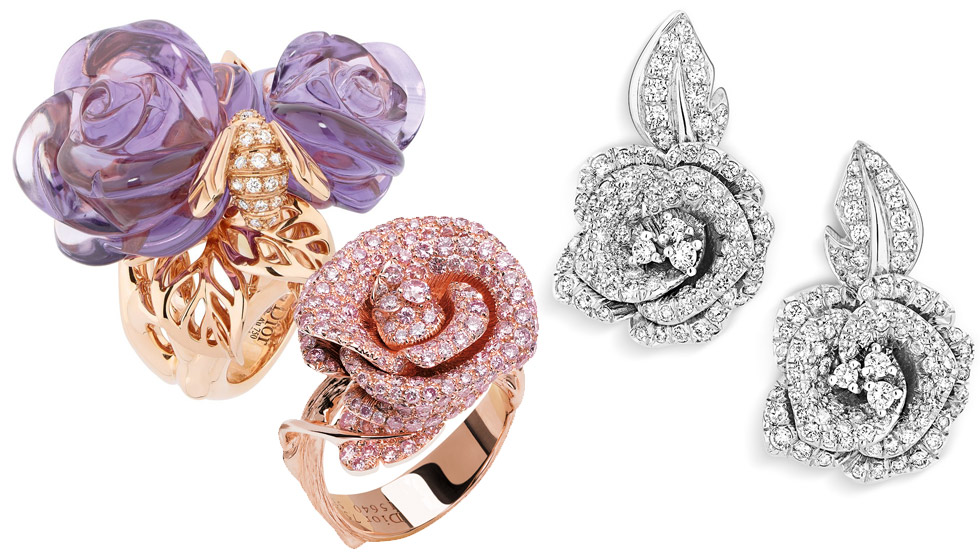 The first Van Cleef & Arpels boutique appeared in 1896, brought to us by Alfred Van Cleef and the Arpels brothers, Charles and Julian. The story of their jewellery house is one of love; it owes its existence to Alfred's marriage to the Arpels' sister, which was what first brought them all together. The unique charm of nature has always been the primary source of inspiration for Van Cleef & Arpels, and in 1968 they released their first jewellery featuring the Alhambra clover motif. The four-leafed clover is both a symbol of good fortune and a perfect example of nature's artistry, making it an ideal embodiment of the jewellery house's philosophy. The clover has lived on in Van Cleef & Arpel's collections for many years, brought to life in gold, gemstones and mother-of-pearl across all manner of necklaces, bracelets, rings and earrings.
The story of the rose's relationship with this jewellery house started in 1979 when Yves Piaget had the honour of creating an 18 karat gold rose to be awarded as the prize to the winners of a competition in Geneva to breed a new type of rose. Then in 2012 they released an entire collection of jewellery roses, Piaget Rose. Two years later Piaget launched a hight jewellery collection Rose Passion dedicated to the majestic flower in all its splendour. It featured 75 different jewels (rings, earrings, necklaces, brooches and crests) and 25 watches. Sapphires, coloured tourmalines, lush emeralds, dark topazes, rubellite, pink opal, green jadeite and chrysoprase were all used to recreate the roses.
So, as you can see, plenty of jewellery houses want to emulate and develop the power of nature in their jewellery designs, each of them in their own unique and brilliant way.