Rather than creeping up on us slowly, opals have announced their re-emergence into high jewellery with a fantastical show of colour and creativity. In the last two years, they've been the mainstay of collections and the centrepieces of hero designs that are confidently splashed across press materials. Of course, such a spectacular return to the high jewellery arena has sparked my curiosity. Why now? What shift in design-thinking has encouraged brands like David Morris, Dior, Boucheron, Feng J and others to place opals alongside their sapphires, rubies and emeralds, and, in some cases, chose opals instead of these prestige coloured gems?
As we all know, the process of creating high jewellery can take months, if not years, so we can be assured that the decision to use opals in such abundance was not made recently. However, we first began to see the return of opals in 2020, notably with Dior's Dior et Moi collection by Victoire de Castellane, who appeared to relish in every flashy oval-shaped black and white opal for two finger rings, secret watches and asymmetric drop earrings. Just a handful of months later, the Perspectives de Chaumet High Jewellery collection included the Lux offering of jewels and watches set with opals, alongside tsavorites, sapphires, lapis lazuli, coral, aquamarines and spinels.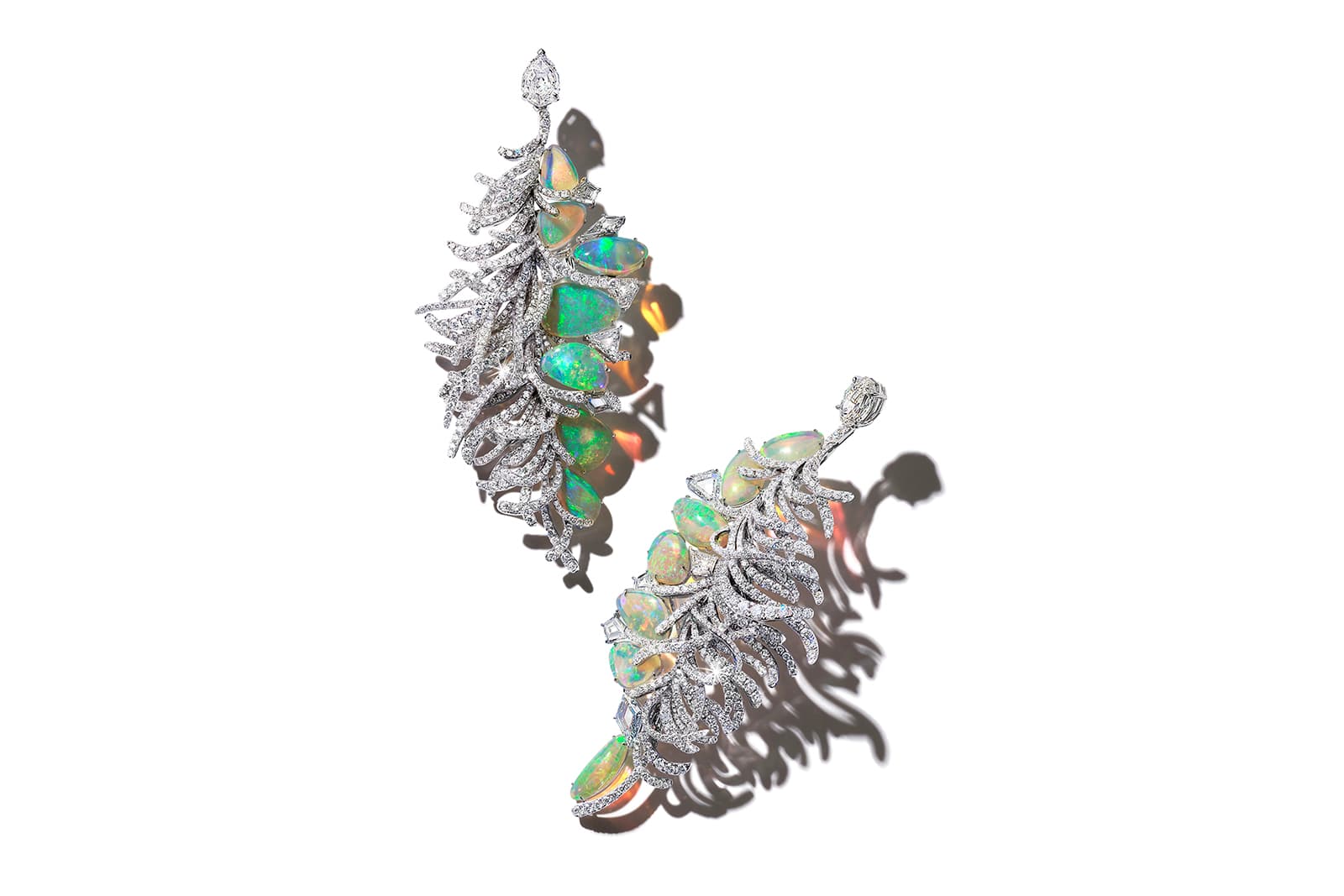 In 2021, the use of opals has reached fever pitch in a way that means they're impossible to ignore. Mikimoto, for example, presented an opal, tourmaline and Akoya cultured pearl necklace as part of its 'The Japanese Sense of Beauty' High Jewellery Collection, while Feng J turned heads with her 'Flying Leaf' earrings, set with irregular shaped opals and diamonds. Louis Vuitton presented a bib necklace with black opals, tsavorites, tanzanites and diamonds as a part of its Bravery collection commemorating 100 years since Mr. Louis Vuitton's birth. As one might expect, Dior also stuck with opals for its Dior Rose High Jewellery offering, which includes the Rose Futuriste suite with black opals, diamonds, coloured gemstones and lacquer.
"I want an opal's colour to grab my attention the first time I set eyes upon it. The iridescence of an opal is captivating as it offers a rainbow of ever-changing colour with a varying depth in colour and form. This is what makes an opal such an incredibly interesting gem to work with," explains Jeremy Morris of British brand, David Morris. The Renaissance High Jewellery collection, for example, contains the Aura ring with a 10 carat Australian black opal, surrounded by three carats each of lapis lazuli and round and triangle cut diamonds. More recently, the Dimensions High Jewellery collection also contains opals, specifically a 10 carat oval-shaped black opal cocktail ring in an intricate and elevated Paraiba tourmaline setting. During my conversation with Jeremy Morris, it was made clear to me that opals are attractive not only for their play of colour, but also their exuberance and perceived youthfulness. Many contemporary high jewellery customers are too young to remember the old myth that opals are 'bad luck' and so they look upon the stone with a refreshed awe and wonder. After all, it is amazing how something with blue, green, red, orange, yellow and violet flashes can be wholly natural!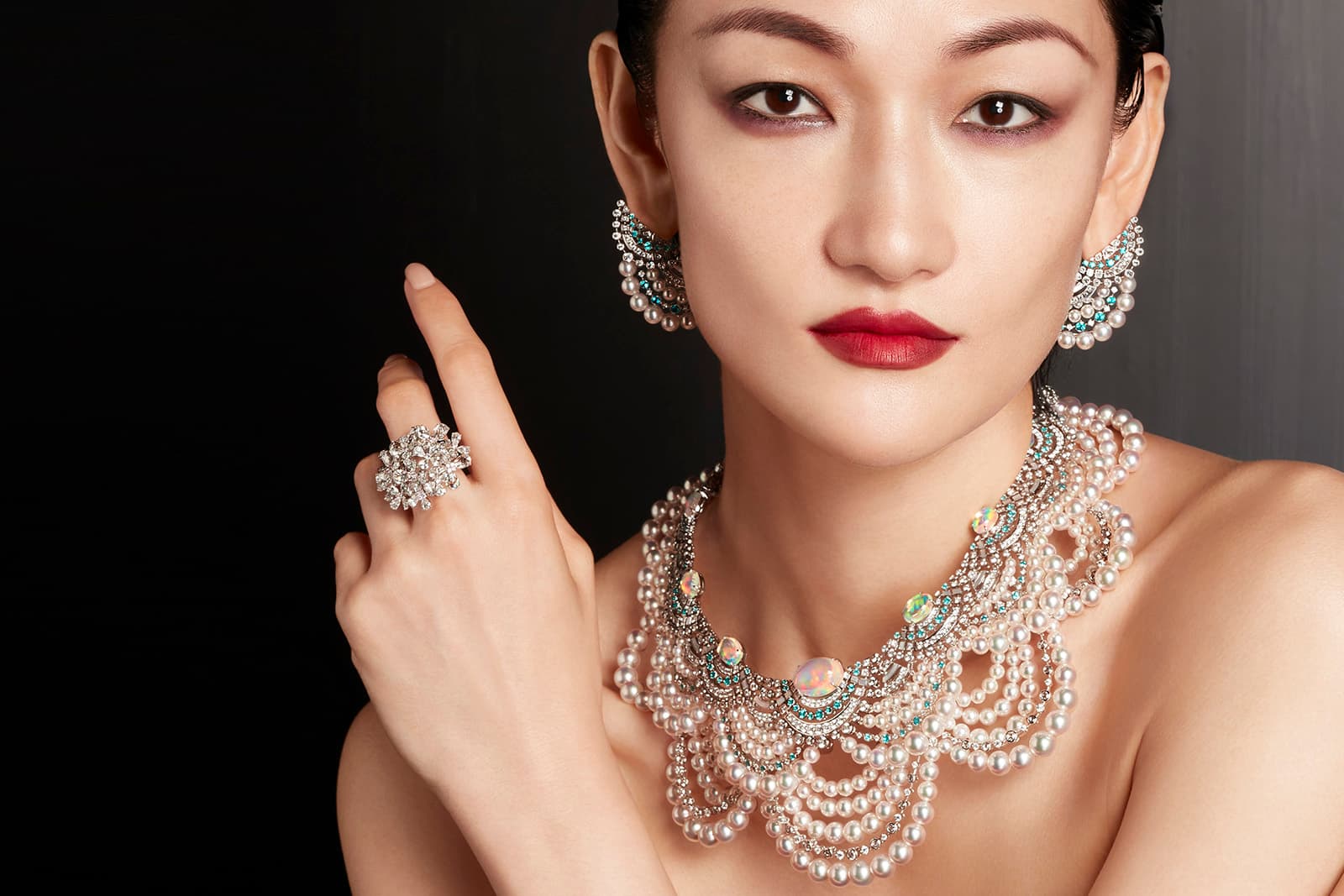 The playfulness of opals was certainly embraced by Chopard in its latest Red Carpet Collection, which was unveiled at this year's Cannes Film Festival. There's a ring in 18k white gold and titanium set with a 26.43 carat black opal cabochon; a cuff bracelet with 13.60 carats of opals, set in an array of tsavorites, sapphires, tourmalines and tanzanites, among many other gems; and a necklace with 22 opal beads of 406.10 carats alongside multi-coloured sapphires and diamonds. Perhaps the most striking piece, however, is a further necklace centred on a 23.76 black opal, surrounded by topaz, tourmalines, sapphires, tsavorites and diamonds, on a 603-carat necklace of emerald beads.
Another factor that has no doubt catapulted opal is its versatility… black opal can be futuristic and evocative of the night sky; white opal is clean, bright and provides a subtle sheen, while some sliced boulder and matrix opal can look like seabeds or oceanic scenes. Boghossian's new Coral Reef 'Kissing' collection pays tribute to the creatures that thrive on the seabed with a hero necklace comprised of diamonds and sapphires inlaid into sliced opal and decorated with Paraiba tourmaline, aquamarine beads and turquoise, set in 18k white gold. Opal appears in numerous other stars of the collection, including a pendant with a 3.10 carat fancy yellow diamond set over a pear-shaped green opal and the 'Kissing' Hexagonal bracelet with boulder opal inlaid with a fancy-cut diamond, bordered by blue sapphires and set on an intricate mesh of diamonds.
If we consider Van Cleef & Arpels, opals have served to tell the maison's story of space exploration and travel this year with the Sous Les Etoiles High Jewellery collection. Creative Director and Vice President, Nicolas Bos, tells me: "Opals have a very singular aesthetic with its multi-coloured fires and its light effects. It will therefore depend on the design of the piece, the emotion we want to instill from it whether we choose an opal or another gem. Opals are great for pieces with a sense of mystery."
What's notable about this recent opal revival is that gems are typically used as centrepieces, not simply extra adornment. The latest Boucheron Holographique High Jewellery collection contains the Opalescence set, with an extraordinary beaded multi-wear necklace with a 71.69 carat white opal cabochon from Ethiopia, an additional 46.91 carat pear-shaped opal and a plique-à-jour fish with fins of powdered opal. This main element, which can be worn alone as a brooch, is set on opal beaded strands with a total weight of 1,518.78 carats. Elsewhere, the Illusion trio of cocktail rings contains three gems of 50.95, 30.98 and 10.38 carats from Australia and Ethiopia. One is pearly white, one pear-cut and rose coloured, and the third possesses blue-green shades on deep inky black.
For some brands like Piaget, opals have been used alongside ornamental hard stones (jade, coral, Lapis Lazuli, malachite, turquoise, onyx and aventurine) since the 1960s. Opals have never not been beautiful, they've simply made a leap from fine jewellery to high jewellery, like rising through the ranks of a difficult and competitive profession! Yves Piaget once said: "There is a stone that captures the richness of Planet Earth to perfection and that stone is opal. Its variable chemical and physical properties play of each other, different but entirely complementary, bound by the same cement. For me, the world according to Piaget is like an opal – made of people with different tastes and feelings."
Opals established their place in the lexicon of high jewellery with such aplomb in the last two years, it's hard to remember a time when they weren't there, in full force, dancing with colours and playing with shape, dimension and light. Long may the opal reign continue.