Trying to host an elaborate and ostentatious Hollywood award ceremony during a pandemic was never going to be easy. And while this year's 93rd Academy Awards were a muted affair, clearly no one gave that message to the fine jewellery houses who adorned the red carpet attendees. This year's Oscars jewellery was predominantly focused on diamonds, with some fancy-coloured stones in significant sizes. There were some exceptions, however, like Reese Witherspoon, who wore Bulgari High Jewellery with 11.74 carats of rubies, 25.2 carats of diamonds, onyx and pearls, as well as a one-of-a-kind Barocko High Jewellery bracelet. Reese wore two quite spectacular rings – the Magnifica High Jewellery ring with a 10.15 octagonal-cut ruby on one hand, and a ring with a 5.38 carat marquise-cut diamond on the other.
Bulgari wasn't content to dress just one starlet, in fact, the brand loaned jewels to Zendaya, Isla Fisher and Italian songwriter, Laura Pausini. Of note are Isla Fisher's Bulgari High Jewellery Giardini necklace with emeralds and diamonds, and Laura Pausini's earrings with more than 30 carats of octagonal-cut Colombian emeralds. Elsewhere, Zendaya gave us a sneak peek of the upcoming Bulgari Magnifica High Jewellery Collection – launching in the summer of 2021 – with a necklace featuring a 6-carat cushion-cut fancy vivid yellow diamond and colourless diamonds with a combined carat weight of more than 135 carats. She completed her bright yellow ensemble with a 21.14 carat fancy intense yellow diamond ring and a pair of pear-shaped fancy intense yellow diamond earrings with a total weight of approximately 13 carats.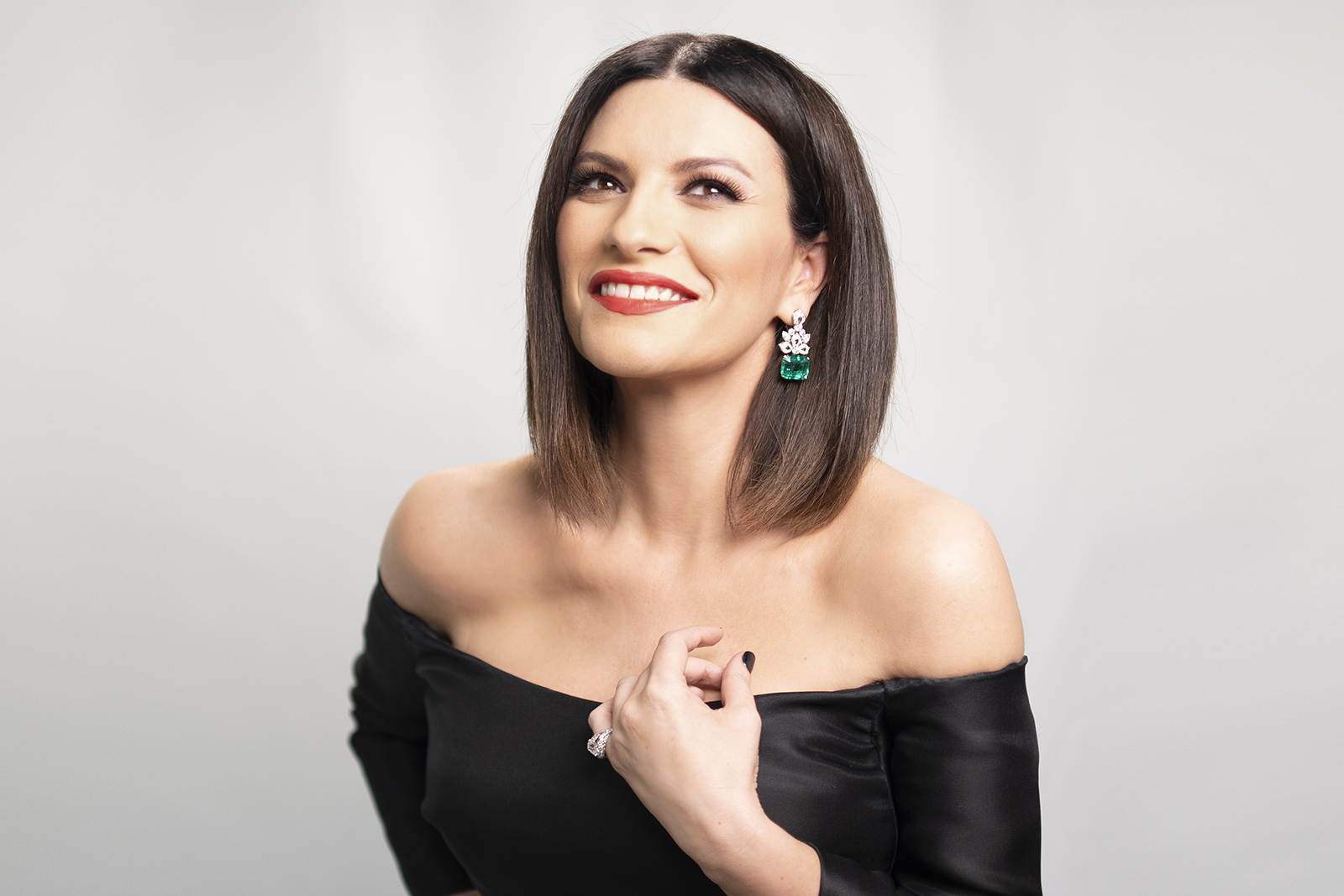 Another big high jewellery maison on the red carpet was Chopard, who dressed Olivia Colman, H.E.R., Angela Bassett and Best Supporting Actress winner, Yuh-Jung Youn, who sparkled in earrings with 5.11 carats of diamonds. Yuh-Jung also wore a Chopard ring with a 21.15 carat oval-shaped sapphire and a bracelet with 50.8 carats of diamonds, all set in white gold. Both Angela Bassett and H.E.R. chose some lovely pops of colour from Chopard, notably a pair of earrings with 28.19 carats of rubies and a ring with a 14.62 carat oval-shaped pink tourmaline worn by Angela, and a ring with a 12.64 carat cushion-shaped purple spinel worn by the Best Original Song winner.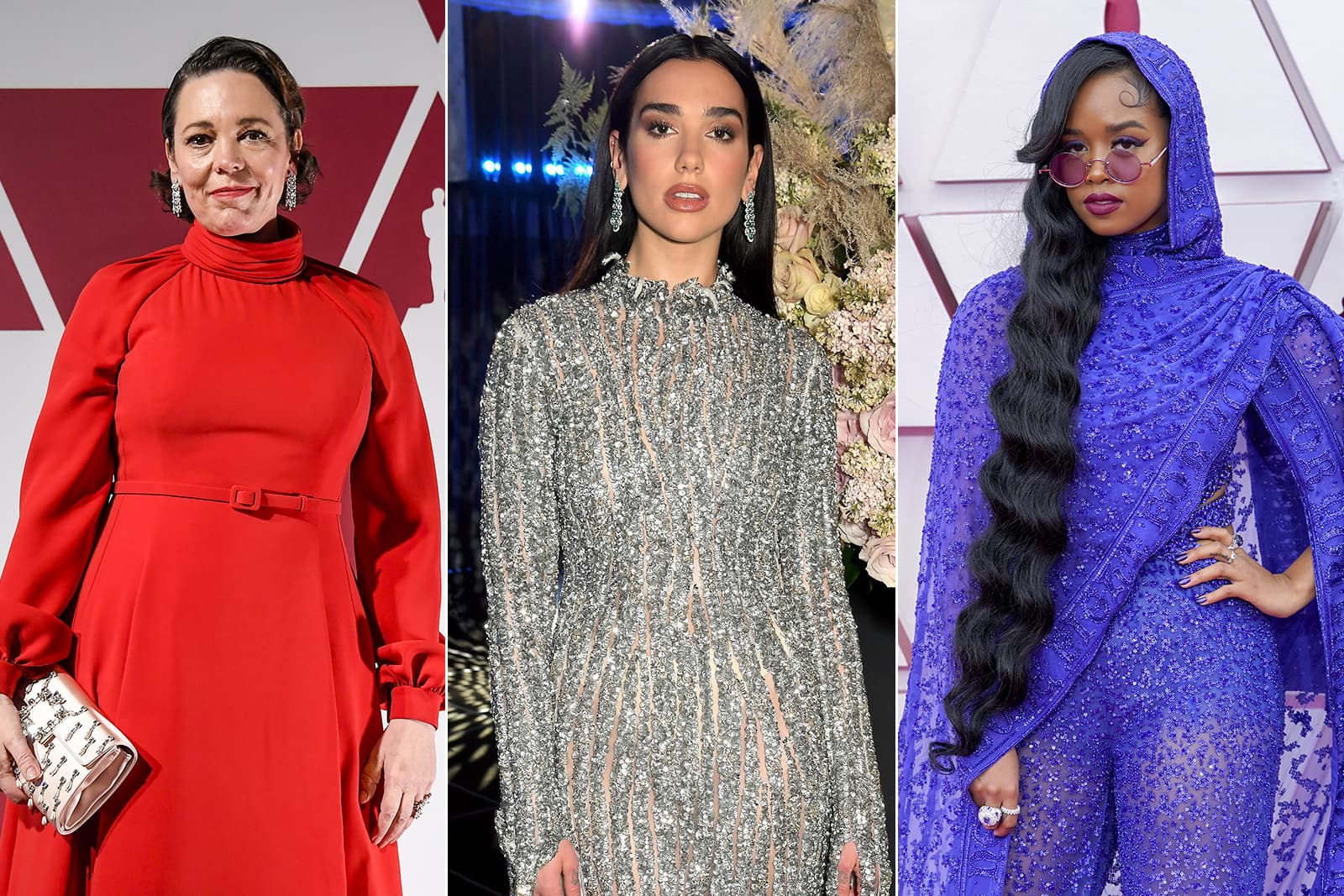 Staying on the theme of colour, let's turn our attention to Emerald Fennell, the winner of the Best Original Screenplay award, who wore designs by her father, Theo Fennell, for the occasion. She paired a ring with a 13.97 carat purple tourmaline and 2.61 carats of diamond pavé with the Chrysanthemum drop earrings featuring 29.99 carats of morganite. Aside from these examples of coloured gems, wherever else a splash of pink, yellow or even brown appeared on the Oscars red carpet this year, it was almost exclusively a diamond.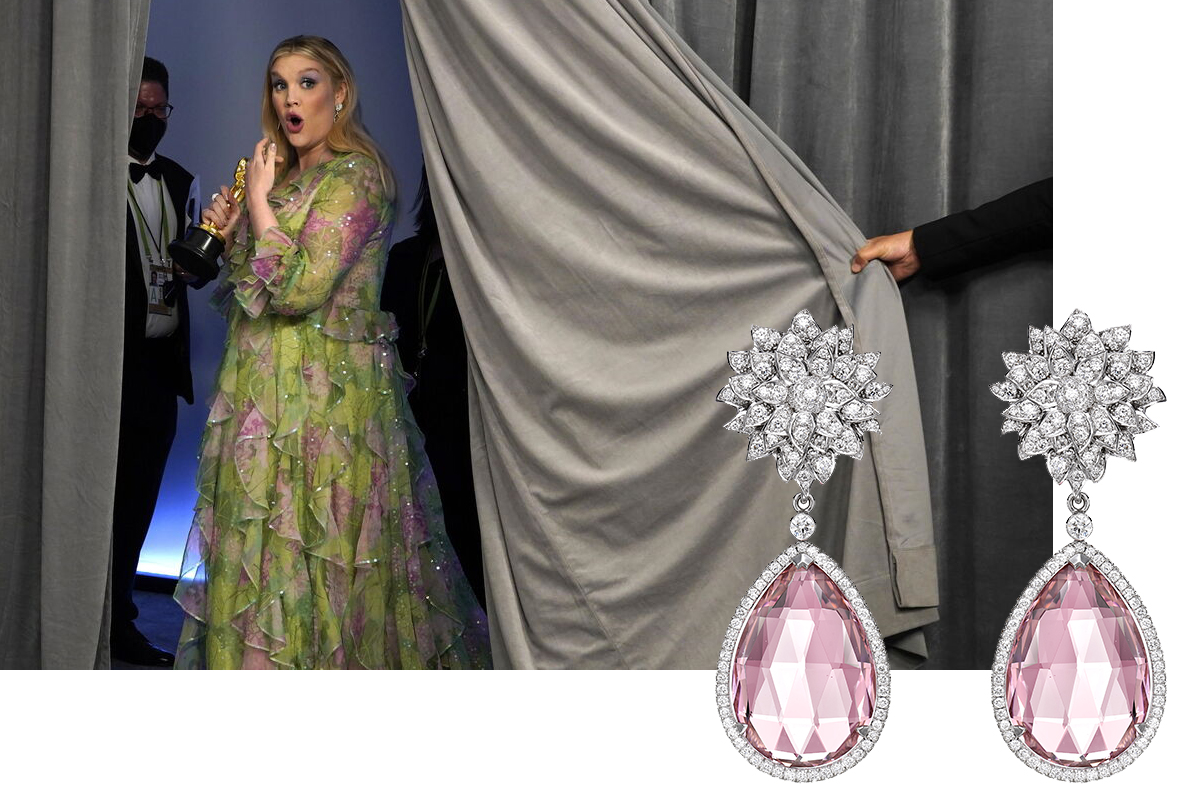 Forevermark, for example, dressed award nominees Viola Davis and Amanda Seyfried, the former wearing 15 carats of diamonds in stackable bangles and a further 7 carats of colourless stones in a pair of Forevermark by Rahaminov drop earrings and a ring. One might presume that the combination of a cherry red dress and yellow diamonds would clash, and yet Amanda Seyfried looked sublime in a Forevermark Exceptional Radiant vivid yellow diamond ring of 5.03 carats and a pair of Forevermark by Premier Gem yellow diamond drop earrings with a total weight of 10.45 carats.
Presenter, actor and director Regina King, who had the daunting task of giving this year's opening monologue, also wore Forevermark, specifically a pair of Forevermark by Rahaminov 36.10 carat asscher-cut diamond drop earrings and a cluster bracelet from the same collection. Her Louis Vuitton dress was hand-sewn with 62,000 sequins and 3,900 crystals, requiring 140 hours of work, so (perhaps in a moment of 'more is more') Regina wore an additional 12 carats of diamonds set in stud earrings and a quartet of rings!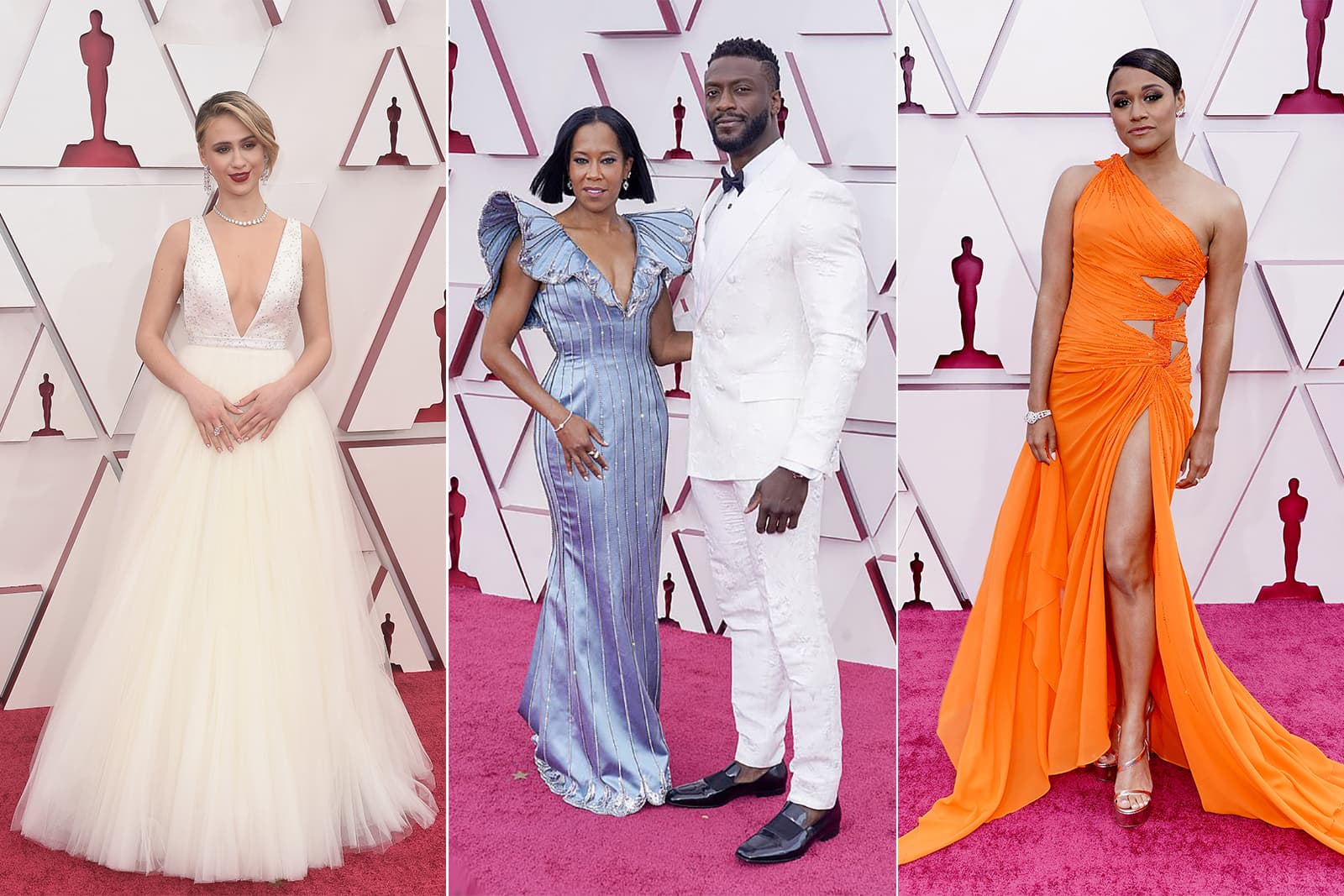 Harry Winston dressed actress Ariana Debose with a suite of diamonds, including a Secret Wonder diamond bracelet with 26.87 carats, and Sparkling Cluster earrings and a ring with a combined carat weight of nearly 7 carats. Moussaieff High Jewellery also had its moment in the spotlight with Bulgarian actress and Academy Award nominee, Maria Bakalova, who wore a classic diamond necklace of 75.84 carats; a pair of earrings with 4.24 carats of fancy pink diamonds and 31.24 carats of white diamonds; and a ring with an 8.22 carat, D-colour internally flawless centre stone.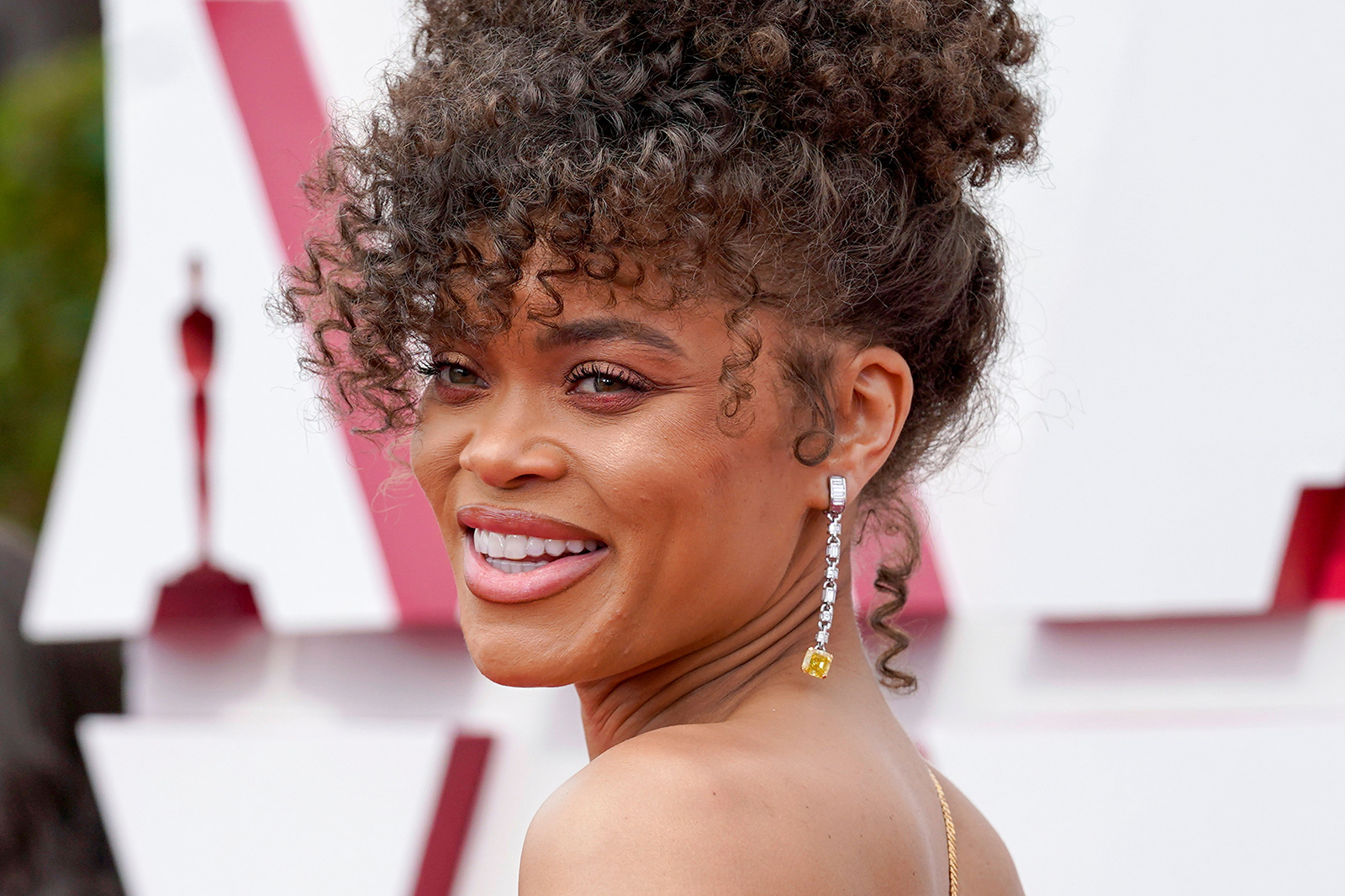 If you're not feeling dizzy from all these carat weights, there are a few more highlights I would like to share with you reader. Firstly, there's the inimitable Laura Dern, who looked sensational in an ostrich feather Oscar de la Renta gown and Pomellato Sabbia jewels, including a bracelet, ring and drop earrings set with brown, black and white diamonds. And last, but certainly not least, there was Tiffany & Co., who added a palette of sparkle to Best Actress nominee Andra Day's golden Vera Wang look. Starting from the top, Andra wore a pair of earrings with two square emerald-cut fancy vivid yellow diamonds, totalling over 12 carats, a Tiffany & Co. Schlumberger Cooper bracelet with over 465 diamonds and a selection of rings, including one with a green tsavorite centre.
Although coloured gemstones made a valiant effort to reclaim the spotlight this year, it was diamonds who stole the limelight for the second Oscars in a row. Perhaps when the world finds its footing again and the first pandemic-free ceremony takes place in 2022, the jubilant atmosphere will turn all the attention to colour… I can't wait to find out.