Why was this period chosen to be embodied in these precious masterpieces? With a name that translates as "bizarre", the new Baroque era was born in the late 16th - early 17th centuries, extending through the entire 18th century. It was characterised by pomp and ceremony, sensuality and changeability, versatility and complexity, as well as luxury that bordered on excess. The Baroque period favoured faceted precious stones instead of enamel and the division of jewellery into daytime and evening jewellery, as well as a complete change of style: previously popular pendants were replaced with secret signet rings, chandelier earrings and tiered bracelets. The extensive, exclusive Barocko collection brings together 50 fantastic jewels, each inspired by a corner of Rome. According to Lucia Silvestri, all the pieces worked out "very feminine, very Baroque, but also very contemporary because of the colour".
"There is a way to celebrate Baroque art the Bvlgari way, which is different and very contemporary. Baroque is in our DNA, but we gave it a modern twist, so our jewellery is both current and Baroque at once," says the Creative Director.

It is difficult to narrow down the most outstanding piece in the collection because each surpasses the next, so instead I've chosen to explore the jewels by looking at the most incredible gems in each line. There are there of them, incidentally: Colore, which explores dramatic depths of colour; Meraviglia, which features curved lines inspired by marble drapery; and Luce, which is distinguished by its unusual lighting effects.
Colore.
The collection's most Baroque necklace is perhaps Lady Arabesque, which embodies the true aesthetics of the Baroque period, combined with the typical Bvlgari colour palette. Charming shades of pink and purple sapphires, neon flashes of Paraiba, the deep greens of emeralds and the transparency of diamonds contrast with shades of gold. Lucia admits that she had never used such a combination of colours before; initially she wanted to create a completely different palette of multi-coloured sapphires. Experimenting with gemstones for a month, she eventually decided to combine contrasting pink and greenish stones, but immediately ruled out large emeralds. So, she switched her attention to the Paraiba. You have probably already noticed that Lady Arabesque has a complex design, and in fact the creation process took a lot of time.
"The challenge of this necklace was to work around the gems and also around the curves, which are typical for Baroque to show the movement of the gold and its volume. We purposefully didn't want to leave gold elements flat, allowing for different tones of pink gold to come out with the light," says Lucia.
Another jewel that challenged Bvlgari's craftsmen is the Rosso Caravaggio necklace, dedicated, as the name suggests, to the great Italian artist. It took 1,500 hours to make and boasts not only a central 10 carat cushion cut Mozambican ruby, but also a convertible design with two detachable strands.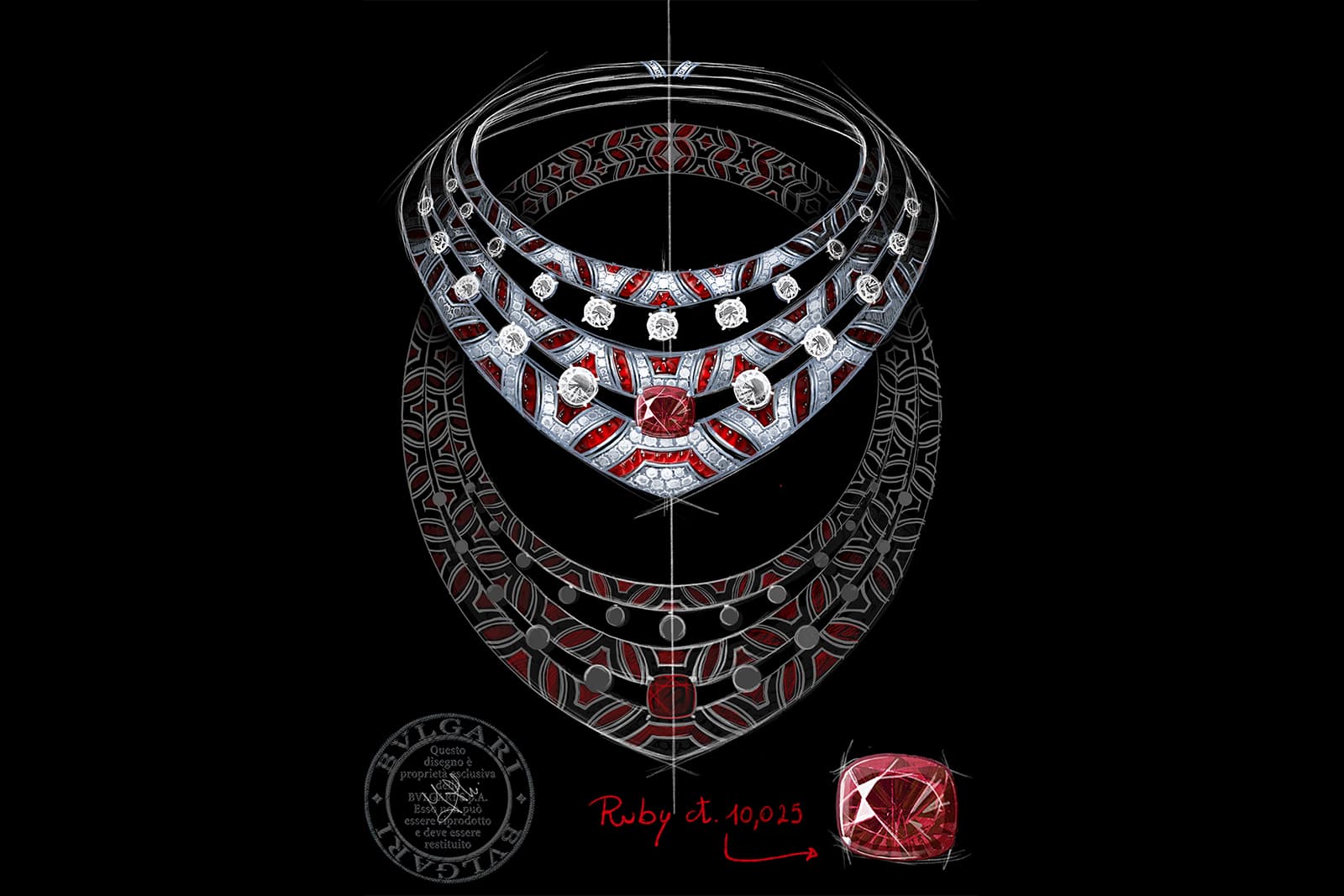 Meraviglia.
The Green Dream necklace is set with five outstanding Colombian emeralds of a very vivid colour, which Lucia Silvestri spent more than a year searching for. Their crisp cut creates a charming contrast alongside the delicate and graceful decorations of diamonds and emeralds. A bracelet and earrings complete the set with a captivating effect of light and reflections.
"Take a look at this 32 carat Colombian emerald – the shape reminds me of the cupolas in Rome and the design came out looking like the very modern frame of the columns in this beautiful city," says Lucia, drawing our attention to another extraordinary piece.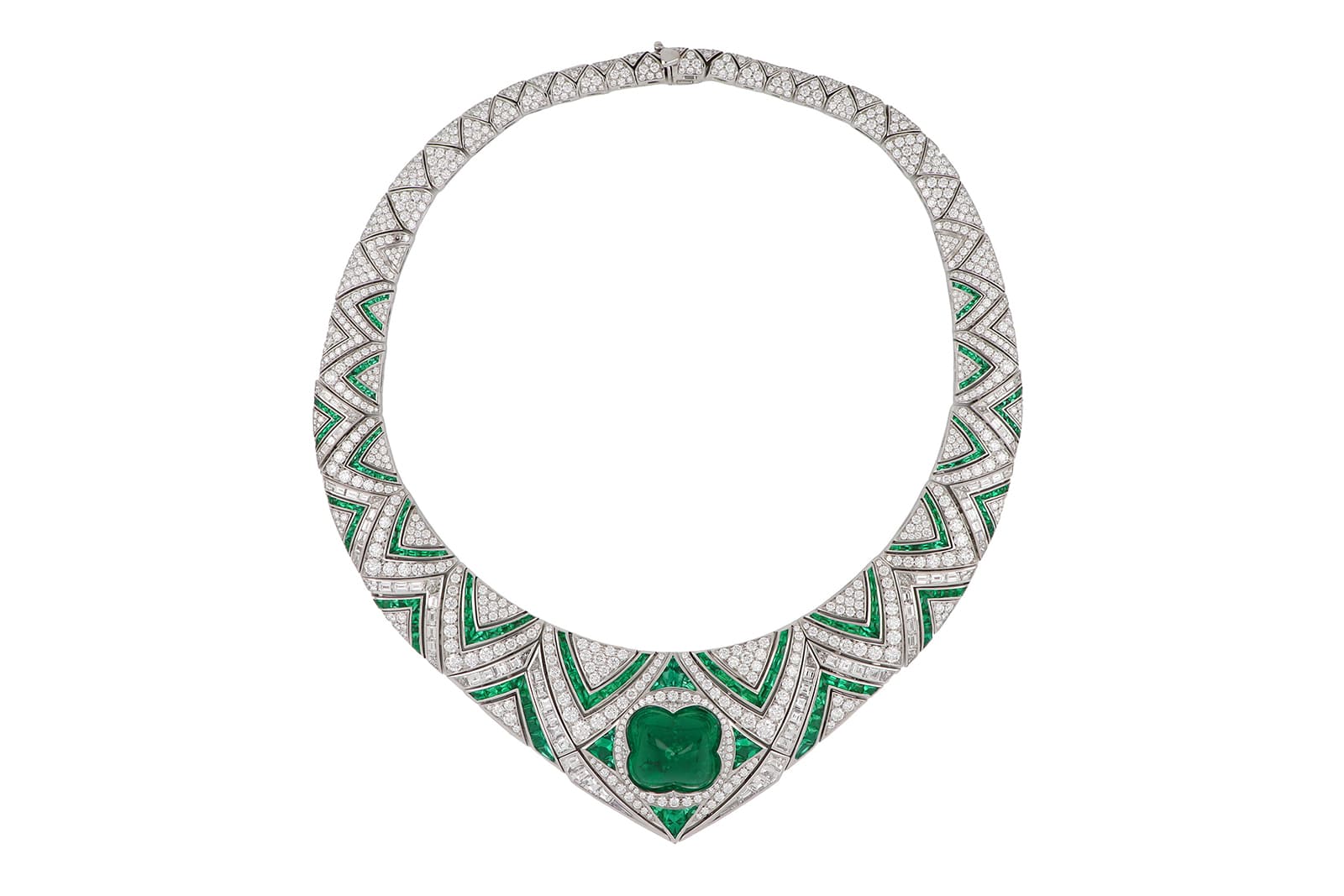 I do not want to disregard the truly poetic and delicate Sapphire Lace necklace. It combines platinum, diamonds and Ceylon blue sapphires to create a light, feminine texture inspired by exquisite Baroque lace fabrics.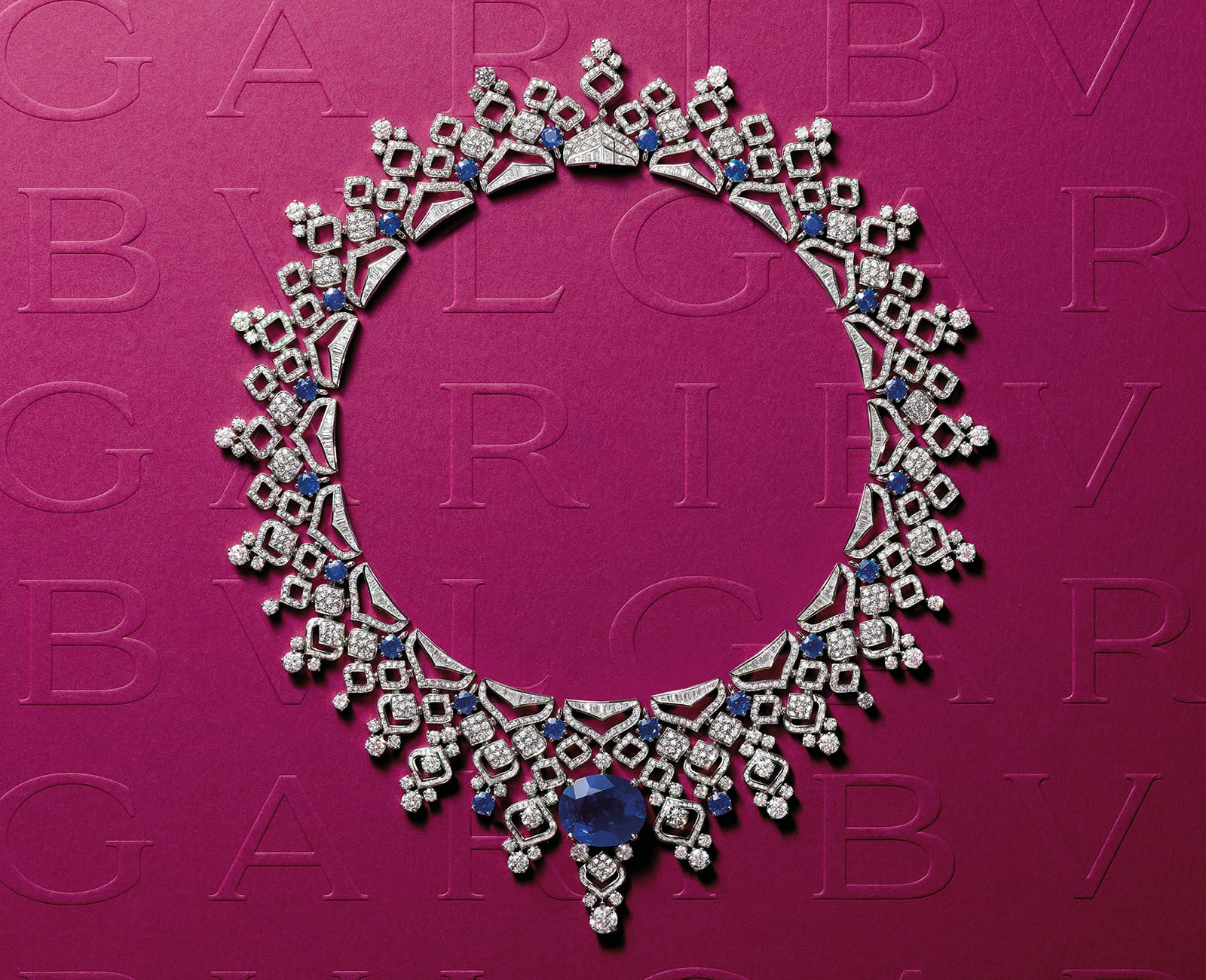 Luce.
The Peacock necklace showcases a daring and extravagant mix of colours and gems, from tanzanites and aquamarines to chrysoprase and emeralds. A rare bright yellow kite-shaped diamond accentuates the luxurious and sophisticated Raggio di Luce ring, displaying a graphic combination of yellow and white diamonds.
In addition, for the first time Bvlgari has provided its clients with the opportunity not only to interactively view the collection, but also to purchase these luxury jewels using the Barocko App. Each piece of jewellery is displayed with detailed information and a 360-degree image, as well as a "try on" function: using your phone camera, you can actually "wear" the jewels and even take a self-portrait.