To start with, let's look at why jadeite is such a sought-after mineral and what has helped it to become an object of desire amongst collectors. Firstly, it is a rare stone that is mined with quite some difficulty: unlike many other minerals it doesn't manifest as a crystal, but forms as a boulder - and it is impossible to predict what it would look like inside.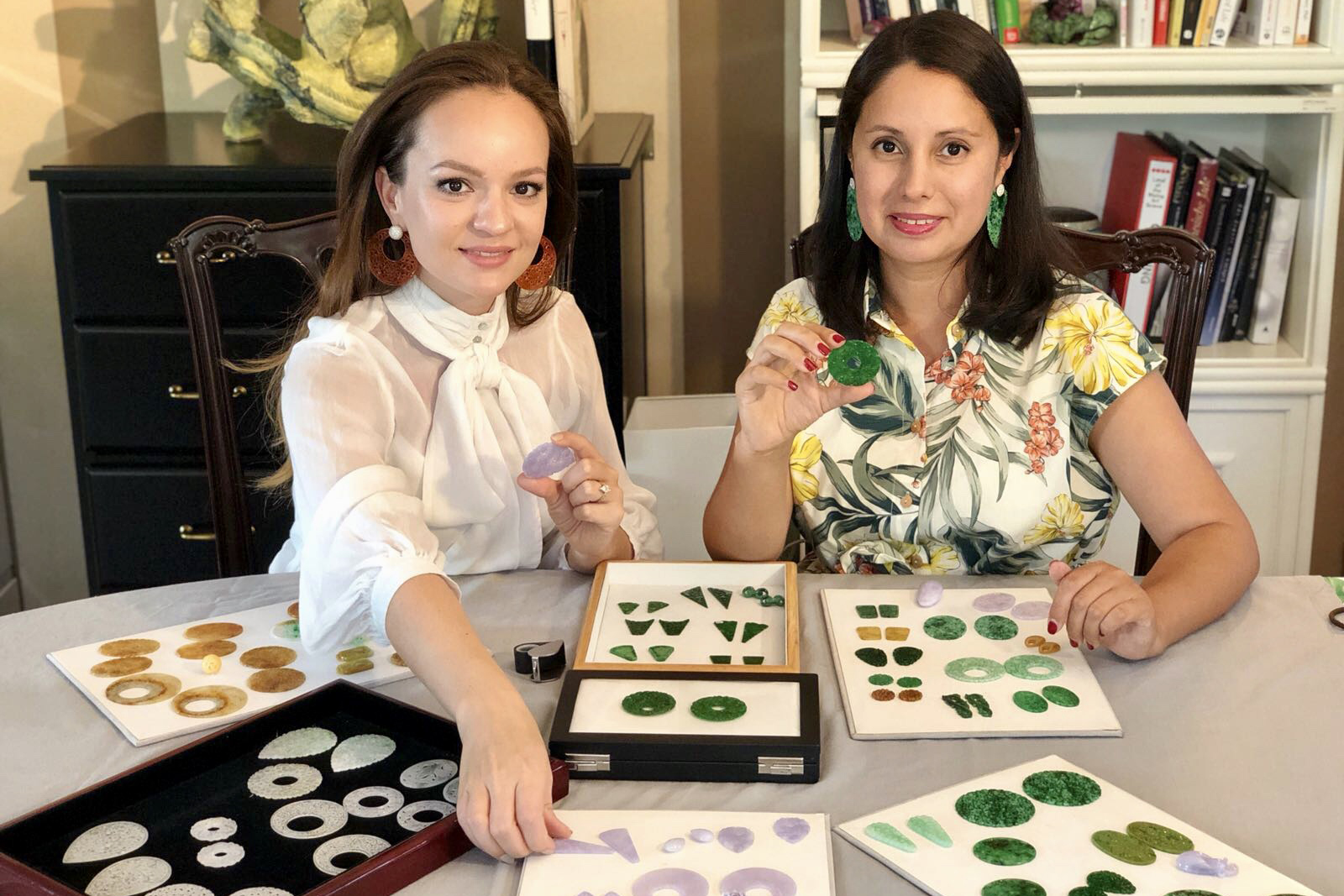 Secondly, jadeite is considered a precious gemstone of the aristocracy. At one point it was worn only by right at the Imperial Court, and awarded exclusively to members of the nobility. You could go so far as to say that jadeite was worshipped in ancient China: it was used to make jewellery, statuettes, statues and to decorate buildings and temples. Subsequently, the countries that adopted Chinese culture (the whole of south-east Asia and Japan) viewed jadeite as a model of beauty and a symbol of prosperity, luck and success.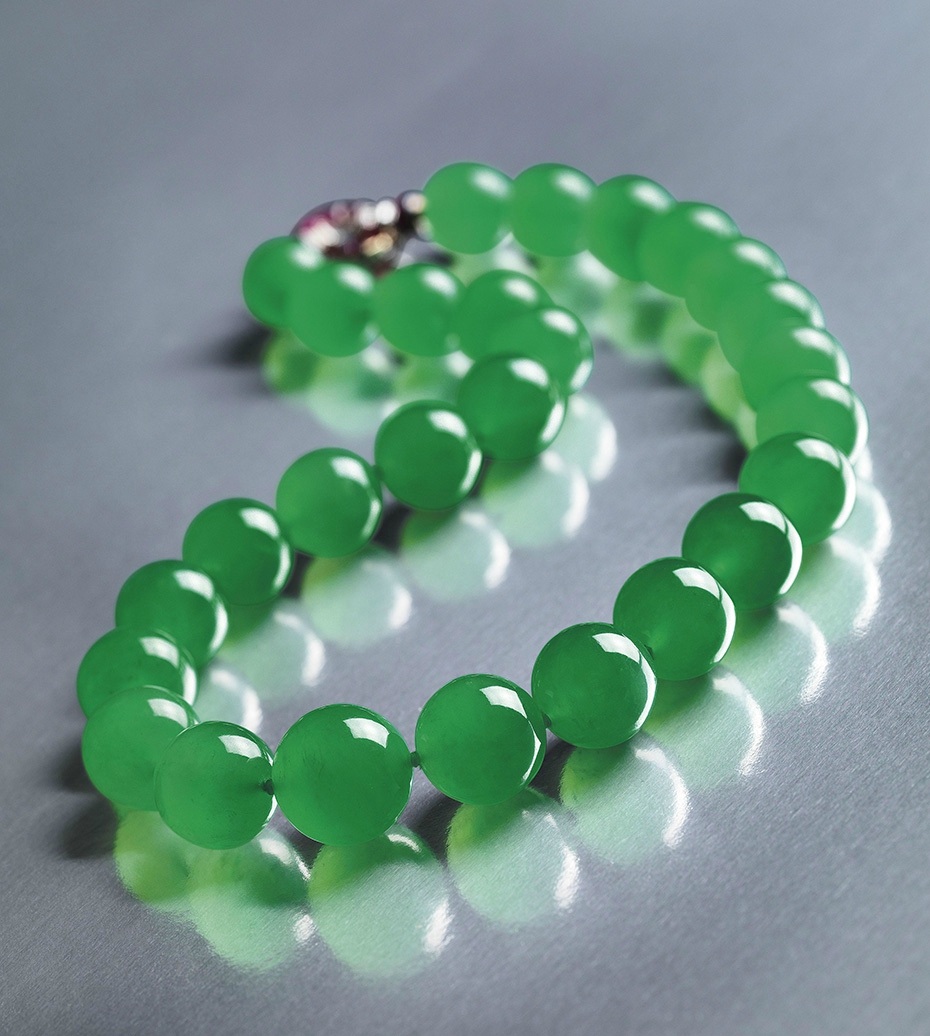 "For hundreds of years, jadeite has been a symbol of supreme status and wealth because the best quality jadeite in combination with several specific colours is not just beautiful, but extremely rare and therefore very valuable. For the past few years, the prices of high-quality jadeite cabochons, bead necklaces and carvings sold at auctions have been continually increasing. The most prominent example is the Hutton-Mdivani necklace that fetched US$2 million in 1988 and only six years later in 1994 it went for US$4.2 million at an auction in Hong Kong. By contrast with diamonds, jadeite is much scarcer, and therefore potentially more valuable because its source is mainly limited to Myanmar (Burma)," Sylvia explains to me.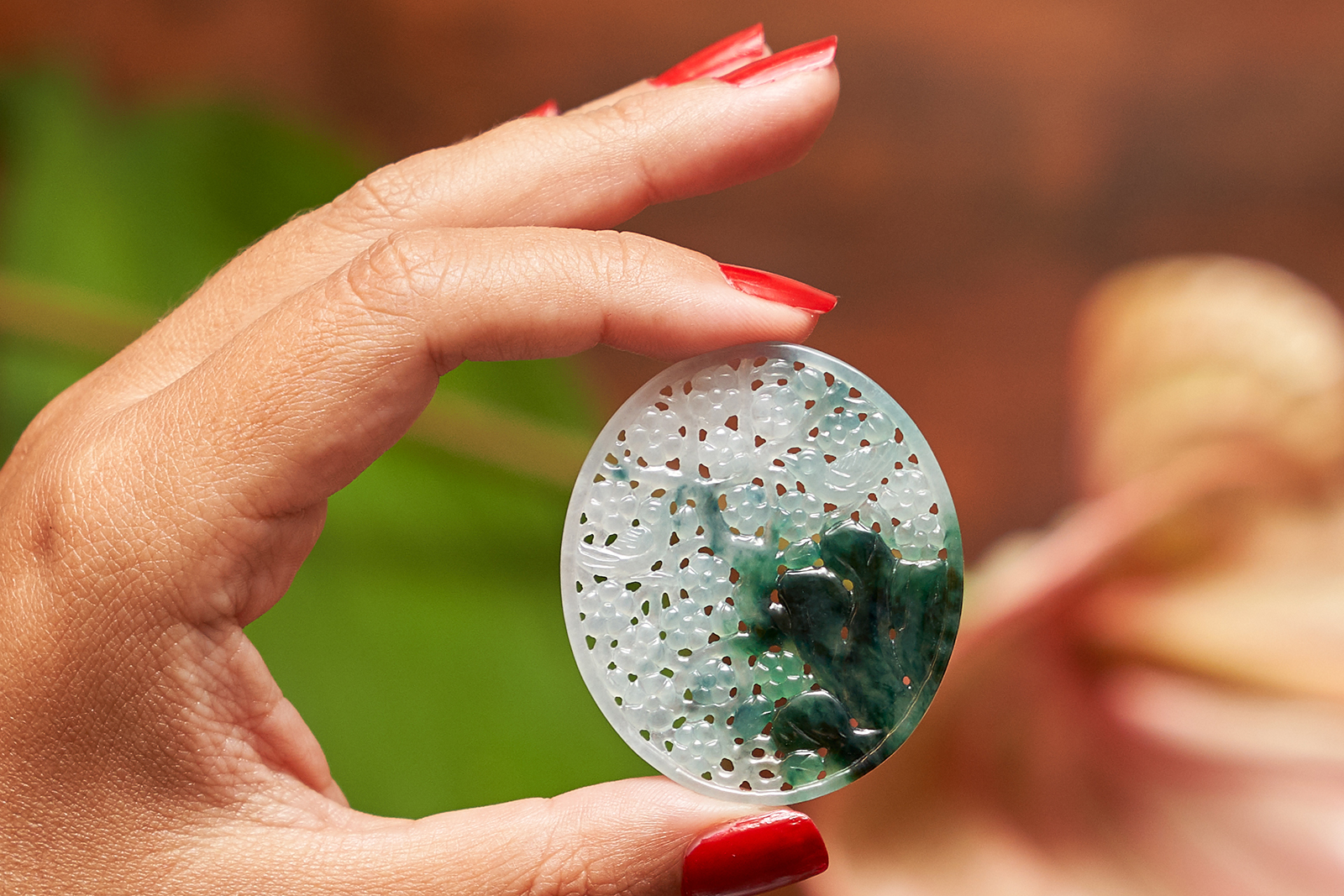 QAS Switzerland has been in existence since 2006, and Sylvia has been surrounded by these precious gems since her childhood thanks to her parents, who made works of art from gemstones in Peru. Over the past 12 years of her professional career, Sylvia has come across clients who have had completely different preferences when it comes to jade's colour and transparency.
"They vary greatly depending on where the client comes from, since different cultures consider different characteristics as desirable. That said, emerald green imperial jadeite is a true investment due to its rarity. Varieties of intense colours, lavender hue or those that are generally translucent and icy looking are also a good investment. Otherwise the choice between an opaque and a translucent jadeite is a matter of taste."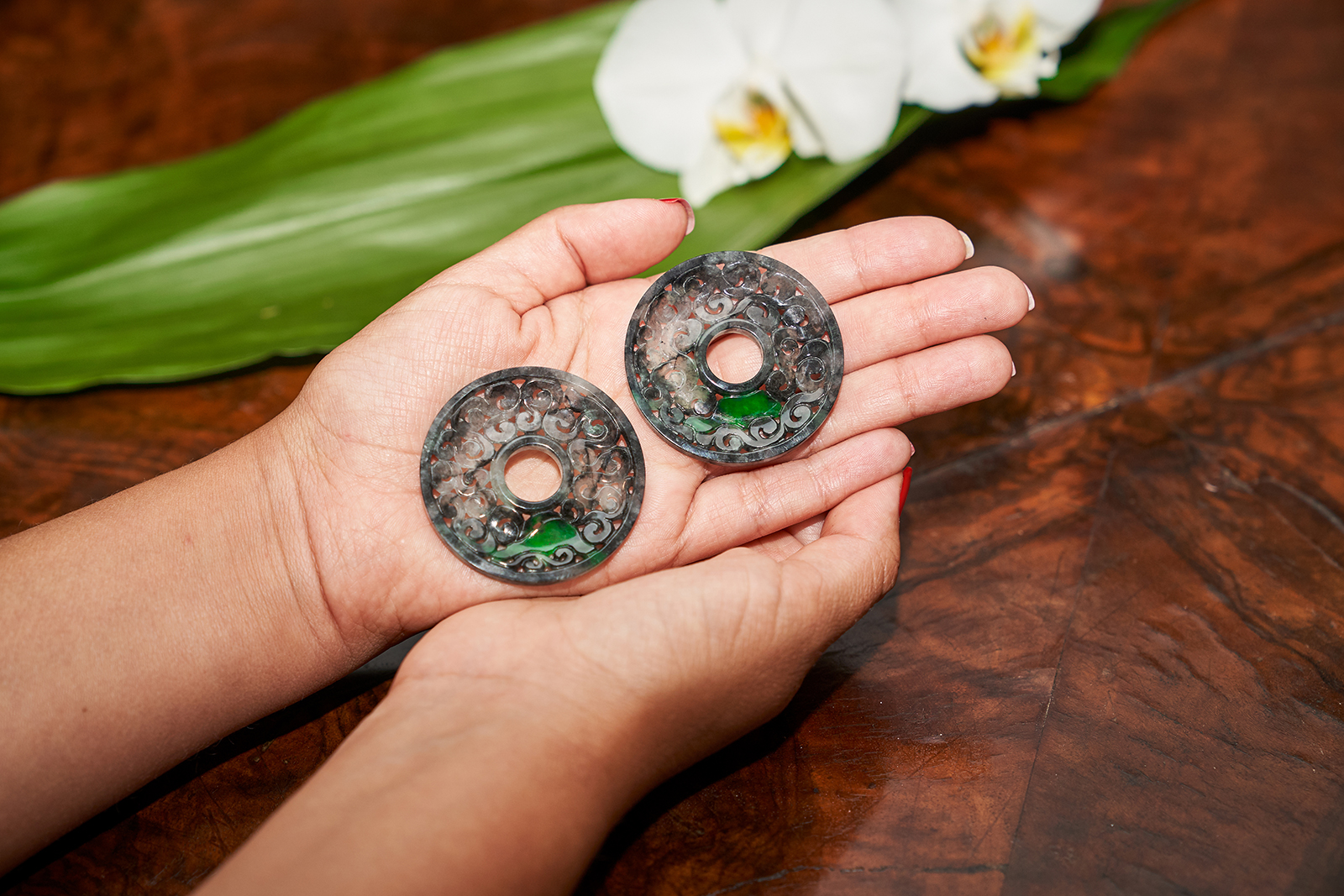 As a rule, jadeite is split into 4 categories when it comes to quality: A, B, C and BC. The first is the highest – these stones are not subjected to any enhancement processes. Sylvia recommends buying jadeite only when the quality category is documented on paper. For example, at QAS Switzerland's daughter company Spheni Switzerland, each piece has a quality certificate which attests that the stone belongs to category A following laboratory tests.
"B, C and BC types are treated in some way with colours, polymers and acids, which could actually be harmful to the human body. In addition, such stones tend to turn brittle, dull and break eventually," asserts Sylvia.
Incidentally, jadeite has a unique quality: it is the only stone which can be sliced into thin segments and then engraved thanks to its high density and hardness (7 on the Mohs scale). Examples of this are the large delicate earrings in Spheni Switzerland's collections that are made not only from iconic green or lavender jade but also from black, grey, yellow, orange white and colourless iterations that occur in nature
"Jade is becoming more globally appreciated as a precious material and outstanding jewellers from both the far east and around the world embellish their creations with it. The demand from QAS Switzerland's customers in Europe has strongly increased in the past ten years and 90% of them, including Spheni Switzerland, consider jadeite an important part of their jewellery collections," stresses Sylvia Quispe.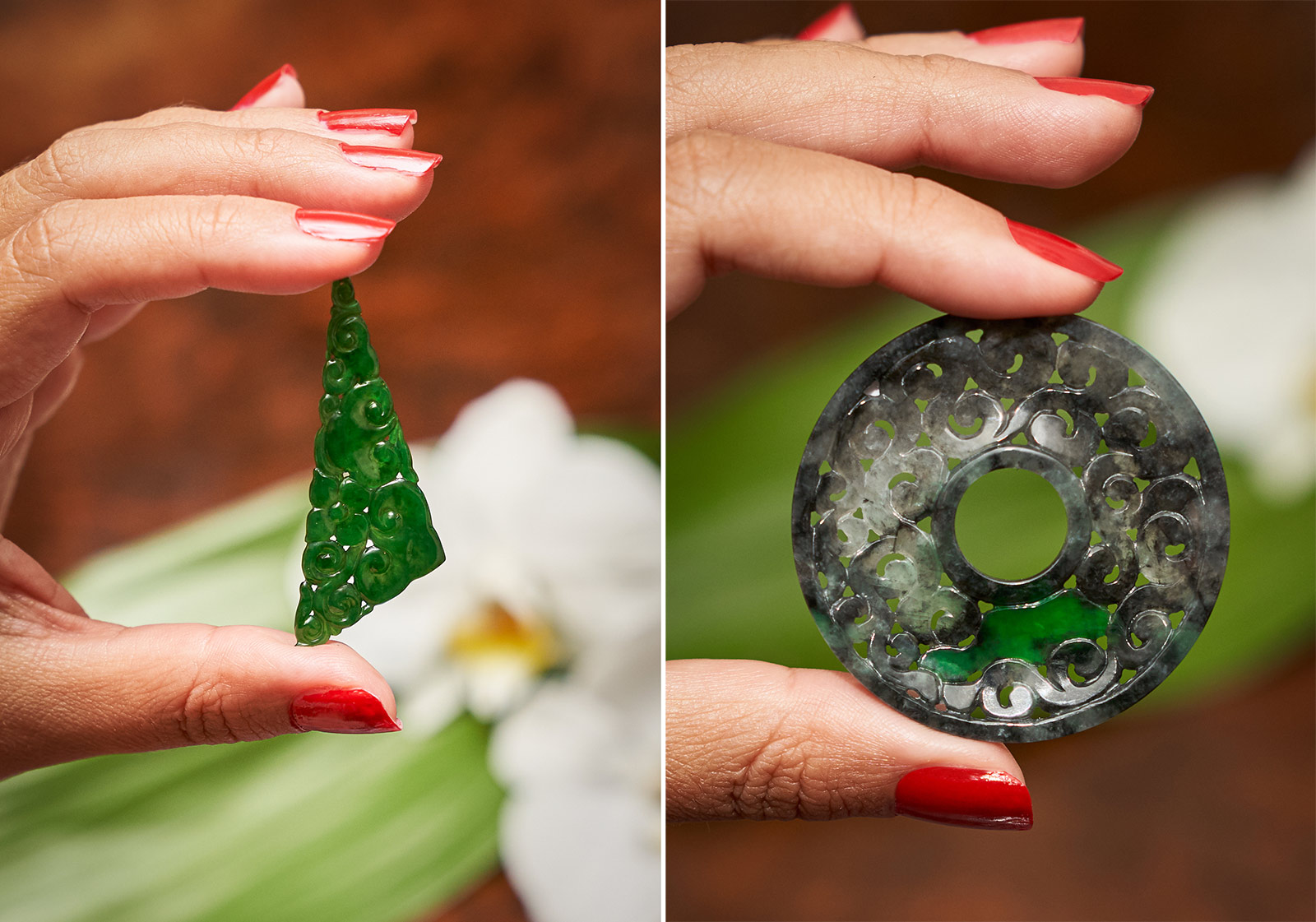 I hope that, after reading this article, you too can truly appreciate the beauty of jadeite, and fall even more in love with it.