Jewellery art continues to forge ahead. It's keeping up with the 21st century, developing and improving. Thanks to new technology, the process of creating modern jewellery has pushed the boundaries of the traditional, leading to an aesthetic transformation.
Precious metals and gemstones have started to appear more and more often in jewellery lines that include man-made materials: Adler came up with carbon fiber collections, BOGH-ART pioneered titanium fiber, Chanel and Chaumet created pieces with ceramic and de Grisogono came up with a nanoceramic material in the Mistero collection. So let us look at them one by one.
Adler offers its clients the Eclipse collection (on the right) which includes elements of carbon that are reminiscent of the moon shining. This ash grey material is made up of microscopic, interweaving carbon fibres, thanks to which the silky surface of the decorative components of the Eclipse pieces have a pleasant silvery sheen. It wonderfully brings out the colourless diamonds, whilst the white and pink gold glistens against its black background even more convincingly. The other advantage of carbon fibre is that its smooth texture, unlike any other, is surprisingly sturdy and highly resistant to scratches or blemishes.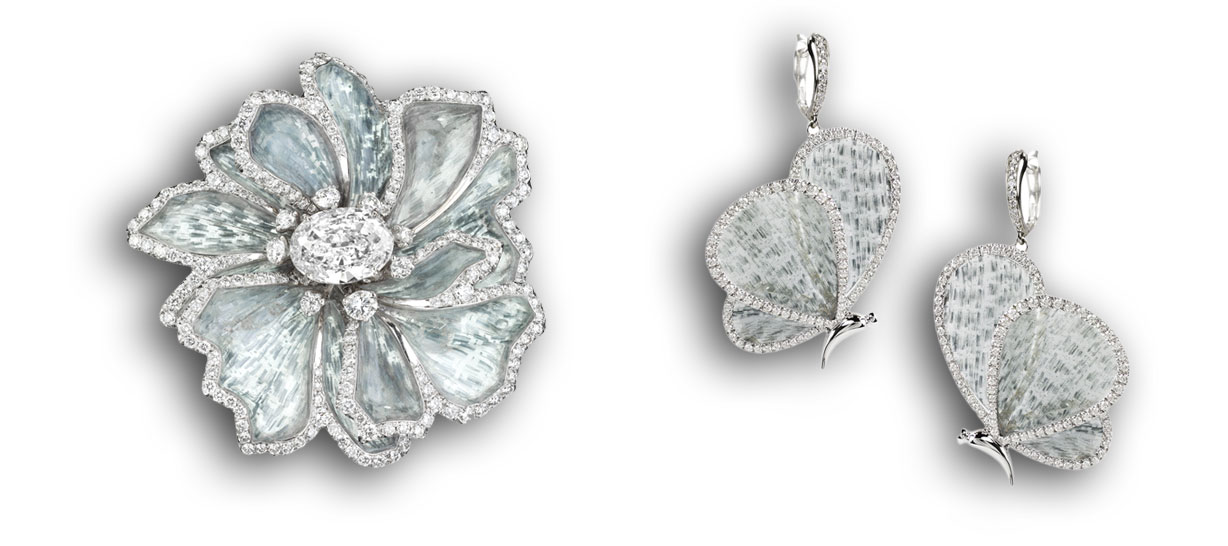 BOGH-ART white gold, diamonds and titanium fiber jewellery
Chanel ceramic, white god and diamonds ring
A milder colour contrast can be seen in the work of BOGH-ART(above) in its collection which uses titanium fiber. This includes butterflies, dragonflies and flowers, whose wings and petals are cut from a layer of titanium fiber created using a unique method of compacting ultrafine titanium "threads" with optical fibre at a designated temperature and pressure. Glistening with a steely sparkle, this unusually light material has an enthralling visual effect of flickering twinkles that dazzle on an ordinary-looking mount. The pieces that include this titanium fiber on a gold frame encrusted with diamonds offer the ideal combination of jewellery traditions from the past mixed with the technology of the future.
Ceramics can also be used in conjunction with the latest technological advances. This strong, resistant material is perfectly suited to jewellery art. Jewellery pieces with ceramic components have become increasingly popular since Chanel released its famous J12 watch in 2000 and later an entire line. In 2013, the French maison Chaumet also released its first ceramic rings and pendants as part of its signature Liens collection. At the same time, the French brand de Grisogono presented its Mistero collection, built on the contrast of a synthetic resin material that covered the metals and bright gemstones. Gruosi dubbed this material "nanoceramic" due to its particular chemical composition of water, butanol and methoxypropanol. Ceramics and nanoceramics are difficult to blemish which is quite a big plus if you plan on wearing them every day.

From left to right: Chanel Ultra rings in black ceramic and white gold with diamonds; Chaumet heart pendant in black ceramic and white gold with diamonds from Liens collection; de Grisogono nanoceramic Mistero ring with rose gold and purple sapphires
Other than the materials discussed above, a few brands have found that the application of solidified volcanic lava looks very effective when coupled with gold. The Mauritian make Sokalor has made a whole line of pieces that incorporate magma. David Yurman has also created a large necklace that includes hardened debris from a volcanic eruption whilst Arun Bohra at Arunashi is working on developing a volcanic rock form of basalt, pulverising and reworking it using a special process of adding colouring agent to get a completely unusual material: a fine, extremely light deposit which has a very particular colour.
Those who have yet to see any of the pieces that use these innovative materials described here are probably asking themselves how they can and what they cost. These creations can be categorised as being a part of modern fashion (unless, of course, they include a 2 carat diamond like the BOGH-ART ring above) because they are completely different from a traditional gold and gemstone design.
The views of people today on beauty have changed; the desire to follow fashion trends but to stand out from the crowd has grown. So as not to fall behind and allow everyone to express their individuality, jewellery brands are creating work which has a value that is not so much material as it is aesthetic. KP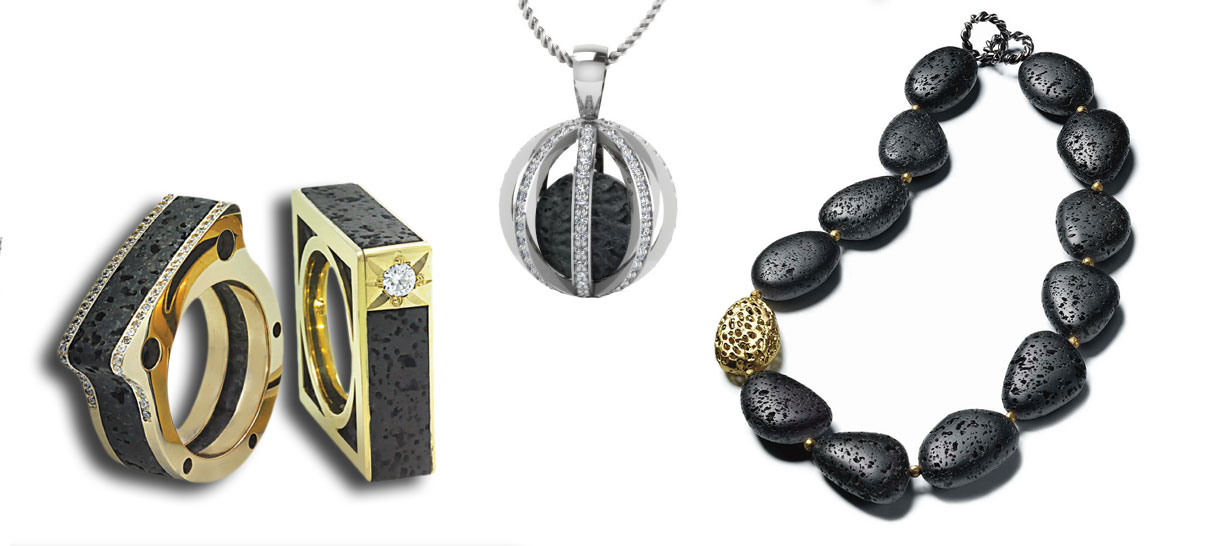 From left to right: Sokalor magma and diamond rings set in yellow gold and a pendant set in white gold; David Yurman necklace with lava