The first Blue Book collection - released back in 1845 – consisted of a collection of hand-drawn jewels which were sent to important customers by mail, inviting them to come into a boutique to examine the jewels with their own eyes. Nowadays, these drawings are exchanged for glossy photos, but the jewellery in this collection – with every piece being a one of a kind creation – still maintains its exclusivity and importance. This year, Reed Krakoff's desire to combine the seemingly incompatible - to experiment with contrasting shapes and materials in jewellery design - gave this high-end collection a unique quality, distinctive from any other from the famous maison.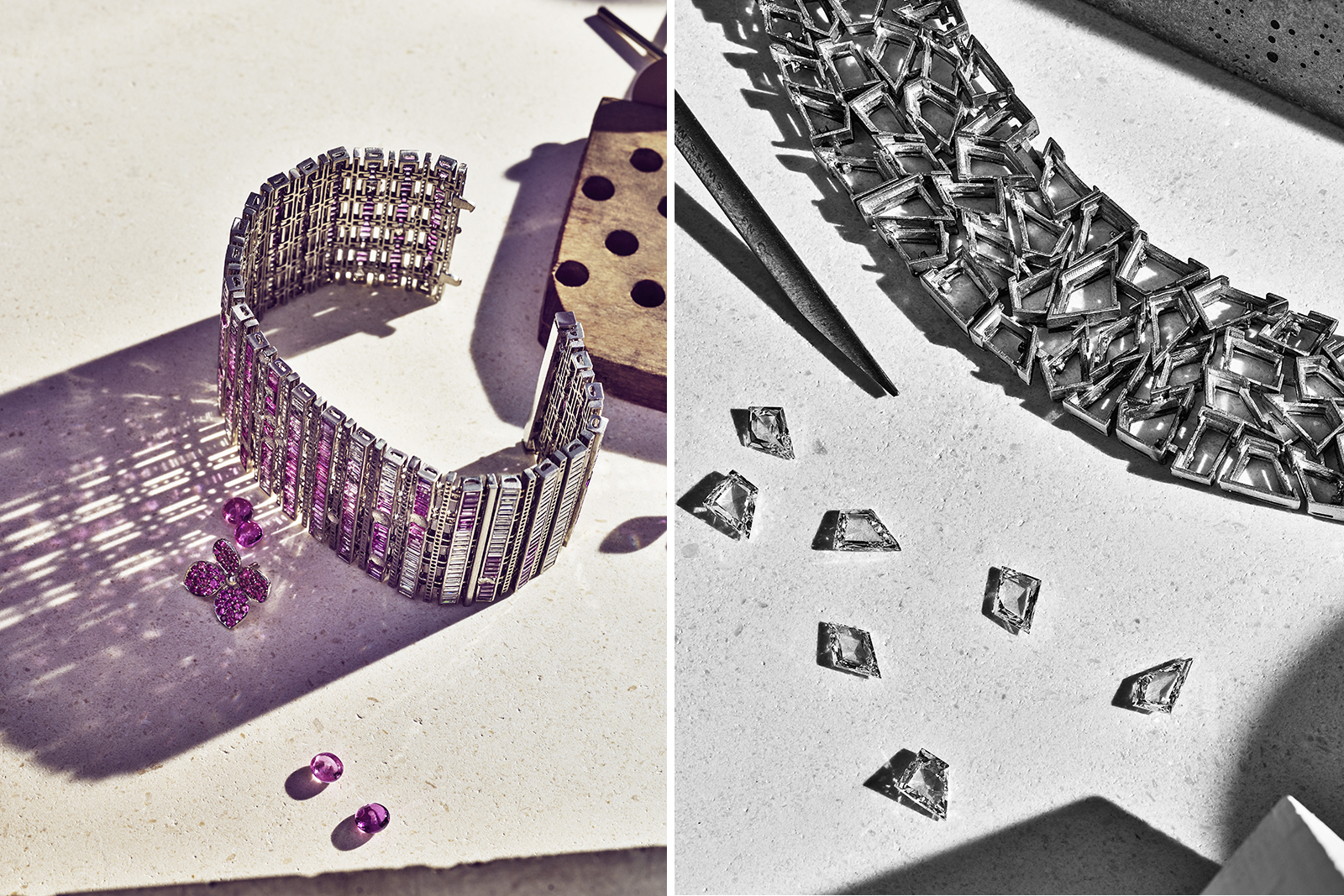 Each piece stands alone as a work of jewellery art; combining a selection of gems, or an entire composition of stones, and an original interpretation of the ever-popular jewellery theme: nature. This year's collection, 'The Four Seasons of Tiffany', incorporates a bold embodiment of creative spirit, innovative jewellery craftsmanship and utterly unexpected designs. Four themes - winter, spring, summer and autumn - all pay tribute to nature's architectural layers and the importance of colour theory. In combination with images of flora and fauna from the House's archives, these have become the wells of inspiration for creating over 30 separate pieces of jewellery. All of them were transformed into original interpretations of the traditional Tiffany & Co. 'look'; combining luxury with the typically American casual styling of fine jewellery.
"We continue in the tradition of Charles Lewis Tiffany, modernising classical motifs, combining the figurative with the abstract, the industrial with the natural, the handcrafted with the mechanical. Aided by jewellery, we try to create pieces with contrasts whose origins lie in the past – but in the present, acquire a whole new meaning," says Reed Krakoff.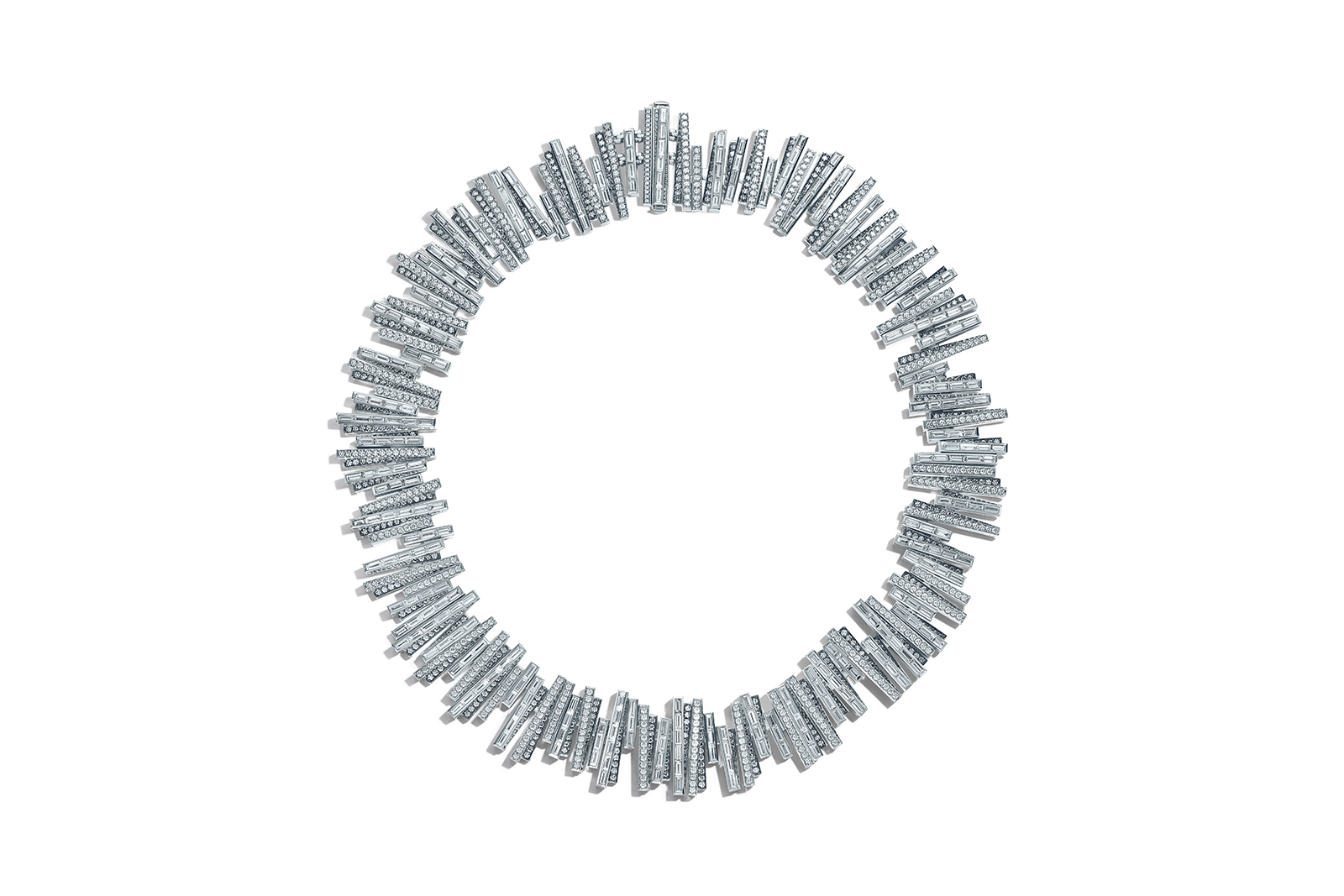 The theme of nature and her seasons has inspired multitudes of jewellery houses, but Tiffany & Co. have conceived an interpretation like no other. Winter in Tiffany &Co.'s 'Four Seasons' is embodied in the iconic Art Déco style, composed with a blue, white and grey fine jewellery palette of aquamarines and blue, silver and colourless diamonds.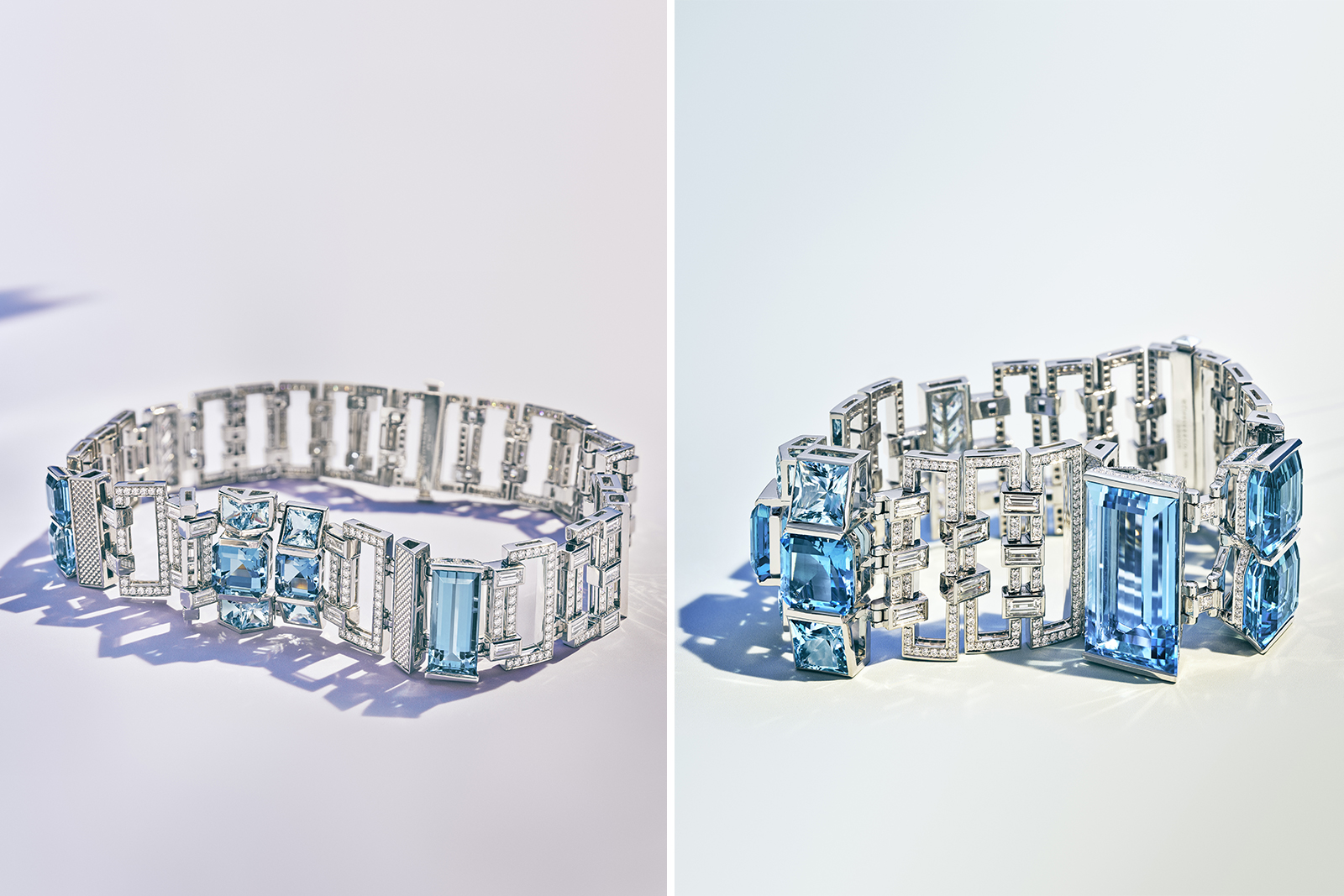 Most interesting of all is the ice inspired jewellery, as exhibited in both necklaces and earrings which feature unusually cut diamonds. Fancy shaped diamonds are a major trend in jewellery this year, and during Fashion Week in Paris this July, almost every major Jewellery House presented at least one – if not more – jewellery creations with diamonds cut in unexpected forms. This trend didn't go unnoticed by Reed Krakoff, who admits the 'icy' necklace is actually his favourite in the entire collection.
The illusion of cracked ice is achieved with the 237 diamonds, each of which is cut individually in a special 'tooth' shape, imitating an iceberg drifting along a platinum sea. The necklace totals 91 carats of diamonds, while the earrings incorporate a staggering 16 carats respectively.
The spring theme blossoms from the beautiful asymmetry of the natural world; in the same way flowering hydrangeas reveal heads of chaotic petals, so do the pieces from the latest Tiffany & Co. 'Paper Flowers' collection. The vibrant palette is enriched with violet and pink sapphires, tourmaline and tanzanite, creating a delicate colour interplay between pave gemstones.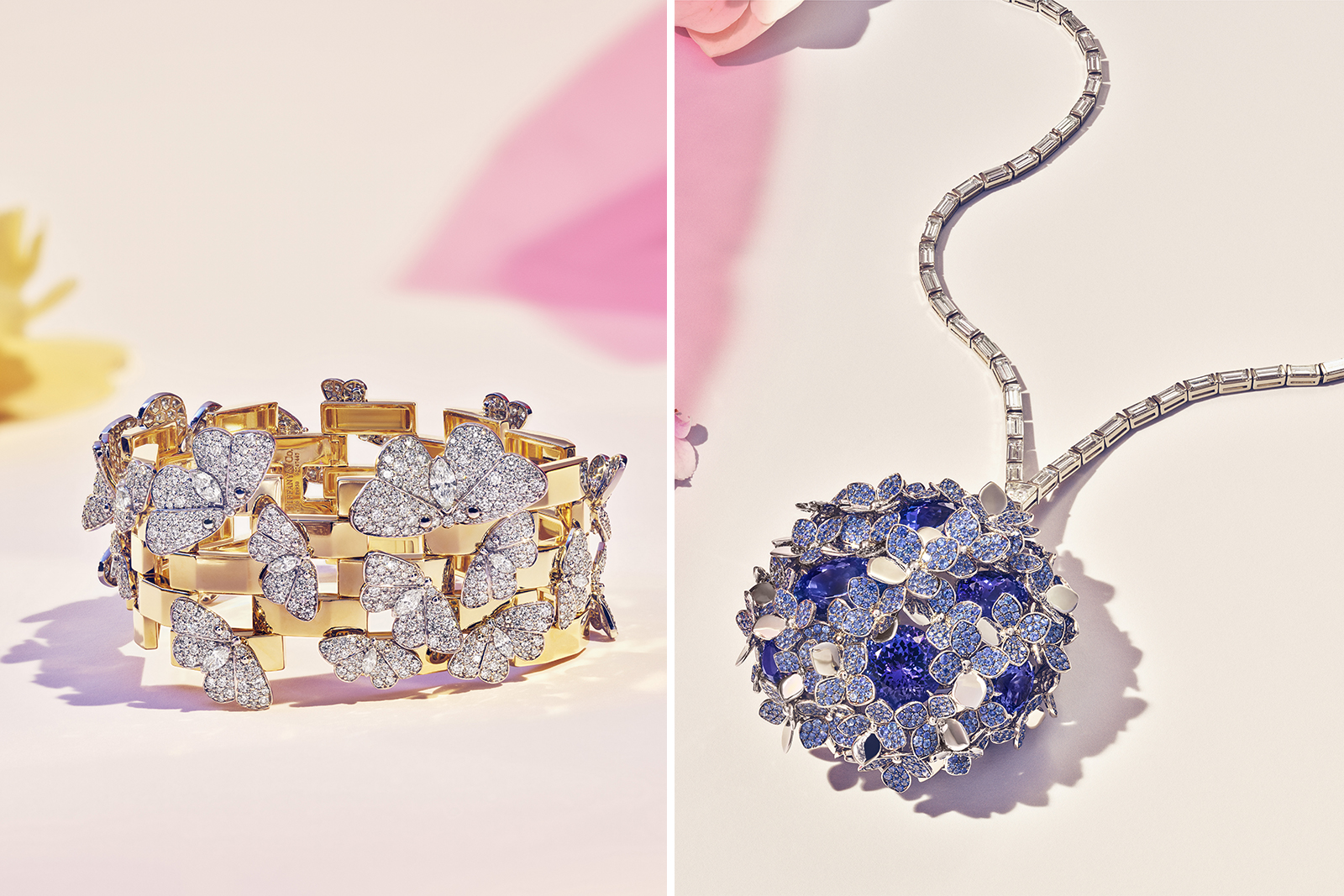 Summer in the Tiffany & Co. Blue Book was inspired by the famous 'Tank' range from the 1940s; its clear, linear and masculine chain link outlines contrasted with delicate, quivering moths embellished with diamonds. 1115 round stones weighing over 6 carats and 23 marquise cut diamonds decorate the 18 karat gold bracelet, complete with the high jewellery motifs of playful winged creatures fluttering across it.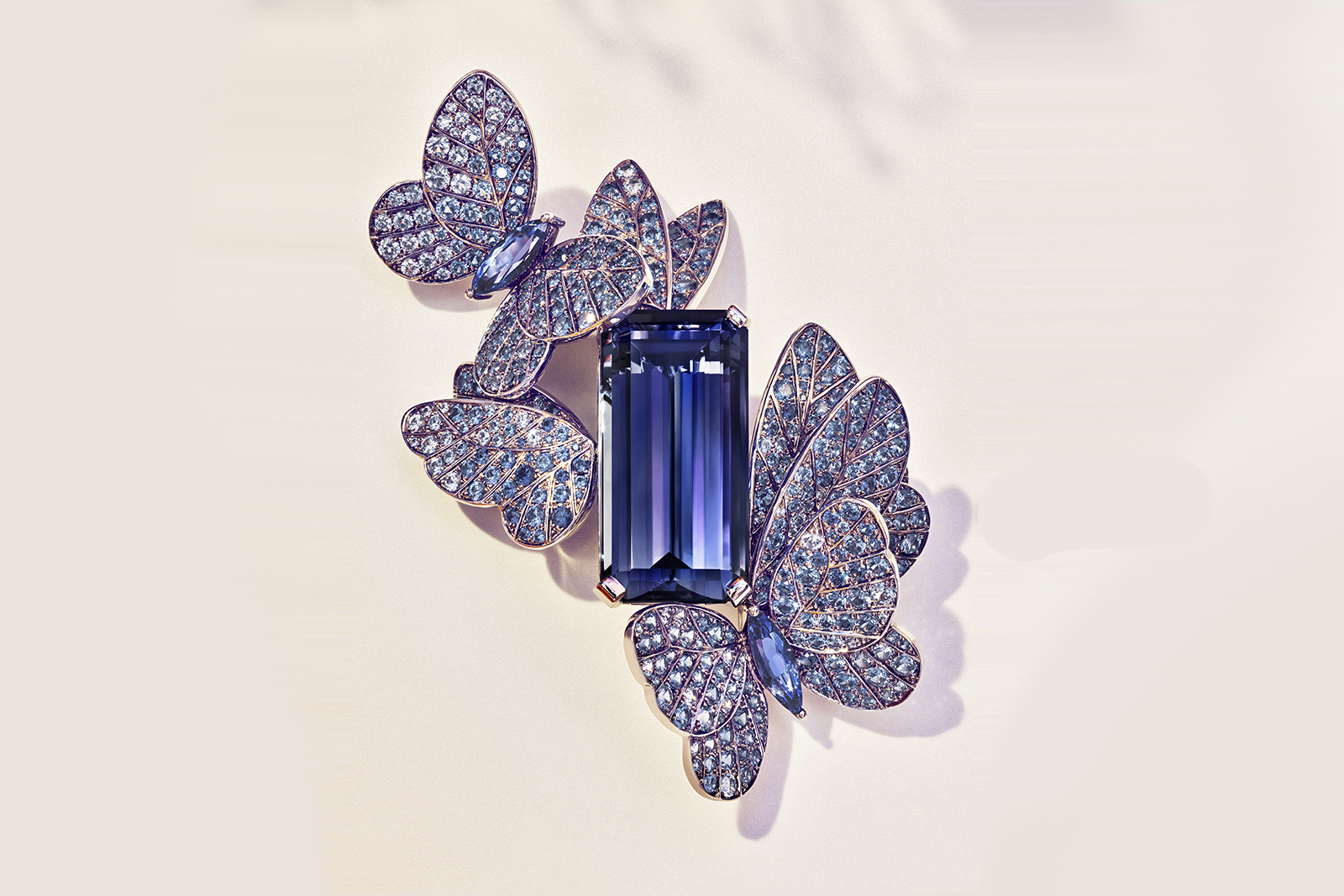 Finally, the jewelled representation of autumn within this collection is distinguishable through its interplay of gemstone cuts. Interestingly, Reed Krakoff has decided to present Tiffany & Co.'s discerning clientèle with an unexpected precious mineral: the Melo Melo pearl. Exceeding 109 carats, the even orange glow of the pearl is the central element of a platinum necklace which is accented by a fluid line of mixed-cut diamonds.
"Most complex in the process of creating this collection was the desire to make it an outstanding accomplishment, whilst simultaneously making it a suitable, frequent attire. Often, these two concepts are oxymoronic. Nevertheless, one of the principal goals was to achieve something very special and unique, which was at the same time something which could be worn as part of everyday modern life," says Reed Krakoff. I hope you will agree that he achieved his goal with finesse.