What is statement jewellery? It's a question that I recently endeavoured to answer more fully in this article, which considers shape, dimensions, surfaces, carat weights and everything in between. When I am asked to point to a "statement jewellery brand," I often mention the Italian brand, Veschetti, which in my opinion has mastered the art of "statement" through colour, size and scale. The brand presents a type of Italian maximalist glamour that has infused its creations since it was established in 1949.
The 1950s through to the 1970s are a creative reference point for the brand. This was the era of Marilyn Monroe, Sophia Loren and Elizabeth Taylor, coupled with the spirit of 'La Dolce Vita' and the dawn of Hollywood glamour dialled up to eleven. The voluminous, dramatic and timeless aesthetic of Veschetti jewels pays homage to this period, while its use of contemporary clashing colours and silhouettes makes its pieces recognisable.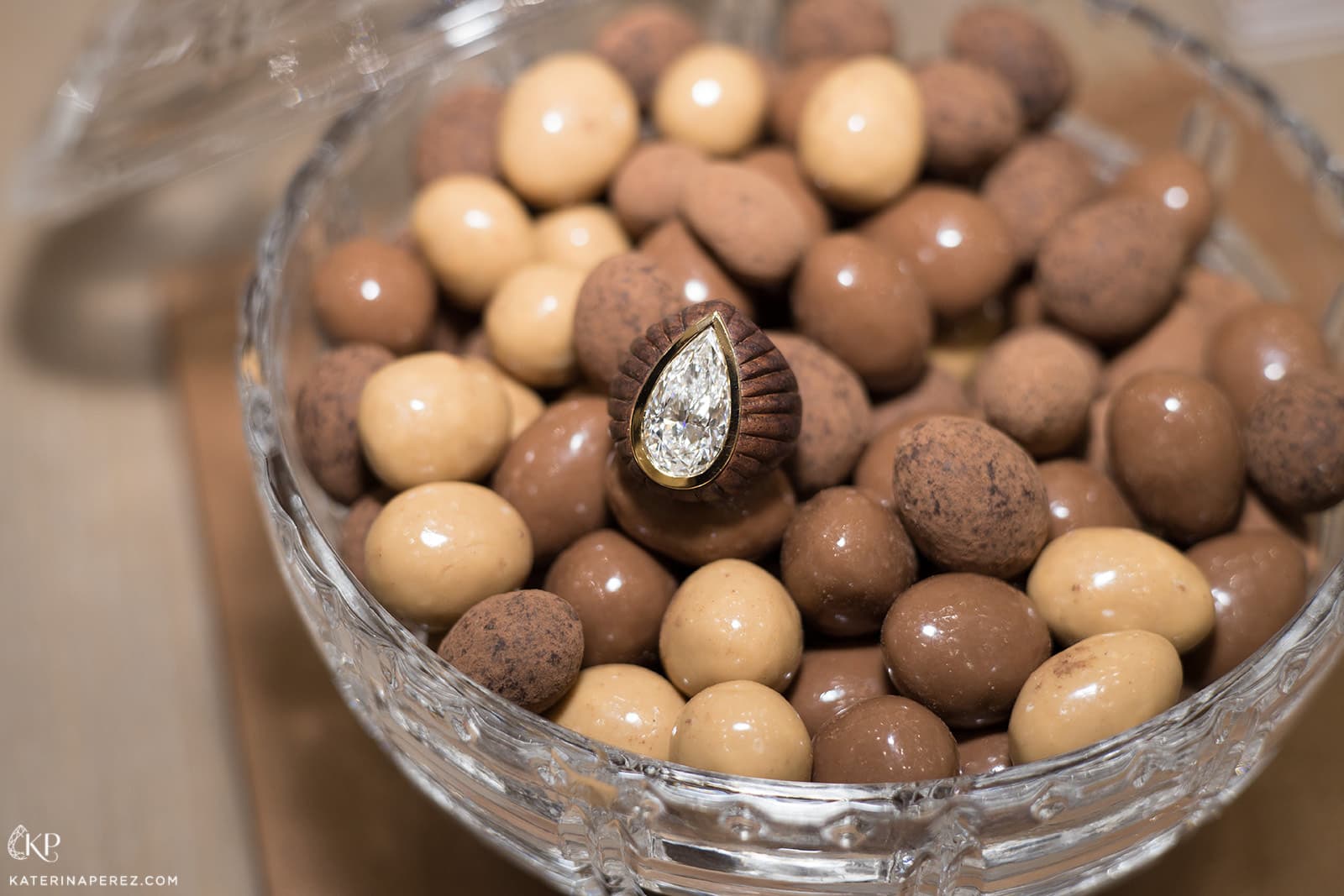 "We are always loyal to the renowned and unrivalled tradition of Italian craftsmanship," says Chiara Fantinelli Veschetti. "Our focus has always been to create unique and statement jewels as true icons of 'Made in Italy'. The reason we love to produce large and dynamic jewels is our source of inspiration – vintage jewellery from the 1960s and 1970s. We think that statement jewels are the right way for women to express themselves in the best way. Statement jewels are forever."
Throughout its history, Veschetti has appealed to women with innate confidence who want to use "special ceremonies and public events as an occasion to flaunt sophisticated outfits and statement jewellery," according to Veschetti. She continues: "Our exclusive collection is devoted to a charming woman, who is dynamic and attentive to her image; a woman who stands out in everyday life for grace and femininity and who doesn't care to be the same [as everyone else]."
In recent months, we've seen a shift whereby statement jewellery is becoming more ubiquitous and in line with fashion trends. This is naturally putting the spotlight on Veschetti and giving its heritage styling the chance to shine. Chiara Veschetti continues: "This year, like never before, the runways have spoken. From party jewels to bedazzled pieces and colourful gems, the spring/summer runways were full of stunning jewellery to emerge from tough times and look forward to brighter days."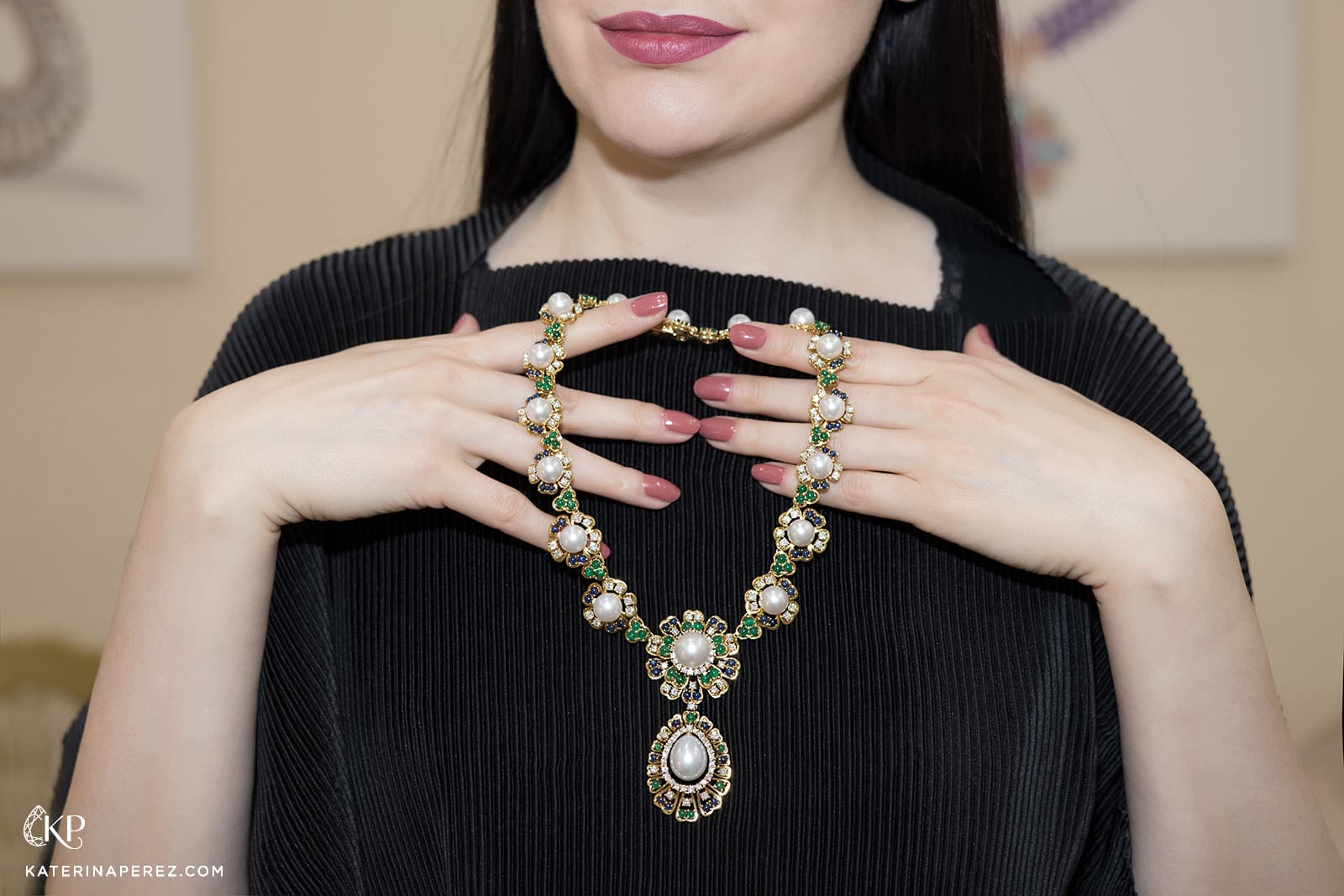 When I think of brighter days, my mind goes to colour! Veschetti produces large suites of jewels with hardstone inlays and carved precious stones, including lapis lazuli, malachite, coral and mother of pearl, which are often set in unusual shapes and accented with diamonds. "A set that is particularly amazing is the Nausica necklace and earrings," Veschetti explains. "It features more than 800 carats of Mediterranean coral, emeralds and diamonds, distinguished by a gorgeous and refined setting." As per the Veschetti modus operandi, we see here a distinctive 'clash' of orangey-pink and deep green that really shouldn't work but absolutely does! It takes a skilled eye and a confident designer to find exactly the right complementary hues that transform a clash into a couture work of art. Veschetti adds: "The beating heart of Veschetti lies in its highly qualified and passionate artisans. Every piece is drawn, designed, built, assembled, shaped, engraved, fitted, soldered, polished and refinished by skilful and qualified hands, weighing all the options and fixing all the details with the utmost care."
The art of carving is demonstrated throughout Veschetti's collections. The time and patience it takes to transform a rough gemstone into something creative and refined, whether that be a carved floral design atop a cabochon or a series of smooth shapes for inlaid motifs, adds to the 'statement' nature of the brand's pieces. Veschetti explains: "For sure, carved gemstones have a strong impact on a design. They have more power and soul, both from nature and from the human touch."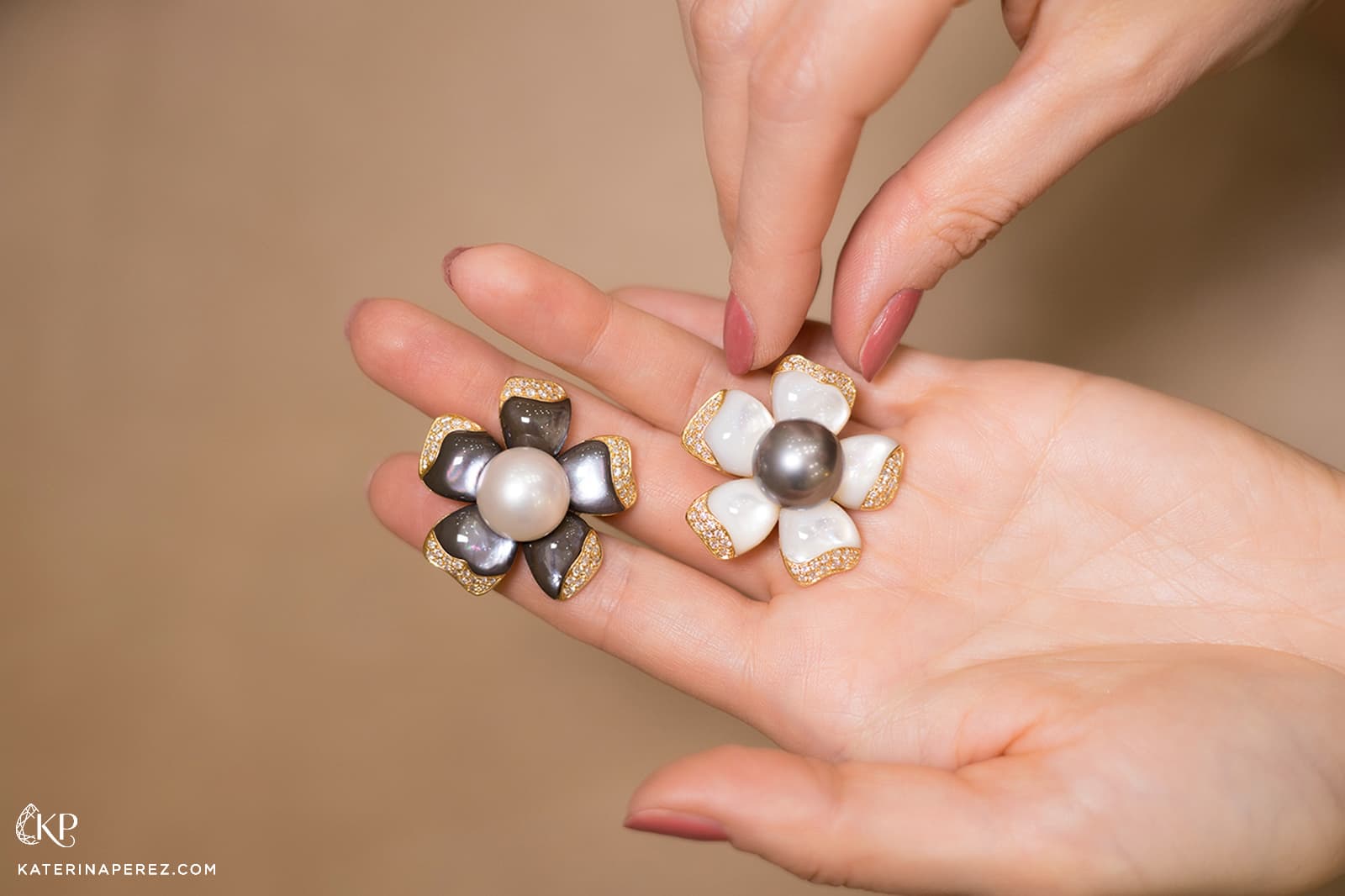 All this talk of size and scale probably has you wondering about something else… comfort. A piece of high jewellery may be captivating to look at, but if it can't be worn comfortably can it ever be called 'exceptional'? This is a question that no doubt could be debated from both sides and may, in fact, require a whole article to unpack the nuances of wearability, artistry and creativity. In the meantime, however, we can rest assured that the artisans at Veschetti are considering the comfort of your ears, wrists, fingers and necks when designing their larger-than-life pieces. "From the drawing to the finished jewel is a very long process, and we try the jewels to see how it is fitting many times. How is the weight on the neck or the ears? When a woman is wearing a Veschetti jewel, she must be comfortable. She should just be able to enjoy it and shine more than ever."
If you are looking for a true and authentic example of 'statement jewellery', I recommend a peek at what Veschetti has to offer. Begin with its suites of jewels, set with carved gems, inlays and cabochons, and then navigate to its medallion-inspired chain pendants, sugarloaf cocktail rings, cuff bracelets and its chandelier style earrings. There really is something for every personality, extroverts and introverts alike.