This iconic design has become a signature piece in Solange Azagury-Partridge's repertoire. It is interesting how a designer famed for her coloured precious gemstone creations could also take the enamel game by storm. Focusing on history, design evolution and what is yet to come, let's take a closer look at HOTLIPS by Solange, which has become a brand in its own right.
About Solange Azagury-Partridge
A university graduate with a degree in Modern Languages, French and Spanish, Azagury-Partridge was immediately attracted to the world of fine jewellery. After completing her degree, she worked for nine months in a costume jewellery shop, followed by a position in a decorative arts gallery that sold 20th-century jewellery. However, it was a milestone moment in her personal life that kickstarted a fascination with design. She explains: "I started to take a real interest in jewellery design when I got engaged. By that time, I had developed a distinct aesthetic of what I liked and wanted. So I thought, why shouldn't I be the one to design my engagement ring? That is how it all started".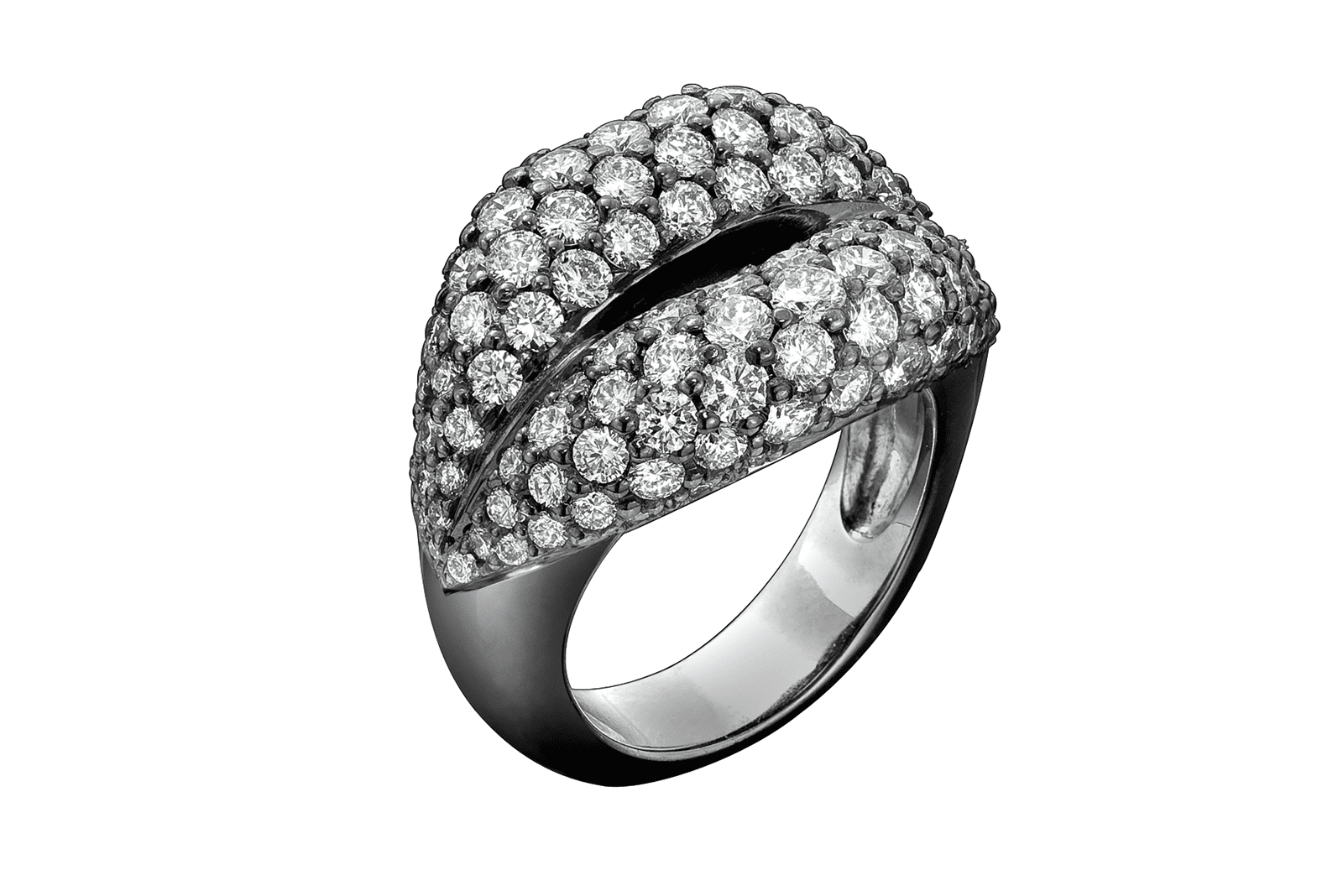 The Evolution of HOTLIPS by Solange
The first ever HOTLIPS ring designed in 1995 was one of Azagury-Partridge's most opulent pieces. Created in blackened white gold set with ruby pavé, this piece was inspired by the designer's love for romance: "Whenever I used to write letters to loved ones, I would always sign off with a red lipstick kiss. It's such a sweet way to express affection and love. When I turned my hand to jewellery, recreating this signature stamp was one of the first ideas that came to mind." Soon after this ruby HOTLIPS ring, Azagury-Partridge recreated the design in full diamond pavé and yellow gold. Little did she know that these three colourways would be the first of a series of different models.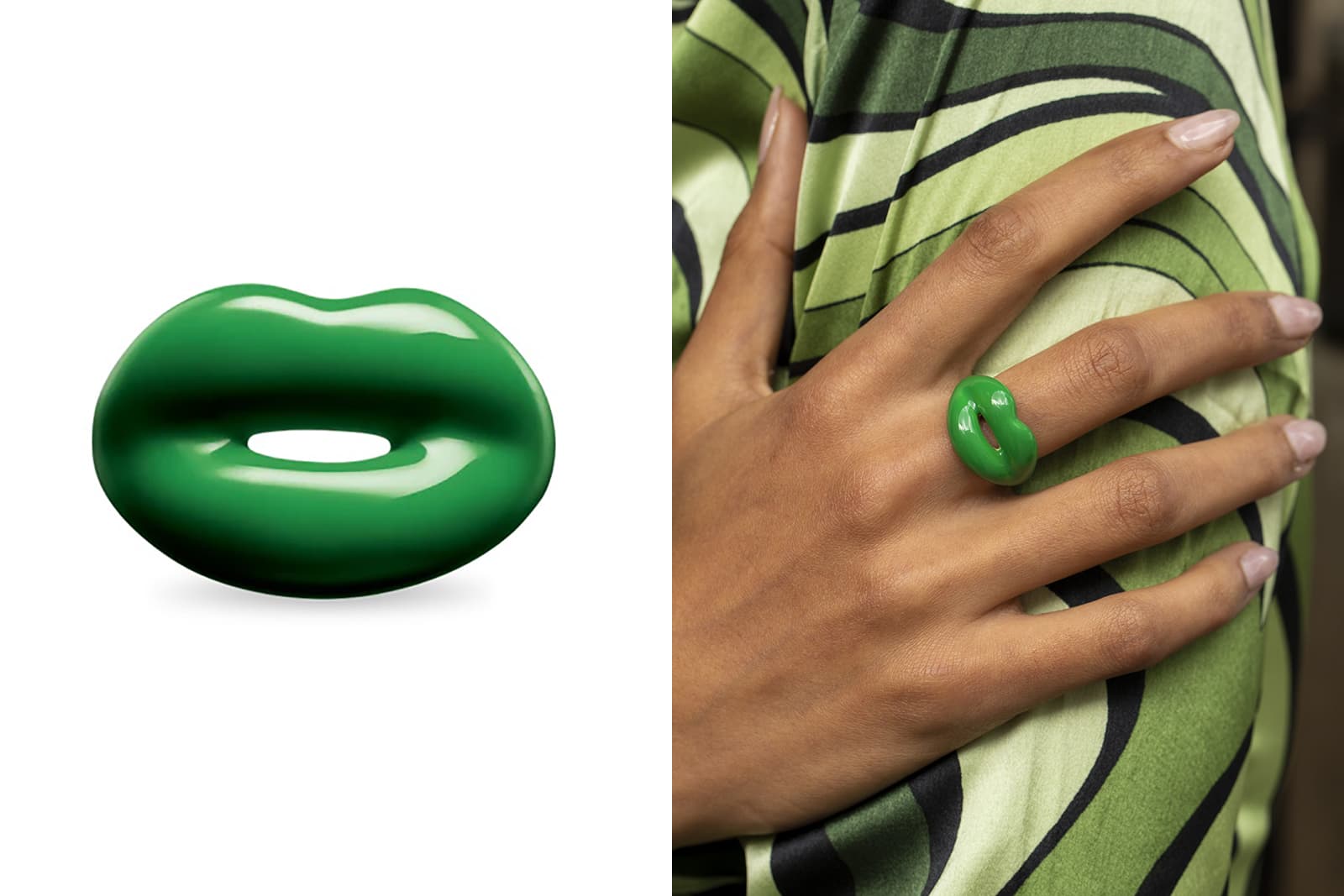 The Shift to HOTLIPS Enamel Rings
The HOTLIPS rings started as high-end fine jewellery pieces. However, using such rare and precious materials limited their audience: "Everyone loved them, but pavé ruby or diamond pieces are not exactly easily affordable, so I looked into silver and enamel." It wasn't long until Azagury-Partridge discovered that she could use the shape of the ring as a basic canvas. She says: "I started to play with enamel on silver to recreate the ring in a version that was more easily affordable to my friends whilst still being created from precious materials." The first colourway released in the HOTLIPS silver collection was Classic Red. Made from sterling silver coated with red enamel, this piece has remained one of the collection's top sellers. It became so iconic that it is now included in the permanent jewellery display at the Victoria & Albert Museum in London. "I love being able to democratise my jewellery. Creating the HOTLIPS ring in different materials allows me to do so," she adds.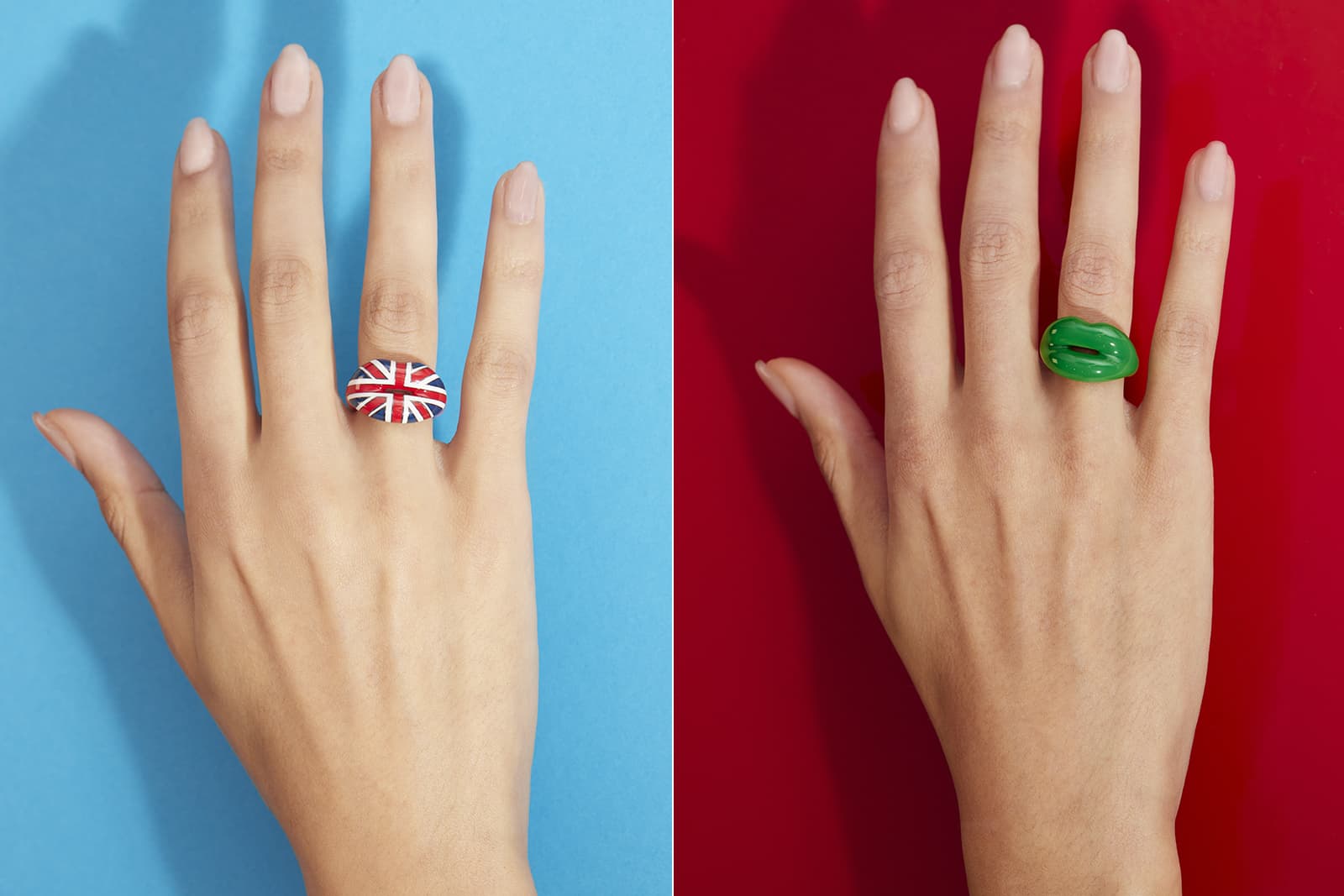 The HOTLIPS by Solange Revolution
Soon after the Classic Red HOTLIPS ring was released, more colourways followed. Nude, Bubblegum Pink and Black Cherry were added to complete the lipstick-themed hues of the HOTLIPS ring range. Then, Azagury-Partridge pushed her creativity even further: "After a few trials, I realised that I could just draw as many pictures as I liked on the HOTLIPS". She started to use the enamel to create patterns, words and prints. The designer perfected her enamelling skills to produce HOTLIPS rings with any image she saw fit, from smiley faces to leopard print. Azagury-Partridge's favourite design is the Tromp L'Oeil pattern. The French saying for 'illusion', this design tricks the mind into seeing a perfect eye on the surface of the mouth-shaped ring. "I love how it confuses people," she says. Today, Solange HOTLIPS rings are available in 60 different designs: four in 18k yellow gold and 56 in 100% recycled silver. Worn by British popstar royalty such as Dua Lipa and Lily Allen, HOTLIPS rings are bold emblems of female voice and spirit, one that cannot be silenced or ignored.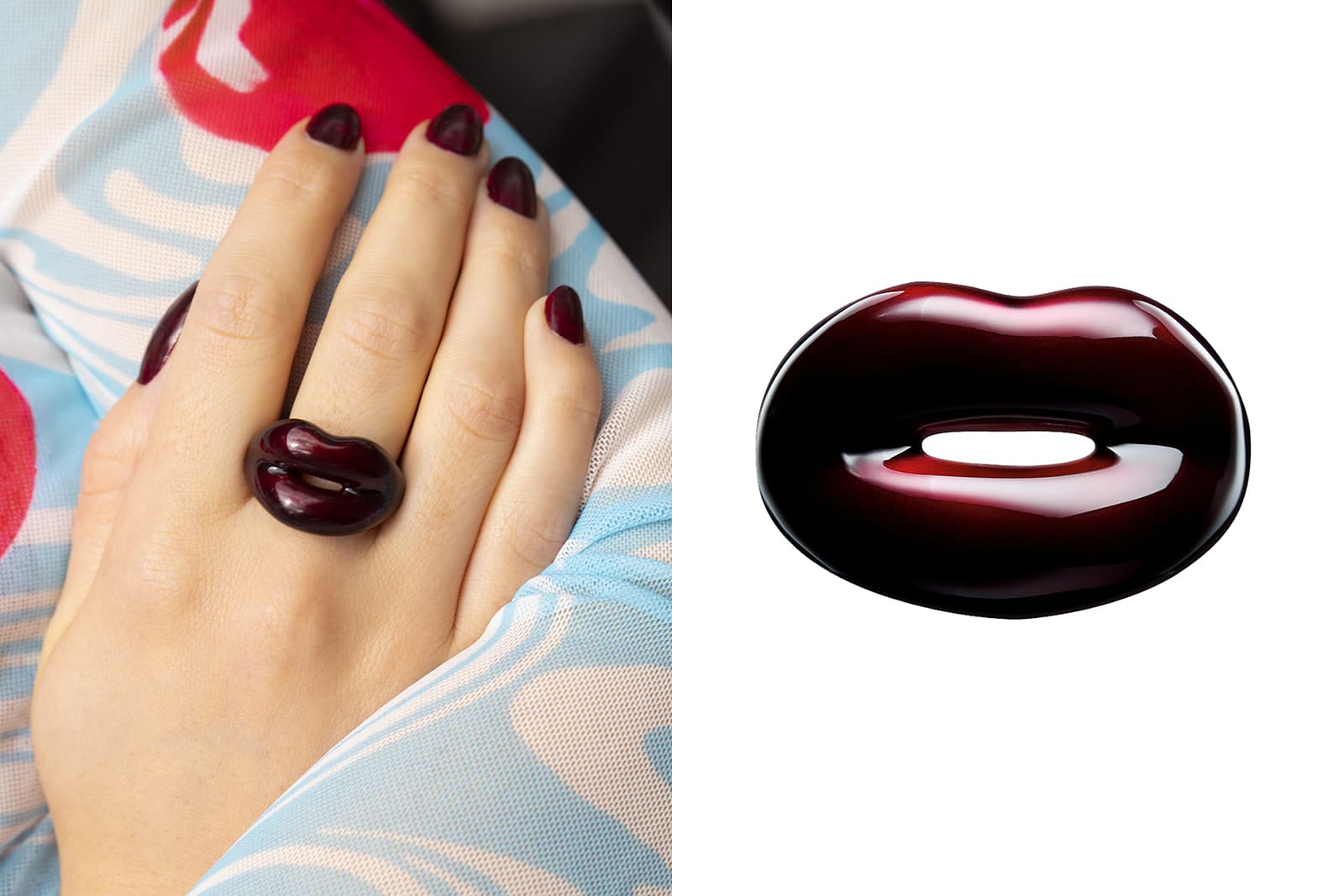 "If the Eye is the window to the soul, then the lips are an expression of our earthbound sensuality and a means of self-expression," Solange Azagury-Partridge.
Azagury-Partridge uses the rings to support the Lady Garden Foundation. Previously known as the Gynaecological Cancer Fund, this organisation helps women suffering and recovering from gynaecological cancer: "I am an unofficial partner of this charity and every year we create a new colourway of the HOTLIPS ring for them to help donate to their cause."
A New Home for HOTLIPS
From rare gemstone pavé settings to tricked-out enamel designs, it seems like the HOTLIPS ring design has seen it all! In another creative spin, Azagury-Partridge has decided to open a shop dedicated to her best-selling design. "What's next for the HOTLIPS rings is that they are going to have their very own physical home rather than a virtual home." Opening its doors on November 2, 2022, the HOTLIPS by Solange boutique is a short walk from the beautiful Kensington Gardens and will display the full rainbow spectrum of the collection.
We cannot wait to see what this fabulously creative designer does next with the HOTLIPS rings, one of the most iconic jewellery pieces around.